This site contains affiliate links. As an Amazon Associate, I earn a commission from qualifying purchases at no extra cost to you. Full Disclosure Here.
The advantages of a portable solar generator are easy to see. Harnessing the energy of the sun and getting the power you need can be a great thing for any short or long term emergency (for a power outage or just a backup power source).
If you are off the main power grid or have a property that you sometimes use that is lacking in power then a solar energy generator may be an affordable solution to your power needs.
First, let's start with a few things you need to know about portable solar generators.
A Few Key Facts on Portable Solar Generators
They are ready to plug in your devices, appliances, extension cords, etc.
While your average solar system is designed to be used with an inverter to convert 12-volt current to your standard 110 volts, a portable solar generator does not require you to buy a separate inverter so when you are looking at the cost of your generator this is an important factor to keep in mind.
Come in a wide range of sizes to meet your needs
A larger solar generator that can provide for a family may weigh over 100 lbs but there are generators that can meet the basic needs of one or two people that weight 12-30 lbs. The larger the generator, the heavier so it is important to be realistic about the portability of such units. Larger generators often are kept on wagons that users can easily move with no heavy lifting.
The higher the wattage your solar panels, the faster the charge time
Generators come with pretty low wattage panels sometimes but upgrading to a substantial sized panel in the 100 watts or greater range is inexpensive and will drastically increase the speed at which your generator is charged and ready to go with solar power. Just think what an extra $240 investment in a pair of 100-watt panels could do!
Variety of outlets
State of the art solar generators already have outlets for USB charging, 12V car style plugins, and standard 110-volt plugins for those devices that you really need like your fridge or freezer or even medical equipment.
With that said, let's jump into some of the best "market ready" options out there.
BDS Best Portable Solar Generators Recommendations
First up: Portable Goal Zero Solar Energy Generators
Goal Zero has solar generators in three different sizes to meet your needs.
The biggest flaw is the size of the panel they come with when bought directly. Earth Tech Products has package deals that include larger panels for example so shop around some for the best current deal since that can change. You can also buy just the generator if you want to pick out your own panels or already have some.
Let's compare Goal Zero generators. All of these generators can be charged via solar, 12V, or plugging into a 110 outlet.
1. Yeti 150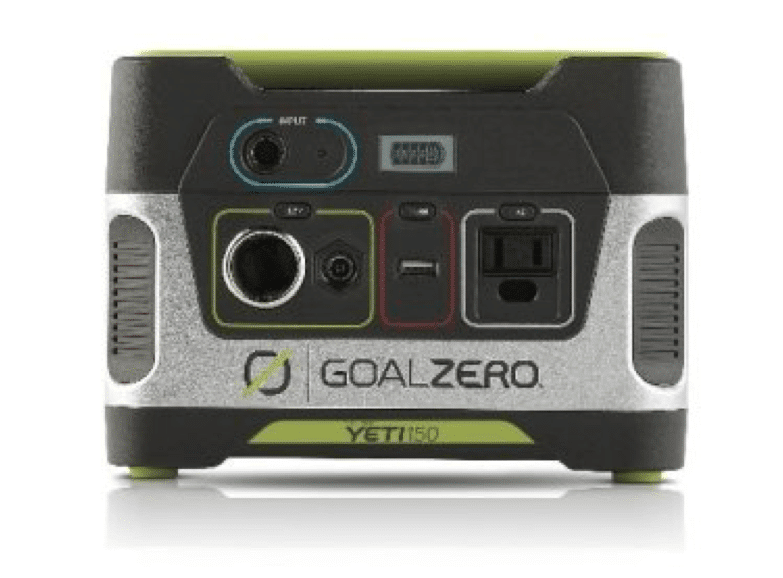 Best For Tablet, Laptop, DSLR Camera, Lights
Capacity: 150Wh, 14Ah
Weight: 12 lbs (5.4 kg)
This is a good solar generator for the single person or couple that just wants to keep a few very basic devices going. If you have a rustic getaway where you are bugging out on the weekends then this could make like a lot easier and allow for basic communication devices in case of an emergency. The lightweight characteristics mean you are going to be able to use it a lot more places.
Those with RVs might think this is a great supplement to have in case they need a bit of extra power. When bought directly from Ground Zero it comes with a 20-watt panel but for the price, I would just buy the generator and add the panel later. This gets points for being affordable and offering so much versatility in terms of power and outlet options and ease of use.
2. Yeti 1250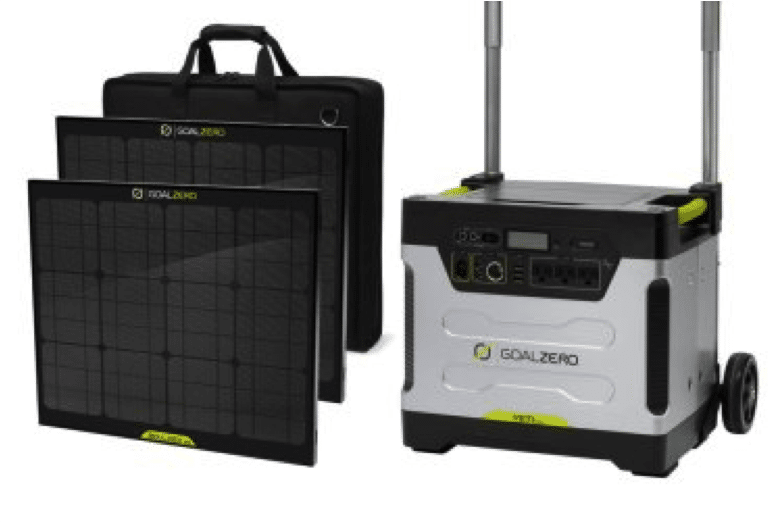 Sometimes, they come with panels and sometimes not. This is one you should definitely do your research to determine the best price and as well as figuring out what is included in the package deal.
Outputs: USB, 12V, AC, and Anderson
Ideal for: Tablets, Laptops, DSLR Camera, Lights, CPAP, TV, Fridge
Capacity: 1200Wh, 100Ah
Weight: 103 lbs (46.7 kg)
If you want to have enough power to go about life a little more like usual in an extended emergency then go for this 1250 solar generator. You can keep your refrigerator going for 20 hours on a full charge or run lights whenever you want. Recharge times are long if you use a small panel.
This is definitely a generator that you want to use a larger panel for if you plan on using it much. The charge time for using  60 watts worth of power is 40 hours so I would recommend using this with 2 100 watt panels if you can.
I realize that mobility and weight are an issue when it comes to panels but the size of this generator means that it is not quite as portable as some. Most use a dolly or similar to move when possible because even if two people lift this they are still going to be carrying 50 lbs.
Reviewers report that it performs as well as Ground Zero claims. One review that stood out was a customer that used it to power a fridge for 24 hours and still had 20% charge left. So that is actually a bit better than the claims.
3. Paxcess 100 Watt Solar Generator
This super lightweight generator is a bargain for sure. Although it doesn't come with any solar panels, adding one is still going to be a cheap generator solution. This unit holds up to 150-watt-hours and can be recharged using solar, your car's 12-volt system, or via plugging into a standard 110 outlet. The manufacturer says that when plugged into 110 it takes 8 hours to charge. That means that with a solar panel that is 100 watts you could use 100 watts of power at a time during sunny periods without depleting the power bank.
For small needs, this is not a bad back up to have and definitely gets good reviews from buyers. At 3.3 lbs this is some power that allows for easy portability. In fact, that is light enough you may want to charge it up for even a backpacking trip. A 100-watt panel and cables would bring the cost of the whole set up to about $300.
You do get more power for your dollar overall with the Goal Zero Yeti 150 but it weights more than 3 times as much as this unit. I could see having this at a cabin or other area.
4. Easy Focus 500 Watt and 288 Amp Hour Portable Solar Generator
This is a very powerful little generator. You get three standard outlets as well 4 USB charging ports, a built in light, and more. At 7 lbs, this is something that is manageable for someone around the house and it can be easily stored.
If you have a getaway that needs some power then this is the ticket!
Adding a Renology 100 watt panel for $130. This means  you have a good backup system for a small emergency. Like most solar generators, you can also charge from a 110 or 12 volt outlet if you have the opportunity. The bright color could be a downside though if you are trying to hide out.
5. Renology Phoenix Portable Solar Generator With Built In Panel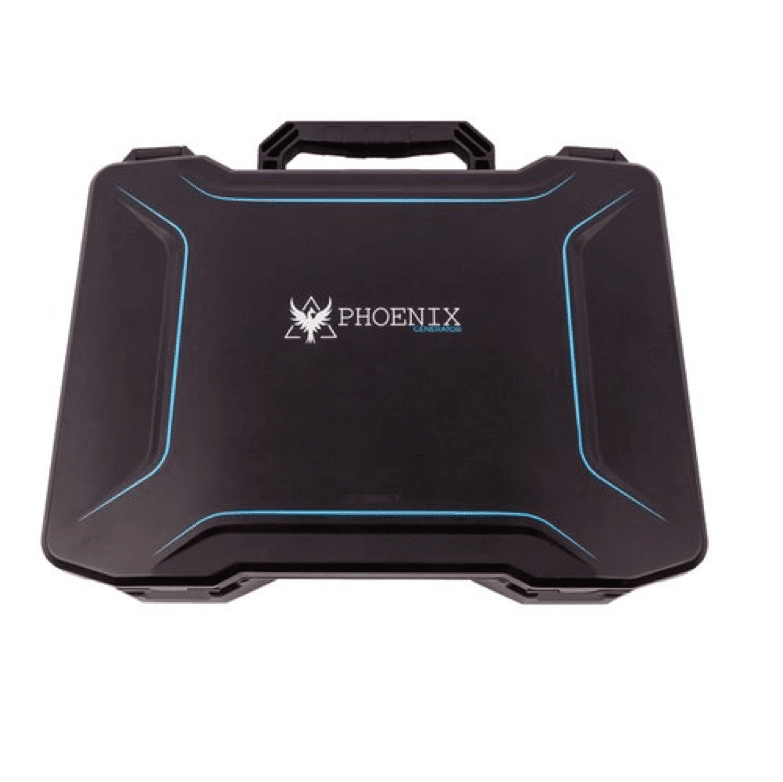 While the price tag seems a bit steep for something rated to 150 watts of power, there are a lot of good characteristics to make up for this.
First of all, you need to realize that there is a 20-watt panel built in. You don't have to do anything to use this besides open it up. The 12 lb weight is everything included and it is comfortable to carry because it is briefcase style.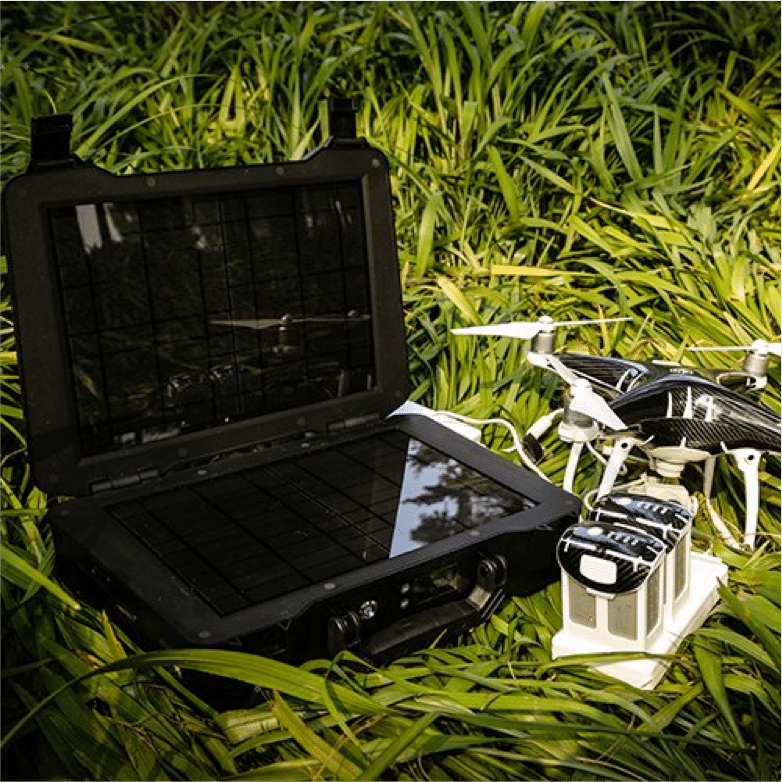 This all-in-one suitcase style generator can have an extra 100 watts added to it so you can charge really fast. You can plug in USB, 110 volt, and 1-volt devices with ease. This generator has MPPT technology that is standard in high-quality solar setups. This allows the generator to make the most efficient use of panels so you get maximum power each and every time.
6. Kohler EnCube 1440 Watt Solar Generator with Additional Solar Panel (Optional – can purchase separately)
For you fans of Kohler engines, there is the EnCube. This is an impressive generator that packs a lot of power and comes with a high wattage solar panel. You can expand up to 240 watts so adding a 90 watt is something you might want to do.
The generator takes 10-16 hours to charge using the panel it comes with but you can reduce that considerably by adding a 90-watt panel. 5.5-8.5 hours or so would be your charge time instead.
The weatherproof design, wheels, and a handle making it easy to move around. This is an awesome solution for those off the grid or for those that sometimes getaway to a remote location that they can get a vehicle into. RV dwellers could benefit a lot from a system of this size.
If you are the type that really doesn't want to have to pick and choose what devices and appliances to use, the EnCube offers plenty of power for a family, especially when paired with the extra panel.
Tips For Getting The Most Out Of Your Solar Generator
Avoid cold conditions if you can
Solar generators do not operate as well under sub-zero conditions. If you have to keep your generator in an unheated or colder space then Goal Zero recommends putting it in something insulated like a big cooler. This will keep battery capacity at its best so you have the power you need.
Try not to let battery levels get below 50%
Sometimes you may have to draw off a lot of power but any battery does better if it is not allowed to be depleted by more than half.
Charge your generator annually even when not in use
Generators that are usually just sitting in storage needed to be charged up fully at least once a year to maintain the battery. Plus you don't want to find that you have let it become depleted right when you need it for a real emergency.
Although generators are made to be tough they can only take so much. Do what you can to make sure that it is well out of the way of any potential impacts.
Know the maximum expansion capability before you buy
Solar generators are only made to have so much power coming into them at once. Some may say you can only use 380 watts or 300 watts worth of panels maximum. Make sure you check before you buy too many panels.
Keep a watch on power levels when plugging in high drain devices
Space heaters, hot plates, hair dryers, etc all draw a lot of power off and rather quickly. A refrigerator can be a big draw if left on for a solid day.
One thing to keep in mind is that anything with a heating element in it is going to suck up battery power like crazy so think carefully about what you really need or enjoy using the most. Make sure to educate others in the family about what is okay.
Deciding Which is the Best Portable Solar Generator for You
As you can see there are a lot of different types of generators out there at all price points and power levels. The one that is right for you should be the one that can supply what you find tolerable basic needs. If you combine resources with other family or friends during crisis then you might want to account for them as well.
Many people find that they like having a very small 150-500 watt generator for some uses and major portability since they are usually under 8 lbs and a larger home based set up for general household use.
Sometimes just some back up for a laptop and light and radio is all you need for a day or two outages whereas a week or longer grid down situation makes it nice to have that home back up.
If you enjoyed this article, consider following our Facebook page.