Unless you have been camping out in the boonies for the past few days, you have probably heard that there was a security breach at Epsilon, a major supplier of marketing services and database information to huge corporate clients.  Let's call it like it is.  This security breach was a hack attack and the bad guys got away with a hoard of email addresses, although Epsilon has not come out and told us how many.
According to Epsilon, the affected clients are approximately 2 percent of their total client base.  That doesn't sound bad, until you realize that those clients include JPMorgan Chase, US Bank, TiVo, Capital One Financial, Kroger, Walgreens, Disney, Best Buy, and and more.  Yuk.
The first indication I had that something was amiss was an email I received on Saturday from US Bank.  I thought it was a fake – you know, a phishing scheme.  Being the smarty pants that I am, I deleted the email right away and jumped over to the US Bank website where I learned that this indeed was a real security breach and not a scam.
That got me thinking, however.  What if it had been a fake?  And what if some unsuspecting computer user clicked on one of the links in the email, signed on the the site,
and gave away the store so to speak?  Now don't say that does not happen because I know it does and it happens quite innocently just like drive-by malware attacks happen.  (Poor Survival Husband had a drive-by attack last week and you-know-who had to fix it.)
So today I am offering some helpful tips to aid against identity theft and fraud both on the internet and in daily life.
1.  Be extremely cautious when providing personal information such as your Social Security number and account or credit card information over the telephone, in person or on the Internet. Do not give out personal information over the phone, on the Internet, or through the mail unless you have initiated the contact or know exactly who you are dealing with.
For example, if some one calls you and asks for verification information, get their name and phone number and check them out. Do not simply call them back since for all you know, they could be sitting in a sweatshop somewhere waiting for your callback.
2.  Shred all financial information before throwing it away: this includes charge receipts, credit applications and other statements. Also shred any pre-approved credit offers to which you do not respond.  Thieves are known to go dumpster diving and can use these offers to assume your identity.

3.  Go paperless if you can and scan copies of account statements and receipts in a PDF on your hard drive that is secured by a strong password that includes a combination of upper and lowercase letters, some numbers, and a special character or two.

4.   If you can not go paperless (although I can not image why since scanners are so cheap these days), store cancelled checks, blank  checks and account statements in a safe place.

5.  Keep mail secure. Consider installing a U.S. Postal service approved secure mailbox or better yet, get a PO box.   Don't mail bills or sensitive information from your home or unsecured mailboxes.  Deposit outgoing mail in postal collection boxes or at the post office. If you can't pick up your mail, contact the post office and have your mail held until you can pick it up. Remember, the crooks can and will use the personal information contained in your mail to steal your identity.

6.  Protect your Social Security number and ATM pin numbers by not carrying them in your wallet.  Memorize them.  And come on guys, this is just plain common sense!

7.  Report lost or stolen checks, credit or debit cards immediately. Keep a list of all those numbers shown on the back of your credit cards someplace safe so that if you lose your wallet or it is stolen, you have a list ready to go.

8.  Do not click on links in email from unknown senders – if it is spam, it is a scam. Also, identity thieves use all types of phishing techniques.  They pretend to be an authoritative organization, such as your credit card or Ebay or Facebook, asking you to verify your information. Never use these scam links; instead, log directly into the company's website, and chances are you will see that the email was a scam.

9.  Never put identifying information on discussion forums or websites such as MySpace or Facebook.

10.  Install a good anti-spyware program and anti-virus scan on your computer.  Microsoft Security Essentials is free but I also get added protection from Malwarebytes (also free).

11.  Do not use obvious passwords or PINs.  These include your birth date, mother's maiden name or consecutive numbers.  Try using phrases that mix letters and numbers, like "BackdoorSurvivalisagr8blog" rather than words you would find in the dictionary.

And store your passwords under lock and key so a thief won't find them if searching your house.  Better yet, use a password manager to encrypt and store your passwords.  I have used RoboForm for years.  The latest version, called RoboForm Everywhere, automatically syncs your passwords as well as "safe notes" and bookmarks across all of your devices.  So cool.

12.  Make sure Internet sites you use are secure and have a privacy policy. Secure Internet sites start with "https" and should have a padlock icon (which shows up in different locations depending upon your browser).

13.  Review your credit report at least once every year. Make sure all information is up-to-date and accurate. Order a free copy of your credit report from //www.annualcreditreport.com.  Make sure it includes only those activities that you've authorized.

14.  Review your monthly account statements thoroughly. Investigate suspicious items immediately to head off any possible fraud before it occurs. If your bills do not arrive on time, contact your creditors. Missing bills could be a sign of mail theft.  Better yet, sign on for paperless online statements and eliminate the possibility of mail theft entirely.

15.  Never respond to unsolicited prizes such as lottery announcements. Crooks use these methods to lure unsuspecting members into cashing checks through their personal account in order to pay the "advanced fee" on a lottery they want you to believe you have won. They may also ask for your personal account information directly. Remember, these are scams and if it is too good to be true, it probably is.

16.  Be careful at the gym, the spa, or even while hiking the great outdoors. Bad guys will use these opportunities to break into your vehicle or locker in order to "skim" or duplicate your debit or credit cards.  This information is then transferred to a counterfeit card and used to make withdrawals from your accounts.  Lock up your valuables safely or better yet, leave them at home.

17.  If you are at a location where you need to lock up your valuables, use a lock and key rather than a combination lock.  It is more difficult for a criminal to break into your locker if you use a lock and key.

18.  A lot of people will disagree with me, but I never ever answer the phone if the caller ID says "restricted" or "unknown".  I automatically assume that the caller is hiding something.  If the call is legit, the other party will leave a voicemail.  90% of the time they don't.  What does that tell you?

19.  Clean out credit and debit cards: Cancel all old credit cards that you do not use because open credit is a prime target for identity theft. When you are going to receive a new card in the mail, be aware of when it should arrive. Call to check on the card if you have not received it by a certain date.

20.  Be wary at ATMs.  The crooks sometimes install skimmers that look quite real and legitimate in front of the little slot that swallows your ATM card.  The same thing applies to the self-serve pay station at gas stations.  Have you wits about you when using these devices.

21.  Check with your homeowners policy to see if they offer identity theft coverage.  An ounce of prevention goes a long way but if you are caught in the identity theft web,  having some help will be priceless especially when you think of the countless hours that you will need to spend attempting to recover your stolen identity. Identity theft coverage will save you time, money, and substantial frustration if you do get targeted.  For about $20 a year, adding this coverage to your homeowners policy will give you the resources to hire an attorney or other expert to assist you in reclaiming your life.
I started out thinking I would offer up a quick and dirty list of tips to prevent identity theft and online fraud.  What we have, however, is more that just quick and dirty.  This is a list of practical rules to live by.  Much as we hate to admit it, the bad guys are out there.  Best to be prepared.
Finally, please do your not-so-savvy friends and relatives a favor and pass this information on.
Enjoy your next adventure, wherever it takes you!
Gaye
Enjoy your next adventure through common sense and thoughtful preparation!
Gaye
If you enjoyed this article, consider voting for Backdoor Survival daily at Top Prepper Websites!  In addition, SUBSCRIBE to email updates  and receive a free, downloadable copy of my e-book The Emergency Food Buyer's Guide.
[related-posts]
~~~~~~~~~~~~~~~~~~~~~~~~~~~~~~~~
Bargain Bin:  Below you will find links to some personal and BDS reader favorite items and books as well as a selection from the current Amazon Top 10.
One Second After
:  For many, the novel "One Second After" was a game changer that convinced them of the need to be prepared.  This is mu number one pick for anyone and everyone that might be on the fence when it comes to preparedness.
Patriots: Surviving the Coming Collapse
: Although this is also a book of fiction, it is also serves as a survival manual of sorts.  The depiction of society three years following a collapse is so very real that I could almost put myself in the same room as the members of the survival group that has banded together to protect each other as they live in a communal retreat.  The section on a bartering market was hugely insightful and gave me some idea of how it might work in a real, SHTF situation.  Considering when this was written, Patriots is eerily timely.
Clara's Kitchen: Wisdom, Memories, and Recipes from the Great Depression: If you don't know about Clara, be sure to read Depression Cooking: A Visit to Clara's Kitchen.
The Beginning Of The End
:  This is Michael Snyder's first novel.  If you want to know what things in America are going to look like in a few years, this is the book to read.  It is a mystery/thriller set in the United States in the near future.  Need I say more?
Tac Force TF-705BK Tactical Assisted Opening Folding Knife 4.5-Inch Closed
: FAVORITE! This is a great knife that is currently priced at under $9.00 with free shipping.  Not only that, it is ranked as the #1 best seller at Amazon in both the camping and hunting knives categories.  The reviews raved about this knife so I bought one, used it, and and can recommend it.  See The Inexpensive Tac-Force Speedster Outdoor Knife.
Note:  the price can vary by color so if you are not particular, scroll through the colors and safe a couple of bucks.
Dorcy LED Wireless Motion Sensor Flood Lite: Don't let the $20 price lead you to think this wireless flood light is wimpy. I have two of these and feel that these lights are worth double the price.  Using D-cell batteries, the Dorcy floodlight will light up a dark room or a dark stairway in an instant.  I can not recommend these enough.
LifeStraw Personal Water Filter
:  The LifeStraw is considered the most advanced, compact, ultra light personal water filter available. It contains no chemicals or iodinated resin, no batteries and no moving parts to break or wear out.  It weighs only 2oz. making it perfect for the prepper. There is also a larger sized LifeStraw Family currently available with free shipping.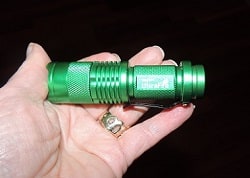 FordEx Group 300lm Mini Cree Led Flashlight: You already know this, along with the Blocklite,  is my favorite portable flashlight.  At the time of this writing, this one is about $4.00 with free shipping.  It is super mini sized, bright and waterproof.  Plus, it uses a single, standard AA sized battery. Pictured is one that I own in green but they come in basic black as well as some other colors.
Blocklite Ultra Bright 9V LED Flashlight: I now own six of these little gems. There is a similar flashlight called the Pak-Lite (which is more expensive) but it does not have a high-low switch like this one. Less than $8. These little flashlights just go and go, plus, they make good use of those re-purposed 9V alkaline batteries that you have recharged with your Maximal Power FC999 Universal Battery Charger.
Bicycle Canasta Games Playing Cards:  This timeless classic will keep the entire family occupied when the power it out.  Playing cards or board games should be in everyone's preparedness pantry.
Ticket To Ride
: This my favorite board game, bar none.  Family friendly, you will spend hours in front of the fireplace playing Ticket to Ride with your favorite people.  This is worth the splurge.
~~~~~~~~~~~~~~~~~~~~~~~~~~~~~~~~
~~~~~~~~~~~~~~~~~~~~~~~~~~~~~~~~
Need something from Amazon (and who doesn't)? I earn a small commission from purchases made when you begin your Amazon shopping experience here. You still get great Amazon service and the price is the same, no matter what.
Amazon has a feature called Shop Amazon - Most Wished For Items. This is an easy tool for finding products that people are 'wishing" for and in this way you know what the top products are.  All you need to do is select the category from the left hand side of the screen.
The Amazon Top Most Wished For and Best Selling Outdoor Items
Emergency Preparedness Items from Amazon.com

Amazon Gift Cards
Help support Backdoor Survival. Purchases earn a small commission and for that I thank you!
~~~~~~~~~~~~~~~~~~~~~~~~~~~~~~~~
Are You Interested in Essential Oils?