This site contains affiliate links. As an Amazon Associate, I earn a commission from qualifying purchases at no extra cost to you. Full Disclosure Here.
The leaves fall and the weather turns frightful outside but we still have to head out in it. It might only be for a few minutes at a time but no one likes being cold and wet. A high-quality survival jacket can put a barrier between you and the weather.
If we are honest, our lives are mostly lived out of the elements. That lifestyle of maximum convenience has caused many of us to believe we should choose style over comfort and insulation.
I have been guilty of buying more than one piece of clothing that said what I wanted it too but hardly did what I needed it to. Gotta make a statement!
One of the core principles of any survivalist should be to affect and control your core body temperature. This could be through things like shelter, fire and of course, the clothes on your back.
Without quality outerwear, you cannot hope to defeat the cold and the rain. The elements kill more people each year than all the bears in the nation. Keep that in mind. If you cannot keep warm in a survival situation, the cold and the rain will most certainly defeat you.
What to Look For in a Survival Jacket
There are a few characteristics that are important for any survival jacket to meet. These will assure that when the time comes you have a jacket that is up to the task.
Remember, we are staking our warmth and potentially our body's core temperature on these jackets.
Insulation
The insulative properties of any survival jacket are going to be what keeps you warm. This could be from things like down or maybe a fleece or wool lining. It could also come from some sort of hybridized fabric that makes up many of the jackets on the market today.
The important thing is that this jacket must have insulative properties that hold your body heat. Look for natural materials like down and wool as they are the best at insulation.
Moisture Barrier
Any good survival jacket is going to have some sort of moisture repelling outer layer. This will keep you dry and when it works in tandem with an insulative layer you will notice the difference in even the worst conditions.
I have jackets that are not 100% waterproof or water repellent, but they do a good job as long as I don't spend all day in the driving rain.
Your choice of a survival jacket might also be a simple outer shell. A waterproof outer shell can make a world of difference in a survival situation. I like these because they can slip over your outerwear or clothes that you are already wearing.
Storage
Any jacket worn by a prepper or survivalist is going to need some storage space. The more pockets the better! A few hidden pockets are also an added bonus.
It can be awkward if you reach for your keys and a tourniquet comes falling out, or that spare magazine.  
I have an outer shell that has a small zipper pocket just above the left breast and I get so much use out of that thing! It's just in the perfect spot to store those things I need in a hurry.
Your jacket could be an essential part of your EDC. The right survival jacket will allow you to store more of the things you need. If I opt for a pair of tactical pants and a zipper pocket survival jacket, I can abandon my EDC backpack and spread the contents throughout my pants and jacket.
12 of the Best Survival Jackets
5.11 has long been the maker of clothing and gear that meets the needs of survivalists. They market their clothing on the backs of special forces soldiers and first responders, but any prepper or survivalist can see the value in something like the 5.11 Big Horn Jacket.
This is the grey man of survival jackets. At first glance, it appears to be a simple midweight jacket with two side pockets.
A closer look will reveal a slick little zipper pocket on the sleeve, a hidden chest pocket, and inside pockets as well.
The Big Horn is water-resistant and fleece-lined. It also features two side zippers that open from the bottom so you can clear the garment and get your hands on a firearm if need be.
Kitanica was a brand built for the apocalypse. That was their branding a few years ago. They have since pulled back on that a bit. However, their jackets are still rugged.
The new Mark VI is covered in pockets. It's not afraid to show em to you either! There are a total of 11 interior and exterior pockets!
This survival jacket has a stowable hood and is designed to be a lightweight shell that packs and travels with you. Its base is 300 denier CORDURA to meet the goal of being lightweight but still keeping you warm and dry.
The Mark VI is a great shell for layering in the cold weather.
Duluth needs no introduction.
This hooded survival jacket comes from a line of clothing called 'Alaskan Hardgear' and I am sure it will keep you warm. It is designed for hard work in cold conditions. The 405-gram fabric is made of 100% cotton twill and bonded to polyester Sherpa fleece.
The shell of the jacket is designed to fight the cold, wind and rain. Its temperature rated for working down to 30 degrees.
Though this jacket doesn't have a ton of storage space, it makes up for it as a mean, purpose-driven survival jacket.
EMS Stasher Jacket
When it comes to sheer use, there is no piece of gear that I turn to more often than my stasher jacket. Most often I keep this small bundle in my get home bag but when we travel, I take it along, as well.
Stasher jackets are designed to be bunched up and stored in a small package. I can fit mine in the back pocket of most of my pants!
It's basically a rain jacket. My stasher has two pockets and some pull cord to tighten the hood around my head. It's big and fits over many layers.
While the Stasher is not the sexiest survival jacket on the list, it is something I use more than any other survival garment in my arsenal. They also make great pillows for camping.
Note: The EMS jacket is currently a bit hard to find but that may change at any time. It is made by Eastern Mountain Sports.
Another Uber brand, Carhartt has been making great jackets for outdoor workers for a long time. I remember when I purchased my father one of these and he remarked that in all of his 65 years he had never had a coat that was as warm.
Because of its incredible insulative properties, the Sierra Jacket by Carhartt is an excellent survival jacket.
This great jacket also has some storage capabilities. The Sierra has two internal and two external zipper pockets. I love zipper pockets because I lost things!
There is also a great breast pocket, zippered, and the whole jacket and hood are Sherpa lined.
Rothco has created a serious tactical survival softshell jacket in this one. I love the high breast zippered pockets and internal storage. This survival jacket also features two-way zippers for quick access to inside pockets, IWB holster or pants pockets.
The construction of the Spec Ops is built around wind, water, and cold resistance. The fleece lining keeps you insulated and warm, while the outer shell repels wind and water. It's also available in about 15 different colors! Not many jackets on this list have those options.
This survival jacket hits all three requirements with its three-layered construction and multiple zippered pockets. The Rothco is also hooded, which is one of my favorite features.  
If you are a cold-weather prepper or survivalist, this survival jacket is the one you should be after. We all know that there are regions of this nation where cold takes on an entirely new meaning.
Here in Virginia, we get a few cold months and the temperatures can dip into the teens a few times a year. When you get to the northern Midwest and around the great lakes, this type of cold has a different type of soul.
Its subzero temperatures, wind, and snow for months on end. In my opinion, it seems like a nightmare. Still, there are lots of people that call these areas home. This extreme cold will bring serious challenges to the prepper.
Canada Goose has an Expedition Parka that looks like something you would wear when appearing out of the blinding wind and snow.
This parka is far and away the most expensive item on the list.
The adventure parka is filled with real duck down and designed to keep you warm in the coldest conditions. Canada Goose's artic tech fabric is designed to stand up against wind and water to assure you are kept dry.
This long survival jacket has 8 pockets along with its fur-lined hood and will keep you warm in the most unforgiving environments. It's worth the money if you are a cold-weather prepper or survivalist.
North Face produces a lot of clothes. They have a wide variety of clothes, so it surprised me to find something like this in my research for this article. I have to admit that I was no expert on all thing's survival jacket, this surprised me.
What I like best about the tactical flash is that it has everyday applications. It's kind of similar to the 5.11 in that regard because you could get away with wearing this jacket on most days. It's not like the Parka.
Two simple pockets, a great hood, and North Faces' wind wall technology makes this a simple jacket that might do well in a seasonal EDC setup.
Not many of these jackets are specific to one gender but you could argue that none of them are purely designed with the ladies in mind. I thought it would be nice to include a very effective, yet simple, jacket from L.L Bean that would qualify as a woman's survival jacket.
The Field Jacket is built for storage but also doesn't carry the burdensome look of a "tactical" jacket. It's a button-down and somewhat fitted jacket made mostly of cotton. It scores low when it comes to moisture and insulation. However, it could be a great outer layer for a fall day on the homestead.
What stands out is the storage. There are two breast pockets, two side-entry pockets, and two large buttoned cargo pockets. I would throw my eggs in there or maybe some foraged wild edibles.
This jacket by L.L. Bean looks great, too! There is something to be said about that.
Some survival jackets hook you on their design and its this timeless bomber jacket design that secured Mustangs place on this list.
 These jackets come in many varieties, but they are all built for harsh weather and durability. The product pictured is a flotation jacket that is designed with sealed foam inside to increase buoyancy.
These jackets are designed with safety in mind and not just being tactical on the streets. In fact, you would see more jackets like these in warehouses and ports than you would in any hiking or adventure situation.
It's a survival jacket that hits all the high notes and delivers a little extra in the form of PPE.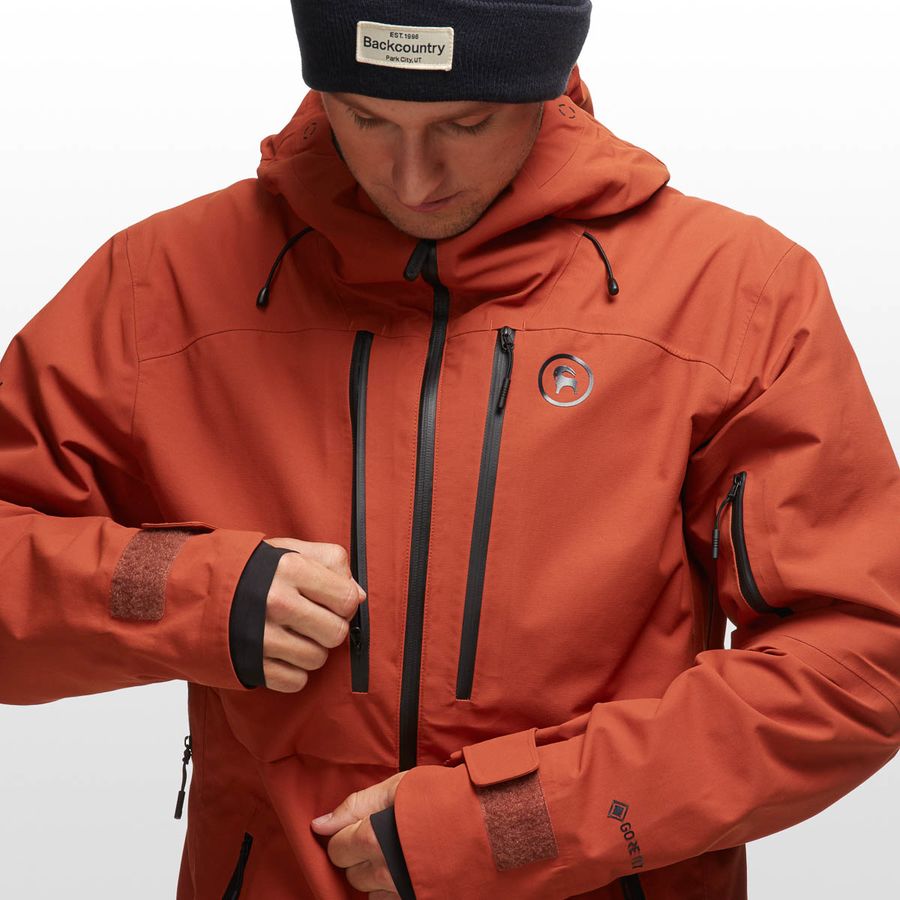 This survival jacket is designed for the snow. It's a skiing or snowboarding jacket, at its core. The Cottonwoods is a powerful cold weather coat for your closet. Even if you don't find yourself on the side of a mountain, in feet of snow, we all get those cold days.
Also, there is something wonderful about a cold-weather camping adventure. Well, there are two things
No bugs
No people
Because of its intended design, this survival jacket by Backcountry is a machine when it comes to dealing with moisture and cold. The Gore-Tex membrane assures that the jacket is not only a great waterproof shell, to cover your more insulating layers, it also makes that shell breathable.
Backcountry didn't skimp on the storage space either. There are plenty of pockets both inside and out on this jacket. They are also all zipper pockets. If you are interested in an extreme outer layer, this one is built for snow and cold.
This jacket was designed and used by the US Military. It is a tried and true design of 50% nylon and 50% cotton sateen. This equates to serious water resistance. This is truly a survival jacket worn by soldiers.
The Tru Spec has a removable internal layer that will add to its insulative qualities or allow you some breathing room in warmer weather. While some of the survival jackets we reviewed in this article are built for extreme weather, this is a jacket that could be worn at least three seasons.
You have access to four pockets and zipper concealed hood to keep your head dry in the worst conditions.
The Tru Spec M-65 Field Jacket is a classic and it's been proven in the field. These two things go a long way when choosing your own survival Jacket
 Conclusion
Survival is the practice of keeping things like starvation, hypothermia, and dehydration at bay. As important as fire starters and hunting gear, your survival jacket is going to provide you with an insulative layer that will preserve your body's core temperature.
As consumers, we put tremendous pressure on gear producers to create the "next big thing" and when it comes to survival gear, companies are making massive innovations.
The problem with the survival jacket is that its an investment. Most survivalists are going to struggle with investing a few hundred dollars or more on one of these. Of course, when the weather turns ugly or if you find yourself in a true wilderness survival situation, that investment could save your life.
So what did you like?
The simple EDC style of the 5.11 Big Horn might be all you need to keep warm and carry the things you need. While others might be looking for a serious coat that will stand up to freezing temperatures. Something like the Adventure Parka by Canada Goose will fit that bill.
Your next step should be to sit down and assess what you truly need from a top-quality survival jacket.