This site contains affiliate links. As an Amazon Associate, I earn a commission from qualifying purchases at no extra cost to you. Full Disclosure Here.
It is time to launch a brand new Backdoor Survival Book Festival and what a great line up I have for you!  Not only are there lots of books, but many of the authors are including multiple book sets and multiple winners in their giveaway.  This is the 6th book festival and to me, it seems as though they get better and better with each round.
Before I start, for the benefit of the Backdoor Survival newbies, let me tell about the Backdoor Survival book festivals and how they work.
What the heck is a book festival?
Glad you asked.  Over the course of the next few of months, I will be featuring survival and prepping book giveaways coupled with exclusive, one on one author interviews.  These articles will post once a week typically of Saturdays although I may run a "book festival" blast with multiple interviews and giveaways in a single week.
For each book giveaway, I will typically ask a question and request that you provide an answer in the comments section of the article.  I may also provide a way to make multiple entries so you will want to watch for those bonus opportunities.   Winners of the book giveaways are selected at random and the winning book is sent out directly by the author or the publisher.
I could go on but why not just get into it?  Here is the list of Summer 2014 books and their descriptions.
Summer 2014 Book Festival #6 – Fiction
Day After Disaster
"How fragile everything had been. People walked through life everyday taking it all for granted, their cars, their cell phones, their lattes, their dramatic social issues and their medical problems."

She had started her day at her home in the mountains just like any other. There was nothing unusual about making the familiar drive down to Sacramento to go to work. Then in a flash, Mother Nature decided it was time to create a new landscape.

Follow the journey of a dynamic young woman, mother, and wife, Erika, as she is thrust into a world turned upside down by a series of natural disasters. Alone in a city mutilated by disaster, she must navigate the path home, back to her family. Not knowing if they are alive or dead, she must call on all of her survival instincts to navigate this broken environment.

Will she make it home? Will her family still be alive? What will Mother Nature dish out next?

Author:  Sara Hathaway
Jingling Our Change (Liberty Dying Series Book 1)
For over 40 years, Bloom's been kicked around by the hard knocks of life.

Events cascade into chaos as she tries to help her friends survive the infrastructure collapse. Polite society experiences a massive correction. Struggling through violent clashes and heartbreaking decisions, the small group grow strong bonds as they work together to hold on to their food, guns, and property as the government reaches in to take what they want by granting themselves ever-increasing authority. Individuals quickly reprioritize their loyalties, as the political elite focus on micromanaging the population.

While some people look toward liberty for the future, others decide to take full advantage of the anarchy by feeding off people's adversity. Either way, only the strong can survive. There are no handouts left.

Author:  Kelli Otting
Nanny State Nightmare (Liberty Dying Book 2)
The United States is paying the piper for years of meddling in sovereign nation's affairs, absurd monetary policy, and self-serving corporate cronyism. The bloated government bureaucracy is slow and unresponsive. Political infighting and old-school tactics derail any attempt at reform. Old worn-out attitudes and methods aren't helping the American people deal with the runaway inflation and unprecedented joblessness.

There aren't enough people left paying taxes to support the free lifestyle politicians advertised and promised. Bloom, Carl and their friends from Briar, Missouri see the writing on the wall and work to ensure a future of Liberty and Freedom, even as the government uses fear and intimidation to control the mindless masses.

It's a dangerous time to be a Constitutional Patriot in America.

Author:  Kelli Otting
The Shadow Patriots
The action begins after a series of devastating events that brings America to its knees, which include an invasion by the Chinese military in California.

This startling incursion rallies young people by the thousands to sign up to fight for their country. But after decades of military budget cuts, casualties soar in a disastrous war and in desperation, the government puts out a plea for anyone to volunteer.

Cole Winters, a middle-aged man with no military background, decides to answer the call of duty but quickly finds himself thrown into a different nightmare when he discovers himself in the middle of another war, a war nobody knows exist. After stumbling upon a secret plot to kill the recruits before they even begin their training, Winters tries to stay one heart-pounding step ahead of corrupt forces as they try to capture him.

In a frantic race against time, he saves as many other recruits as he can while seeking to find out who is behind the murder of thousands of American volunteers.

Author:  Warren Ray
Survivor Max: Too Smart to Die
Meet Max, an 11-year old boy who was stuck in another boring day at school when the lock down alarm went off. They were under quarantine. He escaped and made it home, only to discover he'd have to find a way to survive this plague alone.

Little did he know his father, his only parent, was among the infected.

Slow-moving and non-thinking, the "lamebrains" swarmed his apartment complex, hunting survivors to feed their insatiable hunger for living flesh. Now he must rely on his Porcupine Freedom Scouts training, and scarce supplies to survive. A chance discovery reveals his father's research on the virus, which in the right hands may be the key to a cure, but first he must prove that he's too smart to die.

Author:  Davi Barker
Collective Retribution
The United States of America is a nation on the brink of collapse. With high unemployment, religious extremism, partisan politics, and civil unrest, mixed with the uncertainty of the global financial markets, it's just a matter of time before it all comes crashing down. Some countries are poised; troops at the ready, waiting for this day and the opportunity to seize it all.

Levi Nirschell, family man, rancher, patriot, and NSA operative has devoted his life to the service of his country. He has spilled his own blood for the cause of liberty and the protection of the innocent. Now his nation calls on him yet again for its salvation. This time it's different, this time it's not just his life that's at stake. This time it may cost him everything he holds dear.

"Collective Retribution" is a prophetic look at the coming fall of The United States, and those who will be the catalyst in bringing about her destruction. Who will survive? Will America be rebuilt and return to her former glory? Or will she turn into something quite different than the Founding Fathers dreamed of? Something ugly-Something evil.

Author:  D. S. Edwards
Event Horizon (The Perseid Collapse Post Apocalyptic Series Book 2)
Book Two in The Perseid Collapse Post Apocalyptic Series. The critically acclaimed, post-apocalyptic saga continues…

With Boston collapsing faster than Alex Fletcher predicted, his personal rescue mission deep into the heart of an increasingly unfamiliar city reaches a critical point. Pursued by a ruthless militia group and forced to navigate a treacherous landscape, he runs a gauntlet of grim decisions and impossible odds to reach perceived safety. Perceived because nothing is safe in the world rapidly emerging after the "event."

In Maine, the consequences of a random, deadly encounter has left Kate Fletcher and her travel companions in a state of perpetual fear. Finally reaching the Fletcher's western Maine retreat, they prepare for the worst—not truly understanding what that means to rogue militia leader, Eli Russell. Nothing can prepare them for what he is willing to unleash. A series of lethal coincidences fuels Eli's ghastly strategy to raise a private army, planting the Fletcher's firmly at the intersection of his shocking desires—and the epicenter of his rage.

The human darkness released on August 19, 2019 threatens to tear the fabric of society apart, until nothing remains but a distant memory of the past. Event Horizon sets the stage for an epic clash to keep those memories alive and restore hope to a battered nation.

Author:  Steve Konkoly
Forsaking Home
They survived the collapse, but can they survive the aftermath?

Morgan Carter has weathered the weeks after the collapse of the nation's power grid, reuniting with his family and ensuring their safety but his struggle isn't over yet. Carter must focus on survival in an increasingly unstable society—but the challenges he faces are beyond his wildest imagination.

Meanwhile, the enclosed quarters of the nearby government-run refugee camp make for an environment where injury, assault, and murder are the norm. As Jess creates trouble within the camp, Sarge and his crew plot to take down the entire establishment.

From the author of the hit Survivalist Series books, Forsaking Home is an action-packed adventure that depicts the harrowing possibilities of a world gone awry, and the courage it takes to protect what matters most.

Author:  A. American
Sanctuary: A Postapocalyptic Novel
Surviving the attack proved to be more than they could have imagined…

Months after a super-EMP attack devastated the United States the country is now unrecognizable. Major cities are run by gangs, survivors are dying of starvation, and the government is falling victim to lawlessness. Those who were prepared for the end find that they weren't really prepared at all.

While some seek vengeance for their losses, others are determined to restore the nation. Gordon, Samantha, Sebastian, Barone, Connor, and Pablo are all on different paths; but they are all in search of a home away from chaos. They are all in search of a sanctuary.

Author:  G. Michael Hopf
299 Days: The War
For many people at Pierce Point and the rest of Washington State, the upcoming New Year is a time for hope and belief that life is going to improve and the Collapse will end. For Grant Matson and the 17th Irregulars, the New Year means only one thing – war. The time has come and they have received their orders from HQ. Grant must come clean with Lisa and tell her the truth about his work as he plans to abandon his family once again.

While the Loyalists drunkenly and selfishly celebrate New Year's Eve, the Patriots mount a surprise attack on Frederickson making way for the 17th Irregulars to move toward Olympia.

As the battle moves on, the men quickly realize the importance of everything they have been training for when they find themselves ambushed. Doing everything he can to suppress his own fear and lead the 17th Irregulars, Grant motivates them to persevere as they fight for liberty and restoring the country to the greatness it once was.

Author:  Glen Tate
Bishop's Song (Holding Their Own Book 6)
Book six of bestselling author Joe Nobody's saga continues the adventures of Bishop and Terri as the communities of the Alliance strive to improve the quality of life for all. But the obstacles are many.

War looms on the horizon as treachery threatens to destroy everything they've worked so hard to build. Bishop must accomplish the most difficult mission of his life, navigating a post-apocalyptic world that threatens danger at every step, testing the will of even the strongest of men.

Author:  Joe Nobody
Summer 2014 Book Festival #6 – Non-Fiction
The Knowledge: How to Rebuild Our World from Scratch
How would you go about rebuilding a technological society from scratch?

If our technological society collapsed tomorrow; perhaps from a viral pandemic or catastrophic asteroid impact, what would be the one book you would want to press into the hands of the post-apocalyptic survivors? What crucial knowledge would they need to survive in the immediate aftermath and to rebuild civilization as quickly as possible—a guide for rebooting the world?

Regarded as one of the brightest young scientists of his generation, Lewis Dartnell proposes that the key to preserving civilization in an apocalyptic scenario is to provide a quickstart guide, adapted to cataclysmic circumstances.

The Knowledge describes many of the modern technologies we employ, but first it explains the fundamentals upon which they are built. Every piece of technology rests on an enormous support network of other technologies, all interlinked and mutually dependent. You can't hope to build a radio, for example, without understanding how to acquire the raw materials it requires, as well as generate the electricity needed to run it.

The Knowledge is a brilliantly original guide to the fundamentals of science and how it built our modern world as well as a thought experiment about the very idea of scientific knowledge itself.

Author:  Lewis Dartnell
Food Storage for Self-Sufficiency and Survival: The Essential Guide for Family Preparedness
This in-depth, nuts-and-bolts guide to storing food teaches you a variety of food storage methods that you can customize to meet your family's unique circumstances including family size, tastes, ages, health concerns, income, and living conditions. This is not a generic manual on stocking dehydrated meals that have ten-year shelf lives. It's the guide to storing foods your family loves so you can eat well no matter what challenges life throws at you.

Inside you'll find:

Food-storage options for 72-hour emergency kits, short-term emergencies and long-term survival.
Food-storage planning methods that incorporate the foods and meals your family loves.
Tips for how to maintain balance and variety in your food storage.
Budget-friendly ways to purchase food for storage.
Easy and practical ideas for cooking with food in storage so nothing expires or goes to waste.
Organization and storage methods for easy food store maintenance.
Water storage and purification methods.
Canning, freezing and dehydrating methods to preserve food you produce at home.

Let this guide help you start building your self-sufficiency and food storage today.

Author:  Angela Paskett
The Practical Prepper: A Common-Sense Guide to Preparing for Emergencies
Earthquakes, hurricanes, civil unrest, economic challenges – no one knows when disaster may strike. Will you be ready?

The Practical Prepper is a common-sense guide to emergency preparedness and survival written for real people with real lives. This must-have reference book walks the reader through each step of emergency preparedness covering everything from cooking in a crisis, to home security and protection, to emergency water disinfection.

You can be prepared for the challenges the future holds. The Practical Prepper will show you how.

Authors:  Kylene and Jonathan Jones
The Prepper's Complete Book of Disaster Readiness: Life-Saving Skills, Supplies, Tactics and Plans
Is your survival plan complete from A to Z? Are you truly 100 percent prepared? Because if you overlook one vital area, fail to stock one critical supply or underestimate one potential danger, your whole plan could come crashing down.

The Prepper's Complete Book of Disaster Readiness guarantees you won't miss a thing as you prepare for the most important moment in your life. This bible of prepping shows each and every life-saving step necessary to keep your family alive and well when the world around you is in chaos, including how to:
Efficiently store water and acquire additional fresh water after a collapse
Build a shelf-stable food stock and supplement it by harvesting edible wild plants
Strengthen the security of your home as well as have a back-up bug-out plan
Treat illness and stay healthy when there are no doctors or hospitals
Build a safe and secure survival retreat that allows for long-term off-the-grid living

Author:  Jim Cobb
Duct Tape 911: The Many Amazing Medical Things You Can Do to Tape Yourself Together
In "Duct Tape 911," you will learn how to save lives and survive for days on end with various medical problems when you can't get professional help–all with everyone's favorite does-it-all supply. You'll get easy-to-follow instructions–straight from The Survival Doctor–for how to use duct tape to:

Make eyeglasses–lenses and all (using pinhole technology to focus vision)
Remove a ring from a swollen finger and cactus spines from a foot
Make an ankle brace, wrist splint, and sling
Close a deep wound to prevent infection
Remove a wart
Protect your skin from waterborne diseases during a flood
Make a tourniquet
Stop a lung from collapsing
… and more!

This unique, do-it-yourself guide is for handymen and handywomen, survivalists and campers, knowledge buffs, health fanatics, and everyone who wants to be prepared. After a natural disaster, while camping, or when the grid goes down, you may not have the best medical supplies.

So get your hands on some duct tape, and tape yourself together!

Author:  Jim Hubbard
The Prepper's Blueprint: The Step-By-Step Guide To Help You Through Any Disaster
If we have learned one thing studying the history of disasters, it is this; those who are prepared have a better chance at survival than those who are not.

The Prepper's Blueprint has been created to help get you and your family ready for life's unexpected emergencies. To make it easy, he Prepper's Blueprint has been divided up the chapters into layers of preparedness.

Layer 1: Chapters 1-14, prepares you for those everyday disasters that have shorter-term effects: power outages, storms, injuries, and evacuations

Layer 2: Chapters 15-31 help you to get ready for disasters that turn out to be much longer-lasting: economic collapse, long term power outages, and pandemics, to name a few

Layer 3: Chapters 32-56 prepares you for the long haul and a complete change of lifestyle, the end of the world as we know it: providing food and water once supplies run out, security, retreat properties, and long-term plans

The goal of The Prepper's Blueprint is to help you find freedom through self-reliance, and ultimately, to get you and your family to a point where you can not only survive, but thrive, in a world that may be permanently altered.

Author:  Tess Pennington
Countdown to Preparedness: The Prepper's 52 Week Course to Total Disaster Readiness
Every year, rivers flood, hurricanes strike, and earthquakes shake buildings to the ground. Catastrophic disasters can hit anywhere at any time. There's simply no escaping them. The only reasonable thing you can do is get prepared.

This beginner's guide to prepping shows how to create a self-sustainable home for surviving anything from a power outage to societal collapse. In just a few hundred carefully thought-out pages, Countdown to Preparedness takes you and your family from clueless to completely ready.

The life-saving program includes information on gathering food and water rations, stockpiling emergency supplies like batteries and first-aid materials, creating a bug-out plan, and even choosing firearms and other weapons for home defense.

Accompanied with detailed illustrations and charts, Countdown to Preparedness offers a six-week course that takes you by the hand as it leads you from unprepared to expertly armed in every way. By the end of this book, you learn the survival skills, emergency stocks, and intuitive know-how to save your own life and the lives of your families in the worst of situations.

Author:  Jim Cobb
The Final Word
When I first started prepping, there were only a handful of books in the survival and prepping niche, and many of those have now become classics.  New books – both fiction and non-fiction – are surfacing daily.  This is all good news and further evidence that prepping has become a mainstream force to contend with.
I would like to extend a big thank you to the authors and their publishers for submitting their books for inclusion in the Summer 2014 Book Festival.  Now if I can only find the time to read them all myself!
Enjoy your next adventure through common sense and thoughtful preparation!
Gaye
If  you enjoyed this article, please consider voting for me daily at Top Prepper Websites!  Also, be sure to SUBSCRIBE to email updates  and receive a free, downloadable copy of my e-book The Emergency Food Buyer's Guide.
Spotlight:  No list of books would be complete without my own e-book, The Prepper's Guide to Food Storage.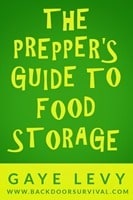 The Prepper's Guide to Food Storage will provide you with everything you need to create an affordable food storage plan, including what to buy and how to store it. Nothing scary and nothing overwhelming – you really can do this!
Help support Backdoor Survival. Purchases earn a small commission and for that I thank you!
Which are the best oils for your survival kit?  This article describes my top picks.