This site contains affiliate links. As an Amazon Associate, I earn a commission from qualifying purchases at no extra cost to you. Full Disclosure Here.
Today I share the next author interview and giveaway in the current Backdoor Survival Spring 2014 Book Festival.  Sharon Peterson, the author of Simply Canning: Survival Guide to Safe Home Canning, is joining us for an interview and is also providing one lucky reader with a free copy of her book.
Now here is the thing.  It was my pleasure to meet Sharon a year ago at a Ready Set Prep Summit in Dallas.  She is a smart, delightful and talented lady and I am so happy to feature her book today.  Not only that, the timing is perfect since I am attending my first canning class today!  Talk about serendipity!
Enjoy the interview and be sure to check out the details of this week's giveaway below.

An Interview with Sharon Peterson
1.  Tell me about your book, Simply Canning. What is it about?
The title says it all!  Simply Canning, Survival Guide to Safe Home Canning.  In addition, from my website I offer a printable companion pdf: Pantry Journal, A Home Preservers Notebook System.
2.  What type of research did you have to do while writing your book?
The site itself started out as a hobby site and grew and grew. I had people requesting the information in book form so they would have access offline. That is where Simply Canning the book was born.

The Pantry Journal is a tool I've developed for myself. When I realized others would benefit I took a hard look at my own notes, made some improvements and added things to make it even better and easier to understand.
3.  How long did it take to write?
Goodness, Simply Canning the book took months and months. I don't have an exact time frame. The Pantry Journal was much quicker. I was already using the notebook system, I just prettied it up and organized it for others.
4.  Every book, fiction and non-fiction, includes a message. What message do you hope my readers will take with them after reading and using your book?
Home Canning and/or home preserving is a skill that anyone can master.

It may be essential in the future but it is also fun! It is a lot of work, so don't get the wrong idea. But home canning is one of those things you can learn a little as you go. It is not hard, but it IS an exacting process for many foods.

You MUST use proper methods for safety. It is also a rewarding task. There is something about providing your own food for your table. I am blessed to be able to grow much of my own, but even if you don't have the space to garden you can still provide for yourself healthier foods through farmers markets, local fruit orchards and other local sources.
5.  Can you tell us a little bit more about yourself?
I am married 19 years to a great guy who works hard for his family. I'm a homeschool mom to 4 sons. Two are grown and left the nest so my dinner table is shrinking. I love to read, and garden. I love skiing in the winter and hiking in the summer. I don't get out nearly as much as I'd like!
6.  As an author in the survival, prepping and/or homesteading niche, what are you personally preparing for?
For unexpected events. Mostly I have this strong desire for a simpler life.
7.  Do you have plans for another book?
Honestly, I don't know. I have much to share!  Maybe I will.
The Book Giveaway
A copy of Simply Canning has been reserved for one lucky reader.  Here is today's giveaway question:
What is your favorite food preservation tip?
To enter the giveaway, you need to answer this question by responding in the comments area at the end of this article. The deadline is 6:00 PM Pacific next Wednesday with the winner notified by email and announced in the Sunday Survival Buzz.  You will have 48 hours to claim the winning book.
Note: If you are reading this article in your email client, you must go to the Backdoor Survival website to enter this giveaway in the comments area at the bottom of the article.
The Final Word
As I mentioned in the beginning, we are attending a hands-on canning class today.  It is so exciting for me to be able to surround myself with experienced canners who will give me the confidence to get started on my own.  I still need to purchase a pressure canner to replace the one I ordered last year that was too darn tall to fit under the hood over my stove.  That said, I am committed and Sharon's book, as well as her website, Simply Canning, are going to guide me to success!
I hope you will enter the giveaway to win your own copy of Sharon's book!
Enjoy your next adventure through common sense and thoughtful preparation!
Gaye
New:  Click Here To Vote For Me at Top Prepper Websites!
If you have not done so already, please be sure to like Facebook which is updated every time there is an awesome new article, news byte, or link to a free survival, prepping or homesteading book on Amazon.  You can also follow Backdoor Survival on Twitter, Pinterest, and Google+ and purchase my book, The Prepper's Guide to Food Storage from Amazon.
In addition, when you sign up to receive email updates you will receive a free, downloadable copy of my e-book The Emergency Food Buyer's Guide.
Spotlight Item:  Simply Canning: Survival Guide to Safe Home Canning
Do you know the most important information for safely home canning? Simply Canning the book… will lead you step by step through the most important canning safety information for both Pressure Canning and Water bath Canning. This book also includes canning directions for most basic foods.
Learn how to can tomatoes, green beans, canning meat and fruit. Then have fun and create jam and jelly, marmalade and fruit butters.

Learn what canning equipment you really need, why a pressure canner is imperative in some situations, and when waterbath canning is perfectly acceptable. Home Canning can be fun and rewarding. Do it right and you will be providing a pantry full of safe healthy foods for your family. Canning Methods, Canning with a pressure canner and a waterbath canner. What is botulism? How can it be easily avoided. Canning Vegetables, canning meat and more.
Bargain Bin:  Today is all about books.  Listed below are all of the books in the current Backdoor Survival Book Festival. There are both fiction and non-fiction titles and a bit of something for everyone.
And if not, at the very least pick up the free Kindle app so that you can read Kindle books on your PC or favorite electronic device.
Spring 2014 Book Festival #5 – Fiction
Brushfire Plague: Reckoning
Through Many Fires: Strengthen What Remains
Flight of the Bowyer
The Jakarta Pandemic
The Perseid Collapse
Leaving The Trees
Fury of the Fifth Angel
Fugitives from Northwoods
Phoenix Island: A Tale of Disaster, Survival, and Rebirth
Spring 2014 Book Festival #5 – Non-Fiction
The Prepper's Complete Book of Disaster Readiness: Life-Saving Skills, Supplies, Tactics and Plans
Simply Canning: Survival Guide to Safe Home Canning
The Prepper's Pocket Guide: 101 Easy Things You Can Do to Ready Your Home for a Disaster
The Prepper's Cookbook: 365 Recipes to Turn Your Emergency Food into Nutritious, Delicious, Life-Saving Meals
Jake and Miller's Big Adventure: A Prepper's Book for Kids
The Pantry Primer: How to Build a One Year Food Supply in Three Months
~~~~~~~~~~~~~~~~~~~~~~~~~~~~~~
Shop the Emergency Essentials Monthly Specials: The monthly specials at Emergency Essentials feature discounts of up to 35% off sometimes a bit more.
Although I have plenty of flashlights and batteries (you might even say I have a flashlight fetish) I also stay stocked up with a dozen of these Clear Mist 100 Hour Plus Emergency Candles as well.  For the best deal, purchase a dozen at a time to get a discounted price.  Be sure to also check out the Clear Globe attachment.
~~~~~~~~~~~~~~~~~~~~~~~~~~~~~~
I earn a small commission from purchases made when you begin your Amazon shopping experience here.
The Amazon Top Ten Most Wanted Survival and Outdoor Items
Emergency Preparedness Items from Amazon.com
Help support Backdoor Survival. Purchases earn a small commission and for that I thank you!
~~~~~~~~~~~~~~~~~~~~~~~~~~~~~~
No list of books would be complete without my own e-book, The Prepper's Guide to Food Storage.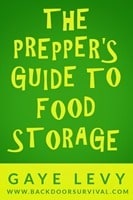 The Prepper's Guide to Food Storage is a book about food: What to store, how to store it and best practices. It is a roadmap for showing ordinary citizens that long-term food storage is not something that will overwhelm or burden the family budget.   It is based on my own tried and true experience as someone who has learned to live the preparedness lifestyle by approaching emergency preparedness and planning in a systematic, step-by-step manner.

Whether you simply want to prepare for natural disasters or whether you believe the world is headed toward a major food crisis, this book is for you. It covers basic tips and techniques you can use to stock your food storage pantry so that you can be assured that your family will have food to eat, no matter what.