This site contains affiliate links. As an Amazon Associate, I earn a commission from qualifying purchases at no extra cost to you. Full Disclosure Here.
Home freeze drying has a scientific term – Lyophilization. The process is complex, but the results are worthwhile. Freeze drying involves three steps, and it requires a special vacuum unit to complete the process.
The first step is to freeze the food.
The second is sublimation or drying of the food.
The third step is desorption which is a second form of drying the food.
Sublimation is a chemistry term that means a substance passes from a sold to a gas without ever becoming a solid. Water, for example, is a solid when frozen, a liquid when melted, and gas when heated. Under the properties of sublimation, water would go from its solid or frozen state to a gaseous state without passing through the liquid stage. That is important because if you were just to remove the water in its liquid state, you would remove much of the flavor or cause changes to the texture of the food.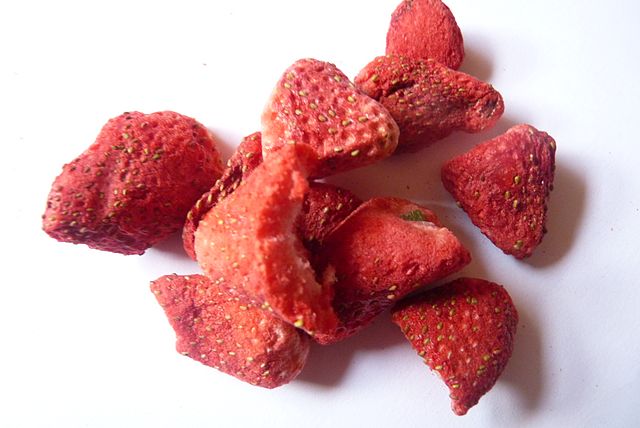 Desorption is the opposite of absorption. When something, such as water is absorbed the substance passes through a barrier, such as a cell wall and the cell would then be, in the case of water, hydrated. The cell would absorb the water. When desorption occurs, the substance passes through a barrier and out of an object. If the case of a hydrated cell, the water would pass through the cell wall and the cell would become dehydrated or lose its water.
When this process occurs under a vacuum the liquid in food becomes a solid (it freezes), and then sublimation occurs whereas the frozen water becomes a gas rather than a liquid. When that happens, desorption allows the water vapor to pass through the cell walls of food, and then the vacuum removes the water vapor. What is left is freeze-dried foods. The process is complicated, but there are home units that help you to freeze-dry your food. This blog looks at the pro and cons of freeze-drying your own food at home.
Cost as a Consideration of Value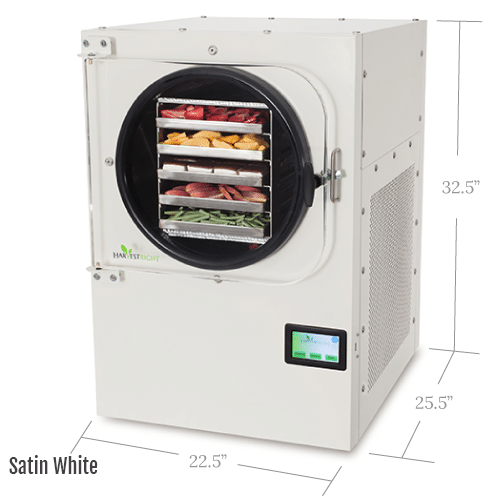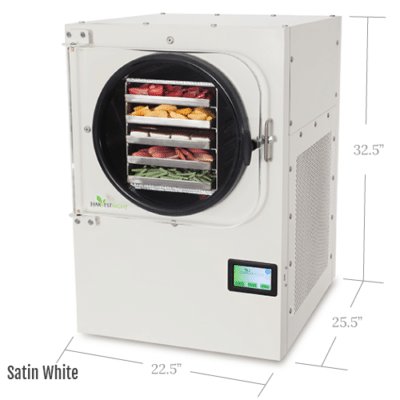 The price for a home freeze dryer ranges from a few hundred dollars for a very small unit to around $3,000 for a medium-sized unit (you can check out Harvest Right for an idea). If you are planning on freeze drying on a regular basis, then you should expect to spend anywhere from $1,500 – $3,000. The commercial varieties range above $10,000 and can be several hundreds of thousands of dollars.
The Con is that $1,500 is a lot of money. So being able to afford to buy a freeze dryer is a barrier.
The Pro is that if you can afford to buy a unit, then the cost is well worth it. Many emergency food sites offer a year's supply of food for $5,000-$8,000 and higher depending on the brand. Being able to freeze dry your own food helps to reduce the cost of purchasing emergency food stores.
Time Investment for Home Freeze-Drying
Depending on the model of home freeze dryer that you purchase and the size of a load of food for drying, expect to invest somewhere between 20-40 hours. Some models require more time and others less. Once you load the machine, you are not a slave to it. It does the entire process once you start the cycle.
What you will have to do is to package the food once the freeze-drying cycle is complete. That process is not as difficult as it might sound. You can store the food in canning jars with air-tight lids or vacuum seal it into bags with a vacuum sealer. Other options include canning the food, but that will require special tools if you plant to make your own home version of #10 cans.
Overall, 20-40 hours per batch is what you will need to invest in each load of food. The time frame is not bad considering that in less than two days you can freeze-dry about 10 pounds of fresh food.
Foods That Do Not Freeze-Dry
Foods that are high in fat or oil do not freeze-dry very well. The problem is that oil does not freeze well, so it does not conform to the steps in the freeze-drying process. Foods that are mostly sugar do not freeze-dry well either. For the same reasons that fatty foods do not.
The problem with both food types is that they do not completely dry. The long shelf life of freeze-dried food is strictly to do with how you store it and its' moisture content. Both fatty foods and foods that are high in sugars are a gateway for harmful pathogens and food spoilage. Freeze dried foods must be dry.
Special Conditions or Equipment to Support a Home Freeze-dryer
Most models available are plug and play. You don't need any special equipment to install most home freeze-dry units. The units are not very big, and they tend to weigh between 100 and 200 pounds, most are in the 100-pound range.
It is a good idea to have a plan for the water drain since the process involves frozen water and vapors. The home units run on 110v electricity, so you don't even need a special electrical outlet. It is handy to have an outlet that has its own breaker or fuse to protect your unit from brownouts or power surges.
For heavier models, a stand that supports their weight is ideal and to have them at counter height is a boon to the user. It helps both with the loading and unloading to sit the unit on a counter that will support its weight.
Can I just Use a Food Dehydrator?
Yes, but you will not obtain the same results. Freeze-drying is like food dehydrating. In fact, freeze-dried food is dehydrated, but the two are still not the same. It is sort of like saying that a Ford F-150 and a Ford Ranger are both the same since they are both trucks.
A food dehydrator does not dry the food as much as a freeze-dryer. That is why freeze-dried food has a much longer shelf life than foods that are dehydrated. Homemade jerky has a shelf life of a few months when processed in a dehydrator. Freeze dried meat in at #10 can, can last 15, 20, or even 30 years depending on the brand.
It is safe to say that freeze-drying is a more thorough preservation process than is dehydrating food and that has to do with how each process removes fluid from the food.
Will Freeze Drying Food at Home Cause the Food to Taste odd?
Most brands of home freeze dryers are pretty good at just removing the water or liquid and leaving the taste behind. This means that the food, once rehydrated, is very similar to what it was before. A change in the texture of food is what people notice most.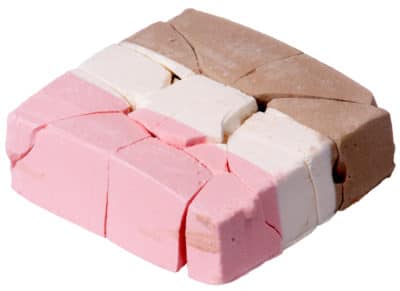 Of course, how you store food, how long you store food, and how you process food all impact how food tastes. Whether you mix different food types during the freeze-drying process can also impact how food tastes. While many manufacturers encourage you to freeze-drying mixed food batches in the dryer, you will risk cross contamination of food tastes. In short, the freeze-dry method should not alter the taste of food very much. However, other factors can impact that quality and taste of your home freeze-dried foods.
Can You Mix Food Types in the Freeze Dryer?
Yes. Most of the home-based models are shelf systems. You can add one type of food on the top shelf and another type on the middles shelf and still a third type on the bottom shelf. You want to be careful how you mix food in the freeze-dryer as the flavors and odors can mix and cause one food to taste like another.
If you do mix food types, make sure to do so carefully and always keep notes about what works and what does not. A good trick is to keep a recipe box of freeze-dried load companions. Doing so allows you to mix and match with more confidence and with greater results.
If you are considering adding a freeze-dryer to your home-food-preparedness toolbox, consider:
Cost: how much you want to spend (here's a good source on various models)
Location: where the unit will sit
Frequency: how often you plan to use it
Fortunately, the prices for home freeze-dryers have come down as more brands enter the market and as technology helps to improve the process. While still a small investment, the cost is affordable if you put the unit to work helping you to process and store food for the long-term.
Another positive is that the size of home freeze-dry units is smaller. They are more manageable, and they take up much less room without all the fuss over special space, etc. The ability to mix food types in the freeze-dryer is also a plus. This means that you can overplant your garden and still process full batches of foods if you are conscientious of the types of foods that your process together.
Final Word
Are you ready to add a freeze-dyer to your home food production arsenal? Stay tuned as we will publish a review and comparison blog that helps point out the pros and cons of several home freeze-dryer brands.
If you enjoyed this article, consider following our Facebook page.