This site contains affiliate links. As an Amazon Associate, I earn a commission from qualifying purchases at no extra cost to you. Full Disclosure Here.
A few weeks ago a reader and fan over on Facebook asked: "has anyone used the Shield Blend from Sparks?"  Naturally, I piped in and said "ME!".  You might be thinking, Shield Blend, that sure sounds familiar and you would be correct.
Back in April, I mentioned using Shield Protective Blend combined with Oregano Oil to combat colds, flu, and the exposure to infectious diseases.  (Here is a link to my Pandemic Buster.)
Then, last month, I wrote about a DIY "Shield Protective Spray" that I keep with me at all times and use as hand sanitizer, room freshener, and all around disinfectant and protectant.  More about that later.
I have also written about using a diffuser to disperse the healing benefits of essential oils into the air so that they can be easily absorbed into your system.
To use a cliché, do I have a deal for you!  Today I am offering a ZAQ Mirage Diffuser plus a 5ml bottle of Shield Protective Blend to two Backdoor Survival readers and fans in a very special Shields Up Share the Love Giveaway.
The ZAQ Mirage Diffuser
Generally speaking, a diffuser is a device that allows you to combine water with your healing essential oils to create a fine, aromatic mist.  The oils are dispersed into the air around you where they are absorbed into your system through the lungs and skin.
What makes the ZAQ Mirage unique is that it will run up to 8 or 10 hours on a single "load", making it perfect for the bedroom.  Imagine having the healing properties of essential oils wafting in your bedroom all night long!
As with all of the ZAQ brand diffusers, it is a cinch to use.  Simply add water, some oils and press the on-off switch on the front.  While running, the LED lighted Mirage will slowly change colors or, with a press of the switch, lock in a single color. One more press of the button and there is no color at all.  Now, how cool is that?
When you first start using a diffuser, the tendency is to go way overboard with the oils.  I find that when using a quality oil such as Spark Naturals, 6 to 10 drops does the trick.  Also, I find that it is easier to replace the orifice-type dropper that comes with your oils with a more traditional style dropper.  To me, it is less wasteful but honestly, this is more a matter of preference than anything else.
Shield Protective Blend
The Spark Naturals Shield Protective Blend is based upon an ancient legend that has its roots in 15th century England during the time of the great plague. Supposedly, grave-robber thieves developed their own blend of Clove, Cinnamon Bark, Lemon, Eucalyptus, and Rosemary to protect them while robbing the plague victims.
I seriously doubt that this is much more than a legend although, with a bit of research, you will find that indeed, oils of various types were used to ward off sickness in ancient times as were tonics made from herbs and vinegar.
The shield is perfect for use in your diffuser with the added benefit that it will help eliminate airborne pathogens and even viruses while emitting a soothing, calming mist.
If you would like to make up a bottle of Shield Protective Spray. try this recipe:
Shield Protective Spray
2 ounce glass spray bottle
30 drops of Spark Naturals Shield Blend
Optional:  1 drop Oregano Oil

Top with Witch Hazel and remember to shake before using.
The Shields Up Share the Love Giveaway
Okay, here is the part you have been waiting for.  Two In this giveaway, two readers will each win a ZAQ Mirage Diffuser plus a 5ml bottle of Shield Protective Blend.
Because this is a "Share the Love" giveaway, there is a requirement that you tag a friend and tell them about the giveaway (and this website!) either by email, in person or on Facebook.  The goal, of course, is to spread the word about the wonderful healing qualities of essential oils and who would not want to do that?
The giveaway is open to residents of the US and Canada.  It will end on October 9th and the two winners will be notified by email. Note that the winning entry will be verified and the winners will have 48 hours to respond or an alternate will be chosen.
The "Rafflecopter"
The Final Word
I have personally embraced the essential oils in a major way. Through practical use as well as a bit of trial and error, I have learned that some oils work better with my body than others.  And therein lies the secret to good results with essential oils.  Many oils have overlapping qualities and you will sometimes find that one works better with your unique body chemistry than another.
This is true with any natural remedy, not just essential oils.  For that reason, I can not emphasize enough the importance of learning what works for you and your family members now, while you have an opportunity to experiment.  This will help you prepare for a time when OTC remedies, pharmaceuticals, and medical doctors are not readily available. Not only that, if an epidemic or pandemic should occur, you will be ready to put your "shields up" with every defense possible to keep you and your family safe from sickness.
Enjoy your next adventure through common sense and thoughtful preparation!
Gaye
If you enjoyed this article, consider voting for me daily at Top Prepper Websites!  In addition, SUBSCRIBE to email updates and receive a free, downloadable copy of my e-book The Emergency Food Buyer's Guide.
Spotlight:  If you are just getting started in using essential oils for wellness purposes, I recommend the Health and Wellness kit which includes all of my favorites include Shield Protective Blend.  It also includes the handy storage tin.  Be sure to use the discount code "BACKDOORSURVIVAL" to receive a 10% discount.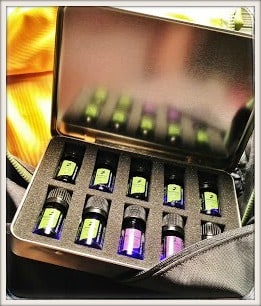 Bargain Bin: Here are some things to get you started with using essential oils plus the items you need to make your own scrubs, salves, lotions and potions including Miracle Healing Salve and Plain Ole (Naked) Salve.
The Complete Book of Essential Oils and Aromatherapy: I first became interested in aromatherapy and essential oils in the early 90s which was before they really became mainstream. I read every book I could get my hands on and dabbled at creating synergy's (a combination of two or more oils that create a chemical compound that is greater than the sum of its individual components). My bible then, and even now, is this book.
Spark Naturals Essential Oils:  These are what you need for the Miracle Salve: Lavender essential oil,  Rosemary essential oil, and Peppermint essential oil.  For the DIY Peppermint Scrub, you can use just the Peppermint or any combination of E.O.s that are pleasing to you.
Roller Bottle:  I ordered these small roller bottles so that I could make up custom essential oil blends that can be mixed with FCO (fractionated coconut oil).  I also use these cobalt blue roller bottles which are a bit larger.  Both of these complement the custom salves I mix up and store in these 1/2 ounce ointment jars.
Diffusers:  You are definitely going to want to consider a diffuser.  I keep one in my office next to my desk, one in the bedroom, and one in the bathroom.
Coconut (Fractionated) Carrier Oil:  Once you start using coconut oil, you will be hooked.  This is the fractionated coconut oil I used in my scrub (mixed with a bit of olive oil).
White Plastic Jar with Dome Lid 2 Oz (12 Per Bag):  I chose to use these small ointment jars rather than Mason jars for my salve.  I also have similar jars in the 1-ounce size and 1/4 ounce size (my favorite for mixing up various salve and e.o. concoctions).
Beeswax Organic Pastilles, Yellow, 100% Pure 16 Oz:  I ordered the white pastilles but have since learned that the natural yellow pastilles are better.  That said, the difference may not be discernable – just be sure that what you purchase is cosmetic grade.
Glass Droppers, Pack of 6: I bought a package of these and loved them.  When I went to re-order, I accidentally ordered plastic instead of glass droppers.  Learn from my mistake.  The price is the same so get the glass ones.
Tropical Traditions Coconut Oil:  This is my preferred coconut oil.  I love it so much I purchased a 5-gallon tub.  Really, I did!  I find it very silky to work with love the taste when used in cooking.  Note that no refrigeration is required and although it solid at room temperature, it melts at 76 degrees.  I have also used Nutiva Certified Organic Extra Virgin Coconut Oil.
Help support Backdoor Survival. Purchases earn a small commission and for that I thank you!
~~~~~~~~~~~~~~~~~~~~~~~~~~~~~~~~
Are You Interested in Essential Oils?