This site contains affiliate links. As an Amazon Associate, I earn a commission from qualifying purchases at no extra cost to you. Full Disclosure Here.
A number of years ago, a 6.8 magnitude earthquake hit the Seattle area.  I was at work and the Survival Husband was at our house in Bellevue.  Right before the earthquake hit, my little dog ran up to him and jumped in his arms.  Then it hit.
We were lucky and suffered no damage but my neighbors home fell off its foundation.  Our home,  sitting at an altitude of 1000 feet at the top of a hill and on a steep bank, was  safe.  Funny how that works.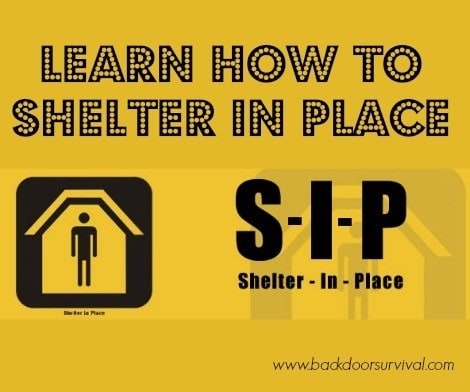 Following that event, I learned-up about post earthquake safety and of course, a couple of weeks ago I wrote about being prepared for an earthquake.  One of the lessons I learned after the 2001 quake was that if you are safe – and the authorities are not suggesting an evacuation – stay put.  Your very best chance of survival is to remain in your home or your office or even the shopping mall if that is where you happen to be.
FEMA defines Shelter in Place as the process of staying where you are and taking shelter, rather than trying to evacuate. Here are some guidelines from FEMA's Ready America website:
Shelter in Place and Seal the Room

Bring your family and pets inside.
Lock doors, close windows, air vents and fireplace dampers.
Turn off fans, air conditioning and forced air heating systems.
Take your emergency supply kit unless you have reason to believe it has been contaminated.
Go into an interior room with few windows, if possible.
Seal all windows, doors and air vents with plastic sheeting and duct tape. Consider measuring and cutting the sheeting in advance to save time.
Be prepared to improvise and use what you have on hand to seal gaps so that you create a barrier between yourself and any contamination.
Local authorities may not immediately be able to provide information on what is happening and what you should do. However, you should watch TV, listen to the radio or check the Internet often for official news and instructions as they become available.

Cautions regarding sealing with plastic

Although sealing yourself off can be good in situations like a pandemic or any type of air contamination you do not want to seal yourself off for an extended period of time. There have been cases where people have sealed their space and actually died of lack of oxygen because they did such a good job at sealing and left their space sealed for too long.

Having a good gas mask/respirator for each member of your family is a better solution in most cases.

A real gas mask is best but even a respirator with a Volatile Organic Compounds apparatus is better than sealing yourself off too well.

Remember that if you seal yourself off good enough for no contamination to reach you then you are completely eliminating any air flow into the space you are in. The more people the less hours of air you have. If you partially seal yourself off then there is going to be some level of contamination.

On the other hand some harmful chemicals can dissipate in hours so a few hours sealed up can help. The problem is how do you tell how much air you have?

Learn how and when to turn off utilities:

If there is damage to your home or you are instructed to turn off your utilities:

Locate the electric, gas and water shut-off valves.
Keep necessary tools near gas and water shut-off valves.
Teach family members how to turn off utilities.
If you turn the gas off, a professional must turn it back on. Do not attempt to do this yourself.
Sheltering In Place At Home
Sheltering in place is something you can practice during good times. Sometimes people call this a staycation nowadays. Isolate yourself and your family. Perhaps just have a radio or small electronic devices. You might even turn off your internet for a day. Keep a journal during this time of your experience. Now is the time to evaluate just how prepared you are and make notes of areas where you are lacking supplies, equipment, and also what is most uncomfortable. You may discover that you have nothing for entertainment besides a few books.
More extreme tests may include turning all your power off. This may inspire you to have a back up solar system or small solar generator like the Yeti 150 or 400 by Goal Zero. It is better to realize and fix your weaknesses now than to find them out when you are trying to get through an emergency.
Be calm
During a stressful situation, you can make it a lot worse on yourself and others by not remaining calm. If you have prepped for this moment then you have a lot of positive things going for you. Here are a few things to remember.
1. Breathing exercises.
There is a lot to be said for a deep breath.
2. Take a moment after you have secured your shelter and made sure everyone is ok.
Being "On" is good at times but you need to take a moment and encourage others in your family or group to do the same things.
3. Realize that others are probably not feeling so great too
If you have a family and you have to shelter in place together, it is important to not be quick to anger. Sometimes kids can be calmer than adults because they are young and don't quite realize danger levels and what-ifs at the same level as adults.
Have some easy to access entertainment choices
A well-charged e-reader will last for a long time on a single charge and there are small solar chargers or battery bank solar lanterns that can keep it topped off during a longer emergency.
Sitting and staring at the walls is boring and there is no reason for it. Keep some journals or notebooks around and pens.
Coloring books and pencils, markers, and crayons can provide entertainment and relaxation for kids and adults alike. There are some gorgeous grown-up coloring books out there!
Work Or School
What happens if there is a disaster and you get stuck at work or school?  This is a scenario that is a bit harder to plan out but you can be more prepared.
If you have the space in your office you might just keep a bag there with some essentials like a small medical kit, water filter, tactical pen, food rations, etc.
School may be harder but you can definitely have a few things like granola bars stashed in your pack. For younger kids, you can do the same thing. A Lifestraw doesn't take up much space and kids can be taught to use one. Food and a water filter are not going to cause a big stink at school either. If you get your kid using a Lifestraw water bottle during the school day then they will just have it. Honestly, the tap water at a lot of places alone would make me think it was a good idea if kids are not bad to lose one.
What if you are one of the people that find themselves in an active shooter situation?
Situations, where there may be an active shooter, are terrifying. In an active shooter situation, you need to stay calm and alert. Panic can get you in a lot of trouble. You may need to hide in place for an extended period of time. There is a lot of uncertainties in a situation like this.
Remember that plenty of active shooter incidents turn out to be false alarms but that still means that you might need to shelter in place for an extended period of time while the area is checked out and confirmed to not have any hidden threats. Emergency responders may also need to check people out if they
Water issues
Having a few storage containers with 3-4 days worth of water on hand inside can be a good idea. Even if it still needs to be run through a water filter, having physical water means everything. All situations are unique. If you have to shelter in place but it is safe to go outside and you have some water catchment or a stream then you can utilize your filter system. For these types of situations a gravity-fed water filtration system like the AlexaPure or the Hydro Blu 10L Gravity Fed Bag can be very nice to have. The Lifestraw Family is another good potential filter.
During a major emergency, your water may be cut off for a while. If you are on a private well then you may have no access at all to your main water source if the electricity is turned off.
The Final Word
There are plenty of resources on the web that can provide you with additional information about creating a shelter in place.  But for now, get yourself some 2-4 mil plastic and duct tape but also a gas mask or respirator for each member of your family just in case.  That, plus your emergency food, stored water, first aid kit, and radio will be a positive step forward in being prepared. Also consider doing a dry run to see what is lacking in your shelter in place plan. Create a shopping list of supplies that you might need and buy them as you can. An extra $10-$20 worth of supplies here and there can make your situation a lot better than you might expect.
Have a "go bag" that contains essential items in case you have to stay somewhere for a bit of time. If you work in a building, it may be useful to have one of these that you keep at your desk. Some workplaces may provide some type of disaster supply kit. If not then you should encourage them to provide one and make sure that everyone knows how to access it.