This site contains affiliate links. As an Amazon Associate, I earn a commission from qualifying purchases at no extra cost to you. Full Disclosure Here.
The biggest issue with emergency lighting, and flashlights especially, is if the batteries are dead, you are out of luck. Sure, you may have lots of extra batteries but why is it they are never handy when you need them?   Although there are a number of light sources that can be charged via a solar panel, they take both planning and space, and are not ideal for someone on the go.
One solution to the "my flashlight is dead" dilemma is the Goal Zero Torch 250 Flashlight with its integrated solar panel.  You read that right.  This is a powerful flashlight that can be charged using the sun!  But that's not all.  The Torch 250 can also be charged with a hank crank or via a USB source.  In my opinion, this rugged flashlight is right up prepper-alley, and the best news is I have one to giveaway to a lucky Backdoor Survival reader.  More about that in a moment.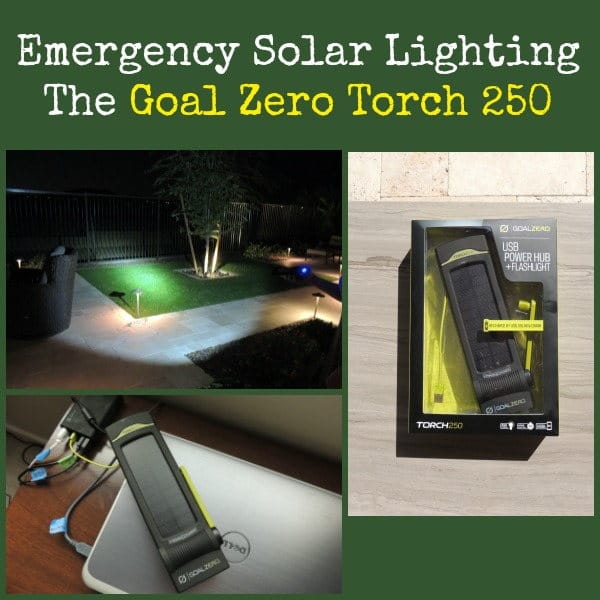 The Rough & Tough Goal Zero Torch 250
The Torch250 is a solidly built, rough and tough flashlight.  It is well constructed and beefy, roughly measuring 10″ x 3″.  In addition, at about 14 ounces, it is not exactly a featherweight. For those of you old enough to remember, it is about the size of some of the early cell phones, albeit thinner.
None of that is bad because size is needed in order for the integrated solar panel be effective.  In this case, function has trumped form.  All good.
In my testing, I found the Torch 250 came fully charged right out of the box. Since I received the Torch 250 in June, that means it held a charge for longer than three months.  The specs recommend charging every three to six months which tracks with my experience.
Let me briefly touch upon a few of the specifications.
The spot mode lit up my back yard.
The Goal Zero Torch250 includes two lighting modes, spot and flood.  Each of those modes has a high and a low beam and they are very bright.  In addition the front front-facing spot flashlight has a red light mode  I suppose the red lights would be handy if you wanted enough light to move around at night with out blinding your sleeping companions, but the real benefit is that you can set them to flash made to alert others of an emergency. A downside of the flashing red lights is that they do not flash an SOS code.
My office was pitch black when I took this photo.  I did not use a flash on my camera.  Impressive!
On the underside of the solar panel, there is a fantastic flood light. The flood puts out 70 Lumens and as you can see, lit up my entire office.  The best part is the flood light, which also has a high and low beam, will operate for as long as 48 hours.  Because this was one of my favorite features, for testing purposes I turned the flood light on at 9PM and 24 hours later, on low beam, it was still bright.
To charge the flashlight, all you need to do it set it out facing direct sunlight.  Just to be clear, it is a slow process taking 23 to 46 hours, depending on the strength of the sun.  Blue LEDs at the bottom of the flashlight near the power switch will alert you to the charging status. The lights blink during charging, and are fully lit when charging is complete.
Plugged into a desktop USB charging port. Note the blue LED.
Alternately, you can charge the device by plugging it into a USB port. Note that the charging cable is included, although it is a bit short.   I tested charging the device using a USB source three ways:
Accelerated Solar Charging using the Goal Zero Nomad 7 purchased year ago (although any portable solar panel will work)
USB port on my laptop
AC powered USB charging station
My Subaru has a USB port and I have no reason to believe that will not work as well.  I did not test it.  Charging with the USB source took less than 6 hours, including charging from the larger solar panels.
It can also be charged using the hand crank.  The process is slow and tedious but is easy enough, even if you have arthritic fingers like I do.  One minute of cranking will give you two minutes of light.
Another feature of the Goal Zero Torch 250 is the USB charging port.  Unlike the charge IN port, the OUT port is a female jack that requires you provide your own cable for charging a phone or tablet.  This makes sense because different devices have differing connectors.
Finally, I have not pictured them but there are two integrated hooks for hanging.  These would be useful for flooding an area with light.
The Goal Zero Torch 250 Giveaway
To enter the giveaway, you need to utilize the Rafflecopter form below.  Select one or more of the options after signing in using your email account or Facebook, the choice is yours.  The best way to start is by clicking on "Free Entry for Everyone".  After that, each option you select represents an additional entry.  There are a number of different options so pick and choose or select them all.
The deadline is 6:00 PM Pacific next Tuesday with the winner notified by email and announced on the Rafflecopter in the article.  Please note that the winner must claim their prize within 48 hours or an alternate will be selected.
Note:  Due to Customs requirements, this giveaway is only open to those with a mailing address in the continental United States.
The Final Word
As the princess of emergency lighting you might be wondering how I plan to use the Goal Zero Torch 250.  The answer is simple: I plan to keep it in the car.  Having just spent almost five days on the road, packed to the hilt, I know how precious space can be.  Whereas I had many small flashlights on board, I did not have a rechargeable lantern with me. With its flood light, the Torch 250 would have been perfect, since it can throw off a a wide beam while sitting it on the ground, making it virtually hands free.
One more thing.  The Torch 250, while not tiny, will fit in the Subaru's console or in the back seat pocket.  After each use, I can set it in the window to re-charge or plug it into the vehicle's USB port.  Seems like a no-brainer,.
For more detailed specifications, visit the Goal Zero website.  And, of course, enter the giveaway to win a Goal Zero Torch 250 Flashlight for free!
Enjoy your next adventure through common sense and thoughtful preparation!
Gaye
If you enjoyed this article, consider following our Facebook page.
Below you will find the items related to today's article as well as other personal solar favorites.  I own all of them.
Goal Zero Torch 250 Flashlight with Integrated Solar Panel:  This rugged flashlight includes an integrated solar panel that really works.  But that's not all.  In can also be charged using any USB source or a hand crank.  All of this plus it can be used to charge your cell phone or tablet.
Solar Charger for Standard Batteries:  This Goal Zero Guide 10 Plus Power Pack , coupled with the Goal Zero Nomad 7 Solar Panel is what I use to charge up AA and AAA batteries as well as my electronic devices.
Sunferno Flintstone Portable Solar Panel with Rechargeable Battery Pack:  This sturdy solar power pack is lightweight and small enough to be used in an EDC kit.  I especially like that it has 2 USB ports.
SunJack Waterproof LightStick: The versatile SunJack Lightstick is impressive for its compact form factor and extremely durable, waterproof casing.  In addition to providing portable lighting, it will charge 3 USB devices on a single charge.
Choetech 19W Solar Panel:  This lightweight and compact solar panel works great.  The two integrated USB ports are both rated equally so you do not have to fiddle around to see which one will work with your device. Learn more:  Charge Your Devices With the Choetech Portable Solar Panel.
EasyAcc Monster 20000mAh Power Bank:  This is a robust power bank that can be charged from your laptop, a wall charger, or a solar charger.  This one is beefy, with 4 USB ports that can be used at once.  It also appears to hold its charge for a long time.  I charged mine up then set it aside for a couple of months,  When I pulled it out of its box, it was still fully charged. A nice unit that comes in very handy when power is out.
MPOWERD Luci EMRG Inflatable Solar Lantern:  This is the original Luci EMRG Solar lantern. I have put mine through its paces and it is one tough cookie.  It has weathered both a wind storm and rain storm while hanging outdoors for a month.  Lightweight, waterproof and shatterproof, Luci EMRG provides ultra-bright, reliable light to guide your way indoors and out, through blackouts or extreme weather conditions.

~~~~~
What are the best oils for your survival kit? Here are my top picks.