This site contains affiliate links. As an Amazon Associate, I earn a commission from qualifying purchases at no extra cost to you. Full Disclosure Here.
I am enamored with all things solar.  What is not to like about getting free energy from the sun?
Perhaps that is why I am always anxious to test every new solar gizmo that comes along.  In doing so, I have come across some great items, but of all of those items, portable solar panels rank right up there at the top of list.  With that said, I have a fantastic new solar charging system to share with you today: the RAVPower 15W Solar Charger with dual USB Ports.
Plus, as always, I have one unit to give away to a lucky Backdoor Survival reader.  More about that in a moment.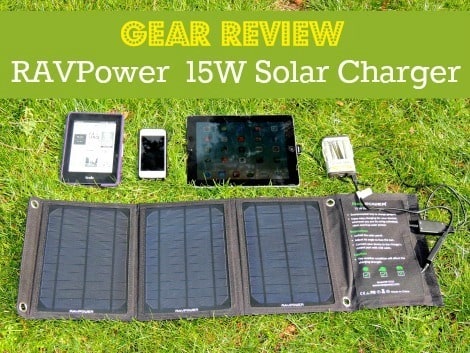 Just the Basics Please
Let me start with the most basic of technical details.
The RAVPower is a 3 panel system that folds up into a lightweight, compact, folio that is small enough and light enough to carry in your pack.  The actual folded dimensions are 7.5" x 10".
Inside the folio itself is a pouch with a Velcro tab that contains two USB ports.  Now here is the nifty part; the two ports output a total of 5V and 3 amps.  Using what they call iSmart technology, these ports figure out how much juice is needed for each device and delivers just what is needed to charge them in the least amount of time.
So, for example, if you have a tablet and a smartphone, each with a different charging requirement, the RAVPower will figure it out.  I tested this myself by mixing and matching connections, moving things around to ensure that I was getting a charge.  It worked.
Testing the RAVPower 15W Solar
The day I chose for my test was partly cloudy but not quite overcast.  This was not optimal full sun conditions but heck, the reality is that when we need to use emergency power, we need to use emergency power.  We do not get to pick the time or the date.
With the three panels fully extended, I was able to get a charge on all of my devices, including an iPad, iPad mini, Kindle, iPhone, and a Goal Zero Guide10 USB battery pack.  As I mentioned, I switched things around, making up different combinations of gizmos but in all cases, was able to see the lightening bolt, indicating a charge.  (The Goal Zero has a flashing red light.)
Next, I moved the RAVPower to my shaded porch where only two of the three panels were exposed to the sun, and even then, it was the partial sun.  There was not enough juice to charge the iPad or the Goal Zero, but the phone and Kindle did just fine.
One thing I should point out is that you do not want your electronics to bake in the direct sun.  Smaller devices can be tucked into the pocket while charging whereas a larger tablet can be shaded by setting up the panels in an accordion fashion.  Just be wary of what you do need to exercise some discretion, especially with the iPad which will shut itself down if it gets too hot.
Other Options
A come-with option is a set of four carbineers that can attach to metal grommets in the folio.
As you can see, I attached the RAVPower to my pack so that my devices could charge while on the move.  You could also use the carbineers to attach the solar array to branches, or some fencing or practically anything else as long as you had some cordage on board.  (And you do have paracord in your pack, right?)
RAVPower makes an optional USB battery pack.  I have tested similar packs in the past and they are very convenient to use for both powering and charging your devices at night or when you are indoors or in your vehicle.  I can not tell you how many times I have been on the ferry traveling to the mainland, and have needed to use the stored juice in my battery pack to power my iPad.
If you are considering a RAVPower solar charger, definitely take a look at this option.
The Giveaway
To enter the giveaway, you need to utilize the Rafflecopter form below.  Select one or more of the options after signing I using your email account or Facebook, the choice is yours.  The best way to start is by clicking on "Free Entry for Everyone".  After that, each option you select represents an additional entry.  There are a number of different options so pick and choose or select them all.
The deadline is 6:00 PM Pacific next Tuesday with the winner notified by email and announced on the Rafflecopter in the article.  Please note that the winner must claim their prize within 48 hours or an alternate will be selected.
The Final Word
The RAVPower is easy to use and I can prove it.  Shelly (aka the Survival Husband) did the initial testing.  He took it out of the box, leaving the instructions behind.  About 20 minutes later he came inside and I was expecting him to ask for help since I am the resident gizmo guru.  Instead, he gave me a "Look Ma, No Directions Needed speech".
The bottom line is that the RAVPower solar panel is very easy to use.  Just unfold it and plug in your devices.  Easy peasy. Performance is best when the panels are pointed directly toward the sun, but if not, you still get enough juice to charge most devices; it just might take longer.
This is a fantastic product that will make a fine addition to my emergency pack.  I hope you will enter the giveaway so that you can win one for your emergency pack as well.
Enjoy your next adventure through common sense and thoughtful preparation!
Gaye
If you enjoyed this article, consider voting for Backdoor Survival daily at Top Prepper Websites!  In addition, SUBSCRIBE to email updates and receive a free, downloadable copy of my e-book The Emergency Food Buyer's Guide.
Bargain Bin:  Below you will find links to items related to today's article.
RAVPower 15W Solar Charger with Dual USB Ports: This compact, three panels, the solar charger will charge two devices at once, including tablets, smartphones, Kindles, and even AA/AAA battery charges.  Value priced at about $60.
RAVPower® 3rd Gen Deluxe 15000mAh External Battery: Use the sun to power an external battery pack.  By doing so, you will always have battery power to spare without being dependent upon electricity.  Perfect to have on hand for dark, stormy days, night time, or when you don't have the time to wait around for a full charge in the sun.
Goal Zero Guide 10 Plus USB Power Pack:  With the Guide 10 Plus Recharger you have a portable, rugged charging kit that will charge AA batteries from the sun or any USB port.  With the charged up batteries, you can also power your phone, MP3, GPS, or tablet.  Just to be clear, the Guide 10 Plus USB Power Pack can be charged by connecting it to any USB power source, including Goal Zero Nomad Solar Panels, a wall USB charger, or car USB charger.
Paracord Planet Type III Nylon Paracord:  An ideal all-around utility cord in the field, paracord is tough and long lasting. It is made from 550-pound test nylon and features a seven-strand core for maximum strength. Also, it is manufactured in the United States.  Note that some colors may be more expensive than others.  Need ideas?  See 44 Really Cool Uses of Paracord for Survival.
USB A to Lightning compatible Cable – Apple Certified: I have never had a failure with the cables.  Never.  They do cost a bit more than those cables you can get for a buck or two from China, but honestly, these work 100% of the time and are about half the cost of similar cables direct from Apple and other manufacturers.
Basics Cables:  Not everyone has an Apple device.
Help support Backdoor Survival. Purchases earn a small commission and for that I thank you!
~~~~~~~~~~~~~~~~~~~~~~~~~~~~~~~~
Which are the best oils for your survival kit?  This article describes my top picks.