This site contains affiliate links. As an Amazon Associate, I earn a commission from qualifying purchases at no extra cost to you. Full Disclosure Here.
Today I share the next author interview and giveaway in the Summer 2014 Backdoor Survival Book Festival.  Tess Pennington, the author of The Prepper's Blueprint: The Step-By-Step Guide To Help You Through Any Disaster, is back again for another interview with all new questions plus, of course, a book giveaway.
Before starting, I just want to say that before getting my hands on this book, I assumed that it would be more of the same.  There are a ton of prepping books out there and when you have read and reviewed as many as I have, the lines of distinction start to blur.  This book is different and will surely become one of the most useful and valuable prepping books in your library.
Enjoy the interview and be sure to check out the details of this week's giveaway below.
An Interview with Tess Pennington
1. Given your background, knowledge and experience, what do you feel are the three most important survival or prepping skills?
When we begin to prepare – I mean really prepare, we quickly realize how large this concept truly is. It isn't just about have some batteries and canned goods stashed away. It requires planning, strategizing and mindfully accumulating supplies and skills that you believe will help you flourish in an unexpected situation.

That said, because we are all at different levels of preparedness and have varying opinions as to what we believe are the #1 essentials in planning and preparing, we each have to come up with our own most important survival items/skills. For my family, we have a plan, amassed supplies, tools, off grid devices and have enough supplies to carry us through an off grid event.

Where my current main focuses are on is: 1. Continue staying debt free, 2. Investing in hard assets and, 3. Working on building essential skills. My husband and I are very diligent in trying to save money for future unknown emergencies. I recently read an article in the Wall Street Journal where they listed a statistic that one in four Americans has no emergency savings. We all know that problems arise at the blink of an eye and we want to be able to deal with them without going into debt.

We also believe that because of the unpredictable nature of the economy, it is essential to be able to survive the ebb and flows. Taking steps toward saving and accumulating your income will help you preserve your wealth. Therefore, long term investments such as precious metals, and investing in hard assets are another focus we are concentrating on.

When you invest in land with resources such as water, or tangible assets such as shelf stable foods (wheat, corn, kitchen staples, etc.), you are tying your extra money into long-term, survivable investments. A plus to this is that you won't be cashing these investments in. Therefore, as it accumulates over time, it helps to secure your long term future. This strategy has helped my family immensely.

I look at learning essential skills like a continuing education class. We all have so much more to learn and working at becoming proficient one skill at a time can help you be more self-reliant and more knowledgeable in the process. All I can say is trust the process, accept there is a learning curve and have fun with it! I am very thankful that I have a friend who has the same self-sufficient interests as myself, so we get into a lot of "trouble". We both support each other, encourage one another and look for new skills to learn together. So, if you have a support group or some friends who want to learn the same skills as you – include them in any ventures.
As I mentioned earlier, it's hard to know where each of us are at in our prepping endeavors. If you are first beginning to prepare, I would concentrate my efforts on the following:

1.  Water filter + replacement filter – My family loves the Katatdyn water filter brands. They are very dependable and have a variety of sizes to choose from. You want to ensure that the water filtration system you choose can effectively remove water-borne diseases for your family.

2. Knife – Having a dependable knife is essential in an emergency. Whether you are making snares, using it to dig a hole or providing emergency medical care, a knife is going to be your best friend in a SHFT scenario. That said, there are a lot of knives out there, so I'm not going to get into which brand is best, or whether you should get a fixed blade or a serrated blade. Again, it's all about your own preferences. I have a Leatherman Blast multi-tool which I use all the time and a SOG folding knife that I frequently use (especially when I'm outdoors).

3. Boots – I would highly recommend everyone having a good pair of waterproof work boots or hiking boots. Waterproof boots will protect your feet from the natural elements (water, heat, cold, snow, etc.). Hiking boots especially are designed to give your feet the necessary support they need to help you move, stay aligned with your body, and protect you from weather elements. If you are purchasing boots for children, get a size larger than what they normally where so they can grow into them.

4. Seeds – I added seeds because I feel they are a necessary prep/investment for preparing for a longer term scenario. Our shelf stable foods can only last so long and then we will need to rely on other ways to get our food. Having seeds stored for this type of event will help you survive longer and stay healthy in the process. Remember, you need essential nutrients, vitamins and fat in your diet to help your body function properly. Further, if you run out of food, you can sprout some of these seeds for instant nutrition. Tip: Stay away from the nightshade variety when sprouting.

5. Solar battery charger – One thing is for sure, in an off grid environment we are going to go through a lot of batteries in the beginning. Having a way to recharge your precious batteries will help you transition easier into a longer term disaster. Do research on the best types of solar chargers and make a decision that is best for your family.
3. To what extent does your family participate in your personal preparedness efforts?
Before we moved the Pacific Northwest, we lived in Houston, TX where hurricane warnings, flooding and torrential storms were a regular part of our lives. That said, my kids grew up learning about emergency plans, and why it was important to have supplies. Since then, our meager emergency supply has grown into much more, but they don't notice it anymore (except when they sneak in to get the packs of pudding I have put away).

My husband and I have found that it is a better use of our time if we split the preparedness responsibilities. Where I focus my efforts on accumulating supplies, he focuses his energy on investing in precious metals and other methods of wealth preservation. We each have tackled different skillsets to master, as well.

We try and incorporate prepping into many aspects our lives. We regularly go camping and hiking and have the kids pack their day packs so they know what their immediate needs are. In fact, my children, who have been around prepping for many years have begun using aspects of preparedness in their own lives.

For instance, they understand the importance of being prepared and have emergency kits in their backpacks. They also know that mom and dad have a plan and that everything is under control. My daughter understands why procrastination is not the best recourse. Therefore, she does all of her homework early so that she can relax the rest of the week. My other daughter, always brings water with her wherever she goes. My son tags along with my husband on building projects and has become a great helper. They, themselves are on their own preparedness journey, so I applaud them any chance I get.
4. What is your favorite survival or pepping book? (It can be fiction or non-fiction.)
The book that started it all for me was "Patriots" by James Rawles. Once I read that, I was hooked! Since then I have added many favorites to my survival library, but Patriots is one I have read multiple times. Each time I read it, I learn something new.

I believe that many of us have read about Rawlesian type of events and I believe that if we prepare for the worst case scenarios, then we will be ready for the other type of unplanned mishaps that could happen.
5. Do you have anything else (announcement, message, personal experience) that you would like to share with the readers on Backdoor Survival?
I'm very excited to announce that my second book, The Prepper's Blueprint: The Step-By-Step Guide To Help You Through Any Disaster was published, and has gotten some great reviews from the prepper community. We feel like we put together a great primer for people involved in any level of preparedness.

The book is an expanded version from a series I began on my website, www.ReadyNutrition.com. The book includes more information, lists, historical events, and more references. The Prepper's Blueprint itself has 55 chapters packed with information on how to better prepare your homes for short, extended and long term disasters.

Because the subject of preparedness is a lot to digest, the chapters are divided into three layers for easier understanding:

Layer 1: Chapters 1-14, prepares you for those everyday disasters that have shorter-term effects: power outages, storms, injuries, and evacuations

Layer 2: Chapters 15-31 help you to get ready for disasters that turn out to be much longer-lasting: economic collapse, long term power outages, and pandemics, to name a few

Layer 3: Chapters 32-56 prepares you for the long haul and a complete change of lifestyle, the end of the world as we know it: providing food and water once supplies run out, security, retreat properties, and long-term plans

I feel this book goes beyond preparing for an emergency, it helps prepare your mind and spirit for creating a more self-reliant lifestyle. With The Prepper's Blueprint, it takes you step-by-step from the very beginning preparedness steps to learning to live in a long term event.

Unexpected events will be less traumatic because the book teaches you how to transition more fluidly in disasters based on the plans and preparations you have made ahead of time. With the current state of our economy and uncertain events the government is pushing through, applying these concepts to your prepping endeavors will help insulate you from what may come and help you become more self-reliant in the process.
The Book Giveaway
A copy of  The Prepper's Blueprint has been reserved for one lucky reader.
To enter the giveaway, you need to respond to the giveaway question in the Rafflecopter form below.  The deadline is 6:00 PM Pacific next Thursday with the winner notified by email and announced in the Sunday Survival Buzz.  Please note that the winner must claim their book within 48 hours or an alternate will be selected.
The Final Word
One of the joys of holding book festivals is that I get to offer you an opportunity to win print-books that can stay in your permanent library, to be referred to and re-read over and over again.  This is most definitely one of those books.
Good luck!
Enjoy your next adventure through common sense and thoughtful preparation!
Gaye
If you enjoyed this article, consider voting for me daily at Top Prepper Websites!  In addition, SUBSCRIBE to email updates  and receive a free, downloadable copy of my e-book The Emergency Food Buyer's Guide.
Spotlight Item:  The Prepper's Blueprint: The Step-By-Step Guide To Help You Through Any Disaster
If we have learned one thing studying the history of disasters, it is this; those who are prepared have a better chance at survival than those who are not.

The Prepper's Blueprint has been created to help get you and your family ready for life's unexpected emergencies. To make it easy, he Prepper's Blueprint has been divided up the chapters into layers of preparedness.

Layer 1: Chapters 1-14, prepares you for those everyday disasters that have shorter-term effects: power outages, storms, injuries, and evacuations

Layer 2: Chapters 15-31 help you to get ready for disasters that turn out to be much longer-lasting: economic collapse, long term power outages, and pandemics, to name a few

Layer 3: Chapters 32-56 prepares you for the long haul and a complete change of lifestyle, the end of the world as we know it: providing food and water once supplies run out, security, retreat properties, and long-term plans

The goal of The Prepper's Blueprint is to help you find freedom through self-reliance, and ultimately, to get you and your family to a point where you can not only survive, but thrive, in a world that may be permanently altered.

~~~~~~~~~~~~~~~~~~~~~~~~~~~~~~~~~~~
Bargain Bin:  Today is all about books.  Listed below are all of the books in the current Backdoor Survival Book Festival. There are both fiction and non-fiction titles and a bit of something for everyone.
Note:  If you covet an e-Book reader, consider the Kindle.  And if not, at the very least pick up the free Kindle app so that you can read Kindle books on your PC or favorite electronic device.
Help support Backdoor Survival. Purchases earn a small commission and for that I thank you!
~~~~~~~~~~~~~~~~~~~~~~~~~~~~~~
Coming Soon in Print!
No list of books would be complete without my own e-book, The Prepper's Guide to Food Storage.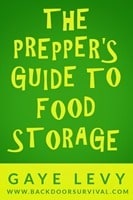 The Prepper's Guide to Food Storage is a book about food: What to store, how to store it and best practices. It is a roadmap for showing ordinary citizens that long-term food storage is not something that will overwhelm or burden the family budget.

It is based on my own tried and true experience as someone who has learned to live the preparedness lifestyle by approaching emergency preparedness and planning in a systematic, step-by-step manner.