This site contains affiliate links. As an Amazon Associate, I earn a commission from qualifying purchases at no extra cost to you. Full Disclosure Here.
It is hard to believe that a little over a year ago I decided to pull up stakes and search for the perfect survival retreat.  More than a retreat, I wanted to find a forever home.  It has been quite the journey and now that I am within days of fully moving into my new home, it is time to come clean on the how-to's of moving, prepper-style.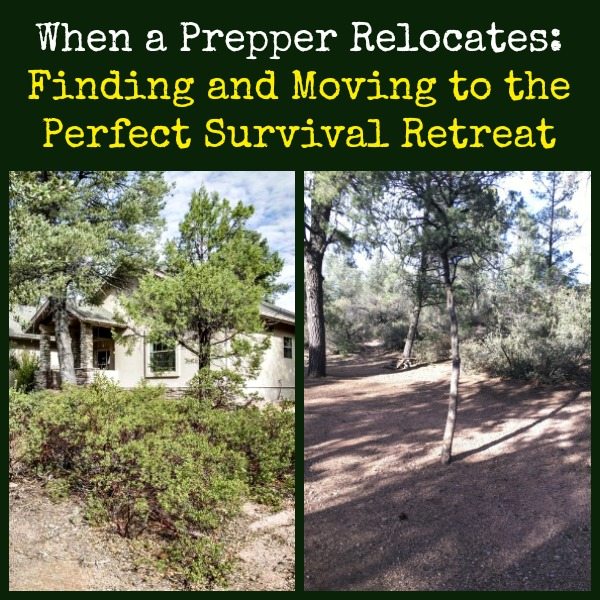 Before starting, let me just say this.  Planning and executing a move is going to take over every free moment for up to a year.  There are more moving pieces than you can imagine, especially if moving more than 300 miles from your home base.  At times, you will want to give up.  It is a lot of work, and it can be lonely.
Step One: Define the Criteria for Your New Home
Something I did up front was to define a punch list of items that were a priority at my new location.  Here is a summary of the list I shared last year.  I called it my survival retreat bucket list.
Minimum of 1/3 acre and preferably more.
Sunny space for a garden. Existing fruit trees a bonus.
Trees in the general vicinity to provide wood and biomass for heating and cooking.
Local source of water such as streams, ponds, or lakes.  Bonus if a well can be dug.
Abundant wildlife for hunting as a food source.
Favorable tax environment.
Sufficient storage space for a two year food supply.
Gun-friendly.
Zoning that allows for water catchment systems and auxiliary fuel/propane tanks.
History that shows area is relatively free from wild fires and floods.
Moderate climate 20F low to 90F high.
Proximity to health care within a 20 mile radius.
Very good to excellent cell phone service.
Availability of high speed internet (for as long as it lasts).
Peace, quiet, and no tourist activity.
Mind you, this list was generated before I knew exactly where I was going to relocate.  At the time, I had a good idea of the state where I was headed but nothing was cast in stone.  Because I did not want to get my hopes up for a quick sale, I did not research precise geographical locations until my existing home sold.   I did that because there were some unique characteristics to my San Juan Island home that limited its appeal to a specialized buyer. It could take a year or possibly longer to sell.
We were lucky to have a seasoned real estate agent who specialized in our type of property.  He set realistic, priced-to-sell expectations, and coached us on what we needed to do to attract a buyer.  As it happened, our home sold quickly but closing took forever.  We did not start looking for our survival retreat until the money was in the bank.
You may approach things differently but at this stage in my life, I did not want to set myself up for disappointment.  That becomes my first tip: do not set yourself up for disappointment by setting unrealistic expectations.  Much like prepping itself, when it comes to moving, prepare for the worst but hope the best.
Be Mindful of the Cost of Moving – Especially Your Food Storage
One of the more shocking parts of moving is the cost.  When planning a move, be realistic about what it is going to cost to move both your household items and prepping supplies.  This includes food storage which can be heavy!
In our case, the cost came to about one dollar a pound.  Half of that was getting our stuff back to the mainland.
Think about that.  It makes sense to pay to have furniture moved but those cases of canned foods?  Not a chance.  We gave away hundreds of pounds of food because it was too bulky or heavy to transport.  Some of it no one wanted because the canned items were out of date.  That was a shame because as we all know, the expiration on canned goods is mostly a myth.
We did rent a U-haul to transport our freeze dried foods and some of our food buckets.  I admit that the movers also transported food buckets full of cheap beans and cheap rice but after accounting for the convenience of having it packaged and ready to go at my new location, it was worth it.
A question I am frequently asked is whether I paid to have my furniture moved.  The answer is yes and here is why.  Although the buyers of our home were interested in our furniture, to start all over would have been disruptive and expensive.  While not new, our furniture was of good quality and comfortable.  I ran the numbers and by my own estimate, it would have cost over $40,000 to replace my furniture, and most likely a lot more than that.
Thank you very much but I will keep my used furniture.
Be Prepared to Compromise
Something I learned a long time ago is that life is a compromise.  And so it was with moving.  Although I had 40 years of memories invested in my stuff, much of it had not been touched in years.  Perfectly good items, no matter how precious, were donated to the local thrift store.
Chances are we could have raised a nice pile of cash by holding a garage or estate-type sale rather than giving things away.  This is where compromise stepped in.  In order to maintain my privacy, I gave things away instead.
The biggest compromise, however, had to do with seeking a new place to call home.  As much as I wanted to find the perfect prepper palace, I knew that my age and budget would restrict where I ultimately landed. Transcending our dream into reality meant we had to give up on our hope of having a flock of chickens, and enough raised beds to grow at least half of our own food.  It simply was not going to happen so I let it go.
I reminded myself that I was going to homestead in place on a property I would want to maintain for the next twenty years and until I was well into my senior years. That meant a two-story farmhouse was out, as was grass and brush that needed to be mowed weekly.
I chose instead to compromise with a beautiful and serene environment and a home I could fill with creature comforts with plenty of room to cook, can, and pursue crafts and other amusements.
Where Am I Going to Put All of that Stuff?
Something every prepper needs is space for all of their stuff.  Most of us have backup cooking facilities, backup water and water filtering devices, backup fuel, backup food and backup everything else.  This all takes space not only for storage but for organized storage!  Oh my!
While house hunting, I found a number of delightful properties that lacked storage.  There was no garage, no pantry, and no spare closets.  Where would the food storage go?  What about the manually operated tools? And what about the ammo and other items of defense that need to be hidden away, free from prying eyes?
These are factors that should be considered before you make an offer and not after.  Don't let your judgment be clouded by clever staging.  Look for closets, attics, crawl spaces, and rooms that can be converted to meet your storage needs.  This may seem obvious, but believe me, it is easy to fall in love with a property only to find those things lacking when you look a bit closer.
Remember, sellers are going to try to tempt you with glitz and glamour.  Look beyond it.
Finding the Right Community, Or Not
How close do you want to be to your neighbors?  Do you want paved roads to your retreat or are dirt roads okay?  What about the driveway?  Will a steep hill pose a problem for you or for emergency responders, heaven forbid?
I believe the most important assessment to make when it comes to a community is to determine whether you wish to keep your prepping lifestyle private or whether you wish to join others in a like-minded community.  Regardless of your choice, I suggest attending some community or church events to get a feel for the social milieu. Visit the local hardware store and look around.  Chat up the clerks.  You will be surprised at how much information you can glean by simply observing and listening.
In our case, we visited one particular local hangout two times and were so put off we crossed that particular community off the list.
You are a prepper.  You have good instincts. Use them.
How Did I Do?
For the curious, we purchased a home in the Mogollon Rim area of Arizona.  The elevation is 5,000 feet and the climate is moderate.  We spent a lot more money than we planned but less than we realized from our Washington State home so we were happy.
I call our new home "The Cabin" and it is as close to perfect as I could get.  With just a few exceptions, all of my requirements were met.  Let me run quickly run through the list for you.
Minimum of 1/3 acre and preferably more:  We have one acre surrounded by 18 other one-acre parcels.  It is like an oasis.

Sunny space for a garden. Existing fruit trees a bonus:  The property is lightly wooded and backs to undeveloped forest.  We have had clearings made to expose more sun.  Alas, there are no fruit trees and given that the elk make frequent runs through the property, we will like need to compromise in this area.

Trees in the general vicinity to provide wood and biomass for heating and cooking:  Definitely.

Local source of water such as streams, ponds, or lakes.  Bonus if a well can be dug:  There are plenty of water sources in the area but none are within walking distance. Although that is a concern, we are planning to store extra water in multiple 160 gallon tanks, plus a series of rain barrels.

Abundant wildlife for hunting as a food source.: Elk and rabbits roam the the property and fishing is close by.

Mr. Elk comes to visit from time to time and brings his buddies with him.

Favorable tax environment:  Good enough.  Local government seems non-invasive and the taxes seem fair.

Sufficient storage space for a two year food supply:  YES YES YES!

Gun-friendly:  This is Arizona.  The previous owners had a huge gun safe and our neighbors own firearms.  That is all I will say about that.

Zoning that allows for water catchment systems and auxiliary fuel/propane tanks:  There are restrictions that we will need to take into consideration relative to above ground water catchment systems and propane tanks.  I am satisfied that we will find a suitable alternative.

History that shows area is relatively free from wild fires and floods: There is a fire risk; this is the national forest after all.  Still, we are in a Firewise community and have had our property cleared of low growing brush that would potentially put our home at risk.

Moderate climate 20F low to 90F high:  Check, although summers can reach the high 90s.

Proximity to health care within a 20 mile radius:  Although we are in the middle of the woods, there is a hospital less than 10 miles away.

Very good to excellent cell phone service:  Yes

Availability of high speed internet (for as long as it lasts): Yes!!

Peace, quiet, and no tourist activity.  Being on our own acre surrounded by forest in a community with no major industry translates into serenity,  The only noise we hear comes from the birds and the animals.  That said, it is a short drive into town for as much activity as I can handle given my interests and needs.
All in all, I am thrilled with my survival retreat.  The home itself needed a lot of cosmetic work inside and the outside needed to be tidied but the bones are good and the property is exceptional.  The biggest challenge will be transporting water from off-site if our tap water ever stops running.  Purifying compromised water I can deal with in five or six different ways so that is not a concern.
Moving Can Be Lonely So Be Prepared to Get Social
Moving away from friends and family is pretty scary when it comes to settling in a strange location where you know no one.  For many, that will be fine and I applaud you for your ability to adapt to total isolation. I am not that person.
Although I am not particularly social, I do occasionally enjoy face to face contact with the outside world.  If this describes you, then know that you will need to put yourself out there.  Walk your neighborhood and meet the neighbors.  Chat with the lady behind the counter at the post office.  Shop the local merchants and tell them you are new to the area.
In a very short period of time, Shelly and I have a found handful of new acquaintances to share an evening BBQ and to shoot the breeze about this and that.  The goal is to establish a base of trust and to identify those that will be there to watch our backs as we watch theirs.
The Final Word
When we crossed the Columbia River last October, I announced that Elvis has left the building.  It was time for a new life and a new adventure.  Now that I am within days of moving to my survival retreat (aka The Cabin),  I have a renewed outlook when it comes to my chances to survive should the worse happen.
Yes, I gave up an abundant source of water but, on the other hand, I gained a whole lot more.  Mostly I hope to have gained the ability to grow food, fish, and hunt and enjoy the serenity that comes from living in the woods.
As you seek refuge in our own survival retreat, whether at your existing location or elsewhere, I hope you are as blessed as I have become.
If you enjoyed this article, consider subscribing to email updates.  When you do, you will receive a free, downloadable copy of our e-Book, The Emergency Food Buyer's Guide.   Also check the Facebook page regularly for links to free or almost free eBooks that we personally review just for you.
You can also vote for Backdoor Survival daily at Top Prepper Websites!
[related-posts]
~~~~~~
Have you ever wondered what preps I value the most?  There are way too many to list so those I have listed below are a sampling of items I use all of the time and not simply tucked away for emergencies.
Note:  As I was going around the house looking for things to add to this list, I had to stop.  There are simply too many items so I will reserve the rest for another time.
UltraFire Mini Cree LED Flashlight:  I personally keep flashlights in every single room of my house and you should too.  These favorites are super mini sized, bright and waterproof.  Plus, they use a single, standard AA sized battery.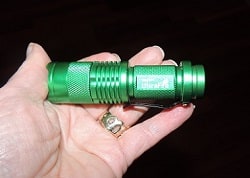 Berkey Water Filter System:  For in home use, nothing beats the Berkey. My own Royal Berkey represents a key component of my water preps.   The Berkey system removes pathogenic bacteria, cysts, and parasites entirely and extracts harmful chemicals such as herbicides, pesticides, VOCs, organic solvents, radon 222 and trihalomethanes. It also reduces nitrates, nitrites and unhealthy minerals such as lead and mercury. This system is so powerful it can remove red food coloring from water without removing the beneficial minerals your body needs. Virtually no other system can duplicate this performance.
NALGENE BPA-Free Water Bottle:  These water bottles have served me well.  I fill them up with water from my Royal Berkey and keep one bedside, one at my desk and another in the bathroom.  Keep in mind that price-wise, some colors will be more expensive so if the color does not matter, go with the cheapest (currently the green version).
RAVPower 15W Solar Charger with Dual USB Ports: This compact, three panel, solar charger will charge two devices at once, including tablets, smartphones, Kindles, and even AA/AAA battery chargers.  For more information, read Gear Review: RAVPower 15W Solar Charger with Dual USB Ports.
First Aid Ammo Kit:  Okay, this is an article and not one single item but I use my first aid kit at least once a week.
Panasonic eneloop AA New 2100 Cycle Ni-MH Pre-Charged Rechargeable Batteries:  These days, I try to use eneloops as much as possible.  They hold a charge forever – or so it seems – and work well in flashlights and small electronics.
Grabber Outdoors Original Space Brand All Weather Blanket:  I was interested in a re-usable emergency blanket so I purchased one of these based on the excellent reviews.  This space blanket is definitely "heavy duty" compared to the cheapies (not that they don't have their place because they do).
Maximal Power FC999 Universal Battery Charger: This nicely built charger will charge AA, AAA, C, D, N, 9V, Ni-MH, Ni-CD, and Alkaline batteries. It has an LED display so that when you first put a battery in the charging bay, you know whether it is viable for charging or simply bad and ready to go back to the recycle box.
Amprobe BAT-250 Battery Tester:  I do not know anyone that is sorry they purchased or gifted an inexpensive battery tester.  Mine sits in my desk drawer and is used 3 or 4 times a week.  This newer version is an upgrade from the BAT-200 and well worth the additional dollar in cost.  I  especially like the redesigned side cradle that holds batteries securely in place during testing – no more erratic battery readings from movement off contacts.
Morakniv Craftline Q Allround Fixed Blade Utility Knife: ANOTHER FAVORITE! Also known as the Mora 511, this is now my favorite knife. It is made of Swedish steel and is super sharp.  Many Backdoor Survival have emailed me indicating this is now their favorite knife too.
~~~~~~~~~~
What are the best oils for your survival kit? Here are my top picks.