This site contains affiliate links. As an Amazon Associate, I earn a commission from qualifying purchases at no extra cost to you. Full Disclosure Here.
I can't remember when petroleum jelly and Vaseline became a staple in my life.  As a young girl, I know there was always a jar in the bathroom cupboard but truth be told, my first recollection of putting it into daily use was when I was in my 20s and I used it on my feet to soften them up.
Over the years, I learned use petroleum jelly in additional ways; for everything from personal grooming to a myriad of household uses.  But wait, what is this stuff really?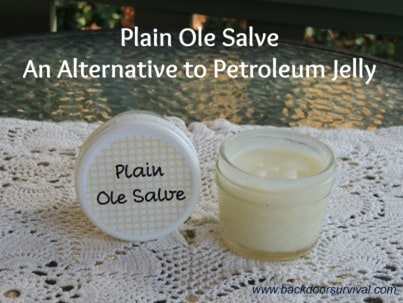 In layman's terms, petroleum jelly, is a not so eco-friendly derivative of oil refining. According to Wikipedia, the raw material for petroleum jelly was discovered in 1859 on some of the country's first oil rigs. Workers disliked the paraffin-like material forming on rigs because it caused them to malfunction.  They scraped it off and used it on cuts and burns claiming it hastened healing. Long story short, it was later refined and patented as Vaseline.
So let me ask you this: do you really want to put a cast-off petroleum by-product on your skin?  No, I thought not.
This brings me to today's project, something I call "Plain Ole Salve".  Now by way of full disclosure, I was inspired to make this salve by a recipe shared by Rebecca at the Camp Wander website were it is called "Naked Salve".  I have added my own twist and have thus coined my own name but call it what you must, this is great stuff that can used instead of that nasty petroleum jelly.
How to Make Plain Ole Salve
Those of you familiar with my Miracle Healing Salve already know how to make Plain Ole Salve.  Basically you take the same recipe and leave out the essential oils.  That's it.
But there is more.  You can make a more budget-friendly, colorless and odorless version by using "pure" olive oil instead of extra virgin olive oil.  I actually prefer it.
Here is the recipe and directions.
Plain Ole Salve – The Recipe
Ingredients:
1  Cup Coconut Oil
1  Cup Extra Virgin Olive Oil or Pure Olive Oil
5 to 5 1/2 Tbl. Organic Beeswax Pastilles
Containers:
8 x 2 ounce ointment jars ** OR **
4 x 4 ounce mason jars
1.  Put a pot of water on the stove to simmer.  While the water is heating, put the coconut oil, olive oil and beeswax pastilles in a heatproof jar or measuring cup.
2.  Set the jar filled with the coconut oil, olive oil, and wax into the water and leave it there until it melts, giving it a stir from time to time.  You want a slow, gentle melt so take your time.  It could take 15 or 20 minutes depending on the temperature of the water bath.
3.  Pour the melted oils into each of the smaller jars and allow to cool.
4.  Set the jars aside for up to 24 hours.  Although the salve will start to firm up within minutes, it takes at least 12 hours to complete the firming process.
5.  Store in a cool location or even in the refrigerator.  The shelf life should be six months but in my home, it does not last that long.
Note:  For a budget friendly version, skip the coconut oil and use two cups of pure olive oil.  If you do this, I suggest adding an extra teaspoon of beeswax pastilles.  The therapeutic qualities of coconut oil will be gone but this will still create an amazing salve.
How to Use Plain Ole Salve
First and foremost, Plain Ole Salve makes it easy peasy simple to blend essential oils into a custom salve.  By scooping some Plain Ole Salve into a small jar (I like the 1/2 ounce jars from Amazon that run about 60 cents each), you can add a few drops of this and a few drops of that to come up with your own healing concoction.
In effect, you are using Plain Ole Salve as a carrier oil.
So here is the deal.  I make up a large batch of Plain Oil Salve and store it in 4 ounce jelly jars.  I use it unadorned, meaning as is, to soften my feet before putting on my socks in the morning.  I also use it to remove makeup.  Why waste essential oils if I am going to wipe them right off within seconds?
But here is the fun part.  I also use Plain Ole Salve as a base for three must-have formulas, Sleepy Dreamy Salve, Achy Breaky Salve and Cold Buster Salve.
Here is a description of each and how I use them personally.
Sleepy Dreamy Salve
Second to Miracle Healing Salve, this is my favorite.  I am a lousy sleeper and before SDS (Sleepy Dreamy Salve) I never woke up rested.  Not only that, following my nocturnal visits to the potty, I would often toss and turn for hours and never really go back to sleep.  Not any more.
Sleepy Dreamy Salve
1 x 4 oz. jar of Plain Ole Salve
Plus one of the following formulas

Sleep Dreamy #1
10 drops Cinnamon Bark essential oil
20 drops Ginger essential oil
20 drops Peppermint essential oil
20 drops Lemon essential oil
20 drops Grapefruit essential oil

     Sleepy Dreamy #2
75 drops of Spark Naturals Dream Blend
15 drops Lavender essential oil
10 drops Rosemary essential oil

Sleepy Dreamy #3
90 drops Spark Naturals Dream

Add the oils to a previously prepared jar of Plain Ole Salve.  Stir them well until you get the consistency you prefer (see note below).  Alternatively, you can add them to your jar while the salve is still liquid, in the same manner as Miracle Healing Salve.

Personally, I prefer to add the oils to the previously prepared and cooled salve; that way I know the salve is super-fresh and that I won't get careless with the hot jar and spill the whole thing all over the counter or floor.  Yes, that really did happen once.

Each night, Shelly, the Survival Hubby, rubs Sleepy Dreamy Salve on the bottom of my feet and especially the balls of my feet and toe pads as well as on my chest near my heart.  (He also salves up my calves with Miracle Healing Salve so I don't get cramps).  You are going to have to trust me on this because for me, it works.

I have used all three formulas and prefer #2 but your mileage may vary.
Achy-Breaky Salve
This is the aches and pains formula I use on Shelly's arthritis as well as on those muscles that get sore after working on strenuous chores.  And most assuredly, prepper and homesteading types have plenty of those.
Achy-Breaky Salve
1 x 4 oz. jar of Plain Ole Salve
40 drops Spark Naturals Amend

Blend as described above.

The application of this salve is more straight-forward.  Rub a generous amount on the sore area and you will get immediate relief.  We use this to go the extra mile when a bit more oomph is needed than Miracle Healing Salve alone.

Amend is a soothing blend made up of Corsican helichrysum, blue chamomile, blue tansy, roman chamomile, carrot seed, and French lavender.  Sorry, I don't know the exact breakdown but since these oils go beyond the basics, chances are it will be easier to simply purchase the blend pre-made.
Cold Buster Salve
This last salve is what we have been using to chase away a cold coming on after a recent trip.  I am certain that being on an airplane for 10 hours contributed to our woes – it always does – so shame on us for not salving-up before we got on the plane.  Anyway, this really helped chase away the cold symptoms before they really took hold.  I see this as both a preventative and a remedy and will now keep it on had for use both before and after traveling or whenever I will be with a bunch of strangers in an enclosed space.
Cold Buster Salve
1/2 oz. Plain Ole Salve
10 drops Malaleuca Oil (Tea Tree)
10 drops Spark Naturals Shield
10 drops Oregano Oil or Spark Naturals Respire

Blend as described above.

This one gets applied on the bottom of the feet, the chest, and at the base of the neck every two hours.  If you have the sniffles, a bit on your upper lip helps, too.  Think Vicks – only better.
Solid or Fluffy – You Are in Control
Sometimes I like fluffy (or loose) salve and other times I prefer a more solid product. This is controlled by the amount of beeswax you put in the mix.  If you find your salve is too stiff or firm, you can whip it up with a fork or stick (I use popsicle sticks because I have hundreds of them – don't ask!).
On the other hand, if your batch is looser than you like, since there are no essential oils to burn off (not that they burn off but just in case), you can gently reheat your Plain Ole Salve until it is liquid and add more beeswax, a quarter teaspoon or even a pinch at a time.
A Note About the Essential Oils
Essential oils are quirky in some respects.  A single or oil or blend that works well for one person, may work even better or not at all for someone else.  That is why you will find that various charts (including this one) will show that different oils will have similar healing properties.
Also, be aware that often times, more is not better. The beauty of Plain Ole Salve is that you can start with a conservative amount of EOs and add additional drops later if you are not getting the desired results.
The Final Word
Although I have suggested three uses of Plain Ole Salve, there are tons more.  You can come up with your own blends using the oils you have on hand.  Go ahead and try something new, one drop at a time.
It goes without saying that I prefer the oils from Spark Naturals but you can use whatever brand you wish.  But if you do chose to shop Spark Naturals, remember that you get 10% off by using the code BACKDOORSURVIVAL at checkout.
Whatever you decide, please make up a batch of Plain Ole Salve to use instead of that nasty petroleum jelly.  You are going to love it!
Enjoy your next adventure through common sense and thoughtful preparation!
Gaye
Click Here To Vote For Me at Top Prepper Websites!
If you have not done so already, please be sure to like Facebook which is updated every time there is an awesome new article, news byte, or link to a free survival, prepping or homesteading book on Amazon.  You can also follow Backdoor Survival on Twitter, Pinterest, and Google+ and purchase my book, The Prepper's Guide to Food Storage from Amazon.
Spotlight Item:  After a ton of research, for healing purposes I am now using essential oils from Spark Naturals.
One of my favorite SN products is the "Health and Wellness Kit" which includes all of my favorites plus everything you need to make my custom salves.   Be sure to use the discount code BACKDOORSURVIVAL to receive a 10% discount.
~~~~~~~~~~~~~~~~~~~~~~~~~~~~~~~~~~~~~~~~~~
Bargain Bin: Here are some things to get you started with using essential oil plus the items you need to make your own scrubs, salves, lotions and potions including Miracle Healing Salve and Plain Ole Salve.
White Plastic Jar with Dome Lid 2 Oz (12 Per Bag):  I chose to use these small ointment jars rather than Mason jars for my salve.  I also have similar jars in the 1 ounce size and 1/4 ounce size (my favorite for mixing up various salve and e.o. concoctions).
Beeswax Organic Pastilles, Yellow, 100% Pure 16 Oz:  I ordered the white pastilles but have since learned that the natural yellow pastilles are better.  That said, the difference may not be discernable – just be sure that what you purchase is cosmetic grade.
NOW Foods Essential Oils :  I use essential oils from Spark Naturals.  For healing purposes, I feel they are superior.  On the other hand, NOW Foods has decent essential oils at a budget price from Amazon.  Here are a few to get you started:  NOW Foods Rosemary Oil, NOW Foods Peppermint Oil and Now Foods Lavender Oil.
Spark Naturals Essential Oils:  These are what you need for the Miracle Salve: Lavender essential oil,  Rosemary essential oil, and Peppermint essential oil.
Nutiva Certified Organic Extra Virgin Coconut Oil:  So far I am pleased with the Nutiva Coconut Oil.  It is pure-white, USDA-certified-organic, extra-virgin coconut oil that is cold-pressed from fresh coconuts within two hours of chopping. No refrigeration is required and although it solid at room temperature, it melts at 76 degrees. I was able to easily liquefy a small amount and put it in a 4 ounce squeeze bottle where I re-liquefy by putting this smaller bottle in a glass of hot tap water.
The Complete Book of Essential Oils and Aromatherapy: I first became interested in aromatherapy and essential oils in the early 90s which was before they really became mainstream. I read every book I could get my hands on and dabbled at creating synergy's (a combination of two or more oils that create a chemical compound that is greater than the some of its individual components). My bible then, and even now, is this book.
ZAQ Dew Aromatherapy Diffuser:  This essential oil diffuser uses water and essential oils to make make a mist of micro-particles and disperse them into the air. No heating or burning means the properties of the oil are not broken down. Low energy use. The really cool thing is that the light (which can be turned off) changes colors all by its own self.  Very soothing and I love it!
Shop the Emergency Essentials Monthly Specials: The monthly specials at Emergency Essentials feature discounts of up to 35% off sometimes a bit more.  And this month only, there is FREE SHIPPING on all orders of $150 or more!
New this month is the Farmers Market Vegetable Combo
for 79.99. This is a 51% (wow!) discount off of normal pricing.  This assortment includes 6 #10 tins of veggies:  broccoli, green peas, tomato chunks, spinach, green beans, and zucchini pieces.
It is no secret that with the cost of fresh vegetables, I have been using freeze dried in my day-to-day meal planning.  It makes it easy to throw together a soup and there is no waste. Until you garden kicks in and you have your own home-canned goods, this is definitely the way to go.
Shop the Emergency Essentials Monthly Specials
I earn a small commission from purchases made when you begin your .
The Amazon Top Ten Most Wanted Survival and Outdoor Items
Emergency Preparedness Items from Amazon.com
Shop Amazon Tactical – Great Selection of Optics, Knives, Cases, Equipment

Help support Backdoor Survival. Purchases earn a small commission and for that I thank you!
My eBook, The Prepper's Guide to Food Storage will provide you with everything you need to create an affordable food storage plan, including what to buy and how to store it. Nothing scary and nothing overwhelming – you really can do this!
Spread the Word – Tell your friends: Share Backdoor Survival with your friends. All you need to do to send them a short email.  Now that was easy!