This site contains affiliate links. As an Amazon Associate, I earn a commission from qualifying purchases at no extra cost to you. Full Disclosure Here.
Today I share the next author interview and giveaway in the current Backdoor Survival Spring 2014 Book Festival.  This week Mark Shepard, the editor of Charlotte Paul's Phoenix Island, is on board to tell us about the book, it's re-launch in 2014, and about himself.
You might be interested in learning that the author (when she was living) as well as Mark and myself, reside in the San Juan Islands of Washington State.  That is where the story unfolds.  As Mark will tell you, this is a story of survival that follows a tsunami and tidal wave right in our own back yard.  Yes, it could really happen!
Enjoy the interview and be sure to check out the details of this week's book giveaway below.
An Interview with Mark Shepard
Tell me about your book, Phoenix Island. What is it about?
First of all, I need to explain that it's not "my book" in the sense that's normally meant. Phoenix Island is a million-copy bestseller from the 1970s, written by popular author Charlotte Paul, but it was never sold in anything but a cheap paperback edition.

I discovered it when I moved to the San Juan Islands, because that was Charlotte's home when she wrote it, and that's what she used as a model for the book's locale. I believed the book deserved not only a revival but a more classy treatment than it had originally received. So, with the permission of Charlotte's heirs, I set out to publish a 35th Anniversary Edition.

It's simple enough to describe the basic plot: Nine people survive a tsunami on a remote island, find themselves completely cut off from the mainland, and are forced to survive on their own. To classify the book is a bit harder. It blends elements of survival story, technothriller, romance novel, and — what interested me most — utopian novel! The skills the Phoenix Islanders need to develop go far beyond the physical. They have to learn to live together and govern themselves — and also to see each of their own lives, with all their desires and needs, in a new light.

Gaye's Note:  Keep in mind this was written almost thirty years before the advent of reality TV!

The book was really the ultimate statement of an amazing woman who had lived several lives — dancer, journalist, back-to-the-lander, mother, small-town newspaper publisher, government staffer (in the correctional system!), freelance author — and had the breadth of vision to present a bold critique of society, showing us what might be attained if that society no longer lulled us with its comforts and artifices.
What did it take to edit the book for this new edition?
It was quite an effort, partly just because it is a Very Long Book.

First of all, there was no digital copy, so it had to be scanned and converted from the pages of the cheap paperback, with all the manual correction that entailed. Beyond that, though, I became convinced that the original paperback publisher had done hardly any editing and had probably pulled it from Charlotte's hands before she finished polishing it herself. So, it really needed editing on many levels — to the extent I could do it respectfully without having the author to consult — and it wound up taking much more effort than I'd expected.

That was compounded by the wide scope of Charlotte's subject matter and references. I found myself checking on everything from Broadway shows of the mid-1900s to traditional Dutch cooking pots — with stops at nuclear fusion, identification of poisonous mushrooms, and part names for Native American spears. The breadth of information she poured onto the pages was amazing.
Every book, fiction and non-fiction, includes a message. What message do you hope my readers will take with them after reading Phoenix Island?
I think everyone will get their own message from this book.

To me, the most important one was that even the worst of us can be redeemed and enfolded in a strong community. Charlotte's survivors included one very bad apple, but she refused to give up even on him. In the end, he is saved from himself, and the entire community grows and becomes stronger in the process.
Can you tell us a little bit more about yourself?
Oh, that's the hard part. Well, like Charlotte, I have a history of writing about social alternatives and simple living — in fact, followers of your blog may know me as the author of Simple Sourdough, which you've been so kind to promote.

Beyond that, I've had about as many careers as Charlotte. Currently my wife and I are living off our small publishing operation, Shepard Publications, putting out books we write ourselves. Phoenix Island is its first (and probably last) attempt to publish someone else's work!
Is there anything else you would like to share with my readers?
I'd like to invite them to visit the Web site I set up for this book — actually, for Islander Press, the imprint I created for it. The site includes a number of extra materials about Charlotte and her books, including some materials I included in the paperback but left out of the eBook. You'll find it at www.islanderpress.com.
The Book Giveaway
A print copy of  Phoenix Island has been reserved for one lucky reader.  Here is today's giveaway question:
In your best estimation, if faced with an immediate evacuation, how long would it take you to gather your bug-out preps and go?
To enter the giveaway, you need to answer this question by responding in the comments area at the end of this article. The deadline is 6:00 PM Pacific next Thursday with the winner notified by email and announced in the Sunday Survival Buzz.  You will have 48 hours to claim the winning book.
The Final Word
As you know, I read a lot of books and that takes a lot of time. That said, Phoenix Island is up next on my personal reading list and I am excited to see it bubble to the top. Although billed as a thriller, I was enchanted by the first paragraph of the Prologue.  I am so looking forward to digging in!
As with all of the books in the Backdoor Survival Book Festivals, I hope you will enter the giveaway to win your own copy of this fabulous classic!
Enjoy your next adventure through common sense and thoughtful preparation!
Gaye
Thank you for voting for me daily at Top Prepper Websites!  Plus, SUBSCRIBE to email updates  and receive a free, downloadable copy of my e-book The Emergency Food Buyer's Guide.
Spotlight Item:  Phoenix Island: A Tale of Disaster, Survival, and Rebirth
ONE LONELY ISLAND, ONE TIDAL WAVE, NINE SURVIVORS.  A tsunami is one of the last things Dr. Andrew Held expects while entertaining guests on Phoenix Island, the tiny, isolated outpost of Washington State he has made his private home. But when a French nuclear bomb test in the South Pacific goes awry, the ensuing tidal wave destroys his island estate and severs all ties to the mainland.

The survivors are nine with little in common and histories setting them far apart, yet each with unique, unexpected strengths, virtues, and talents. As hopes of quick rescue dim, their only chance of survival is to bridge their differences, transcend their conflicts, and learn to live in harmony with each other — and in some cases, with themselves.
Bargain Bin:  Today is all about books.  Listed below are all of the books in the current Backdoor Survival Book Festival. There are both fiction and non-fiction titles and a bit of something for everyone.
If you covet an e-Book reader, consider the Kindle.  And if not, at the very least pick up the free Kindle app so that you can read Kindle books on your PC or favorite electronic device.
Spring 2014 Book Festival #5 – Fiction
Brushfire Plague: Reckoning
Through Many Fires: Strengthen What Remains
Flight of the Bowyer
The Jakarta Pandemic
The Perseid Collapse
Leaving The Trees
Fury of the Fifth Angel
Fugitives from Northwoods
Phoenix Island: A Tale of Disaster, Survival, and Rebirth
Spring 2014 Book Festival #5 – Non-Fiction
The Prepper's Complete Book of Disaster Readiness: Life-Saving Skills, Supplies, Tactics and Plans
Simply Canning: Survival Guide to Safe Home Canning
The Prepper's Pocket Guide: 101 Easy Things You Can Do to Ready Your Home for a Disaster
The Prepper's Cookbook: 365 Recipes to Turn Your Emergency Food into Nutritious, Delicious, Life-Saving Meals
Jake and Miller's Big Adventure: A Prepper's Book for Kids
The Pantry Primer: How to Build a One Year Food Supply in Three Months
~~~~~~~~~~~~~~~~~~~~~~~~~~~~~~
Shop the Emergency Essentials Monthly Specials: The monthly specials at Emergency Essentials feature discounts of up to 35% off sometimes a bit more.
Although I have plenty of flashlights and batteries (you might even say I have a flashlight fetish) I also stay stocked up with a dozen of these Clear Mist 100 Hour Plus Emergency Candles
as well.  For the best deal, purchase a dozen at a time to get a discounted price.  Be sure to also check out the Clear Globe attachment.
~~~~~~~~~~~~~~~~~~~~~~~~~~~~~~
I earn a small commission from purchases made when you begin your Amazon shopping experience here.
The Amazon Top Ten Most Wanted Survival and Outdoor Items
Emergency Preparedness Items from Amazon.com
Help support Backdoor Survival. Purchases earn a small commission and for that I thank you!
~~~~~~~~~~~~~~~~~~~~~~~~~~~~~~
No list of books would be complete without my own e-book, The Prepper's Guide to Food Storage.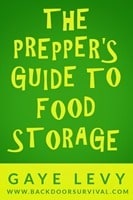 The Prepper's Guide to Food Storage is a book about food: What to store, how to store it and best practices. It is a roadmap for showing ordinary citizens that long-term food storage is not something that will overwhelm or burden the family budget.   It is based on my own tried and true experience as someone who has learned to live the preparedness lifestyle by approaching emergency preparedness and planning in a systematic, step-by-step manner.

Whether you simply want to prepare for natural disasters or whether you believe the world is headed toward a major food crisis, this book is for you. It covers basic tips and techniques you can use to stock your food storage pantry so that you can be assured that your family will have food to eat, no matter what.