With each passing day, our reliance on portable electronics grows.  These little devices are powerhouse computers that store our calendars, digital reference libraries, photo albums, tasks lists and just about everything else you can think of.  Life before gizmos; can you even imagine it?
In spite of our reliance on electronic devices, there is a downside. They consume energy like crazy and require frequent recharging using electricity.  I know some folks that are so dependent on their devices that put them through a charging cycle twice a day!
Therein lies the problem. With our reliance on smart phones, tablets, and eBook readers, a grid down power outage will leave us with a muddled mess of information that is inaccessible.  Those hundreds if not thousands of documents, photos and eBooks will no be available until power is restored.
Thankfully, in the past four years great strides have been made in the area of portable solar chargers.  Not only have they become a cinch to use, but they have come down enough in price to be highly affordable.
With that introduction, I would like to introduce you to the Marsboy 15W Portable Solar Charger.  This easy to use solar charger is so simple that the operating instructions are printed on the cover.  You can't get much simpler than that.  And the best part?  I have one to giveaway for free to a lucky Backdoor Survival reader!
Just the Basics: The Marsboy Folding Portable 15W Solar Charger
Here is what you need to know about the Marsboy Portable Solar Charger.
The Marsboy consists of a compact unit measuring 7.5 by 10 inches when folded and weighing just 1 pound, 10 ounces. It includes three solar panel that put out 15W.  These panels are sturdy!  While I don't recommend it, I dropped a couple of rocks on one of the open panels and it suffered nary a scratch.
There are two integrated USB ports tucked into a Velcro pocket.  One is 1A and the other is 2.5A.  For my tests, I plugged in an iPhone and iPad in simultaneously and they both began charging immediately.  It is a good thing when that green lighting icon appears from the get go!
Later I plugged in my Goal Zero battery charger and likewise, my drained, AA rechargeable batteries charged right up.
There is one thing to keep in mind with solar charges such as this one.  You do not want to keep your phones, tablets, and eBook readers baking in the direct sun.  Luckily, smaller handheld devices can be tucked into the Velcro pocket while being charged and larger tablets can be shaded by the folding panels themselves.  Which brings me to the next point: the panels are in a study case that will stand up, accordion style on it own.  Flimsier panels will not do that.
Although I had to provide my own cables, I saw that as an advantage.  Some of the solar chargers I have tested in the past were a mess of cables with assorted tips that had to be mixed and matched to get the charging cycle started.  These days you can purchase USB cables inexpensively (I like the Basics brand) so what I do, is keep a set in the Velcro pocket.  Easy peasy.
In my usual style, I leave it up to you to seek out additional specifications by taking a look at the product specs.  What you really need to know, however, is that the Marsboy 15W Solar Charger works and that it is easy to use.  You do not need a PhD is engineering to figure it out.  This is my kind of product.
~~~~~~~~~~~~~~~~~~~~
The Giveaway
Okay peeps; here is the part you have been waiting for.  One of you will win a Marsboy Solar Charger of your own. How cool is that?
To enter the giveaway, you need to utilize the Rafflecopter form below.  Select one or more of the options after signing in using your email account or Facebook, the choice is yours.  The best way to start is by clicking on "Free Entry for Everyone".  After that, each option you select represents an additional entry.  There are a number of different options so pick and choose or select them all.
The deadline is 6:00 PM Pacific next Tuesday with the winner notified by email and announced on the Rafflecopter in the article.  Please note that the winner must claim their prize within 48 hours or an alternate will be selected.
The Final Word
You know the rule, one is none and two is one.  When in comes to charging your electronic devices (which I fondly call gizmos), you need a secondary source other than electricity.
The Marsboy Solar Charger fits the bill at an affordable price plus it is very easy to use.   Just unfold it and plug in your devices.  Easy peasy. Performance is best when the panels are pointed directly toward the sun, but if not, you still get enough juice to charge most devices; it just might take longer.
This is a fantastic product that will make a fine addition to your emergency kit.
Enjoy your next adventure through common sense and thoughtful preparation!
Gaye
If you enjoyed this article, consider subscribing to email updates.  When you do, you will receive a free, downloadable copy of my e-Book, The Emergency Food Buyer's Guide.
You can also vote for Backdoor Survival daily at Top Prepper Websites!
Below you will find the items related to today's article as well as some of my favorite prepping essentials.
Marsboy 15W Solar Charger with Dual USB Ports:  This portable solar charger is easy to set up and easy to use.  With two USB ports, you can charge two devices at once which is a real timesaver.  Well constructed and well priced.
Basics USB Cables :  I swear by these cables. They are not the cheapest but they are also not the most expensive.  They just work!
MPOWERD Luci EMRG Inflatable Solar Lantern:  This is the original Luci EMRG Solar lantern. I have put mine through its paces and it is one tough cookie.  It has weathered both a wind storm and rain storm while hanging outdoors for a month.  Lightweight, waterproof and shatterproof, Luci EMRG provides ultra-bright, reliable light to guide your way indoors and out, through blackouts or extreme weather conditions.

Kindle or other eBook reader:  Are you surprised?  If the grid is down, you are still going to want to have access to your eBooks and reference manuals plus some way to keep your mind occupied.  I happen to have both a reader and an iPad and both can be charged using an inexpensive solar charger.
Solar Charger for Standard Batteries:  I use this Goal Zero Guide 10 Plus Power Pack for charging AA and AAA batteries using the sun.  It works great with the Marsboy Solar panels.
Inch Premium Glow Sticks – Assorted: These 4" glow sticks are fantastic!  Each stick glows for 8-12 hours, and comes with a pre-attached hook and lanyard.  They are well priced and hold up well when packed around in a pocket or handbag.  For more information about glow sticks and chemical lighting, read 10 Reasons to Add Glow Sticks to Your Survival Kit.
UltraFire Mini Cree LED Flashlight:  FAVORITE!  At the time of this writing, this one is with free shipping.  It is super mini sized, bright and waterproof.  Plus, it uses a single, standard AA sized battery.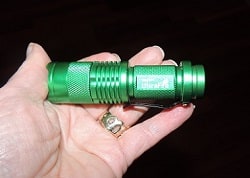 ~~~~~~~~~~~~~~~~~~~~~~~~~~~~~~
Help support Backdoor Survival. Purchases earn a small commission and for that I thank you!
~~~~~~~~~~~~~~~~~~~~~~~~~~~~~~
Which are the best oils for your survival kit?  This article describes my top picks.