This site contains affiliate links. As an Amazon Associate, I earn a commission from qualifying purchases at no extra cost to you. Full Disclosure Here.
During this year of personal changes, this holiday season is especially meaningful. Always a time of reflection, this year, in particular, finds me particularly thankful as I look back at the amazing adventure that began a little over a year ago.
Personal changes aside, one thing is for certain. The Backdoor Survival community is filled with awesomeness not only in spirit but also in resourcefulness and kindness.  Because of that, this year, I knew I wanted to come up with something I could offer as a gift – something free with no strings attached.
What I came up with is a free copy of my eBook, The Prepper's Guide to Food Storage.
I know that many of you struggle with food storage and find it challenging to stay on track.  Even though a ton of information is available on this website and on the internet in general, sometimes you need an immediate fix.  For those times, let The Prepper's Guide to Food Storage be your reference.
It covers topics such as:
Store What You Eat and Eat What you Store
20 Items to Kick Start Your Food Storage Pantry
Tips for Building an Emergency Food Supply
Common Food Storage Mistakes
Moving Beyond Pre-packaged Foods
and more
For the next two days, December 24th and 25th, the Prepper's Guide to Food Storage will be available for free on Amazon.  The eBook can be downloaded to your Kindle, PC, tablet, smartphone, or just about any other device you can think of.  As I like to say, no Kindle, no problem.  All you need to do is download the free Kindle reading app.
The Prepper's Guide to Food Storage – Free for Everyone December 24th and 25th
No Kindle – No Problem.  Download the Free Kindle Reading App
The Final Word
I have a little secret.  Shelly and I spend the holidays alone.  With our busy lives, it is rare that we have much down time so we take this time to cook together, enjoy music together, do some coloring, and even do a little dancing.  We also count our many blessings.
We have good health, a wonderful home, caring friends, and the ability to fend for ourselves should a disaster or other disruptive event come knocking on our door.  We also have all of you and will drink a toast to preppers everywhere as we dream about a world without anger and a society without hate.
This is our tradition and we would not trade it for the world.
In closing, both Shelly and I wish you a blessed day filled with laughter and an abundance of love.  We wish you health and also bestow upon you the wish for joy and happiness regardless of what the world and our planet will toss our way.
Enjoy your next adventure through common sense and thoughtful preparation!
Gaye
If you enjoyed this article, consider following our Facebook page.
 If you have some holiday cash burning a hole in your pocket, consider some of my personal favorites.  All of these are recent purchases.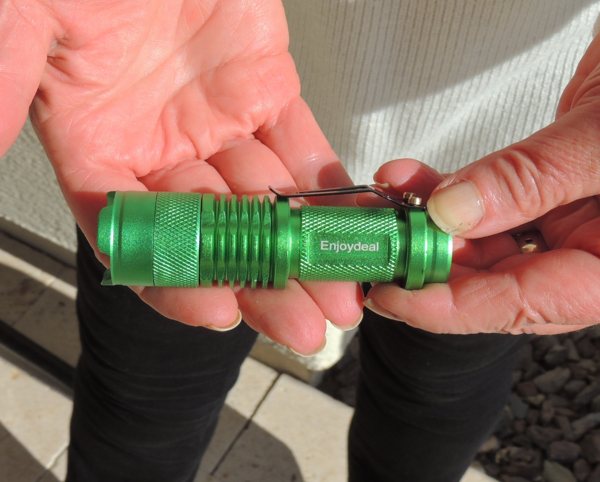 Mini CREE Q5 LED Zoomable 1200 Lumens Flashlight:  I am calling this my "3 buck flashlight".  It took a few weeks to get here but since arriving, I have been doing my best to get it to fail but so far, it is working perfectly.  It uses a single AA battery (I am using a recharged Alkaline battery).
Original Makin' Bacon Microwave Bacon Rack:  Not a prepper item but let me tell you, this bacon cooker is amazing.  Preppers get stressed.  They need bacon.  Enough said.
Magical Mandalas Coloring Book: Recommended by a Backdoor Survival reader, this coloring book is my current favorite.  The spaces are big – no tiny detail to contend with this one.  Fantastic, really.
Mighty Charger for Both Alkaline and Rechargeable Batteries:  I don't know why I have not reviewed this nifty battery charger yet but I do need to do that.  The Mighty Charger is a compact charger that works with both Alkaline and Ni-MH AA, AAA batteries and 9V batteries. I like it's small form factor and the fact that it will automatically detect the type of battery and charge it up.
Etekcity 4 Pack Portable Outdoor LED Camping Lantern with 12 AA Batteries:  Yes, more lighting.  As I find these on sale, I put them on Facebook and everyone raves.  I took the 3 I already the cabin so I had to start all over here at the house. I ordered these, and yes, batteries are included.
~~~~~
A frequent question I get on Backdoor Survival has to do with healthcare matters when there is no doctor around. This is the definite source of survival medical information for all Prepper's and is my go-to bible for survival medicine.