This site contains affiliate links. As an Amazon Associate, I earn a commission from qualifying purchases at no extra cost to you. Full Disclosure Here.
Essential oils are known to do wonders for your skin, hair and health. Most people use it indoors for aromatherapy. However, few people realize that essential oils can also benefit you greatly when it comes to camping and the great outdoors.
Let us take a closer look at the top oils you should take along on your next camping trip.
Must-Have Essential Oils For Camping
Peppermint
If your campsite is being overrun by ants, peppermint oil can save the day. Sprinkle it in areas where the insects are, or around your eating and sleeping areas to prevent them from coming near.
Peppermint may also be used to help sore muscles if hiking or if any other extraneous activity took place. Rub on the sore muscles and give yourself a slight massage. Follow it with some rest and you'll feel better sooner than you thought.
If hot weather is an issue, then you can mix a few drops of peppermint oil with water in a spritz bottle and spray on your skin for quick relief.
Lavender
Lavender is another versatile essential oil to take along with you. Lavender oil can be used to induce relaxation or sleep for those uncomfortable nights outside. If you have a portable diffuser, just take it along with you, set it up and you are good to go.
It can also soothe sunburned skin and mosquito bites when rubbed directly on the affected area. Lavender will also keep moths away if those happen to be a problem in your area, thanks to its smell.
Lavender has a light, almost soft smell to it that is usually pleasing to every single person. In fact, it is regularly used in aromatherapy and massage sessions. Lavender and peppermint – not necessarily combined – as a tea can help relieve migraine and headache pain as well.
Tea Tree
This essential oil is one of the best antiseptic remedies to have around for superficial skin wounds. It is also helpful in repelling ants and other insects such as pesky mosquitos. Tea tree oil may be used for its antiviral properties, but it should not be ingested.
Due to its strength, it should not be applied without a carrier oil or without dilution. Tea tree oil is great for keeping infections away, wounds sanitized and has great health benefits from scalp to skin. The smell is strong and earthy, making it unpleasant for most insects.
Geranium
Another insect repellant that can be mixed with other oils for more powerful protection is called geranium. In fact, geranium can repel horse flies and ticks. Ticks are heavily present in certain places and can pass on serious diseases, so do not leave home without this.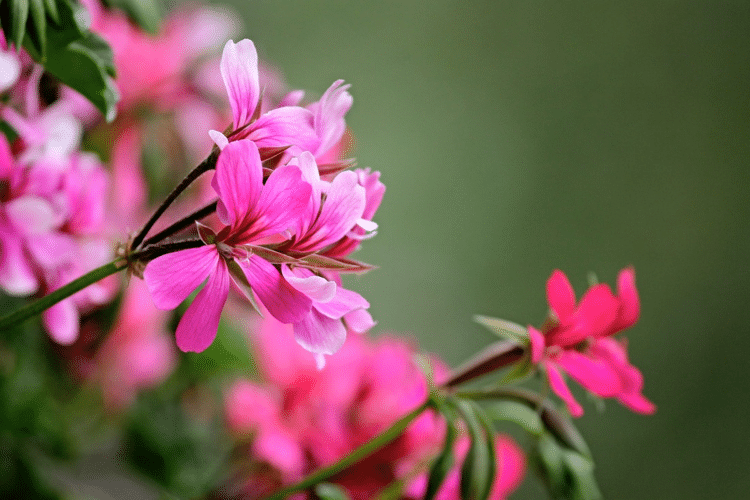 With that in mind, geranium is best used with citronella. Always use dark glass bottles when storing essential oils and avoid overexposure to the sun. Remember: the jars should also be closed very tightly.
Citronella
Citronella is a famous mosquito repellant, one that is all-natural and preferred by many people. You can add a few drops in any type of lotion and rub on your skin for an excellent mosquito repellant with no harsh chemicals.
Citronella-infused candles may also be bought for further insect control. Citronella does not guarantee a no-bite night, but it is scientifically proven to reduce the chances of it occurring. It is also known to be safe to use on kids and adults alike.
You may also find bracelets infused with citronella, but it will not be the same as the essential oil in its pure form.
Quick Remedies
Insect Repellent
We all hate insects when we go camping. However, insect bites can be avoided. A mosquito net is recommended as well in areas prone to mosquito-borne illnesses for best results.
The following insect repellent will also aid in the prevention of other insect bites, such as ticks and horse flies. A simple insect repellent recipe you can make can be done using two easy methods.
You can use any type of insect repelling oil, but the most commonly used ones are: peppermint, lavender, citronella, tea tree, and geranium. Choose two or three of the listed oils. You will need about fifty drops of the essential oils and four tablespoons of any carrier oil for this recipe.
Carrier oils can be coconut or jojoba oil, for example. Blend your essential oils together and then pour into the carrier oil in any dark jar. Rub the solution on key points of your body: behind your knees, on ankles, behind the ears, on wrists as well as inside elbows.
You should reapply every hour or after any type of exercise or swim. To make the solution a bit more thick and spreadable, you can add aloe vera gel. This gives it an extra consistency that is quite fun to apply.
If you wish to make the recipe into a sprayable one, you need alcohol or witch hazel. Add the blended essential oils to the alcohol or witch hazel, top it with distilled water and put it in a glass spray bottle if possible. Remember to always shake the containers well before applying.
Sunscreen
A natural sunscreen recipe that also replenishes and nourishes is easy to make if you have the right essential oils. Sunscreen is a must-have in any outdoor event because of the harm ultraviolet rays can cause on our skin.
Protecting yourself and your loved ones do not have to be expensive though. These days, making your own natural sunscreen is possible, but a store-bought one should also be taken along just in case.
You need five to ten drops of the essential oil of your choice – just make sure they are for sunscreen protection such as lavender and helichrysum. Then, use an ounce of any carrier oil – coconut oil is the most widely used.
Apply liberally and reapply as necessary, or at least every hour to keep your skin naturally protected.
Top Products
Naturenics Lavender Essential Oil
This bottle consists of genuine, 100% organic lavender essential oil that is great for aromatherapy. It contains no added chemicals and can be used for massages.
Pros
USDA-certified
No parabens, no gluten, no sulfates, no added chemicals
Safe to use as a massage oil
Safe to use in diffusers
Ultra-concentrated
Majestic Pure Geranium Essential Oil
Geranium oil should only be used externally, but it is a must-have essential oil for insect repellents. This essential oil is also sweet to smell and can be used in aromatherapy.
Pros
100% natural ingredients
Made in the USA
Can be used in aromatherapy
Comes with a glass eyedropper
NOW Peppermint Essential Oil
100% real peppermint oil that is extracted through distilled steam. Peppermint oil is great for many things and should be bought only when pure.
Pros
100% pure peppermint oil
Fresh, strong aroma
Lasts a long time
Earth Shield Helichrysum Essential Oil
Naturally cultivated, extracted and processed, this helichrysum essential oil is the way to go. This versatile essential oil can be used for various things, such as dermatitis. However, always combine this essential oil with a carrier oil due to its strength.
Pros
Grown and steam distilled in Madagascar
Not diluted, non-toxic
Strong, pure helichrysum
Good amount of oil for its price
UpNature Citronella Essential Oil
This strong and pure citronella essential oil is wonderful for inflammation or insect repellent use. It is not diluted, so it can be safely combined with other oils for further benefits.
Pros
100% natural citronella
Very strong aroma
Comes with a dropper
USDA Certified Organic Tea Tree Oil
Tea tree oil has been used for many years as a natural antiviral and antibacterial agent. It is important to note that pure tea tree oil must be combined with a carrier oil to prevent possible skin reactions if applying on sensitive skin or areas.
Pros
USDA-certified
Organic tea tree oil
Pharmaceutical grade
Plant Therapy Frankincense Serrata Essential Oil
This favorite essential oil that has been used for centuries has come back for good. It offers excellent healing properties, especially for skincare. It comes from a very renowned company with strict quality standards, which ensures a superb product.
Pros
100% pure frankincense
Highest processing quality to maintain pureness
Strong, calming, earthy aroma
Conclusion
Essential oils have many benefits and properties that are great to have around when unexpected needs or outings arise. Even when it comes to camping, essential oils have you covered.
The important thing is looking for quality, pure oils that are not combined with additives or other chemicals. Pure, undiluted essential oils are what you should be looking for.
To make sure that is what you are getting, always check the ingredients list on the bottle. There are also safety precautions to take note of with some oils because some may not be digestible, so do your research first. We made a handy guide with basic information you need to know about essential oils before you start using them.
As camping season draws near, make sure to prepare your bag of essential oils and make that trip more fun and less dreary.
If you enjoyed this article, consider following our Facebook page.