Today I wrap up the Backdoor Survival Spring 2014 Book Festival with a final, special treat.  My friend Bernie Carr is back along with the perfect book for young readers, Jake and Miller's Big Adventure: A Prepper's Book for Kids. 
As with a number of the other author's in this round, Bernie is a member of my "Prepared Bloggers" group – a very special community of about 110 bloggers with prepping, homesteading and self-reliance websites.  I like to think of our group as the best prepping and homesteading support group on the planet.
Enjoy the new interview with Bernie and be sure to check out the details of this week's giveaway below.
An Encore Interview with Bernie Carr
Given your background, knowledge and experience, what do you feel are the three most important survival or prepping skills?
1. Find and make water safe to drink. A person can last roughly only three days without water, making it a top priority. But finding water is only the first step- because if the water makes you sick you are still in big trouble. Learning multiple ways to filter and purify water is of utmost importance.

2. Being able to build a shelter. A person needs to have protection from the elements. A person won't last long being exposed to extreme weather, therefore it is important to find a way to make a shelter.

3. Learn to build a fire. Fire is important to survival – it can keep you warm, cook food, deter wildlife and the smoke keeps away insects. Building a fire is a basic skill that needs to be added to the prepper's skill set.

After these three would be to find and cook food – there are so many other skills but since were are talking about the top three, I went with the basics. It is also important to adapt a strong and resilient mindset, because in a critical survival situation, your mind has to adjust and adapt to difficult circumstances.
To what extent does your family participate in your personal preparedness efforts?
My immediate family is very involved in preparedness, however my extended family considers it "just something that she does."
What is your favorite survival or prepping book? (It can be fiction or non-fiction.)
Fiction: I really like One Second After by William R. Forstchen. It is a story about how a family survives and copes with the disruption and chaos caused by an EMP.

Non-fiction: I'd have to name two favorites – The Survival Mom by Lisa Bedford, and The Prepper Next Door by Charlie Palmer. I like the down to earth and practical approach to prepping, while living your life to the fullest.
Do you have anything else that you would like to share with the readers on Backdoor Survival?
Being involved in preparedness has changed my life in a lot of positive ways. Before I started on this journey, I was on a treadmill of always being rushed and stressed out about things I overlooked.

Preparedness has taught me to plan ahead and avoid doing things at the last minute. I picked up some new skills, such as how to make common items such as bread, yogurt, cleaning supplies, even healing salves.

Even if nothing happens, these skills are a great benefit and I would encourage readers to try to learn just one skill that's interesting to them and go from there.
The Book Giveaway
A copy of Jake and Miller's Big Adventure  has been reserved for one lucky reader.
To enter the giveaway, you need to respond to the poll question in the Rafflecopter form below.  The deadline is 6:00 PM Pacific next Thursday with the winner notified by email and announced in the Sunday Survival Buzz. It is as easy as that although please note that the winner must claim their prize in 48 hours or an alternate will be selected.
The Final Word
Although Jake & Miller's Big Adventure has been written with young readers in mind, "young" is relative.  I think that "young at heart" counts too. You will be charmed by this book, I guarantee it.
Good luck, everyone!
Enjoy your next adventure through common sense and thoughtful preparation!
Gaye
New:  Click Here To Vote For Me at Top Prepper Websites!
If you have not done so already, please be sure to like Facebook which is updated every time there is an awesome new article, news byte, or link to a free survival, prepping or homesteading book on Amazon.  You can also follow Backdoor Survival on Twitter, Pinterest, and Google+ and purchase my book, The Prepper's Guide to Food Storage.
In addition, when you sign up to receive email updates you will receive a free, downloadable copy of my e-book The Emergency Food Buyer's Guide.
Spotlight Item:  Jake and Miller's Big Adventure: A Prepper's Book for Kids
Being prepared is a ton of fun!  The world can be a scary place! There are snowstorms and mean snakes, hot jungles and wild rivers. But intrepid adventurer Jake and his dog Miller aren't scared —they're prepared!

In Jake & Miller's Big Adventure, young readers discover it's never too early to start prepping. Learning how to use life-saving survival equipment like canned goods, water filters, first aid kits, Mylar blankets and emergency radios can keep you safe, healthy and happy even in the scariest of adventures—whether you're deep in the jungle or hunkering down at home.
Bargain Bin:  Today is all about books.  Listed below are all of the books in the current Backdoor Survival Book Festival. There are both fiction and non-fiction titles and a bit of something for everyone.
If you covet an e-Book reader, consider the Kindle. And if not, at the very least pick up the free Kindle app so that you can read Kindle books on your PC or favorite electronic device.
Spring 2014 Book Festival #5 – Fiction
Brushfire Plague: Reckoning
Through Many Fires: Strengthen What Remains
Flight of the Bowyer
The Jakarta Pandemic
The Perseid Collapse
Leaving The Trees
Fury of the Fifth Angel
Fugitives from Northwoods
Phoenix Island: A Tale of Disaster, Survival, and Rebirth
Spring 2014 Book Festival #5 – Non-Fiction
The Prepper's Complete Book of Disaster Readiness: Life-Saving Skills, Supplies, Tactics and Plans
Simply Canning: Survival Guide to Safe Home Canning
The Prepper's Pocket Guide: 101 Easy Things You Can Do to Ready Your Home for a Disaster
The Prepper's Cookbook: 365 Recipes to Turn Your Emergency Food into Nutritious, Delicious, Life-Saving Meals
Jake and Miller's Big Adventure: A Prepper's Book for Kids
The Pantry Primer: How to Build a One Year Food Supply in Three Months
~~~~~~~~~~~~~~~~~~~~~~~~~~~~~~
Shop the Emergency Essentials Monthly Specials: The monthly specials at Emergency Essentials feature discounts of up to 35% off sometimes a bit more.
Although I have plenty of flashlights and batteries (you might even say I have a flashlight fetish) I also stay stocked up with a dozen of these Clear Mist 100 Hour Plus Emergency Candles
as well.  For the best deal, purchase a dozen at a time to get a discounted price.  Be sure to also check out the Clear Globe attachment.
~~~~~~~~~~~~~~~~~~~~~~~~~~~~~~
The Amazon Top Ten Most Wanted Survival and Outdoor Items
Emergency Preparedness Items from Amazon.com
Help support Backdoor Survival. Purchases earn a small commission and for that I thank you!
~~~~~~~~~~~~~~~~~~~~~~~~~~~~~~
No list of books would be complete without my own e-book, The Prepper's Guide to Food Storage.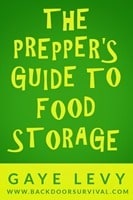 The Prepper's Guide to Food Storage is a book about food: What to store, how to store it and best practices. It is a roadmap for showing ordinary citizens that long-term food storage is not something that will overwhelm or burden the family budget.   It is based on my own tried and true experience as someone who has learned to live the preparedness lifestyle by approaching emergency preparedness and planning in a systematic, step-by-step manner.

Whether you simply want to prepare for natural disasters or whether you believe the world is headed toward a major food crisis, this book is for you. It covers basic tips and techniques you can use to stock your food storage pantry so that you can be assured that your family will have food to eat, no matter what.