There is a lot to choose from when it comes to clothing for hunting. While it is important to have clothing that will keep you comfortable for long periods of time, you don't necessarily have to spend the fortune it seems like some people do when they go to the outfitter.
Your climate and the season is one of the main factors to consider when deciding what type of clothing to buy. Here are a few other things to consider.
Temperature fluctuations. This can occur due to the weather and time of day or simply your activity level. 
Dressing in layers is a good idea since conditions can change often during the course of the hunt.
Base Layers
This could be a synthetic material t-shirt. Cotton is comfortable but you don't want to have on cotton if you get stuck out in cold and wet conditions.
Thermal Underwear
In colder conditions, your base layer should be thermal underwear rated for your climate. Some companies like LL Bean make light, medium, and heavyweight synthetic thermal underwear. I can tell you from experience that the medium is really warm.
In fact, Matt and I wish we had bought the lightweight despite being at 3,000 ft on a mountain throughout the winter. While it is easy to think that warmer is better, the truth is that buying a base layer that is too heavy can be uncomfortable. Of course, if you get out a lot you may want to have several sets to choose from based on the season and weather. 
Some people really like silk thermals but they are not cheap. I say go with whatever suits your comfort needs and falls within a reasonable price point for you. If you are out in the bush a lot, then spending more on thermals may make more sense.

Hunting Jacket
Sometimes coats come with removable shells. Matt and I usually just buy a good fleece coat and layer with a good raincoat as needed. This allows for good versatility and it is often less expensive.
This is an item of hunting clothing that you can spend a lot on if you start getting into a coat with a lot of special features and that is made of top-notch materials. That doesn't mean you cannot get a really good jacket for less though. Remember those small improvements can add a lot to the cost so you have to decide if they are really worth it for you.
Carhartt is a brand that we trust around the farm. It is durable. We find that the cuffs wear faster than any other part of the duck cloth coats we have bought over the years. At the same time, the heavy-duty hooded sweatshirts don't have the same problem. A little reinforcement with a layer of leather and a Carhartt would be practically indestructible. This hunting jacket features a hood and there are zippered vents under each arm for comfort.
Additional thermal layers for under a jacket include a fleece coat or vest, sweatshirts and hoodies, or sweaters.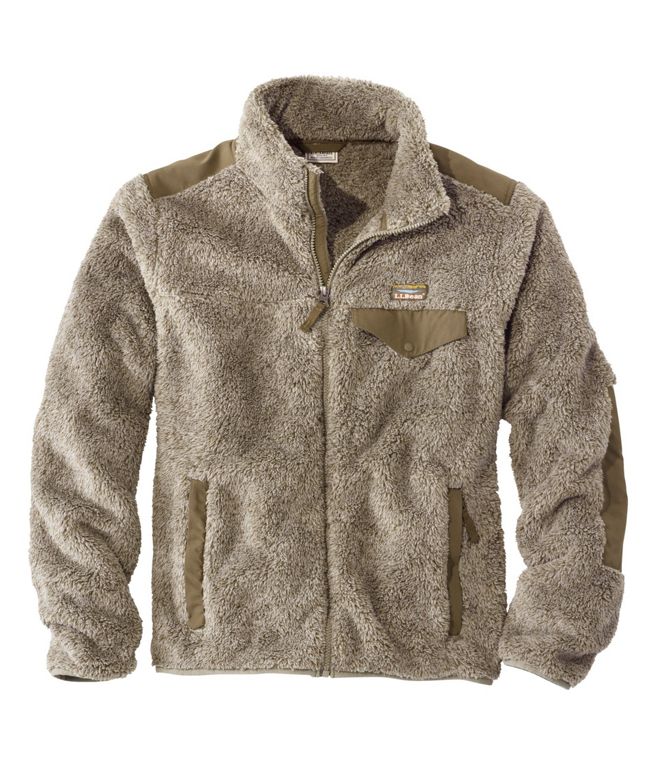 Matt and I buy LL Bean fleece jackets because they last a really long time even if they are abused somewhat. There are different thicknesses when it comes to fleece. For example, I have a regular weight fleece that is made for layering and use in mild to moderate cold. Then I have an insulated fleece that I got from LL Bean on clearance.
I actually wish I had made more of an effort to take care of it. I paid around $40 for it and it retailed for $150 years ago. I am still wearing it. The cuffs on the sleeves are still nice too. Although I have used this as just an all in one coat, the biggest damage is from cinders while burning brush. That is what happens when you wear a synthetic shell and burn things or get too close to a campfire.
Some people choose to wear a tactical boot when hunting. I say it doesn't matter what the name of the boot says it is for if it meets the following criteria.

Keeps feet warm and dry.
Has as good of ventilation as can be expected for the style of boot it is. For example a snowboot made with a  lot of rubber and insulation is obviously not going to be breath as well as a tactical jungle boot.
Offers good arch support and cushioning
Nonslip rugged sole
We have several articles about boots that I am going to give you links for. Even if you don't buy any of the options listed, you will be better prepared to decide if a boot you are looking at is the right one for you.
Exploring The Best Tactical Boots
The Best Water Shoes and Boots For Preppers
Boot Sizing
You may want to consider if you will be adding extra insoles or wearing thick socks when deciding what size boot to purchase. Remember that boots do break in and get stretched out so even if they feel a little stiff and tight initially, they may stretch out quite a bit. Generally people that intend on wearing thick socks or adding extra thick insoles will just order a ½ size larger than usual. If you have a seperate pair of boots for cold weather and warm weather hunting and fishing expeditions you may want the winter boots to be larger than your warm weather ones in order to accommodate the added sock thicknes. I do have to say that with all the SmartWool and synthetic fiber socks out there, even really warm one's are not as thick as they used to be.
Wool or synthetic is best for hunting. Wet cotton socks are awful and will keep your feet very cold. Even boots that claim a high level of waterproofness may leak at times or you may find water overtopping your boots or just sloshing in a bit. 
If you keep an eye on the clearance sections online and at major sporting goods stores you can sometimes find some exceptional deals. 

Hat
There are a lot of options here and like any clothing it is going to vary by climate. Matt and I like to just get toboggans or watch caps, bush hats, and ball caps. That about covers our hat needs and we always get them in the same colors so we can share and they go with everything. 

Leather or felt hats are popular with some hunters that get out and hunt and do bushcraft but you don't see as many of these styles. 
A hat that is well ventilated is especially important when hunting in humid and warm climates.
I have heard enough horror stories about mosquitos and I have been out in the muskeg in Alaska enough that I feel that mosquito nets deserve to be on a hunting clothing list. You can get ready-made nets that go over your hat or face. You can also get larger camo nets that can fit around hunting blinds and areas of your camp.

A Buff is nice because it offers more head protection but also face and mouth. The Buff I have linked to is made to be windproof and is a bit heavier duty than some of what they offer. There are a lot of different brands that sell a similar product that I have no experience with. Matt was given a Buff as a gift and it is an impressive multifunctional piece of headwear.
They come in many colors and various styles that vary in cost. The more expensive ones are for harsher conditions. While a Buff is an excellent hat, it can also be worn as a headband, around the neck, over your face, etc. For really tough conditions, a Buff and an extra hat would provide a lot of comfort. Here is a link to the Buff Polar style.
You can also get a Buff made of Merino wool. While that seems like it may be itchy, it appears that the wool they use is spun like Smartwool so it is quite soft.

It is important to get the right gloves for hunting. You need something that is a good fit and allows for dexterity and swiftness when the moment calls for it. Some people use gloves with no fingertips while others utilize gloves that are made specifically for tactical and hunting use. Regardless, make sure that you actually have a pair that fits well. Measure your hands, buy a pair and try them on. If they don't fit then send them back and get the size that does. You don't want bulky and ill-fitting gloves that mess you up out in the bush.

Check out my post on tactical gloves for some options at a reasonable cost.

Belt
A belt may not mean that much to you regularly but when out hunting it can do a lot more for you then just hold up your pants. A belt needs to be comfortable and not slip around like crazy. If you want to carry some extra gear then I recommend a tactical belt and possibly adding some MOLLE pouches to suit your needs. A good belt can last a really long time if you take care of it and serve you well out in the field.

Never assume that the weather is going to be what they say it is. Plan for varying conditions.
If you are hiking in or riding in to someplace, it pays to bring a variety of clothing for extended trips. You can always take something off if you get too hot or add it back later but if you have what you have, it can lead to an uncomfortable and even life-threatening situation. A few mylar blankets don't weigh much either and can make a big difference if something happens out in the bush.
Scent blockers
Some people choose to buy clothing that helps block the natural scent that humans give off. There are many soaps and sprays that make claims that they help but I honestly do not have enough experience to tell you what works. I would appreciate readers commenting that they have experience with blocking scent. What works and what is just a gimmick? Also how long does the high dollar clothing that makes claims about blocking scent, actually work? Can you refurbish it so to speak?
This hat by Scentlok claims to use activated carbon, treated carbon, and zeolite for maximum odor adsorption.
It seems to me that people have been hunting a long time without scent blockers so it makes me question if they are worth it or not.
Boot gaiters can be added and worn over any boot for instant extra protection. They save you from having to buy and use a specific boot and they cost far less than owning a second pair of hunting boots too.
For most people, snake-proof boots and other gear are not going to be necessary. If you are careful you can reduce the risk of snake bites substantially. Although I live in a region that has plenty of snakes in various areas, I have not really heard of many people buying anything snakeproof for the great outdoors.
Snake proof boots are the most common thing that hunters buy. If you feel the need then go for it. The boots are really tall and they can vary a lot in cost. I have seen pairs for $100 and some for a lot more.
You have to wear something that is orange.
As far as I know, it is the law to wear something that is blaze orange when out hunting. A lot of hunters choose to wear a hat that is this color but there are many options. Some hunting jackets have patches of orange on them as well. This is for the personal safety of everyone that is out in the woods.
This hat would work well for hunting. It also has a face mask that fits up in the hat when you don't want it. Versatility can be nice
I am sure that there are some places that you might be able to get away with not wearing orange but it is not a good idea unless you are in a real SHTF situation and you are afraid of getting sniped.
Women's Hunting Clothing
Sometimes women can get a good deal on hunting clothing simply because the manufacturers make plenty of it but women don't hunt as much as men on average. There are also some companies that cater to outdoor enthusiasts like hikers and campers but still make a few items in camo or designed for hunting.
When they have leftover stock you can do quite well. LL Bean is a good example of this. Sometimes the women's camo clothing is marked down a lot compared to other colors. Also, watch out for men's clothing on sale. If you can fit into a small or medium in men's you can sometimes get an excellent bargain in my experience.
The Bottom Line: Hunting clothing is all about choosing the right layers for your climate and being prepared if you get stuck out somewhere for a while.
If I hunted a lot, especially way back in the bush, I would want to make sure to have some supplies with me just in case I got stuck out due to injury or sudden weather. While weight is an important factor, the following small supplies can make a big difference without weighing you down too much.
Small Medical Kit
Emergency Bivvy (These weight around 8 oz and offer more warmth and durability than a standard emergency blanket)
Emergency rations such as hardtack, a Biggers' MRE, or some other calorie-dense food.
Water filter or water filter bottle.
A knife. You should always have a knife when hunting anyway.
Something to start a fire with.
Whistle or mirror for signaling when in very remote areas
Of course, there are more things you could add depending on the type of hunting you are doing, terrain, etc. Having a hunting buddy can help if you can manage to hunt together and stay silent enough to not scare off your game. Also always a good idea to let someone that is not going hunting know where you will be and around the time you expect to get back.
So what have you found to be reliable and sturdy hunting clothing and gear? Have you had a positive or negative experience with any of the items featured in this post?