This site contains affiliate links. As an Amazon Associate, I earn a commission from qualifying purchases at no extra cost to you. Full Disclosure Here.
For the longest time, I have shunned learning how to make a body butter. Most likely this is due to a commercial product I purchased a few years back that was a sticky, smelly mess.  I just did not understand the popularity of such an item and why I should bother.
Fast forward to today and I wanted to come up with a carrier for essential oils that supplemented the simple salve I concoct from coconut oil, olive oil, and beeswax.  An important motive was feedback from readers who were allergic to bees.  They wanted an elegant solution to making salves without beeswax.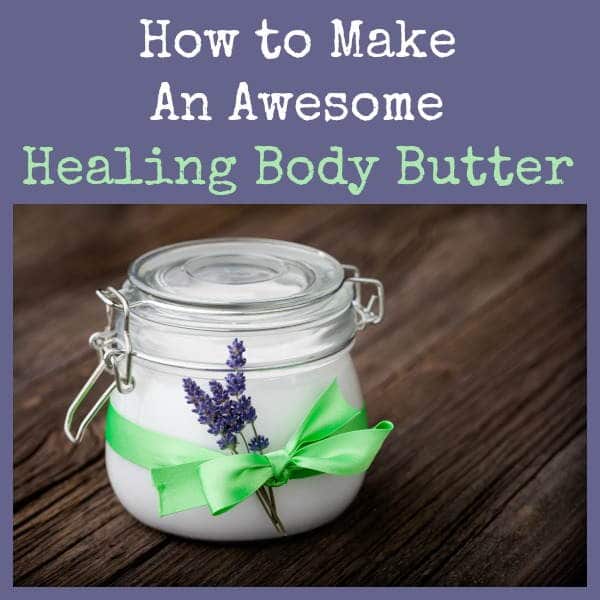 I started looking at homemade lotions but nixed that when I realized that lotions are made from water.  This introduces the possibility of mold and was simply something I did not want to deal with.  In addition, water can be drying when applied to skin so emollients are often added.  These quickly evaporate and we are back where we started.
On the other hand, body butter is made from butters and oils.  These penetrate the skin to nourish and condition and provide an ideal carrier for essential oils.
With that knowledge in hand, I took to the kitchen and made some body butter.  Actually, I made a lot of body butter.
The recipes I share below are for two versions.  Simple Body Butter can be made plain (simple, get it?) or you can add your choice of essential oils.  I always like to have some of the plain version on hand so I can add essential oils on an ad hoc basis, creating small batches of EO butters for immediate use.
The second version is appropriately called Miracle Healing Body Butter and can be used as a substitute for DIY Miracle Healing Salve.  This is the salve I always reach for first.  It really is the Swiss army knives of salves so why not make a body butter version as well?
How to Make Simple Body Butter
I am going to share a small batch recipe but it can easily be doubled or even tripled.  The total yield of this small batch is 6 ounces.
Ingredients
1/2 cup Shea Butter
1/4 cup Organic Virgin Coconut Oil
1/4 cup (2 ounces) Liquid Carrier Oil (Almond, Olive. Fractionated Coconut, Jojoba, Hemp, etc.)
60 drops essential oils (optional)
Directions
1.  Combine the Shea Butter and Coconut Oil in a large Pyrex cup or mason jar and set on the stove in a pan of simmering water.  You can also use a double boiler but this is so much easier.  Be sure to use a large vessel so that water does not splatter and contaminate the oils.
2.  Gently stir until melted.
3.  When thoroughly melted, remove your cup or jar from the water bath and set aside for 5 minutes.  During this time, the melted oils will cool just enough to prevent overheating the liquid oils (and essential oils, if used).
4.  Add the remaining oils which are already in liquid form.  This is also when you will add essential oils, if used.
5.  Set aside to cool. The butter/oils will begin to harden a bit which is what you want.
Note:   I set mine in the refrigerator for 30 minutes to speed the process.
4.  Using a hand mixer (I used my blending stick), whip until you have a nice fluffy consistency.  If cooled and semi-hardened as described above, this will take anywhere from 5 to 15 minutes so be patient.
Note:  Another reason you want to use a large cup or jar to melt the oils is that the whipping process will make a mess all over the place if there is insufficient head space in the container.
5.  Transfer your Simple Body Butter to scrupulously clean containers and you are done.  I have used both glass mason jars and plastic jars (like these) with success. This small batch makes a total of 6 ounces of body butter, give or take.
How to Make Miracle Healing Body Butter
The process is virtually the same with one exception. When adding your liquid carrier oil (# 3 above), add 20 drops each of Lavender, Peppermint, and Rosemary essential oils.
Of course if you prefer to use different essential oils, you can do that too. Just keep in mind that for this small batch, you will be adding about 60 drops total, depending on the quality of your oils and dilution desired.  It has been my experience that the higher quality the oil, the less you will need.
Note: 60 drops is the same dilution used with Miracle Healing Salve. It uses a total of 30 drops of essential oil per 4 ounce jar.
How to Use Body Butter
This body butter is very emollient and at first may even appear greasy.  Not to worry; it absorbs very quickly.  I am currently using the Miracle Healing version to rub on my legs at bedtime to prevent leg cramps.  I have also used it on cuts and scrapes and on my skin when it gets itchy.  It is also working well as a moisturizer on my face and feet.
I also have a batch that was made using Frankincense plus a combination of coconut, jojoba, and hemp as the liquid carrier oils.  More and more, Frank, as it is called, is the first oil I reach for when I need to "cure" something.  A little goes a long way, especially when used in a body butter or salve.
Additional Reading:  22 Powerful Uses of Frankincense Essential Oil
Next up will be a version to replace "The Birch" for joint and muscle pain and there is no reason to believe this will not work as well as the salve.
Additional Reading:  Birch Essential Oil for Arthritis, Muscle and Joint Pain
I have not been using this long enough to get a feel for shelf life but since there is no water in the DIY body butters, my best guess is six months or longer, depending on the ambient temperature where it is stored.  If you are in a hot climate I would definitely make small batches – just enough to last a month or two.
All that being said, my guess is that you will go through this quickly and shelf-life will not be an issue.
A Word About Shea Butter and Other Ingredients
Shea butter is a fat derived from the nut of the African shea tree.  It is usually off-white or ivory-colored it kind of weird looking.  My order came in a plastic bag which I though was weird but so bit it.  Raw, unrefined shea butter contains vitamins A and E, as well as essential fatty acids.  It is commonly used as a base for ointments and is considered anti-inflammatory.
As I mentioned, it is extremely emollient and is an excellent moisturizer.  I have read where others find that it can get gritty when heated but I have not experience that problem with the brand I use.
I also want to say a word about Jojoba oil.  For the longest time, I thought Vitamin E was a preservative and was adding it to my custom crafted salves.  I later learned that was wrong; Vitamin E is an anti-oxidant.  I no longer add it to my salves because I feel it is superfluous.
On the other hand, I started learning about Jojoba oil.  This deep gold oil to has become my friend and I add a dropper-full to many of the homemade concoctions.  Jojoba closely resembles the natural sebum of skin and is rich in vitamin E. (Which is why adding extra Vitamin E is superfluous.)
In addition, Jojoba is very stable and comes with a nearly indefinite shelf life, even without refrigeration.  Add some to a homemade salve or body butter is like insurance, and so far, I have never had one of my custom crafted items go bad.
The Final Word
If there is one word to describe this body butter versus salves and lotion bars, it is "elegant".  While perfecting my technique for this article, I made up a dozen jars, some plain and some with essential oils.  I just love this stuff and am using it for all sorts of things, from dry cuticles to itchy skin and minor scrapes and scratches.  I even made up a small jar for Shelly to keep in his pocket.  Who says men don't like to have nice, soft hands.
If you are just getting started making body butters, I suggest making a small batch and experimenting with various essential oils in the same way you add EOs to other carrier oils.  I guarantee you will not be disappointed.
Enjoy your next adventure through common sense and thoughtful preparation!
Gaye
If you enjoyed this article, consider subscribing to email updates.  When you do, you will receive a free, downloadable copy of my e-Book, The Emergency Food Buyer's Guide.
You can also vote for Backdoor Survival daily at Top Prepper Websites!
Below you will find the items you need to make your of awesome body butters.
100% Pure Organic Unrefined Raw Shea Butter: This is the Shea butter I used and am happy that it was not gritty.  I don't have experience with other brands so I don't know if my success was due to technique or the Shea butter itself.
Coconut Oil:  Coconut Oil from Tropical Traditions is my preferred coconut oil.  I love it so much I purchased a 5 gallon tub.  Really, I did!  I find it very silky to work with and love the taste when used in cooking.  Note that no refrigeration is required and although it solid at room temperature, it melts at 76 degrees.  The Nutiva brand from Costco works well too.
White Plastic Jar with Dome Lid 2 Oz (12 Per Bag):  I chose to use these small ointment jars rather than Mason jars for my salve.  I also have similar jars in the 1 ounce size and 1/2 ounce size (my favorite for mixing up various salve and essential oil concoctions).
Cuisinart Smart Stick Stainless Steel Hand Blender:  I had wanted one of these stick blenders for the longest time and read tons of reviews before settling on this one.  If you decide to splurge on a similar device, be sure to get one with a whip.
Spark Naturals Essential Oils: I use essential oils from Spark Naturals exclusively.  They are high quality yet reasonably priced.  In addition, there are no membership fees and a distributor relationship is not necessary to get best pricing. Interested in checking them out?  Backdoor Survival readers get a 10% discount by using coupon code BACKDOORSURVIVAL at checkout!
Note:  Enjoy a 10% discount at Spark Naturals using discount code BACKDOORSURVIVAL.
Plant Therapy Jojoba Oil:  I love using Jojoba oil. I like that it closely resembles the sebum of the skin, and is rich in the antioxidant, vitamin E.  Jojoba is very stable and comes with a nearly indefinite shelf life, even without refrigeration.  Add some to a homemade salve or body butter is like insurance, and so far, I have never had one of my custom crafted items go bad.
NOW Foods Essential Oils :  I use essential oils from Spark Naturals.  For healing purposes, I feel they are superior.  On the other hand, NOW Foods has decent essential oils at a budget price.  Here are a few to get you started:  NOW Foods Rosemary Oil, NOW Foods Peppermint Oil, and Now Foods Lavender Oil.  Another budget-friendly brand to check out is Plant Therapy.
What are the best oils for your survival kit? Here are my top picks.

~~~~~~~~~~