This site contains affiliate links. As an Amazon Associate, I earn a commission from qualifying purchases at no extra cost to you. Full Disclosure Here.
Dehydrating vegetables is an easy and proactive way to add homegrown food to your food security vault. Dehydrating greens beans, like many veggies, is easy. You only need a few inexpensive tools to get started, and the results will delight you when summer harvests are over, and the colder days of winter emerge.
Dehydrated vegetables, especially green beans, are easy to use in cooking, and you can build blends of dried vegetables to create soup starters, flavor profiles for stews, or rehydrate these for steamed side dishes. Inside, this blog we go over how to dehydrate green beans, the tools you will need, and some of the ways you can begin to use dehydrated foods in your meals and especially to extend your fresh, homegrown food supplies.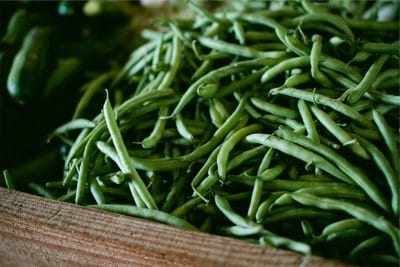 Tools Needed for Dehydrating Green Beans
A Clean, tested, and functional with a temperature control dial – Use an oven thermometer to check the temperature of your dehydrator.
A pot 3-4-5 quart or large enough to hold your beans (for blanching)
A colander or two
A second pot for in ice bath – needs to be large enough to hold the blanched green beans.
A slotted ladle or spoon
Green beans
Sharp kitchen shears or a sharp knife
Container or freezer bags
A few paper towels for blotting the blanched green beans dry.
A Few Notes about Tools
It is a short list without any specialized tools, and you can substitute many for things that are already in your kitchen. If you have not invested in a nice stainless-steel stockpot, do so. I have a 5-quart and a 12-quart and use them both often. The size of the stock pot you need depends on your frequency of usage and the size of batches of food that you prepare. For the 12-quart, it is perfect for making vegetable soups in large quantities for canning or freezing.
Start with the Harvest
The size of your harvest depends on how much time you have and the volume of green beans you need. A batch in a stacked tray dehydrator takes between 6-8 hours to complete. Yield — expect about 1/8 to ¼ of a quart jar per two- round dehydrator trays. This will vary depending on how small you cut your beans and the size of your dehydrator.
Planning your harvest – a ten-foot row of beans should produce 4-5 pounds of fresh beans. A bushel is 30-pounds, and if you were to convert this conversation to canning, you would need 14-pounds of beans to can 7-9 quarts. In terms of dehydrated beans, you can guesstimate an equivalent volume to canning as dehydrated beans work well in most recipes and they rehydrate nicely.
Always pick the best of your crops for food preservation. Those bits that are substandard can go into the compost and help to build a better soil quality for next year. Plants that produce good volumes of beans also make great seed sources so let a few of the larger beans mature and then collect the seeds for next year.
How to Dehydrate Green Beans – Steps
Step one is to pick, wash, and then snap the beans. Your goal is to produce a clean and usable amount of beans. To do that run the beans under cold water or submerge them into a pot of cold water and wash them. I pick my beans, sort them into a large colander and put the strainer into the sink. Turn on the cold water and rinse the beans under the running tap. The washed beans go into a second colander. From there I pick up each of the pods and snap off the ends. Once the pile of beans is cleaned, and the ends snapped off, they are ready to be blanched.
Size the beans – Each pod needs to be snipped into 1-inch segments. Once this is done, you blanch the beans. Sharp kitchen shears make this a quick job.
Blanching Green Beans – It's a pretty simple process. In your large stock pot add 1/3 or so volume of water and bring to a boil. For a 12-quart stock pot, I would fill it about 1/3 full of water — this is 4-quarts of water. You can fill it half full if needed. I then add about 1/3-1/2 of the washed beans to the boiling water, and I check them at 3-minutes. What happens when you blanch vegetables is that they release their liquid and the enzyme process within the food slows. This is a benefit for the consumer as they obtain healthier and more complete enzymes. The beans are blanched when the water starts to color. For green beans that can take as long as 5-minutes, but generally, the process is over around 3.5-4 minutes.
Immediately put the blanched beans from the boiling water into an ice bath. This immediately stops the cooking process which is critical for dehydrating. From the ice bath, the beans go into a clean colander to drain and then onto paper towels to get most of the liquid off.
Add the beans to the Dehydrator Trays – Like all food, you want to make sure that each segment of bean has plenty of room around it for dehydrating. This process works by air circulation, and if there is not enough room around the beans the air will not circulate, and it will take forever to dry them, and you will invest a lot of time turning over the beans so that the tops dry too.
Turn on the Dehydrator to 125°F. The drying process takes between 6-8 hours, and you will know when the beans are dry when they are brittle. Once the beans are brittle, turn off the dehydrator and let the beans cool. If you are running another load of beans, you can move the dried beans to a large bowl or spread them on paper towels placed over a baking rack.
Storage Options – The brittle beans are much like dried pasta, and they will store beautifully in an airtight jar in your pantry. For many of the foods I dehydrate, I place the dried foods in plastic bags and put them in a freezer. I have never felt that I need to do this with dehydrated foods that are brittle. These should store well for about 12-months in airtight jars on the shelf or approximately 2-years in a freezer.
A note about beans – Some green beans are purple. They will turn green when you cook them and back to purple when they dry. There is nothing wrong with them.
Options for using
Soup Starter Kits
One of my favorite things to do with dehydrated vegetables is to make a soup starter kits. In a quart-sized mason jar, I add 1/3 – ½ cup of dry ingredients that would go into the soup. Those include carrots, green beans, onion, corn, dry beans, lima beans, pasta or rice, etc. You can adjust the amount you put in to match your recipe. Consider that about 1/3 of a cup of dehydrated green beans will make about 1-cup of rehydrated green beans. The benefit is that you don't have to get everything out to make soup, just empty a jar into a crockpot and add water and seasonings. I make a variety of different soups from squash and pumpkin soups to split pea and vegetable soups. The possibilities of what you can set up as a kit are vast, and you can tailor this to fit your own cooking style and recipes.
Healthy Snacks
Many dehydrated foods convert easily into healthy snacks. You can take brittle, dehydrated green beans, add them to a plastic bag and then add your favorite seasonings. One of my favorite spice mixes is a little salt and wasabi powder.  You can also add flavoring to the raw green beans or other vegetables by either brushing them lightly with oil and then dusting with dry ingredients. Note: it will take longer to dehydrate these because of the oil, and they go stale faster. I substitute water for the oil, and you can give them a shake in a bag of dry ingredients while they ware still wet.
In general, dehydrate foods last from 1-2 years depending on how dry they are and how they are stored. This is an easy and affordable way to save fresh food for the next year or more. There are some foods, such as beef jerky that may not last for the year. This is also one of the easiest ways to use garden-fresh produce and stretch your garden so that it feeds you all year long. In terms of food security, learning to dehydrate is probably the easiest way to preserve food, and that gives you an amazing "leg up" on the concept of garden-to-table. Many of us have no problem growing a healthy summer garden, but not all of us use what the garden grows to the best advantage. Dehydrating foods make it easy to store, use and survive every day and in situations where local food might become scarce.
If you need to invest in a dehydrator, look at the cost of a commercial unit.  You can find good quality units priced in the $200-$500 range. One of these is on my list to add to my kitchen tools. Currently, I use three round stacking dehydrators and often have them all going at once. For about $450 you can add a commercial-grade food dehydrator with 24- removable trays. For me, that would really make processing summer produce much simpler.
Author's Bio
David Stillwell is a lifelong naturalist with a background in healthcare and biology who lives in the heart of wildfire territory in Northern California. Prepping for him is a way of life and necessary on a daily basis.  He focuses on food production and agriculture and grows 80% of what he consumes.