This site contains affiliate links. As an Amazon Associate, I earn a commission from qualifying purchases at no extra cost to you. Full Disclosure Here.
Shortly after the 2016 election, I read an article by one of my blogging colleagues titled "Is Prepping Dead?".  I felt so strongly about what she said that I shared her article throughout the social media, hoping that others would see it and continue their preparedness efforts.  Now, one month later, I can confirm that I too am seeing signs that prepping, while not dead, has certainly slowed down.  This seems odd to me since the likelihood of a disruptive event has not changed.  It is as strong now as ever.
What are those signals and why should we continue to be prepared and to proudly call ourselves "Preppers"?   Let me explain.
Signs and Signals That Prepping Has Slowed Down
Every legitimate blogger I know has a sickness called "check your stats".  And, with the exception of the fear mongers and those pitching to extreme preppers, all of us have seen a sharp decline in blog traffic since the election.  In addition, most of the sponsors I deal with have told me sales are sharply down.
Another signal that prepping mania has slowed comes from the many emails and comments I receive.  Lately, there has been a shift to homesteading and self-sufficient lifestyle questions.  Very little has come across my desk relative to a long-term disruptive event such as global economic collapse, EMP, or cyber attack.
Has prepping reached a saturation point?
To help answer this, I called my economics guru, George Ure, over at Urban Survival, to get his take on this matter.  To paraphrase, here is what he said.
Right or wrong, the stock market has soared these past six weeks.  This is in spite of fundamentals that do not make sense.  We have a national debt problem that is not going away anytime soon, automation and robots are still gobbling up manufacturing jobs, and health care for an aging population will continue to skyrocket, the repeal of Obamacare notwithstanding.
You know this as well as I do, Gaye, market down and prepping is up  Market up and no one cares.
In my opinion, there are simply too many moving pieces for all of our economic woes to go away with a snap of the fingers (that being a metaphor for "change in national leadership").  And then there is Mother Nature.
Why Prepping is a Long-Term Lifestyle Investment
When it comes to disruptive events, the one thing we are unable to predict are the ravages of Mother Nature.  Hurricanes, tornados, earthquakes, floods, wildfires and other natural disasters are going to happen.  We just don't know and precisely where.  Anyone with an ounce of common sense knows that a natural disaster is not an event that only happens to someone else.  Far from it.
There are disruptive events caused by bad people.  An EMP, cyber attack, pandemic and other catastrophic, apocalyptic events caused by man give us a strong incentive to keep on prepping.  More common scenarios are a job loss or the cost of an extended hospital stay.  And what about a nuclear accident,?  Even the best-prepared preppers will be at risk.
With so many things that can go wrong, there are those that are going to argue that the cost is too high.  They claim that prepping is expensive.  To them, I say get real, buddy.  Tap water is almost free and so are empty soda bottles.  Yes, I do own an expensive water filtering system but my garage and freezer are also filled with repurposed soda bottles filled with free tap water.
I own dozens of flashlights but many are of the variety.  Perhaps not the highest in quality but they do work and are better than being in the dark when the power goes out.  I know how to build a fire using biomass and to keep it going so I can cook food.  The space under my bed is filled with canned fruits, vegetables, and beans picked up on sale for less than a dollar a can.  Now tell me again, prepping is too expensive?
Additional Reading:  100 Budget Friendly Items for the Frugal Prepper
The bottom line is that people at all income levels can find an excuse for not prepping if they want to.  Sadly, this is a problem for the rest of us because we are the ones that will be left holding the bag, and defending what is ours if the stuff hits the fan.
It is my opinion that to get around this, we must continue to evangelize and continue to educate those that are willing to listen.  One way to do this is to tell them that prepping is an investment just like insurance.  But unlike insurance, prepping is not a use or lose proposition.  At the end the year, your preps carry forward, there for you should a disruptive event come knocking on your door sometime down the road.  Can you say that about your car insurance whose clock starts over each year?
What To Do Now to Keep the Prepping Glow Alive
The rules of engagement have not changed.  Here are a few things you can keep on doing to ensure your stats as a prepper of the highest order.
Live below your means and save what is left over for your preps
Continue to store food and water to get you by during hard times
Develop basic skills such as cooking from scratch, building fires, and purifying water.  Beyond that, develop more advanced survival skills based on where you live and the number of people who depend on you for shelter.
Learn a pioneer skill that you can fall back for barter income on in the event a catastrophic event throws us back to the 19th century
Stockpile first aid supplies and medications.  Learn about natural remedies you can use when traditional medications are not available.
Learn to become a MacGyver when it comes to making household repairs.
Use it up, wear it out, and make do!
Additional Reading:  12 Frugal Lessons From the Great Depression
The Final Word
According to George, his crystal ball is telling him markets will reach an all-time high late in 2017 or early 2018.  Furthermore, when the market falls, there will be panic prepping.  I do agree that when and if that does happen, things will be bad for those that are living high on the hog based upon the value of their investments.  Savings and retirement accounts could vanish and we will have 2009 all over again.  Maybe worse.
For that reason, my own investments are not in the stock market but in food storage, property, and the supplies I need to be self-sufficient.  Nothing has changed in that respect.  Nothing.  Yes, I am thrilled that we have new leadership in Washington, but as a realist, I know that effecting change takes time.  In the meantime, I want to be ready so if the SHTF, I am safe, I am well-fed, and I am comfortable.
To wrap up, it is my opinion that prepping is not dead.  Prepper-mania may have waned, but for those of us that want to secure a future of self-reliance, prepping will never be optional.
Enjoy your next adventure through common sense and thoughtful preparation!
Gaye
If you enjoyed this article, consider following our Facebook page.
 Below you will  the items related to today's article as well as other personal favorites.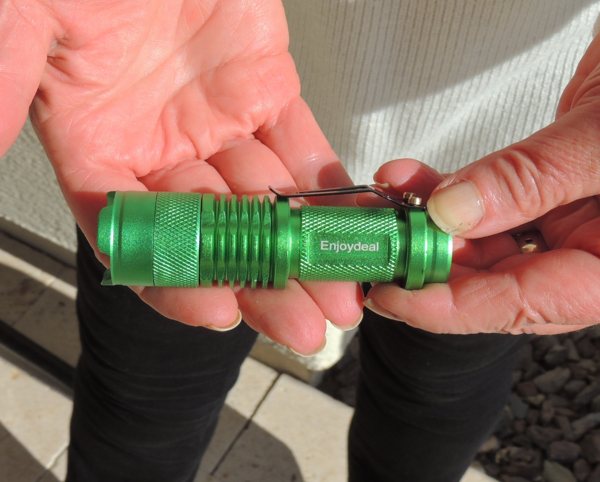 Mini CREE Q5 LED Zoomable 1200 Lumens Flashlight:  I am calling this my "3 buck flashlight".  It took a few weeks to get here but since arriving, I have been doing my best to get it to fail but so far, it is working perfectly.  It uses a single AA battery (I am using a recharged Alkaline battery).  This is another one of those great deals that is difficult to pass up.
LifeStraw Personal Water Filter:  The LifeStraw is considered the most advanced, compact, ultralight personal water filter available. It contains no chemicals or iodinated resin, no batteries and no moving parts to break or wear out. It weighs only 2 oz. making it perfect for the prepper. For more information, see my LifeStraw review.
Emergency Mylar Thermal Blankets (Pack of 10): I do believe in helping my neighbors in the community so a supply of these will be handy to hand out to those in need. You will be surprised at how warm these will keep you. Be sure to test one out in advance so that you have the confidence to trust the blanket in an emergency.
Mighty Charger for Both Alkaline and Rechargeable Batteries:  I don't know why I have not reviewed this nifty battery charger yet but I do need to do that.  The Mighty Charger is a compact charger that works with both Alkaline and Ni-MH AA, AAA batteries and 9V batteries. I like it's small form factor and the fact that it will automatically detect the type of battery and charge it up.
EcoZoom Versa: This rocket-type stove burns wood, charcoal, and biomass. It is easy to use and fast. It will cook a pot of rice, as an example, start to finish in less than 20 minutes.  I actually own two.
Tac Force TF-705BK Tactical Assisted Opening Folding Knife 4.5-Inch Closed: This is a great knife that is currently priced with free shipping.  Not only that, it is ranked as the #1 best seller  in both the camping and hunting knives categories.  The reviews raved about this knife so I bought one, used it, and can recommend it.  See The Inexpensive Tac-Force Speedster Outdoor Knife.
~~~~~