When it comes to landscaping there is a lot to consider. I have put a lot of thought into thinking about landscaping. While it may seem amazing, after building a house with my husband I have never got around to landscaping around my house. There has always been a lot of other things to do and spend time and money on. Well this spring I am changing that. I want to share my plan with you and help you think about what you can do with your space. My main first concern is making sure that I keep the gates shut and not allow the sheep and geese around my place.
Cabbages
There is a whole world of cabbage out there and some are quite beautiful.
Purple cabbage and Savoy cabbage make a pretty contrast to one another. You can also mix in some of your traditional varieties like Early Jersey Wakefield or any other favorite. Cabbages do require some room to spread out. You can have a lot of cabbage for your favorite fermented foods. My dad likes Kim Chi and you might too! There is little stopping you from planning your cabbage landscape with your favorite fermented things in mind!
Saffron
The saffron crocus is gorgeous and produces some very expensive stems. Saffron is important because it adds a lot of Vitamin B to rice and thus prevents vitamin deficiencies when you have to eat a lot of rice. Combined with the arsenic issue with rice, it is easy to see why one should make their own yellow rice instead of buying the packets where if you rinse to remove arsenic you are taking away all the spices.
The bulbs are not expensive to buy and you can expand your patch yourself over time.
Garlic
I love growing garlic. It is very pretty and you can get greens off the top as it grows. Garlic scapes are so good. You don't want to cut them too much though or you will be in the position of stunting your growth. Seed garlic can be kept year to year if you are careful to dry it out well. Only keep the biggest bulbs for replanting. Using smaller ones will result in small garlic whereas using your best will improve your crop.
Some people swear by the seed garlic that you buy specifically from a farm or garden supply. It is quite expensive compared to what you pay at the grocery store but you are able to get specific varieties which can be fun. Also consider that if you pay for the exact varieties you want it is a one time expense if you keep some bulbs to replant every year. Of course you may have a bad season or just want to have a bigger better faster and thus order more. Ordering 5 lbs or more of seed garlic results in a better deal usually so if you have friends that want to grow, consider going in on a bulk order together and stretching your gardening dollar a little more.
These greens might be in a container but you can see how beautiful they would look anywhere. 
Micro greens are very pretty if you get a mix and reseed regularly. Salad bowl mixes are a good choice. You can change up what you plant season to season to keep food on the table and things looking nice.
Herbs and Spices
Basil and some other herbs are expensive to buy but easy and cheap to grow and oh so pretty. The sky is the limit to the different types of herbs you can grow in a lot of places.
Leeks
Leeks are simple to grow and will even winter over. Giant Mussel borough leeks are very cold hardy and easy to establish. You can start eating leeks when they are very small to thin them out and make room for the larger ones to expand. They can get to be a few inches in diameter if left alone. Eventually they will go to seed and you can collect the seeds.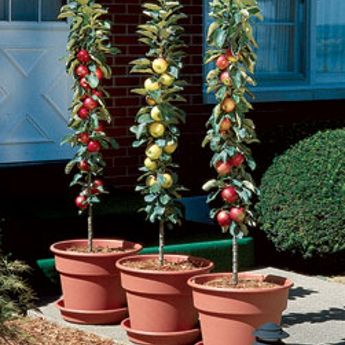 I love these because they fit in just about any space. You get a lot of apples off sucgh a small tree. These are good to use for hedges and can even be used for container gardening. They make a great gift for anyone that has even a balcony and wants to be more self sufficient! Maximum height is about 10 feet but you can keep them trimmed to a lesser height if desired.
These types of trees have so much potential. I am considering getting some for borders around where our winery building will hopefully be.
Draw out your space. You can use county GIS records even to get a general idea of shapes on a larger scale.
Even just a rough sketch can help you out when it comes to figuring out what spaces you need to fill and then plan out how you are going to arrange your plants and fruits. There is no one that is going to tell you that you have to plant things in certain arrangement. You might have several patches of garlic for example in different areas of your place. Lots of variation can be quite beautiful.
Blueberries & Low Bush Cranberries
Blueberries will grow almost anywhere. Low bush cranberries like it a little cooler. With so many varieties being created, I advise looking at some suppliers and seeing what is available in your USDA Zone. Blueberries are a high dollar fruit. Kids love to go out and pick berries and they are very high in antioxidant levels so they make a good healthy snack and encourage being outside!
Nut Trees & Bushes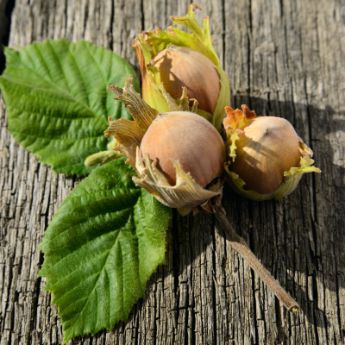 Hazel Nuts, pecans, walnuts, ect all come from trees and bushes that you may be able to grow. We are a little too cold where I am to grow pecans unfortunately but they are sure a pretty tree. Hazel nut trees can even be inoculated with Truffle fungi so you can sometimes get a gourmet delicious treat.
Mushroom Beds
There are plenty of people that grow lbs and lbs of delicious mushrooms from lawn clippings and other green mulches or wood chips. Mushrooms can accumulate toxins so make sure that what you use is from lawns and spaces that have been kept to mostly organic principles. There is no way I would eat a gourmet mushroom grown near a place that had run off from a golf course or anything like that.
King Stropharia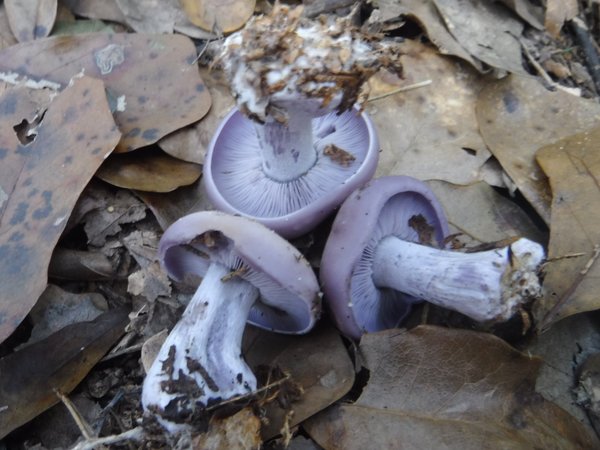 Grapes
I am of course partial to grapes for edible landscaping. We have 1600 vines but they are all cold hardy and disease resistant varieties. Unless you live somewhere that grows European varieties of grapes then I advise sticking to the French-American hybrids and American varities to avoid disappointment or having to spray some pretty nasty stuff to get a crop.
A few varieties I suggest looking into are America, Marquette, and Leon Millot. There are many others out there but these ones have great flavor. American appears to not require more than a light spray or two of organic fungicide and I suspect you can get a crop without spraying any in a lot of areas that don't suffer very heavy rainfall.
An arbor may be a very attractive and functional part of your yard. Arbors make great shady places to sit or have a porch style swing.
For those that are unsure,  start off with containers and arrange them different ways to see what you like most
Container gardening has a lot going on for those that are not quite settled or that rent. Containers can move with you and you can set them out into a permanent home when you find one yourself. I like to give options for everyone or at least give the tools needed to think about what can work in a given situation. When it comes to edible landscaping, the possibilities are plentiful.
Pesticides and fertilizers: Converting To Edible Landscaping
Converting land that has been heavily sprayed is doable. The amount an area has been sprayed is a factor in how many detectable chemicals are in the soil. This is one reason that to be a certified organic grow operation you have to be able to certify that non organic amendments, pesticides, and herbicides have not been used for 3 years.
A lot of places are never sprayed like that but since flower beds and other landscaping are, if you move to a place and want to convert it is something to consider if you are really trying to avoid things like this in your food supply.
Over spraying can lead to soil being devoid of earthworms and microbes that are good for growing foods. Luckily there are a lot of great options for getting things back into shape in little time. Organic fertilizers with beneficial microbes in it can be cultivated into beds. Composted manure from your livestock is another way to get this effect.
Garden Tone
Garden Tone is an excellent way to inoculate dead soil with beneficial microbes and get your soil in healthy shape. Even if you are not dealing with a heavily sprayed soil type, giving your garden plants a boost can help get them off to a better start. Garden Tone is not the cheapest but you also don't have to just use it. You can mix Garden Tone in with other soil amendments and it will still be a big help. Some of the times I have used it I have just thrown a handful or a little sprinkle in the area that I am planting.
Good Sources For Edible Landscaping Seeds, Trees, and Plants
An old favorite with excellent customer service and warranties on what they sell. They have some very innovative offerings for all climatic zones.
Southern Exposure Seed Exchange
A Few Helpful Books
Lasagna Gardening
This is a great book for showing you how to establish raised beds around a property that are fertile and low maintenance.This is a great book for showing you how to establish raised beds around a property that are fertile and low maintenance.
The Encyclopedia Of Country Living

Carla Emery's classic book has an excellent gardening section. While you won't find a ton of color pics in this classic, it has so many good ideas and information that it is a must have in a prepper library. Check out the gardening section for "Earthchild Marie's" garden designs for different seasons for some inspiration.
Now is the time to plan
The colder months are a great time to get started thinking about what you want to plant and do around your place. It can be a great comfort to some that get a bit down during the short daylight hours.
While the internet makes online research and ordering a breeze, I kind of like getting catalogs in the mail and seeing all those bright fruits, veggies, and plants. It reminds you that Spring will eventually turn the world green and lush once again.
Burpey's Catalog is always fun because it is really big and colorful and looks old fashioned. They also have some great deals.
Starting now also allows you to put in orders early so you can reserve your bulbs, plants, and trees to ensure what you want.
Do you have any suggestions on edible landscaping? How did you design yours and do you rotate what you grow as the seasons change to get the most out of your space?
Author Bio:
Samantha Biggers lives on a mountain in North Carolina with her husband and pack of loyal hounds in a house her husband and she built themselves. When not writing she is working in their vineyard, raising Shetland sheep, or helping her husband with whatever the farm and vineyard can throw at them.