This site contains affiliate links. As an Amazon Associate, I earn a commission from qualifying purchases at no extra cost to you. Full Disclosure Here.
Today I share the next author interview and giveaway in the current Backdoor Survival Spring 2014 Book Festival.  Chris Hoffman, half of the father and son author team of the disaster thriller, Fury of the Fifth Angel, is joining us for an interview plus a book giveaway.
Between the two of them, Chris and Pat have sixty-five combined years working for electric and gas utility organizations. Their book is a natural disaster story about what else?  An EMP and the woes of the electric power grid.  Of course it is a lot more than that as the storyline focuses on both the  the very real possibility of the book scenario and the human survival aspect of the characters.
Enjoy the interview and be sure to check out the details of this week's giveaway below.
An Interview with Chris Hoffman
Tell me about your book, Fury of the Fifth Angel. What is it about?
Our book Fury of the Fifth Angel is a very realistic natural disaster story that uses informative facts from the world of astronomy, the energy industry, and the operations of electric power grid.

The book's storyline is unlike a terrorist attack or a hurricane that would limit damage to an isolated area(s). This natural disaster has wide spread effects, and as such there is a much larger element of political decision making involved at the highest levels.
What type of research did you have to do while writing your book?
My Dad and I are both considered subject matter experts when it comes to the electric power grid, so that part of the story came very easy to us. What we had to learn a great deal about was astronomy.

We reached out to several experts for advice; Dr. Caroline Smith from the Natural Museum of History in London was a great source for advice, as well as Dr. Edward Rhoades here in the United States. A trip out to the Space Weather Prediction Center in Colorado was done decades ago by father, and much of the research for the Colorado area was done in that trip.

Everything else in the book from the religious aspect of the character Reverend Randy was researched to some degree by getting quotes from the bible. I prefer not to elaborate as to which one of us did the romantic research; those conversations with my Dad are awkward enough I don't want to revisit them :).
How long did it take to write?
Believe it or not, about 25 years.  Let me explain.

My Dad started the project about 25 years ago, and never finished it. Some personal events like a stroke several years ago, made him reflect on things he wanted to accomplish before, well you know, before the end comes. He realized he wanted to fulfill his lifelong dream of being published. So he brought his 25 year old project a bit more than half finished out to me when he came for a visit.

I remember him standing in the driveway holding a small cardboard box filled with floppy disks, yes, floppy disks. He handed me the box and told me "see what you can do with this." I laughed and told him whatever it was, it was gone. He told me to try and find someone to convert it to modern day flash drive and word processor.

I found someone a week later, and then discovered what he had written was very good. So I updated what he did with modern technology and wrote the rest of the novel with his advice and guidance along the way. It took about two years from the time he stood in my driveway until it was released. I sent him the first copy in the mail without him knowing, and he said when he received it, he and my mom cried for 45 minutes, knowing he had finally fulfilled his dream.

Gaye's note:  I love stories like this!
Every book, fiction and non-fiction, includes a message. What message do you hope my readers will take with them after reading Fury of the Fifth Angel?
We hope that the realistic fact-filled scenario in the book triggers people to think a bit more for preparation of the unknown. It is not just terrorism, earthquakes, or other natural disasters that can cause us as a society to be completely unprepared.

It can easily, believe it or not, be the result of correct political decisions to prepare for "something" combined with the fact that the failure of equipment and/or the element of human error can cause cascading events of mammoth proportions.
Can you tell us a little bit more about yourself?
I am happily married for 22 years with 4 GREAT kids. I enjoy tennis, golf, and the great outdoors. My Dad is 76 years old, fully recovered from his stroke. He has been married for 56 years to my Mom. They both live in the Catskills of NY in the summer and Central Florida in the winter. Dad enjoys gardening, and chatting with his buddies in the trailer park.
As an author in the survival, prepping and/or homesteading niche, what are you personally preparing for?
To be honest, my Dad and I are both lacking in the prepping category. Our knowledge of the electric power grid does cause us to prepare for extended outages from ice storms or other scenarios that would cause extended power outages. We could survive easily for a week without electricity. But beyond that, we are both embarrassed to tell you, we have not done more.
Do you have plans for another book?
Yes. We are taking a small break for now. I have a lot going on with my kids that prevents me from committing more time to the book project. But with that said, we are working on an outline to continue the story.
Is there anything else you would like to share with my readers?
My Dad and I are both honored and very grateful to be included in your Backdoor Survival Book Festival. We both think it is such a unique and fantastic idea that it is deserving to someday get some very big media attention.
The Book Giveaway
A copy of Fury of the Fifth Angel has been reserved for one lucky reader.  Today's giveaway question is this:
How many days do you feel you could live comfortable without power?
To enter the giveaway, you need to answer this question by responding in the comments area at the end of this article. The deadline is 6:00 PM Pacific next Thursday with the winner notified by email and announced in the Sunday Survival Buzz.  You will have 48 hours to claim the winning book.
Note: If you are reading this article in your email client, you must go to the Backdoor Survival website to enter this giveaway in the comments area at the bottom of the article.
The Final Word
When I first read the headline on the press release for this book I thought, humm, sounds like the subject for one of those low-budget disaster movies you see on TV these days.
"Nights skies reveal something is on its way that could affect the entire world, but nobody is talking about it."
I quickly learned, however, that this was not your run-of-the-mill doomsday story. Not even close. I will not spoil things for you but will quote a review who said it was "An astonishing natural disaster story you simply can't stop reading!"
I hope you will enter the giveaway to win your own copy of this Chris and Pat's book!
Enjoy your next adventure through common sense and thoughtful preparation!
Gaye
New:  Click Here To Vote For Me at Top Prepper Websites!
If you have not done so already, please be sure to like Facebook which is updated every time there is an awesome new article, news byte, or link to a free survival, prepping or homesteading book on Amazon.  You can also follow Backdoor Survival on Twitter, Pinterest, and Google+ and purchase my book, The Prepper's Guide to Food Storage from Amazon.
In addition, when you sign up to receive email updates you will receive a free, downloadable copy of my e-book The Emergency Food Buyer's Guide. 
Spotlight Item:  Fury of the Fifth Angel
The president of the United States faces some extremely difficult decisions at the White House regarding the threat of a severe meteorite storm bombarding the earth. The information must be taken seriously, as it was confirmed by Ben Cohen, one of the most respected astronomers the world has ever known. To make the president and his Cabinet's matters worse, the popular Reverend Randall P. Davis from Wheeling, West Virginia, follows his own heart simply because the reverend has always reported to a higher authority than President Jameson Coleridge.

In upstate New York, John Halloran, an electric power grid control operator knows something is going on; however, it takes some time for him to put all of the pieces together with his new "friend," Devon Grant, from the office of the National Oceanic and Atmospheric Administration (NOAA) in Boulder, Colorado. John knows of the threats of electromagnetic pulses to the power grid, but he is sure this is not one. Whatever is happening is different, very different-this seems more real to him than the fictional EMP disaster novels he has read. All of John's training, experience, and gut instincts send him the signals that something is wrong, but nobody is talking.
Bargain Bin:  Today is all about books.  Listed below are all of the books in the current Backdoor Survival Book Festival. There are both fiction and non-fiction titles and a bit of something for everyone.
If you covet an e-Book reader, consider the Kindle.  And if not, at the very least pick up the free Kindle app so that you can read Kindle books on your PC or favorite electronic device.
Spring 2014 Book Festival #5 – Fiction
Brushfire Plague: Reckoning
Through Many Fires: Strengthen What Remains
Flight of the Bowyer
The Jakarta Pandemic
The Perseid Collapse
Leaving The Trees
Fury of the Fifth Angel
Fugitives from Northwoods
Phoenix Island: A Tale of Disaster, Survival, and Rebirth
Spring 2014 Book Festival #5 – Non-Fiction
The Prepper's Complete Book of Disaster Readiness: Life-Saving Skills, Supplies, Tactics and Plans
Simply Canning: Survival Guide to Safe Home Canning
The Prepper's Pocket Guide: 101 Easy Things You Can Do to Ready Your Home for a Disaster
The Prepper's Cookbook: 365 Recipes to Turn Your Emergency Food into Nutritious, Delicious, Life-Saving Meals
Jake and Miller's Big Adventure: A Prepper's Book for Kids
The Pantry Primer: How to Build a One Year Food Supply in Three Months
~~~~~~~~~~~~~~~~~~~~~~~~~~~~~~
~~~~~~~~~~~~~~~~~~~~~~~~~~~~~~
I earn a small commission from purchases made when you begin your Amazon shopping experience here.
The Amazon Top Ten Most Wanted Survival and Outdoor Items
Emergency Preparedness Items from Amazon.com
Help support Backdoor Survival. Purchases earn a small commission and for that I thank you!
~~~~~~~~~~~~~~~~~~~~~~~~~~~~~~
No list of books would be complete without my own e-book, The Prepper's Guide to Food Storage.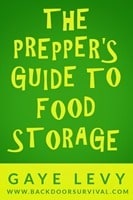 The Prepper's Guide to Food Storage is a book about food: What to store, how to store it and best practices. It is a roadmap for showing ordinary citizens that long-term food storage is not something that will overwhelm or burden the family budget.   It is based on my own tried and true experience as someone who has learned to live the preparedness lifestyle by approaching emergency preparedness and planning in a systematic, step-by-step manner.

Whether you simply want to prepare for natural disasters or whether you believe the world is headed toward a major food crisis, this book is for you. It covers basic tips and techniques you can use to stock your food storage pantry so that you can be assured that your family will have food to eat, no matter what.