This site contains affiliate links. As an Amazon Associate, I earn a commission from qualifying purchases at no extra cost to you. Full Disclosure Here.
Today I share the next author interview and giveaway in the current Backdoor Survival Spring 2014 Book Festival.  Kenneth Lewis, the author of Flight of the Bowyer, is joining us for an interview and is also providing one lucky reader with a free copy of his book.
Enjoy the interview and be sure to check out the details of this week's giveaway below.
An Interview with Kenneth R. Lewis
Tell me about your book, "

Flight of the Bowyer

". What is it about?
An ex-cop must choose between the life of his young son and the life of a corrupt United States president as they are pursued by assassins through Idaho's Sawtooth Mountain wilderness.
What type of research did you have to do while writing your book?
The fictional town of "Ransom" in the book is based on the real town of Atlanta, ID, a small and isolated old mining settlement located at the foot of the Sawtooth Mountains Wilderness approximately 150 miles from of Boise.

To research this extremely rugged and historic area, and to get to know some of the few year-around residents (varies from 30 to 50) who live there, and who are very self-sufficient survivalists, I lived there in a canvas wall tent in the woods for a month in the fall of 2012. I returned there again for another month in the fall of 2013, to do research for the sequel to FOTB.
How long did it take to write?
Not long! My first novel, "Little Blue Whales," took me seven years to write, and the second one, "The Sparrow's Blade" took two years. However, "Flight of the Bowyer" took me only four and a half months to complete. I say "only" but what I really mean by that is a day and night, seven day a week, grueling writing schedule!

What happened was this: In April of 2013 I queried a major audio book publisher to see if they might be interested in publishing one or both of my already print published crime fiction novels, and happened to add in the query that I was currently at work on a third novel, a political thriller set in Idaho. I included a two-paragraph synopsis of "Flight of the Bowyer," a single word of which I had yet to actually write, and guess which one they sent me a contract for? Not only that; they also wanted "Bowyer" by September 1, 2013 if at all possible, so they could include it in their Fall 2013 list.

Fortunately for me, the plot and characters of "Bowyer" came to me almost effortlessly, as it is a story based on the reality of what is happening to America today.
Every book, fiction and non-fiction, includes a message. What message do you hope my readers will take with them after reading "Flight of the Bowyer"?
My message is that we Americans are a people unique in the history of the world, and the legacy of revolution, freedom, and liberty is literally infused in the blood which flows through our veins. No matter how bad things seem now, no matter how strong our enemies, both foreign, and domestic appear to be, in the end, Americans will always survive, and we will always prevail.
Can you tell us a little bit more about yourself?
I am a career law enforcement officer, author, and avid outdoorsman, and I am a Conservative American who believes in both the strength, and sanctity, of the United States Constitution.
As an author in the survival, prepping and/or homesteading niche, what are you personally preparing for?
Like many other Americans at this time in the history of our country, I am preparing for the worst, but I remain optimistic, and am hoping for the best.
Do you have plans for another book?
Yes, a sequel to "Flight of the Bowyer" which I hope to have finished by summer of 2015.
Is there anything else you would like to share with my readers?
Stand for up for your beliefs. Do not be afraid to speak out. And by all means, get involved in the political process wherever and however you can, and help restore America to greatness once again.
The Book Giveaway
A copy of Flight of the Bowyer has been reserved for one lucky reader.  Here is today's question – actually, more of a poll.
What best describes you feelings about the current economy?

A – Depression
B – Recession
C – Recovery
D – Stuck
To enter the giveaway, you need to respond to this poll in the comments area at the end of this article. The deadline is 6:00 PM Pacific next Wednesday with the winner notified by email and announced in the Sunday Survival Buzz.  You will have 48 hours to claim the winning book.
Note: If you are reading this article in your email client, you must go to the Backdoor Survival website to enter this giveaway in the comments area at the bottom of the article.
The Final Word
With a setting right here in the Pacific Northwest (Idaho), I can't wait to crack the cover and start reading Ken's latest book.  Ken himself grew up and has lived in many parts of my home state which creates a special connection as well.
The subtitle to Flight of the Bowyer is "When tyrants rise, so will good men."  I am optimistic enough to believe that is true.  Please take a moment to an answer this week's poll question and enter a to win a copy of this exciting new book.
Enjoy your next adventure through common sense and thoughtful preparation!
Gaye
New:  Click Here To Vote For Me at Top Prepper Websites!
If you have not done so already, please be sure to like Facebook which is updated every time there is an awesome new article, news byte, or link to a free survival, prepping or homesteading book on Amazon.  You can also follow Backdoor Survival on Twitter, Pinterest, and Google+ and purchase my book, The Prepper's Guide to Food Storage from Amazon.
In addition, when you sign up to receive email updates you will receive a free, downloadable copy of my e-book The Emergency Food Buyer's Guide.
Spotlight Item:  Flight of the Bowyer
After six long years of political genocide carried out against the American people by the administration of President Benjamin Franklin Luder, the nation is stunned when Luder announces that he is issuing an executive order to suspend the next presidential election for "the good of the country," giving him an unprecedented, and unconstitutional, third term as president.

Luder has slowly, and systematically, robbed the citizens of various liberties and freedoms through similar acts, and in the process, he has nearly destroyed the once greatest country on earth. However, his environmental policy of "green communism" has done the most damage of all, resulting in a nationwide energy slowdown which has crippled every level of industry.

This is the story of Soon how one man is forced to choose between saving his country and saving the life of his son, choosing who will live and who must die—including himself.
Bargain Bin:  Today is all about books.  Listed below are all of the books in the current Backdoor Survival Book Festival. There are both fiction and non-fiction titles and a bit of something for everyone.
And if not, at the very least pick up the free Kindle app so that you can read Kindle books on your PC or favorite electronic device.
Spring 2014 Book Festival #5 – Fiction
Brushfire Plague: Reckoning
Through Many Fires: Strengthen What Remains
Flight of the Bowyer
The Jakarta Pandemic
The Perseid Collapse
Leaving The Trees
Fury of the Fifth Angel
Fugitives from Northwoods
Phoenix Island: A Tale of Disaster, Survival, and Rebirth
Spring 2014 Book Festival #5 – Non-Fiction
The Prepper's Complete Book of Disaster Readiness: Life-Saving Skills, Supplies, Tactics and Plans
Simply Canning: Survival Guide to Safe Home Canning
The Prepper's Pocket Guide: 101 Easy Things You Can Do to Ready Your Home for a Disaster
The Prepper's Cookbook: 365 Recipes to Turn Your Emergency Food into Nutritious, Delicious, Life-Saving Meals
Jake and Miller's Big Adventure: A Prepper's Book for Kids
The Pantry Primer: How to Build a One Year Food Supply in Three Months
~~~~~~~~~~~~~~~~~~~~~~~~~~~~~~
Shop the Emergency Essentials Monthly Specials: The monthly specials at Emergency Essentials feature discounts of up to 35% off sometimes a bit more.
Although I have plenty of flashlights and batteries (you might even say I have a flashlight fetish) I also stay stocked up with a dozen of these Clear Mist 100 Hour Plus Emergency Candles
as well.  For the best deal, purchase a dozen at a time to get a discounted price.  Be sure to also check out the Clear Globe attachment.
~~~~~~~~~~~~~~~~~~~~~~~~~~~~~~
I earn a small commission from purchases made when you begin your Amazon shopping experience here.
The Amazon Top Ten Most Wanted Survival and Outdoor Items
Emergency Preparedness Items from Amazon.com
Help support Backdoor Survival. Purchases earn a small commission and for that I thank you!
~~~~~~~~~~~~~~~~~~~~~~~~~~~~~~
No list of books would be complete without my own e-book, The Prepper's Guide to Food Storage.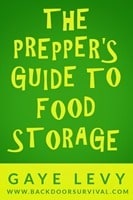 The Prepper's Guide to Food Storage is a book about food: What to store, how to store it and best practices. It is a roadmap for showing ordinary citizens that long-term food storage is not something that will overwhelm or burden the family budget.   It is based on my own tried and true experience as someone who has learned to live the preparedness lifestyle by approaching emergency preparedness and planning in a systematic, step-by-step manner.
Whether you simply want to prepare for natural disasters or whether you believe the world is headed toward a major food crisis, this book is for you. It covers basic tips and techniques you can use to stock your food storage pantry so that you can be assured that your family will have food to eat, no matter what.