This site contains affiliate links. As an Amazon Associate, I earn a commission from qualifying purchases at no extra cost to you. Full Disclosure Here.
Generally speaking, I have a fairly decent first aid kit.  It includes everything from a large variety of bandages to pain killers, antibiotics, essential oils, trauma supplies, first aid books, and equipment such as braces, splints and a blood pressure monitor.
That being said, I put the kit together a few years ago and as they say, I wish I knew then what I know now.  As with all things preparedness, my knowledge has increased over time and I now recognize that I need to go back and revisit my first aid kit, adding items that are missing and removing certain items I no longer consider appropriate or necessary.
Over the years, something I have learned is that in a survival situation, it may be the less common items in our supply closet that turn out to be the most useful.  The same applies to a first aid kit.
Today Backdoor Survival Contributing Author Rob Hanus is back with us to share his take on 8 uncommon first aid items.
8 Items You May Have Overlooked In Your First-Aid Kit

Having a well-stocked first aid kit (FAK) is a given. You should have one in your home and one in your vehicle, as well as in each of your emergency packs.

Once you have a basic first aid kit, consider adding these 8 items:

Liquid Bandage: Though this has become more popular, surprisingly, many people still don't know about it. Liquid bandage, like New Skin, is just like it sounds: you apply a the liquid to a small wound and within minutes, it dries into a protective bandage. It's good for keeping out dirt, germs and water, without the annoyance of a bandage.

Link:  New-Skin Liquid Bandage

Super Glue:  This is a common household item that also has a use in first aid. You can buy the expensive, prescription-only version called Dermabond, but it's far cheaper to use a common tube of super glue.

This works a lot like the liquid bandage above, in that you apply it to the wound and when it's dry, it will hold the cut together. The glue doesn't go into the wound, it's suppose to go over the wound. Basically, you hold close the cut and apply the glue over it, to bond the two sides together. Most people do this wrong and don't wait long enough for the glue to dry.

Just make sure not to use super glue on the following: eyes, lips, genitals, wounds with a high risk of infection like animal bites, and deep wounds that involve damage to muscles or tendons. Also, note that will sting more than Dermabond will.

Link:  Super Glue  – The Original

Tampons and Maxi-pads:  While using these for their normal role is one aspect, they also have uses in first aid. Tampons are good for plugging up puncture wounds and the pads make good dressings. Just make sure you get the non-scented type so you're not injecting the scent chemical into the wound.

Link:  Playtex Unscented Tampons, Always Maxi Unscented Pads

Hand Sanitizer: You can't always wash your hands in the wilderness, but you can sanitize them with the common alcohol hand sanitizer. This is good to use both before treating wounds and after your hands have been covered in blood. As an aside, it's also a very good fire starter (it's essentially gelled alcohol).

Link:  Purell Hand Sanitizer

Safety Pins:  While this seems like a common item found in first aid kits, you would be surprised at how many kits don't have any. Not only can you hold bandages in place with these, but they are also good for digging out splinters. They're safety design makes them easy to carry in your kit. One non-medical use for them is when you lose a button on your shirt or pants.

Link:  Singer Safety Pins, Multisize

Tongue Depressors: While common in pediatrician's offices, you should have a few of them in your FAK, too. The main use for them is as a finger split. The best way to treat a broken or severely sprained finger is to immobilize it. They're also good for kindling if you need to make a fire

Link:  Tongue Depressors

Self Adherent Bandage: Most of us have probably learned that the way to dress a wound is to put gauze dressing on it, then wrap in gauze roll bandage and secure with a safety pin, or tuck the end under one of the wraps.

In talking to a Navy corpsman, the preferred method is to use the self adherent bandage or cling wrap. This wrap looks much like an Ace bandage, only that it clings to itself. This makes it far easier to wrap, unwrap and rewrap a wound, as you're not having to mess around with pins or other fasteners. A few rolls of these and some maxi-pads and you have some excellent field dressings.

Link:  Pac-Kit Self-Adhering Cohesive Wrap, 2″ Wide

Hemostatic Agent: These go under several brand names, like QuikClot, Celox, and HemCon. What they do is quickly cause the blood to clot, stopping the bleeding much faster. These are best used in large wounds where the risk of death from blood loss is high. These can be more expensive than other first aid items, but they literally can mean the difference between life and death in severe trauma.

Link:  Israeli Battle Dressing, 6-inch Compression Bandage, Quikclot Sport Brand Advanced Clotting Sponge

Whether you're making a new kit or adding to your existing kit, the items above can add to the functionality of your first aid kit.  And, if you don't have any FAKs or want to run a quick check on them, I suggest starting here: The Preparedness Podcast: First Aid / Medical.
Essential Oils for the First Aid Kit
In addition to Rob's suggestions, I would you to consider adding an assortment of health and wellness related essential oils to your first aid kit.  At a minimum, include melaleuca (tea tree), lavender, oregano, peppermint, rosemary, and clove oils.
You can read about these and other healing essential oils in 20 All Purpose Remedies Using Essential Oils or other articles on this page: Interested in Learning About Essential Oils?.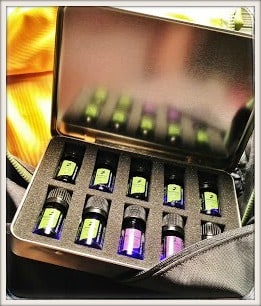 For an even broader selection of oils consider this Spark Naturals Health and Wellness Kit which includes a total of 10 oils and blends, nicely packaged in a tin that is perfect for your first aid kit.  And note that with any purchase from Spark Naturals you will enjoy a 10% discount by using code BACKDOORSURVIVAL at checkout.
The Final Word
As preppers, one thing we should strive to do is keep our eyes open for uncommon uses for everyday items. This includes the gadgets in your kitchen to the odds and ends that have found their way into the proverbial junk drawer.  Come on – I just know you have one!
All kidding aside, a properly stocked first aid kit is an important addition to both your day to day and long-term preps.  If it has been a while since you have taken inventory, do it now.  And while you are at it, can you think of some additional uncommon items to include in a first aid kit?
For additional uncommon items for your first aid kit, see 6 More Uncommon First Aid Items.
Enjoy your next adventure through common sense and thoughtful preparation!
Gaye
If you enjoyed this article, consider voting for me daily at Top Prepper Websites!
In addition, SUBSCRIBE to email updates and receive a free, downloadable copy of my e-book The Emergency Food Buyer's Guide.
Spotlight:  From BDS contributor, Rob Hanus, The Preparedness Capability Checklist succeeds where other survival lists fail. You won't find outdated or useless equipment here. Instead, the checklists in this book focus on the capabilities you need to do in order to survive any number of disasters or crisis events. With this book, you can actually answer the question, "Am I prepared?"
Bargain Bin:  For your convenience, here are links to many of the items referenced in today's article.
New-Skin Liquid Bandage, First Aid Liquid Antiseptic:  I have been using New Skin for years.  It is an antiseptic, invisible, flexible, and waterproof.  It works.
Super Glue  – The Original: This is the original Super Glue brand.  Also, check out Krazy Glue or Gorilla Brand Super Glue.
Pac-Kit Self-Adhering Cohesive Wrap, 2″ Wide:  I first learned about self-adhesive bandages when my dog came home from the vet such a bandage wrapped around his leg.  A light went off telling me I needed to add some to my first-aid kit.  And so I did.
Quikclot Sport Brand Advanced Clotting Sponge: A must for any first aid or emergency kit, Quikclot Sport stops moderate to severe bleeding until further medical help is available.
Israeli Battle Dressing, 6-inch Compression Bandage: This is another inexpensive, yet critical item. Combat medics, trauma doctors, and emergency responders all recommend this Israeli Battle Dressing (IBD) for the treatment of gunshot wounds, puncture wounds, deep cuts, and other traumatic hemorrhagic injuries.
Living Ready Pocket Manual – First Aid: Fundamentals for Survival:  Whether you are miles from help or immersed in an urban disaster situation, every second count during a medical emergency. This book will help you take quick, effective action to stabilize the situation. One of the best things about this book (other than the information, of course) is its size.  It is small enough to keep in your bug-out-bag and also in your first aid kit.
Spark Naturals Essential Oils: I use essential oils from Spark Naturals exclusively.  They are of high quality yet reasonably priced.  In addition, there are no membership fees and a distributor relationship is not necessary to get the best pricing. Interested in checking them out? Backdoor Survival readers get a 10% discount by using coupon code BACKDOORSURVIVAL at checkout!
Help support Backdoor Survival. Purchases earn a small commission and for that I thank you!