This site contains affiliate links. As an Amazon Associate, I earn a commission from qualifying purchases at no extra cost to you. Full Disclosure Here.
I never get tired of coaching Prepper Newbies.  Friend, relatives and strangers; it makes no matter.  I talk about family preparedness where ever I go to anyone who will listen.  It is not that I want to get preachy (well maybe just a little), but that by implementing a few basic steps, a person can become better prepared than 90% of his or her neighbors.
The way I see it, the more people that prepare – even with just the basics – the greater the likelihood that we all will recover unscathed from a short term disruptive event.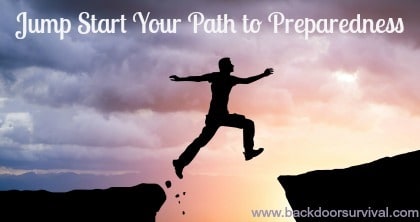 If I may take a tangent here, do you like that word?  Disruptive Event?  That is my catch-all for the myriad of things that could happen to turn our lives upside down. From natural disasters, to pandemics, to political upheaval, to economic collapse, the more folks that are prepared for even the short term, the less likely there will be desperate, tired, and hungry people knocking on our doors for assistance.
Today, Backdoor Survival Contributing Author Rob Hanus is back with 10 simple steps get a jump start on preparedness.  Read them and share them.  And by the way, there is probably a tip or two here that the more experienced prepper may have missed.
Quick Start Guide To Preparedness
For those of you that are new to preparedness, this quick start guide will help you accomplish some of the basics that every preparedness plan needs.  Those of you that have been preparing for a while, you might want to forward this along to those people you know that might consider preparing at a basic level.

Think of this as Family Insurance.  This Family Insurance is what you can count on in a crisis, disaster or emergency.  It's there,  just as any other insurance, when you need it, so you can continue to provide for your family.  And best of all, there's no paperwork to fill out and no regular monthly checks to write in order to be able to use it.

This is preparedness at its most basic level. Being prepared to continue providing for your family is a good idea, as they will be looking to you for the answers in times of crisis.

Make it a goal to accomplish these 10 basic things that will put you far above others when an unexpected event happens.  Come up with a solution for each of the following with the understanding that you can't just go stay with a relative across town.

1. Have food to eat when stores are closed or shelves are empty. (2 weeks is good!)

2. Find a solution to cook without electricity or your stove.

3. Have bottled water for a week's worth of drinking and a solution to obtain clean water when the tap water stops flowing and the stores are closed.

4. Find a solution to keep warm/cool when the power is out.

5. Find a solution for light when there is no power.

6. Have a way to use the rest room, even when there is no water pressure.

7. Have a plan in case you need to leave your home, fire, etc.

8. Find solution to add to your security, in case someone tries to break in.

9. Make sure you have copies of important documentation that is easy to grab or stored off site, including back ups for your computer.

10. As these are only the basics, make a list of prep tasks that increases your preparedness beyond the basics that you can chip away at.

For an expansion on these solutions, check out my book, The Preparedness Capability Checklist.
One Size Does Not Fit All
Did you notice that none of these tips are telling you what to do exactly?
That is because one size definitely does not fit all when it comes to preparedness.  What you want to do is seek solutions that work for you and your family.  Where you live, family size, age, health, and personal financial considerations will dictate the solution that is right for you.
The Final Word
It is easy, in my opinion, to become bogged down in a preparedness strategy full of complicated details.  Perhaps that is why I frequently post information in a list format. Call them checklists, punch lists, or simply bullet points, it really does not matter.  Lists break down concepts into simple, actionable ideas and activities, making it easy to get something done without feeling overwhelmed.
Whether you are just getting started or an old hand at prepping, take a look again at #10.  Why not take a few moments to start a list of prep tasks that you can gradually chip away at, knowing that you already have the basics covered?
Enjoy your next adventure through common sense and thoughtful preparation!
Gaye
Click Here To Vote For Me at Top Prepper Websites!
If you have not done so already, please be sure to like Facebook which is updated every time there is an awesome new article, news byte, or link to a free survival, prepping or homesteading book on Amazon. 
You can also follow Backdoor Survival on Twitter, Pinterest, and Google+ and purchase my book, The Prepper's Guide to Food Storage from Amazon.
Bargain Bin:  Here are some items that match up to the 10 tips that Jump Start Your Path to Preparedness.
Mountain House 72 Hour Emergency Meal Kit "Just In Case" Meal Kit:  One of the best ways to stock up on food is to pick up a few extra cans of this or that on your regular shopping trip.  That said, you can also purchase freeze–dried foods to supplement your pantry.  Some of my favorites are from Mountain House, and especially the Mountain House Chili Mac.
Solo Stove:  I personally own four solo stoves including the large Solo Stove Campfire.  They are compact yet well-built and perfect for cooking off-grid with just a bit of biomass.  They come in varying sizes so you can choose the one that is right for you.
LifeStraw Family 1.0 Water Purifier:  The Lifestraw Family contains no chemicals, no batteries and no moving parts to wear out. It features a a high flow rate and is the perfect solution to your portable water purification needs – whether bugging in or bugging out. As of this writing, shipping is free.
Grabber Outdoors Original Space Brand All Weather Blanket:  I was interested in a re-usable emergency blanket so I purchased on of these based upon the excellent reviews.  This space blanket is definitely "heavy duty" compared to the cheapies (not that they don[t have their place.  A Backdoor Survival reader passed on this tip:
We place one of these blankets silver side up on our mattress underneath the fitted sheet or mattress cover.  It reflects body heat like you wouldn't believe, instead of the heat being absorbed into the mattress.
Emergency Flashlights:  There are many choices when it comes to flashlights.  I prefer to have a lot of small flashlights stashed all over the place.  My favorites are the uber-cheap Mini Cree and the Blocklite. I also have built a total of five 2000-hour flashlights using this Eveready Lantern as a base.
Tote-able Toilet:.  I have priced purchasing the bucket and toilet seat lid separately and found that it was more economical to pick up this kit.  I have filled my portable potty with sanitation supplies plus, of course, plenty of TP.
Rothco Medium Transport Pack: What I really like about these Rothco packs is the narrow profile.  As you can see in the picture, it is only as wide as my body.  Sure, it sticks out a bit in back but at least I do not bump in to things.  There are lots of compartments and pouches and it by far, the most comfortable pack I have ever worn.  I actually own 3 Rothco packs, 2 in the medium size and one large.  I keep one pack permanently in my vehicle.
Dorcy LED Wireless Motion Sensor Flood Lite: Don't let the price lead you to think this wireless flood light is wimpy. I have two of these and feel that these lights are worth double the price.  Using D-cell batteries, the Dorcy floodlight will light up a dark room or a dark stairway in an instant.  I can not recommend these enough. Also see Personal Defense Equipment from Amazon.
Silicon Power 8GB Flash Drive, Gray Aluminum:  I just purchased this flash drive for my key ring because the one I purchased a couple of years ago broke.  The flash drive itself works but the key ring thing made of plastic broke off.  This flash drive has a ring shaped metallic exterior which should stand up over time.
List of Things To Do:  Pen, paper and a bit of motivation is all you need.  The price is nothing more than your time.
Shop the Emergency Essentials Monthly Specials
I love my Mobile Washer. This is hand operated washing machine. Like a plunger, it uses a technique of pushing and pulling the water through clothes to clean them well without wearing them out. It uses a minimum of water and less soap due to the agitation motion. Use in a bucket (5-gallon suggested), sink or tub.
I earn a small commission from purchases made when you begin your .
Personal Defense Equipment from Amazon
Emergency Preparedness Items from Amazon.com

Help support Backdoor Survival. Purchases earn a small commission and for that I thank you!