This site contains affiliate links. As an Amazon Associate, I earn a commission from qualifying purchases at no extra cost to you. Full Disclosure Here.
There are so many small house plans and kits to choose from but they are not all equal. In this article, I am going to explore some of the options I found. Hopefully, this is at least a good starting point to help out those that are considering buying a kit or starting on the journey of constructing their own home.
Matt and I built our own house from scratch and it was well worth it. I am linking to a few posts I wrote in the past about our process. At some point, I will write a few more that goes into more detail about the finish work.
Building Our House In The Mountains Part I: Permits, Foundation, Floor, and Beginning Framing
Building The House Part II: Framing, Loft, Roof, and Siding
Before we get into things you need to consider, I want to say that when we started building our house we were in our 20s and while we had older adults to help out, we did not have any kids to look after.
We were also in decent physical condition that improved as we worked hard and got into better shape. Building a house from scratch or even just putting a kit together takes a lot of physical ability and time. Keep in mind that you may still come out cheaper on building a small house by purchasing a kit and hiring someone else to put it together vs buying an already put together home. It just depends. I recommend weighing out the cost and benefits of every option before making a decision.
Tiny vs Small
When people think about house plans they often think about the tiny houses on wheels that have been getting so much attention in the media and made famous in shows like "Tiny House Nation".
Small houses don't have wheels nor are they build on a trailer. When I refer to a small house I mean a home that is under 1200 square feet and in many cases, much smaller. Our own house is 480 sq ft on the bottom with an additional 160 sq ft of loft space.
Finding house plans can be challenging. Some people decide to just get cabin kits with good instructions on how to put them together themselves or they get a company to at least put up the foundation and/or shell while they do the finish work.
Do not waste your money on a tiny house.
I am not a fan of tiny houses. I have toured one that was made by a professional outfit and it was not built well. They are often built on trailers that are not rated for much weight beyond the house itself. If you start piling your stuff in there you are probably going to be over the limit. The siding is subject to getting a lot of road gunk thrown up on it. It is not metal like an actual travel trailer that is designed for highway use.
The cost is also outrageous. $50,000 is an insane price to pay for that. You build a bigger cabin for less with some patience and planning. Heck, you can even get a cabin kit for a fraction of that cost that allows for a ton of extra space.
If you are considering a tiny house, save some money and hassle and get a used Airstream RV.
A used Airstream is not going to be exactly cheap but they will be more affordable than a tiny house. Even if you spend $15,000 on a used Airstream and then $5-$10,000 fixing it up you are still going to be a lot better off than buying a tiny house and it will hold up better over time, especially if you want to move around often.
If you are determined to have a tiny house on wheels, just build it yourself.
To each there own. I have told you how I feel about tiny houses on wheels. I realize that everyone is different though so I am going to include this link to tiny house plans on Amazon. I would rather know that you paid less than $25 and not over $700 for plans like this.
Sheldon Designs
This company produced some wonderful small house plans if you can manage to get your hands on some of them. I have searched and it appears that Andy Sheldon's architectural business is no longer around. We bought 2 sets of house plans for around $60 and that is what we used to get a building permit and construct our home. Matt made some changes but the basic design remained the same.
I found an old Sheldon Designs Catalog pdf online that I am sharing via this link. Matt and I used the micro cabin plans to build our house.
Turning Outbuildings Into Homes
There are a lot of storage shed companies in my area. You cannot go down the road without running into one. These places will even finance with no credit check.
There are pros and cons to turning a storage building into a liveable structure. For starters, they often have wood siding and that does not last well over time unless you are vigilant about keeping it painted.
If possible, I would recommend the metal insulated buildings for those in temperate to colder climates. They are a good solution for living in while you are building a different structure and they can be used for storage after you are done living in it.
Unfinished Cabins and Cabin Kits
Amish built cabins are really quite nice. The one thing I have to say is that they are made entirely of wood. While I love the look of a wood cabin, I would rather have concrete fiberboard siding for longevity. You can add that later if you want.
The cabins are pretty darn complete sometimes. They are put together on your foundation and you can even pay a little extra and have a chimney kit put in for a woodstove or have a heater installed with your kit.
The price of a cabin kit is going to be higher than building everything from scratch yourself but they will go together a lot faster. Some unfinished cabins are put on your foundation for you and then you just do the finish work. Remember that with any kit or house building project, the more you do yourself the less cash you are going to have to spend. The trade off of course is that it may take you a lot longer to do the work compared to a pro.
The closer you are to the cabin kit maker, the better your shipping rate
As you can imagine, there are some substantial shipping fees involved with hauling a whole house kit to your location. Sometimes the first couple hundred miles will be included in the cost but after that, there is a per-mile rate that kicks in. For this reason, it is best to go with a cabin kit maker that is within your region unless you just happen to find a wonderful deal further away.
Note on Financing
Traditional mortgages are probably not going to be an option if you just buy a cabin kit. You will need to get a personal loan, line of credit, or pay entirely with your own money. Sometimes this is why people get prebuilt homes rather than kits. I think there may be home construction loans out but I am doubtful banks would do one for a kit you put together.
[vid url="https://youtu.be/XuRNsJYYHUw"]
This company has log cabin kits in a wide range of sizes. If you click on the link above you will see the Outdoorsman Log Cabin Kit. It is 424 sq ft and you get a porch too. A lot of cabins have loft spaces too. If you need real stairs on some models, you might want to mention that.
How big do you really need?
When looking for plans or kits you need to seriously consider how big you really want to go. Many homes can be added on to later but you may want to consider how and where you might do an addition when building the base structure itself. A window or door is a good point for an addition for example.
Matt and I went pretty small because it was just the two of us and we were in our 20s and figured that adding on was an option down the road. We were doing this without a mortgage so there was a financial aspect to choosing to go small initially.
The way you finish it matters a lot in terms of cost.
We did not use drywall or linoleum in our house. Our materials cost was higher on some things because we chose to use wood planks for walls and do a hardwood floor. Sometimes house plans have cost estimates for finishing. If you notice that they vary a lot that is because a lot of it is up to you in deciding how nice you want to go and what you want to use.
Look at local building regulations or ask your building inspector about rules regarding doing your own work on your home.
Rules can vary a lot depending on where you are at.
Even since Matt and I build our house, the rules have changed a lot. You need to know what you can and cannot do legally before you get started. Sometimes inspectors don't quite understand how much of the work you really want to do. If you intend on doing as much as possible then you need to find out what that is.

If the price of plans seems high, then look elsewhere.
Some small house plans are ridiculous. I cannot believe that some tiny house plans ( under 200 sq ft) are an outstanding $750! For that price, they better be very detailed and include a materials list. That is a lot of money for just basic plans for a 10′ x 12′ room on wheels.
Always add 10% to any cost estimate you do.
Things happen. I have yet to see a house project that did not go over budget. It is just to hard to predict an exact cost, especially if you are doing a lot of work yourself and over a time period.
You can save a ton of money by doing the finish work yourself.
Getting the foundation and shell put up is a big deal. It takes a lot of work and time to build a house of any size. The finish work is what sucks up a lot of money at once. If you can manage to do the interior walls, flooring, etc, that can save you a lot of money. That stuff takes some time to do. If you have the skills to do basic plumbing and electrical work you can really save a lot but it is not always legal to do that type of work yourself.
Some house plans have materials lists and some do not. There are also options where you can sometimes pay extra for a materials list.
Don't buy more copies than you need.
Plenty of places want to sell you on extra copies. Generally speaking anything beyond 2 sets is excessive unless you are working with a lot of subcontractors or there is some local rule or law that means you need more sets than usual.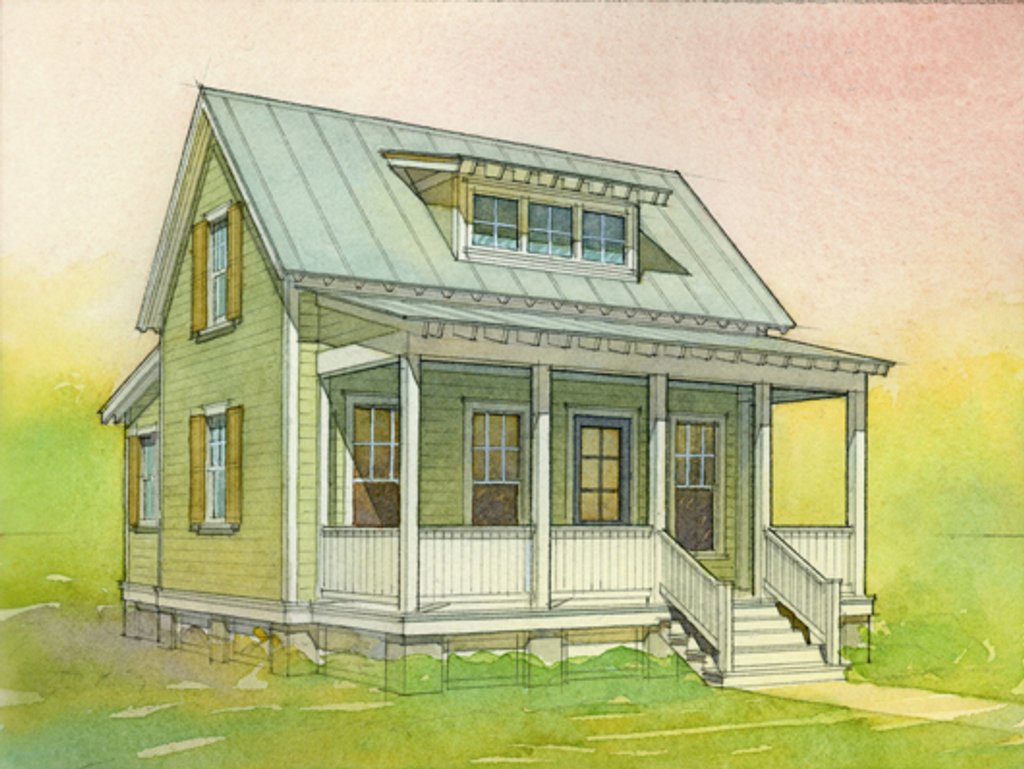 Katrina Cottage Designs offer a lot of great options for small homes. The cottage above is 2 bedrooms and 697 sq feet with a nice porch for sitting. You can get house plans customized for you if there is something you want to change on one of their signature designs.
Some of these designs are based on cottages built in response to rebuilding after Hurricane Katrina. The design above is just one of the many designs offered.
House Plans On Ebay
I have found out that eBay is where a lot of some house designers are selling pdf house plans for a mere $40! That is a really good deal and it allows you to print off copies as needed. A print shop or office supply store can usually make you some copies that are poster-sized for very little. Here are a few designs I found on eBay that caught my eye.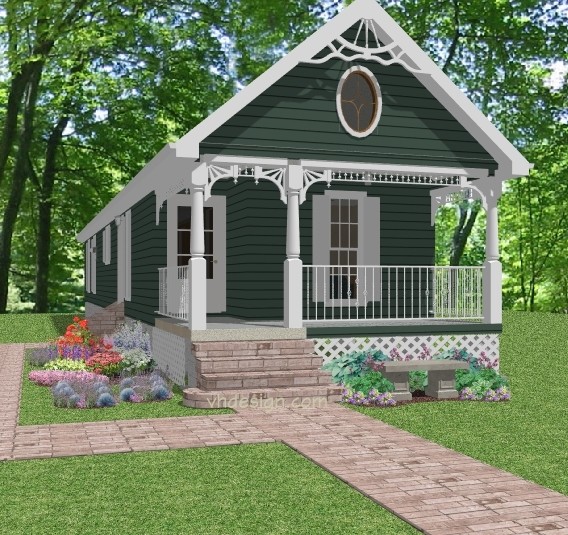 This is a cute little shotgun style house that offers one level living and a nice porch to enjoy. The roofline is steep enough that snow accumulation would never be an issue except for maybe very alpine like areas.
House Plans and House Kits on Amazon
I have been out of the loop on house plans for quite some time. I found a lot of reasonably priced plans that are under 1,000 sq ft. While there are some house kits available, they are limited and some are quite small. I have included a few options that stood out to me.
I like this design a lot. The size is decent and there is a porch on the front and back. If you wanted to you could always make one of the porches into another room or a greenhouse area. This is also something that could be done later when you have more time and money.
This is a pretty basic design with a few fancy touches at the roof. The cupola and the dormers make the upstairs loft area more usable and allow in more light which is nice.
Some reading this might just want something really small that they can bug out to or that they can start out with and add on to. This is a small and basic design that would be a good choice for someone that doesn't have a lot of carpentry skills. The roof has enough of a slant to shed snow and rain well. Small buildings like this can be constructed quite quickly and you can save a lot by doing it yourself.
This is a small cabin kit that you can order with just a few clicks. It features a decent-sized loft so some may wish to use this as their sleeping space. I like that this kid actually has a good-sized porch and plenty of windows to let light in. The roof overhang is long enough to prevent some water issues that are so common in entryways.
This is more of the size of small house I like. There is room for a bedroom and a loft. Even if you don't use the loft for your own bedroom, it would be a nice sleeping space for guests or storage.
This small house is made by WNC Tiny Homes and comes to you already assembled from what I can tell. I like that this small house separates the spaces well. If you put a fold-out couch in the living room, this is actually a cabin that could sleep 4 people short term. The porch is substantial at 119 sq ft which is nice in warmer climate. I know that Matt and I spend a lot of time out on our patio in the warmer months. A good porch space can make small house living a lot nicer.
Alternative Materials Like Cobb and Adobe
I strongly encourage you to check and see if it is okay to build with these materials in your area. The rules can be weird in some ways. For example, you may be able to use these materials but only if a real contractor does the work or an engineer signs off on it.
You might consider getting a professional to create a custom plan for you.
Some people charge more for custom plans than others but there is no harm in asking how much it would cost to have a very basic small home planned out. If you have special considerations then this way may be the best route too. Sometimes having someone change existing plans can be more cost-effective since a whole new idea doesn't need to be drawn out.
Other Resources
Here are a few links to sites that have a variety of kits or plans that may be of interest.
Homeplans.com ( This site has a lot of small house plans but they are around $850) The styles are great though so if you want to build something that looks nicer or is unique, you might want to just budget a little more for plans or look here and then find similar less expensive plans somewhere else)
Have you built a home with a kit? Do you have any house plan recommendations? What is the biggest challenge for you when it comes to small homes besides the cost?