This site contains affiliate links. As an Amazon Associate, I earn a commission from qualifying purchases at no extra cost to you. Full Disclosure Here.
When you are planning on being outdoors and away from crowds for any length of time, the smartest and safest thing to do is to make sure you have a first aid kit. Sometimes though, even a first aid kit might not have enough survival necessities.
Adding some specific essential oils to your first aid kit can actually help in your survival in some situations. Some of the most helpful essential oils to pack for your outdoor excursion are lavender, peppermint, frankincense, tea tree oil, citronella, lemon, oregano and geranium.
Essential Oils for Survival
Lavender
Lavender, seemingly the panacea of essential oils, is one you should have with you because of its versatile uses. It can heal cuts, reduce inflammation, relieve itching and redness as well as relieve allergies.
You can use it to soothe sunburn and it also promotes relaxation and sleep, which is always an added benefit.
Peppermint
This oil has many benefits in survival situations. Rubbing peppermint essential oil on sore muscles can help relieve the pain. Not only that, peppermint is also used in recipes for sunburn relief.
Frankincense
Frankincense is commonly used as an anti-inflammatory, which means it also acts as a pain reliever. If your first aid kit runs short of ibuprofen, you won't have to worry if you have some frankincense essential oil on hand.
It also has antidepressant effects and while this may not be the intended use for it in your survival kit, you'll be happy you had it with you if you experience a slump in your great hiking adventure.
Tea Tree Oil
Although tea tree oil has many uses, the qualities that make it essential for your survival kit are its ability to kill germs and prevent infections. If you have an open wound, applying tea tree oil would be just as helpful as using rubbing alcohol.
Tea tree oil also kills mold and mildew and it helps relieve allergies, sinus infections and respiratory problems. If you're having trouble finding tea tree oil, look for an oil labeled "melaleuca," which is another name for it.
Citronella
The scent of citronella likely reminds us of summertime because it is used in many bug repellents. While citronella oil may not save us, per se, the fact that it helps ward off biting insects makes it an important essential oil for your survival kit.
Lemon
The scent of lemon is generally the smell of cleanliness and disinfection, which is the fragrance of many household cleaners. While there is no proof of lemon oil effectively purifying water, it is known to cleanse your insides.
It can be used to cleanse your gut of harmful bacteria, to aid in digestion and to dissolve toxins that build up over time. If you experience digestive discomfort while you are beyond a day's reach of civilization, add a little lemon oil to your water.
Lemon oil can also be used to disinfect, which is something you will undoubtedly use it for if you travel outdoors for a great length of time without being able to take a proper shower.
Oregano
Oregano's powerful antiviral effects make it an important part of your survival kit. This oil is known to be just as effective as pharmaceutical drugs in the treatment of illnesses such as HIV and AIDS.
Oregano also boosts the immune system in general, making it a necessity for your survival kit so that it can help ward off viral infections.
Geranium
This oil is useful to have because it repels horseflies and ticks. While horseflies aren't necessarily going to kill you, their bites can be bothersome and itchy and itchy, open wounds can lead to infection.
Ticks, on the other hand, can cause much more damage, especially if they carry Lyme disease.
Recipes
If you are interested in making some essential oil concoctions to add to your survival kit and boost the survival qualities of your essential oils, you'll find some recipes below. When a recipe calls for carrier oil, it's referring to an oil such as coconut, olive, avocado, etc.
> To Soothe Bumps and Bruises
A mixture of 8 drops of lavender, 8 drops of helichrysum and 2 oz of carrier oil can be applied to a fresh bump to help with pain. On top of that, it helps lessen the appearance of the bruise.
> To Soothe Sunburns
Mix together 20 drops of your preferred essential oil (popular choices include lavender, chamomile and peppermint), 2 teaspoons of carrier oil and 2 tablespoons of aloe vera gel. This can be used for relieving sunburns. For an extra cool feeling, you can store it in the fridge.
> To Repel Insects
Start with 4 tablespoons of carrier oil and mix in 50 drops of your preferred essential oil, choosing from citronella, tea tree, lemongrass, eucalyptus, or lavender. You can rub the mixture on yourself or put it in a spray bottle.
You'll have to reapply every hour or after swimming or sweating considerably.
> To Soothe Insect Bites
A good blend to apply to insect bites is a mixture of 1 teaspoon of essential oil and 1 teaspoon of carrier oil.
Good choices of essential oils for this are lavender or tea tree, both of which can be used alone if you don't have this already mixed up. However, you have to be careful because used alone as they can irritate sensitive skin.
Safety
As always, safety is a top priority. Using essential oils should in no way be a replacement for professional medical treatment when necessary. If you're treating a wound or affliction with essential oil and it gets worse, go see a doctor.
As with any pharmaceutical, you need to know if you or those you are sharing your oils with have any allergies. Always err on the side of caution when using oils for the first time.
Top Products
Lavender Best Therapeutic Grade Essential Oil
If you're out camping and want a good healing solution in a pinch, 100% pure lavender may be the best option for you. Not only is it meant to smell great, but it's quality tested, FDA-approved and made to provide you with therapeutic and physical relief.
The healing quality of this oil is superior thanks to the unique bottling process and the specific ingredients that are used to make it, making it a great oil to have for any survival situation.
Pros
The medicinal scent is beneficial when combined in a remedy
Can be used as an ingredient in healing solutions
Cons
The ingredient list is fairly vague
ArtNaturals Tea Tree Essential Oil
Tea tree oil is one of the best things you can have on you when you're exploring the great outdoors. You might use it for its therapeutic qualities in your home, but it can heal minor cuts and infections in a snap when used outdoors.
ArtNaturals makes their tea tree oil to be of the highest quality so that it can be used with a carrier oil or in washes and shampoos. Even if you just have a skin irritation from so much hiking, tea tree oil is meant to help.
Pros
A few drops work to soothe irritations quickly
Works great as part of the laundry detergent when you're washing items
Perfect for applying to your body when the bugs get to you
Cons
Quality control seems to be an issue
Some people claim the formula is sometimes inconsistent
Frankincense Essential Oil
This 10mL bottle of frankincense is meant to last you a while, especially since you only need a few drops for it to begin working. This is because this oil is completely all-natural and meant to be of the highest quality.
There are no synthetics or carrier oils mixed in, meaning that when you use frankincense oil to help reduce inflammation or strengthen your other oils, you'll see a large effect. This oil is made to be pure, making it that much more potent.
Pros
Priced very low, considering the quality
Great for joint pain, arthritis and other body pains
Reduces pains for days at a time rather than just hours
Works wonders when it comes to healing infections
Cons
Some people don't like the smell
Zongle USDA Certified Organic Oregano Essential Oil
If you want to boost your immune system, relieve joint pain, or help a case of athlete's foot that you're dealing with in any survival situation, you might want to have a bottle of organic oregano essential oil on hand.
This oil is produced all-naturally, meaning that there are no pesticides or genetic engineering anywhere. Rest assured that you can ingest this oil for its antiviral effects too since it's been GSMC and Microbial Tested.
Pros
Great as a bug repellent
Helps with digestion
Can treat infections when applied topically or ingested
Cons
The dropper is packaged separately
Best Peppermint Oil
Especially if you have allergies in your everyday life, you might have a tough time when you're outdoors. Make use of peppermint oil to help by applying it topically, which will also increase your focus.
Best Peppermint Oil may be able to help with the high-quality and pure ingredients included in the formula. Fatigue and irritability are reduced quickly, giving you the energy to keep going when your situation is serious.
Pros
Works well when mixed with water for critter control
Can be used as a spray for topical application
Cons
People claim that it is greasy
Majestic Pure Lemon Oil
This Majestic Pure Lemon Oil is made right from the rinds of lemons so that you know it's completely unfiltered, undiluted and contains no fillers, alcohol, or other additives. Inhale the powerful and purifying fragrance to feel your fatigue disappear.
However, lemon oil can be used topically as well when mixed with carrier oils. Since it's a natural antiseptic, it can be used to treat minor wounds, which means it'll come in handy when you head outdoors.
Pros
Great customer service if you do have any problems
Safe to use on your skin, or even as a toothpaste
The smell is long-lasting, calming and works well to reduce stress
Cons
Not everyone receives the same quality oil every time
Some people don't seem to like the smell
NOW Eucalyptus Essential Oil
When you buy the NOW Eucalyptus Essential Oil, you can expect pure eucalyptus oil that's been steam-distilled from leaves and small branches. It's verified to be great for aromatherapy, making it a wonderful option for those of you with allergies, too.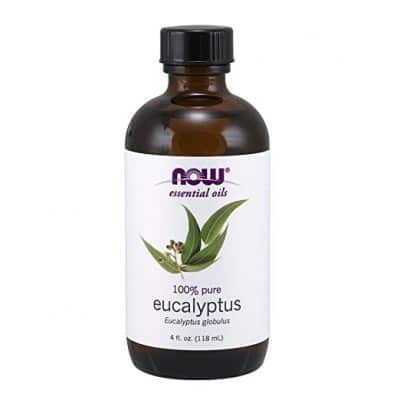 Use it to dilate your blood vessels as well and increase the oxygen you receive, improving the functioning of your body as you walk around.
Pros
Comes at a great price for the volume
Works fast and effectively on allergies
Helps with all sorts of physical ailments when applied to the body
Cons
Does not come with a glass dropper when you buy it
Conclusion
You might think that essential oils are only for putting in diffusers and using in your home, but often, any essential oil can be transformed into a survival tool when you're out camping. Combine these oils with water or carrier oils or use a few drops on their own.
Whether you're dealing with an infection, irritation, or just need an oil to help you calm down, one of these oils can come in handy when you don't have anything else.
If you enjoyed this article, consider following our Facebook page.