This site contains affiliate links. As an Amazon Associate, I earn a commission from qualifying purchases at no extra cost to you. Full Disclosure Here.
When I first got an EcoZoom Versa rocket stove back in 2011, I  barely knew how to start a fire, let alone keep one going.  These days, I am pretty darn good at starting fires using my own DIY fire starter plus gathered biomass and kindling.  I have even been known to chop a log or two. But most of all, I have become proficient at using the EcoZoom Versa, not so much because I had to, but because it is fun to use.  Yes, I know.  Preppers can be strange sometimes.
A couple of weeks ago, longtime sponsor EarthEasy.com asked if I would like to review the EcoZoom Versa and to share my experience with Backdoor Survival readers.  After explaining that I already owned two EcoZooms, and was a big fan, they offered one up as a giveaway.  How could I refuse?
More about the giveaway in a moment.  First I would like to share with you a bit about the EcoZoom itself and also my experience cooking from food storage using this remarkable rocket stove.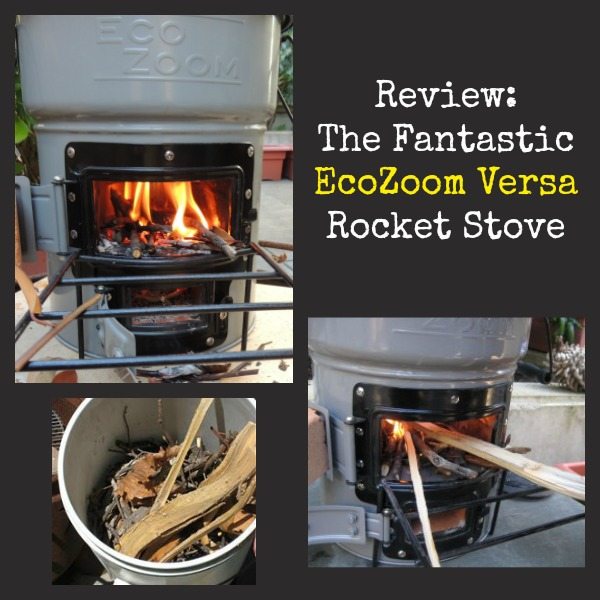 EcoZoom Versa: The Basics
The EcoZoom Versa is a good sized rocket stove, standing about 12 inches tall and 9 1/2 inches in diameter.  In spite of its size, it is easily moved around using the two handles that are built into the sides.  It is designed to burn biomass (twigs, leaves, branches and organic materials) as well as charcoal.
As you can see in the photo, there are two hinged doors. The top door, when open, is used to feed wood and biomass into the combustion chamber while the smaller door is used to control airflow, thus regulating the heat.  The wire tray that is sticking out of the front holds longer pieces of wood and branches that can be slowly fed into the fire.
At the top of the stove is a three-pronged cast iron stove top that can support a flat or round bottomed pan, as well as stainless steel handles with silicone grips to assist you in moving the stove. My older EcoZoom is not quite as advanced with its six-pronged top but it still works great.
Although I prefer cooking with biomass (it's free!), you can also use charcoal briquettes in the EcoZoom.  For that, you use the integrated adapter grate.  I have found that six charcoal briquettes will burn a long time without being tended.
Finally, according to the EcoZoom website, these stoves use up to 60% less wood than an open fire and decrease smoke and harmful emissions by 70%.  I can tell you from personal experience that the EcoZoom emits very little smoke.  On the other hand, there is quite a bit of steam generated from your food as it is cooking, always a good sign that the food it getting hot.
EcoZoom Portability
The EcoZoom Versa is easy to move around using the integrated handles with silicone grips.  For ultimate portability, however, there is a new carrier bag that you can use for stowing your rocket stove.  Let me tell you, this sure beats trying to stuff the EcoZoom back inside its shipping box.  It has a sturdy strap making the stove a breeze to transport, plus it has room for a few extra supplies such as firestarter, matches, and even a small amount of biomass.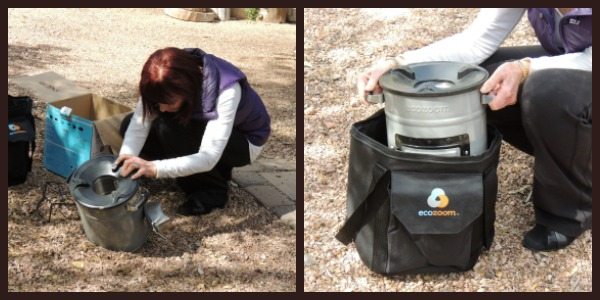 Real-time Cooking with the EcoZoom and Food Storage
In the past, I frequently used my EcoZoom with and old Revere Ware pot, you know, the kind with a copper bottom.  These days, I tend to use cast iron instead.  That said, both work well and depending on what you are cooking, you may choose one type of pot over another.
One of the favorite "survival meals" I make from food storage is chili.  In the photos below, you see me preparing Chicken Chile using the following recipe.
Food Storage Chicken Chili

2 cups freeze dried chicken ( can omit or substitute FD ground beef)
2 cups water
1 1/2 cups freeze dried sweet corn
1 1/2 cup salsa (I used canned)
2 tablespoons chili powder
2 1/2 teaspoons ground cumin
1 1/2 teaspoons dried Italian seasoning
2 cups pinto beans (I made my own the day before but you could also use canned)
1 can diced tomatoes
1 cup water

Put everything in a Dutch oven or other pot and heat until hot and ready to eat.

Adding the ingredients.
To get things started, I put some pine cones and dry leaves into the upper chamber along with some dryer lint to use as tinder.  It all lit up right away so I immediately began to feed in twigs and branches, being mindful not to overload the chamber.
That is something you need to watch for.  If you overload the chamber with too much biomass, the fire will choke and go out.  The other thing to keep in mind that depending on the thickness and dryness of your fuel source, it may burn quite fast.  If you use little branches like I do, you need to mind the stove, so to speak, to keep the fire burning.  Kindling sized chunks of wood burn far more slowly so less tending is required.
Sometimes you want the fire to die down a bit.  This allows your food to simmer instead of boil.  To resurrect a full flame, perhaps for another pot of food, I add additional pine cones or leaves and the fire flames right up again.  For someone who was not a girl scout in her youth, I find this amazing.
But I digress and need to get back to my test.
As I mentioned, I had some doubts about using cast iron on the EcoZoom.  There was no need, however, since my Lodge Dutch oven was full and yet it only took 10 minutes to come to a full boil.  I had to take the lid off to prevent my pot from boiling over which, coupled with letting the fire burn down a bit, allowed my chicken chili to simmer a bit and meld the flavors.
So how did it all turn out?  Well other than the fact that Shelly and I were arguing over who got to feed the fire, the chili was delicious and once again, the EcoZoom came through with flying colors.
The Giveaway
Here is the part you have been waiting for.  Eartheasy.com is sponsoring a giveaway to win an EcoZoom Versa for free.
A special word about the giveaway question/comment:  Please read the question and respond accordingly, even it the answer is "I don't know".  The question is:
"As of this moment, what arrangements have you made for cooking when the grid is down and traditional sources of power are not available?"
a Rafflecopter giveaway

UPDATE: While the raffle has ended, you can find the EcoZoom Versa available here for a great price. It's worth every penny!
The Final Word
I think the EcoZoom rocket stove is quite remarkable.  It is durable, portable and has solid cooking power.  Cooking with biomass from my yard is fast and I will say it again, fun.  The EcoZoom Versa simply works.  Mine sits outside all year long and still looks and cooks like new, although I now plan to store it in its carry bag along with a Swedish fire steel,  some dryer lint, and a BIC lighter for one of those just-in-case moments because you just never know.
I would like to thank EarthEasy for sponsoring this giveaway and encourage you to enter.  The winner, whoever you are, will not be disappointed.
~~~~~~~~~~
Update: And the Winner Is . . .
Oh my gosh!  What a giveaway this has been.  Today I am thrilled to announce the winner the recent EcoZoom Versa Rocket Stove giveaway.
The winner is Bob M. who wrote:
If I had only three items in my bug out bag, they would be: a small axe, a water filter, and a fire striker.
Bob was notified and responded back with the following:
I am very VERY pleased to have won the Ecozoom stove.  I have been trying to budget for one to take to Ethiopia where the orphanage (where my grandchildren came from) cooks over open fires in a room with no chimney!

My daughter is going back there in the next month for our next two kiddos, and will take it with her.
I am so unbelievably thrilled at this that I am beside myself with joy.  This giveaway could not have had a better ending.  Now just so you know, Bob's entry was selected entirely at random using the tools available on the www.random.org website which means everyone had an equal opportunity to win.
The response to the EcoZoom Giveaway was astounding.  There were 604 valid entries and sorry, but there were 28 invalid entries.  Most of the invalids were from a single person who tried to stuff the ballot box.  Shame on you!  Most of  the others came in after the deadline.
One thing that I do want to point out is that many of you combined two entries into one.  I mentioned this a couple of times over on my Facebook page and some of you were able to get your second entry in.  For clarification purposes, in the future, when I indicate that a Facebook Like is bonus entry, you must post a separate comment telling me so.  Two comments = two entries.
The Remarkable EcoZoom
For those of you that did not win, I encourage you to consider purchasing an EcoZoom as a viable option for cooking outdoors with biomass, wood or charcoal.  It is efficient, sturdy, and easy to use.  It simply works.
I really do wish I had more than one EcoZoom to giveaway but alas, there is only one.  That said, you can count on some new giveaways coming up soon, including a giveaway for a free WonderMill grain mill  that will be announced next week.  Until then, make every week a prep week!
Enjoy your next adventure through common sense and thoughtful preparation!
Gaye
~~~~~~~~~~
Spotlight Item:  The EcoZoom Versa Rocket Stove
Burning twigs and pinecones, this stove will cook a big pot of rice or chili in under 20 minutes. The stove is solidly built and will burn charcoal as well. Don't forget to check out the carrier bag.  The price as of this writing is $129.95 including free shipping to the lower 48 states.
Bargain Bin:  Today I feature products mentioned in today's article plus other items to enhance your outdoor cooking.
Swedish Firesteel: Using this basic pocket fire-starter, you can get a nice fire going under almost any conditions.
100 BIC-style Lighters Disposable Classic Lighter:  Running about 16 cents each and free shipping, these are great to have on hand for both survival and barter use. Want fewer than 100?  You can also get a pack of 50.
Lodge Dutch Oven/Camp Stove:  I originally purchased this Dutch oven because it was so darn cute.  But over time, I have learned to love it for its versatility.  Remember, a camp stove is designed so that you can bake with it by arranging charcoal on top of the lid as well as underneath the Dutch Oven itself.
Lodge 5-Quart Double Dutch Oven and Casserole with Skillet Cover:  This is another cool piece.  This Dutch Oven does not have legs and is designed for indoor use but it can be used outdoors too.  Just don't forget the Ove Gloves to protect your hands and arms.
US Forge 400 Welding Gloves Lined Leather: These well-priced gloves provide complete heat and burn protection. They are made of soft and supple top grain leather for comfort and pliability, plus they have an internal liner gives more comfort and durability.
Zippo Street Chrome Pocket Lighter:  Zippo has been creating virtually indestructible, windproof refillable lighters for more than 75 years. The Zippo Street Chrome pocket lighter is no exception. This lighter features a classic textured chrome finish and carries the same lifetime guarantee–to either work or be fixed by Zippo free of charge–for life.  All wearable parts including flints and wicks are replaceable.  Every prepper should own at least one Zippo!  See What You Need to Know About Zippos and Lighter Fuel.
~~~~~