This site contains affiliate links. As an Amazon Associate, I earn a commission from qualifying purchases at no extra cost to you. Full Disclosure Here.
Today I share the next author interview and giveaway in the Summer 2014 Backdoor Survival Book Festival.  Sara Hathaway, the author of Day After Disaster, is here to answer some questions and of course, to award one lucky reader with a copy of her book.
When Sara first reached out to me, she said:
'As an individual extremely concerned about the future of our world and our survival in it, I found your blog very insightful and I was thrilled that you have a section on fictional novels about this subject. I have written a novel called, Day After Disaster, detailing a thrilling story of a woman caught in a world that has been torn apart by natural disasters. Your blog readers may be very intrigued with this story of survival on a rapidly changing planet."
Since most novels in the survival fiction genre feature a male protagonist, I am happy to see a novel that provides a woman's perspective on the decisions that must be made in order to survive a world in chaos.
Enjoy the interview and be sure to check out the details of this week's giveaway below.
An Interview with Sara Hathaway
Tell me about your book, Day After Disaster. What is it about?
Day After Disaster features a dynamic young woman, mother and wife, Erika, who is thrust into a world turned upside down by a series of natural disasters. Finding herself alone in a city mutilated by this disastrous situation, she must save herself. Once free of the city confines, she desperately tries to navigate through the foothills of the Sierra Nevada Mountains to get back home to her family. Not knowing if they are alive or dead she must call on all of her survival instincts to plot a course through this broken environment.
What type of research did you have to do while writing your book?
My research centered mostly on the history of the gold country area in northern California.

While most of the places in my book are real, some of the specific details have been skewed. For example, the town of Auburn does exist in Northern California but the dam that I describe in the book that breaks and floods Sacramento has not been built. The Foresthill Bridge is in place to span the purposed lake that the dam would contain but problems with design and environmental concern to the area has postponed the dam's completion even to this day. My scenario stems from research I did on the proposed dam and the suggested effects of its collapse on the Sacramento Valley.
How long did it take to write?
I actually started this book about ten years ago. Back then I was starting a family, attending college and then starting a managerial career. I worked on my book from time to time as a hobby. I kept at it all those years and stayed on track by maintaining a notebook with a time line, character descriptions, supplies lists and maps of my camps.

A couple of years ago it was nearing completion when I became pregnant with my second son. I decided while I had time I would complete the novel. I never intended to publish it but my mother insisted that I send it out to some publishers and see if they were interested. I was met with praises from a couple of publishers and decided that I would go ahead and publish it. Now, with all the positive feedback I have received, I realize it was the best decision I ever made.
Every book, fiction and non-fiction, includes a message. What message do you hope my readers will take with them after reading Day After Disaster?
For the readers of Backdoor Survival, the message I hope they take with them after reading Day After Disaster is how important their preparing for the unknown is.

The earth has changed dramatically over its history and it is ignorant to believe that it won't do so again. We have to have a certain population who is ready. A population that understands how to reap the benefits of the natural world around them and doesn't just focus on a world filled with technology. A computer will not feed you in the woods and it is important to possess the knowledge of what will.

I also hope Day After Disaster would provide them with the understanding of how important it is to have a plan for your family should a catastrophe strike. Not just one plan but a series of scenario planning. For example: if the house is gone where do we go, if the bridges are out where would you cross, if the roads are impassible how will you travel, what about extended family and loved ones?  Are they prepared as well?
Can you tell us a little bit more about yourself?
As a child, growing up in rural Michigan, I fished the Great Lakes with my family, gardened and canned with my mother, shot rifles and shotguns with my grandfather, and learned to bow hunt, skin and gut animals with my neighbor. I also had a horse that was my best buddy and we spent many days in the woods together.

These things developed a profound interest in the natural world around me. At the age of 16 I moved to Northern California where I met my husband. Throughout college I focused on a managerial career but after graduating from The California State University of Sacramento I returned to my passion. I have extensively researched and practiced self-defense and survival techniques in the natural environment. I also focus on utilizing forgotten life-sustaining methods of the generations past.

I currently live with my husband and two sons in Northern California where I am at work on the sequel to my first novel.
As an author in the survival, prepping and/or homesteading niche, what are you personally preparing for?
I am preparing for a catastrophic situation that will amount to chaos in our country. Whether that would come from a planet experiencing rapidly changing conditions or a socially inflicted problem, I would rather know how to sustain my family away from people rather than fight the masses as they exit out of the cities and pillage the countryside homes.
Do you have plans for another book?
Yes, I have at least four books planned for "The Changing Earth Series". They will follow the main character and her family as the world continues to morph into a new landscape.
Is there anything else you would like to share with my readers?
I would like to congratulate you and your readers for sharing and discussing the inevitable possibilities we may be facing. It is hard to rationalize a world that could dramatically change everything we know in an instant. The importance of having the basic knowledge of how to do what you need without running to a store to complete a task can't be overlooked!

Backdoor Survival helps provide the tools to accomplish that and its readers are very intelligent for using this information wisely.

For additional information about me and my book, visit my website at www.authorsarafhathaway.com.
The Book Giveaway
A copy of Day After Disaster has been reserved for one lucky reader.
To enter the giveaway, you need to utilize the Rafflecopter form below.  There are a number of options including a "free for everyone" option that requires just a single click. Easy peasy!
The deadline is 6:00 PM Pacific next Thursday with the winner notified by email and announced in the Sunday Survival Buzz.  Please note that the winner must claim their book within 48 hours or an alternate will be selected.
The Final Word
As with all of the giveaways on Backdoor Survival, winners selected totally at random.  Someone always wins and it could be you.  Please take a few minutes to enter the giveaway to win a copy of Sara's new book.
Enjoy your next adventure through common sense and thoughtful preparation!
Gaye
If you enjoyed this article, consider voting for me daily at Top Prepper Websites!  In addition, SUBSCRIBE to email updates  and receive a free, downloadable copy of my e-book The Emergency Food Buyer's Guide.
Spotlight Item:  Day After Disaster
"How fragile everything had been. People walked through life everyday taking it all for granted, their cars, their cell phones, their lattes, their dramatic social issues and their medical problems."
She had started her day at her home in the mountains just like any other. There was nothing unusual about making the familiar drive down to Sacramento to go to work. Then in a flash, Mother Nature decided it was time to create a new landscape.

Follow the journey of a dynamic young woman, mother, and wife, Erika, as she is thrust into a world turned upside down by a series of natural disasters. Alone in a city mutilated by disaster, she must navigate the path home, back to her family. Not knowing if they are alive or dead, she must call on all of her survival instincts to navigate this broken environment.

Will she make it home? Will her family still be alive? What will Mother Nature dish out next?
Bargain Bin:  Today is all about books.  Listed below are all of the books in the current Backdoor Survival Book Festival. There are both fiction and non-fiction titles and a bit of something for everyone.
Note:  If you covet an e-Book reader, consider the Kindle. And if not, at the very least pick up the free Kindle app so that you can read Kindle books on your PC or favorite electronic device.
Help support Backdoor Survival. Purchases earn a small commission and for that I thank you!
~~~~~~~~~~~~~~~~~~~~~~~~~~~~~~
Coming Soon in Print!
No list of books would be complete without my own e-book, The Prepper's Guide to Food Storage.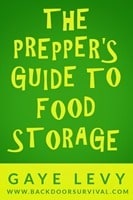 The Prepper's Guide to Food Storage is a book about food: What to store, how to store it and best practices. It is a roadmap for showing ordinary citizens that long-term food storage is not something that will overwhelm or burden the family budget.   It is based on my own tried and true experience as someone who has learned to live the preparedness lifestyle by approaching emergency preparedness and planning in a systematic, step-by-step manner.

Whether you simply want to prepare for natural disasters or whether you believe the world is headed toward a major food crisis, this book is for you. It covers basic tips and techniques you can use to stock your food storage pantry so that you can be assured that your family will have food to eat, no matter what.