This site contains affiliate links. As an Amazon Associate, I earn a commission from qualifying purchases at no extra cost to you. Full Disclosure Here.
Two and a half years ago, I took a tried and true combination of essential oils and and combined them into a salve.  A few months after that, I shared the directions for making the salve and that, as they say in the movies, is history.  Salves became my thing as I mixed various combinations of essential oils with a simple salve to concoct my own skin care health remedies.
This has been a wild ride filled with knowledge as I have learned to use my custom salves to resolve many day to day first aid and health-related woes.  Together we have come a long way since many of you have also begun to make salves, use them, and experiment on your own with new combinations of essential oils.
Through all of this, there has been a common thread in both the comments and in my email inbox.
"Gaye, I would love to try your salve recipe but I don't want to make it myself.  Would you please sell some to me?"
My answer is always the same.
As much as I would like to help, I do not have the time to create salves for resale.  It really is quite easy though, and I do hope you try to make some yourself".
Last fall, I had a number of conversations with Spark Naturals about the success of my salve recipe and was clued in to the news that they would soon be offering some custom crafted salves, included a base salve that you could purchase so that you can add your own oils, just like I do.   I may have mentioned this casually in the past but as always, I wanted to give them a try before sharing them with you.
Voila! Today is that day.  Not only that, Spark Naturals has generously provided a kit of six different salves in a giveaway to one lucky reader.  I am so thrilled I can hardly stand it.
The New Salves From Spark Naturals: Something For Everyone
There are six new salves in the Spark Naturals product line with more coming later this year.  Here is a description of each.
Base Salve: This is a foundation salve and is comparable to my Simple Salve.  Using base salve, you can add your own oils to mix and match and concoct your own unique salves.
Restore Healing Salve: This is a healing salve. It is similar to my own DIY Miracle Healing Salve with the exception that it incudes Melaleuca (known to many of you as Tea Tree) and Frankincense (a fantastic healer) as opposed to Peppermint essential oil.  Restore Salve is designed to help with dry and cracked skin, sores, and other topical ailments.
Revive Vapor Rub Salve: Like my own DIY version, this is designed to help with cold and flu symptoms. You can also apply it to muscles and joints for temporary relief of minor aches and pains.
Defense Protective Salve: Defense is designed to help protect and defend in times of need. It is similar to Shield, a Thieves-like blend.  The ingredients are Clove, Cinnamon Bark, Lemon, Eucalyptus, and Rosemary.
Dream Sleep Blend:  Dream is designed to help you rest, calm down and let your body get the sleep it needs. I don't know about you, but most preppers I know have issues with sleep, probably due to those never ending to-do lists.
Focus Concentration Salve: Focus is designed to help with concentration, meditation, stress and overall mood.
Each of these salves are formulated and blended using the highest quality products including 100% Pure Organic Virgin Coconut Oil, Organic Beeswax, Extra Virgin Organic Olive Oil and Vitamin E.  Each jar is approximately 40ml or 1.4 ounces.
A Word About Vitamin E
If you search the internet looking for salve recipes, you may see that many add Vitamin E, indicating it is a preservative.  I may have even said so myself, in error.
The truth, as I have recently learned, is that Vitamin E oil is an antioxidant and not technically a preservative.  That means when it is added to other oils, it will help prolong the shelf life of an oil otherwise exposed to oxygen and therefore, oxidation.  Vitamin E also aids in skin healing, especially on wounds.
When I asked Spark Naturals about the inclusion of Vitamin E in their salves, they gave me this answer:
The main reason for Vitamin E. its a great skin healing ingredient.
I was happy to see they did not promote Vitamin E as a preservative since, as I said, technically, it is not. Speaking of shelf-life, here is what they said:
As for the salves shelf life. If left unopened, stored out of direct sunlight, the shelf life is one year. If you leave it in your car, out in the sun, leave it opened on the counter, the self life is affected. We do not use preservatives in our salves.
My own experience with DIY salves is similar.  I go through each batch within six months and have yet to have one go bad.  That said, I do keep them stored at room temperature and never more than about 85 degrees (which is the hottest my Washington State house gets in summer).  Your mileage may vary so if in doubt, I recommend small batches.
How to Create a Custom Healing Salve
How do you create your own custom healing salves using the Spark Naturals Saves as a starting point?  Much as I use Miracle Healing Salve or Simple Salve as a base, you need to scoop out the desired about of salve then mix in your oils.  It is that easy.
I know there are naysayers but I like to use these plastic 1/2 ounce jars because they are inexpensive and they do the job.  Personally, plastic does not scare me.
Depending on what I am concocting, I will use 30 drops of essential oil to each 1/2 jar of Simple Salve or Spark Naturals Base Salve.  This is a 10% dilution so you can use less (or more) to start and adjust with the next batch. Just keep in mind that with essential oils, less is often more.
If you are starting with the Spark Naturals Base Salve, you can gently heat the desired amount in a water bath until it liquefies, being mindful not to get even the smallest speck of water inside.  The way I do this is to place the small jar into a Pyrex cup first, then put the cup in the water.
The picture below does a better job of describing this than I can.
To make your own DIY Miracle Healing Salve, take the entire jar of Base Salve, and add 4 drops each of Lavender, Rosemary, and Peppermint essential oils.  This makes a 2% dilution which is not very strong but it seems to work just fine for all sorts of day to day uses.  That said, you can add additional drops if you are so inclined.
Often times, I use Miracle Healing Salve as a base.  To do the same with Spark Naturals Restore,  dole out the desired amount into a smaller jar, add additional oils, then stir like crazy.  I use a bamboo skewer as a stir stick but a coffee stirrer would work just a well.
The Giveaway
Okay, we have come to the part you have been waiting for.  Spark Naturals has a reserved a kit that includes each of their six fantastic salves for one lucky reader.
You know the drill.  The deadline is 6:00 PM Pacific next Tuesday with the winner notified by email and announced on the Rafflecopter in the article.  Please note that the winner must claim their prize within 48 hours or an alternate will be selected.
Note:  Due to Customs requirements, this giveaway is only open to residents of the United States.
The Final Word
Essential oils and salves in particular have become such a large part of my daily routine that I want to write about them in each and every article.  Perhaps some day I will find the time to start up the essential oils website I talked about over a year ago.
In the meantime, however, if you subscribe to Backdoor Survival you still have the option of opting in to the special "Essential Oils" VIP list.  I use that list to send out periodic articles relating to essential oils as well as special offers (mostly free shipping weekends).  If you are interested, you can sign up with this link.  As a bonus you will also get a copy of my All-New Backdoor Survival Emergency Food Buyer's Guide.
I do hope you will take a few moments to enter the giveaway.  This is a fantastic opportunity to give healing salves a try but be forewarned.  You will be hooked!
Enjoy your next adventure through common sense and thoughtful preparation!
Gaye
PS:  From February 26 to February 28, Spark Naturals is offering free shipping on all orders.  This means that you can try one of the new salves for as little as $8.99 before discounts.  If you wish to place an order with Spark Naturals, please note that you will get a 10% discount off both regular and sale pricing using code BACKDOORSURVIVAL at checkout.
If you enjoyed this article, consider subscribing to email updates.  When you do, you will receive a free, downloadable copy of my e-Book, The Emergency Food Buyer's Guide.
You can also vote for Backdoor Survival daily at Top Prepper Websites!
Spotlight:  Spark Naturals Healing Salves
If you would rather purchase your salves, Spark Naturals currently has six available include a base salve that you can use to create your own unique blend.  The salves are reasonably priced and are a great way to get started using essential oils.

Note that you always enjoy 10% discount off both regular and sale pricing using code BACKDOORSURVIVAL at checkout.
Bargain Bin:  Below you will find links to everything you need to make your own Simple Salve, an all-natural alternative to petroleum jelly.  Want to learn more?  Read DIY Simple Salve: An All Purpose, All Natural Ointment and Carrier Oil.
Beeswax Organic Pastilles, Yellow, 100% Pure 16 Oz:  I ordered the white pastilles but have since learned that the natural yellow pastilles are better.  That said, the difference may not be discernable – just be sure that what you purchase is cosmetic grade.
White Plastic Jar with Dome Lid 2 Oz (12 Per Bag):  I chose to use these small ointment jars rather than Mason jars for my salve.  I also have similar jars in the 1 ounce size and 1/2 ounce size (my favorite for mixing up various salve and essential oil concoctions).
Coconut Oil:  Coconut Oil from Tropical Traditions is my preferred coconut oil.  I love it so much I purchased a 5 gallon tub.  Really, I did!  I find it very silky to work with and love the taste when used in cooking.  Note that no refrigeration is required and although it solid at room temperature, it melts at 76 degrees.  The Nutiva brand from Costco works well too.
Kirkland Brand "Pure" Olive Oil:  This is the brand I use.  When I can, I purchase it at Costco.
Ball Jar Crystal Jelly Jars: Used with the optional plastic lids, these are perfect for your DIY Simple Salve.
Mason Jar Storage Caps Set of 8: These are fantastic!  These plastic lids screw onto a mason jar and are perfect in the pantry or to cap you salves.  There is both a regular and a wide mouth version.  I can't believe I have not mentioned these before!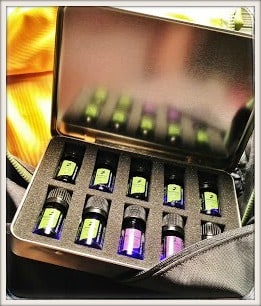 Spark Naturals Essential Oils:  One of my favorite SN products is the "Health and Wellness Kit" which includes all of my favorites plus everything you need to make my custom salves.   Be sure to use the discount code BACKDOORSURVIVAL to receive a 10% discount.
Glass Droppers, Pack of 6: I bought a package of these and loved them.  When I went to re-order, I accidentally ordered plastic instead glass droppers.  Learn from my mistake.  The price is the same so get the glass ones.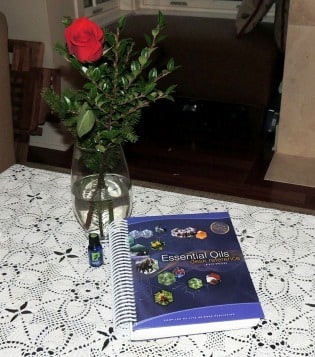 Essential Oils Desk Reference 6th Edition:  I thought long and hard before purchasing this book myself, but once I did, I was so grateful I took the leap.  The information is cross referenced in many ways making it easy to find what you are looking for.  When searching for a particular remedy, you may see multiple oils listed and any will work but they are presented in order of typical efficacy.  The nice thing is that if you do not have #1 on hand, you can move down the list.  I have found the recommendations to be spot on.
~~~~~~~~~~
What are the best oils for your survival kit? Here are my top picks.