This site contains affiliate links. As an Amazon Associate, I earn a commission from qualifying purchases at no extra cost to you. Full Disclosure Here.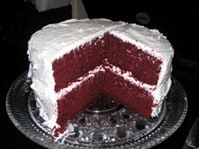 Cakes make people happy.  That is simply a truism.  I don't know why but a cake can put a smile on the face of the meanest grump.  (Not that you freely associate with grumps, right?)  So take a cake, add a birthday and you get a really happy person.
Last week I baked a cake for SurvivalHusband's birthday:  a nice tall, double layer Red Velvet Cake.  Was I intimidated at the thought?  Nope.  (Well maybe the layer cake part since baking in an oblong pan is way more efficient and a lot easier.)  And here is why the task of baking a cake was not intimidating:  I always start with a mix.  It is easy, it is cheap, and with a few special add-ins, it tastes wonderful.
Today I would like to share with you my Magical Cake Recipe – so easy even a bachelor can make it with perfect results.  (No disrespect to you bachelors out there but if you can bake, chances are some lucky gal has already snagged you for her own.) Read on for instructions on how to make your own delicious red velvet cake using cake mix and pudding.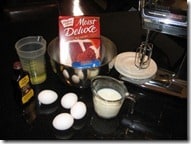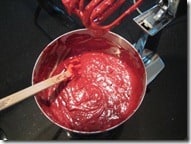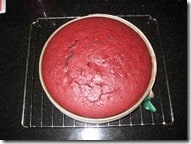 How to Make a Cake the Quick, Easy, and Delicious Way
Ingredients:

Duncan Hines cake mix
3-oz. box instant pudding (yes, sugar free works fine)
3/4 cup vegetable oil
3/4 cup milk
4 large eggs
1 tsp pure vanilla extract

Directions:

Preheat the oven to 350 degrees F. Grease a 9 x 13-inch pan or two 8 or 9-inch round pans and then lightly coat the pans with flour. Or even easier, use cooking spray.

Select a pudding flavor that you think will go well with your cake (I used chocolate with my Red Velvet Cake) and dump the pudding mix into a bowl with your dry cake mix.  Smish it all together with a fork so that it is well mixed.

Note:  If you can't decide on a flavor of pudding, use vanilla.  Vanilla pudding will complement any cake flavor without being overwhelming.  Another idea is to use one of the fancier pudding flavors with a plain white or yellow mix.  Think coconut cream or banana for a subtle but delicious flavor.

Add the everything else (the wet ingredients) and  blend with your mixer for about two minutes.  Everything should be evenly mixed and smooth but don't over do it – 3 minutes is the absolute max.

If you bake a lot then you should consider investing in a stand mixer. It allows you to do other things while mixing up cakes.

Place the pan or pans in the oven for the recommended time listed on the cake mix box. The cake is done when the surface springs back lightly when touched.

Important:  Check the cake 5 minutes before it is expected to be finished to avoid over baking.  An over baked cake is a dry cake.

Remove the cake from the oven and cool on a rack. Frost the cake after it has cooled and serve.
Tips and Tricks
Get yourself some Magic Cake Strips.  These funny little do-dads get soaked in water than wrapped around your cake pan before you put pan in the over.  With this nifty strips, your cake will come out with an even top – no dome in the middle – perfect.
For an easy frosting, but yourself a can of frosting.  You will find it right there next to the cake mix.  Remove it from the can, add about 1/4 teaspoon vanilla, and whip it up with your mixer until it is nice a fluffy.  Yum. Of course you can always make your own cream cheese frosting. There are plenty of recipes online to help you out with that. Cream cheese, powdered sugar, and vanilla are the the basic ingredients but some people use a little butter too!
There are lots of ways to doctor up a cake mix.  Try adding 4 oz of cream cheese instead of pudding for example.  You can even replace the pudding with a little sour cream if want for extra creaminess and moisture. My recipe above is the easiest way to make a mix taste "homemade" but to become an expert, pick up one of the books from the The Cake Mix Doctor.  I became the go-to gal for cakes at local pot lucks simply by mastering the banana cake recipe in this book.  So easy it is embarrassing!
My cake recipe can be used to make delicious cupcakes too. The mix is prepared the same way but then you just need to pour it into cupcake liners. This makes it easy to enjoy cake on the go with no fork, plate, or mess. Who doesn't love a cupcake?
Try using white chocolate instant pudding or instant chocolate pudding if you are a real chocolate lover. You could even replace the white frosting with chocolate frosting if you want.
Now, back to the Red Velvet cake. 
It's claim to fame is it's bright red color.  And although red velvet cake is definitely a Southern tradition, it's popularity has never been limited to the South.  Supposedly the red velvet cake was a popular choice at that Waldorf Astoria hotel in New York in the 1920s.   And there is even urban legend: a woman at the Waldorf was supposedly so taken with it that she asked for the recipe — for which she was charged $100 or more. In revenge, she passed it along to everyone she knew. The tale, like a similar one about a cookie recipe from Neiman Marcus, has been debunked.
And finally, a resurgence in the popularity of this cake is partly attributed to the 1989 film Steel Magnolias in which the groom's cake (a southern tradition) is a red velvet cake made in the shape of an armadillo.
So make a cake soon.  A frugalista's dream desert that will make everyone happy!
Enjoy your next adventure, wherever it takes you!
Gaye
Backdoor Survival Tip of the Day:   Have an old cake mix sitting in your panty?  And by old I mean 3 or 4 years old – even longer.  Well, like anything with leavening, the mix has a limited shelf life.  But in my experience, that shelf life has nothing to do with taste and everything to do with it's ability to rise.
I have successfully salvaged old cake mixes by adding 1/2 – 1 teaspoon of baking powder to the dry ingredients.  So far I have not had a failure.
Don't forget the water:  A number of family members and local friends have asked me about my water barrel, where to get one, how easy was it to set up and all that stuff.  Last things first.  It was simple.  I purchased a complete kit including the water purified, bung wrench, and siphon pump.  So easy.  I got mine , but similar barrels can be purchased at Emergency Essentials®
.  (There seems to be a run on water barrels so be prepared for backorders.)