This site contains affiliate links. As an Amazon Associate, I earn a commission from qualifying purchases at no extra cost to you. Full Disclosure Here.
By now you probably know that I have a virtual love-fest with certain authors.  These are the individuals that consistently put out meaningful and educational work that we can learn from, whether it is the form of preparedness oriented reference books or survival fiction.
This week I once again feature one of those authors, Kyle Pratt, as I introduce you to the third book in his "Strengthen What Remains" series, Braving the Storms.  I love audiobooks and lucky for me, I was able to listen to the book during my daily walks with Tucker the Dog, and during my nightly de-stressing while coloring in "adult" coloring books.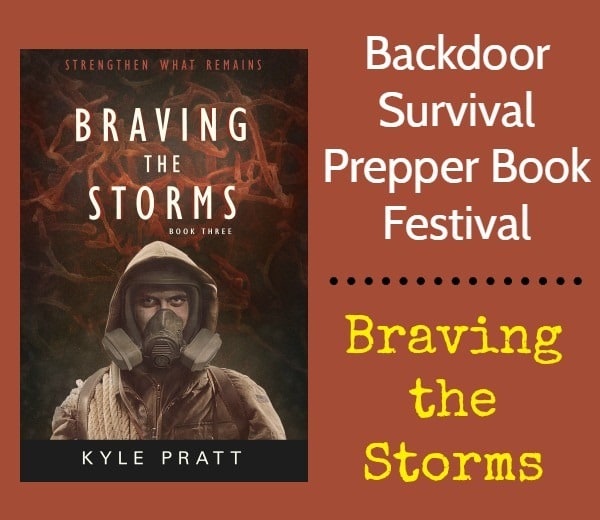 Braving the Storms was, for me, not so much about the consequences of the unraveling of society as about the human factor.  It was about the feelings, the fears, and the optimism of the characters who, by the end of book, you really care about.  I do not want to spoil things for you so I will leave it at that.  This is Kyle Pratt at his best.
Today I share an all new interview with Kyle, plus, I have ten copies up of his book up for grabs in a giveaway.  I did say this was huge giveaway, after all.  But there is more.  The winners will have their choice of a print book, eBook, or audio book.  Pretty nice right?
Enjoy the interview then be sure to check in below to learn about the giveaway.
An Interview with Kyle Pratt, Author of Braving the Storms
One question on everyone's mind is what they would do if a disaster or even a collapse occurred in their own back yard. If that happened to you, would you bug-in or bug-out and why.
There are conceivable disasters that would force a family to flee their home, or bug-out. However, I have chosen to live in a place and in a way to minimize that possibility. I live in a rural area on a small farm.

There are many reasons I would want to stay put beyond the fact that this is my home. We have a pantry full of food and supplies. Over the years we have planted an orchard of apple and pear trees. There is a well with both an electric and hand pump. We have chickens and bees. These things, and many others, would be useful in a disaster and would be difficult, or impossible, to relocate.

However, I still have a bug-out bag (two actually) and could if the situation required it, leave quickly.
If you did decide to hunker down and bug-in, what items would you include for comfort? Or would you?
It is possible to store a lot of food as MREs or drums of rice and beans, but who would want to eat only that. I've already mentioned that we grow apples and pears. Part of the reason we do is because these are great snack foods. However, in addition to items like that we also stock things like coffee, cocoa, and chocolate.
Home defense and protection from the bad guys is a big deal. That said, not everyone is prepared or even qualified to use firearms. What do you recommend in that case?
Robert Heinlein once wrote that, "An armed society is a polite society."

In that vein, I do believe every adult should have access to at least one firearm and know how to use it. Of course there are non-lethal weapons such as Tasers and Mace. However, I also recommend learning martial art techniques such as Krav Maga, Karate or Judo.
These days, it seems as though a new book about survival or preparedness is released daily. How is your book different from the others and why should we read it?
Braving the Storms is the third book in a series that, for me, started with a simple premise. If countries such as Iran, North Korea and China conspired with terrorists to weaken the United States, how might they accomplish it? Everything that happens in the book follows from the resulting terror and destruction. There are no vampires, zombies or aliens.

I am a prepper and include some information about prepping when and where it fits into the story, but my main character isn't a prepper. He does have a military background and some skills (otherwise it might be a really short book) but he doesn't know everything, and makes mistakes. He's a good person, but very human.

All of my point-of-view characters are fairly average people just trying to survive and do the right thing. I believe that allows my readers (mostly average people trying to get along in life and survive) to identify with the characters and learn while being entertained.
What is your favorite survival, disaster, or post-apocalyptic film or TV show?
My favorite survival movie is Contagion. It came out in 2011, and starred Matt Damon, Laurence Fishburne, Gwyneth Paltrow, and Kate Winslet. The plot realistically portrays the spread of a flu-like virus around the world. While medical researchers and public health officials struggle to identify and contain the disease, law and order is breaking down.
6. It is said that everyone has a book inside them. What advice do you have for the budding author?
Finish your book. Many people say they always wanted to write a book, or they have several chapters done. Few people come to me and say, "I've finished my book, now what do I do?"

Today is a great time to be an author, but before an agent or publisher discusses possible options, they will want to know that you can finish a novel.
The Giveaway
Kyle has reserved 10 copies of Braving the Storms for this Book Festival Giveaway. The winners can choose their format: print book, eBook, or audiobook.
The deadline is 6:00 PM Pacific Tuesday with the winner notified by email and announced on the Rafflecopter in the article.  Please note that the winner must claim their book within 48 hours or an alternate will be selected.
Note:  This giveaway is only open residents of the United States.
By the way, did you know that you can get a free trial of Audible along with 2 free audio books?  Be forewarned that you will be hooked!
The Final Word
As with the rest of the books in this prepper book festival, Braving the Storms is an outstanding example of the newest books coming out of the niche.  These are books that not only help us learn, but they also cross the line into the mainstream, educating the world about the threats we face and what to do about them.
Please indulge me as I put in a plug for the entire Strength What Remains series. If you decide to read it, I am confident that you will not be disappointed.
For more information about the books in this latest book festival, visit Prepper Book Festival 11: The Best New Books to Help You Survive.
Enjoy your next adventure through common sense and thoughtful preparation!
Gaye
If you enjoyed this article, consider voting for Backdoor Survival daily at Top Prepper Websites!
In addition, SUBSCRIBE to email updates  and receive a free, downloadable copy of my e-book The Emergency Food Buyer's Guide.
~~~~~~~~~~~~~~~~~~~
Spotlight:  Braving the Storms (Strengthen What Remains)
Braving the Storms, is the third book of the Strengthen What Remains series.

In the first book, Through Many Fires, nuclear terrorism strikes the nation's capital and six other American cities. In the second book, A Time to Endure, society continues to unravel, and civil war threatens the divided and economically-crippled land.

Now a new and even more lethal problem emerges. A swift and deadly flu epidemic sweeps out of overcrowded FEMA camps and strikes the nation with horrific results. Caden Westmore struggles to keep his family and community safe, while others use the plague to advance their own military and political agendas.

Caden must succeed, but how can he, when both the epidemic and chaos attack his hometown and family?"
~~~~~~~~~~
Plus: The Preppers Guide to Food Storage
No list of books would be complete without my own book, The Prepper's Guide to Food Storage.  The eBook print version is available.
~~~~~~~~~~