This site contains affiliate links. As an Amazon Associate, I earn a commission from qualifying purchases at no extra cost to you. Full Disclosure Here.
The MRE or Meal Ready To Eat is a staple of the US military but here is a little secret: most people really don't like to eat them unless they have to do so or so it seems from those I have asked that have actually had to use them frequently. This article is going to show you nine different MREs that Matt and I put together using food options we found at the grocery store or on Amazon.
Since the military uses numbers for their MRE menus, we decided to use letters. In this post, you will learn how to put together Biggers MRE Menus A-I. We hope to add more over time and will be sure to update this article when we do.
Why make your own MRE's?
You can pick and choose your own menus
Those that are on restricted diets can plan their own custom MRE meals so they have convenience without sacrificing their health
Military MREs do not have a full day's worth of calories. By making your own you can supply yourself with a full day's worth of calories in one meal pack.
Civilian MREs like 5 Star have a paltry amount of calories for the money you pay. $7.50 for 500 calories is a terrible value. For more info please see my comparison and review of Warfighter vs Civilian MREs. The difference is shocking.
Military MREs are not designed to make you not have to use the bathroom despite all the rumors.
There is a big myth that the gum in MREs contains something to help you keep things flowing but that is not true. There are a few reasons so many people think that MREs are designed to make you constipated is that they are a big change in diet for most people.
A major diet change combined with circumstances where someone is not consuming enough fluids can lead to constipation. Unless you have specific dietary concerns, over time your body will adjust to a new diet. The fluid issue is something you just have to try to be aware of and drink plenty of water whenever you can. In a major situation, this may be hard to do at times.
A recent study featured in The Army Times determined that there is evidence that MREs will make you less regular but they found another reason in addition to the change in diet and lack of water. MRE foods are highly processed and absent of the good gut bacteria that is found in fresh foods or things like yogurt. This bacteria helps keep your digestive system in good health and MREs simply do not provide that. So if you are going to eat a lot of MREs, it would be a good idea to have a few bottles of probiotics on hand. They are very inexpensive and come in easy to swallow capsules. Some high-quality daily vitamins already have some in them as well so some may want to just get a good daily vitamin that will cover any gaps in nutrition and provide good bacteria for healthy digestion.
The military MRE contractors make MREs for some special diets. There are halal, kosher, and vegetarian options but that is about the extent of it currently.
Special thanks to Toby Cowern at SHTF School for showing me that article from The Army Times and Tim Glance at The Old Grouch's Military Surplus for answering all my questions about MREs! If you are ever in Western North Carolina, check out his store. I have been a customer since I was 16 years old.
The Biggers MRE
Matt did a lot of this meal planning and calorie counting. Our goal was to put together MREs that would actually get you through a day, are cost-effective, and made with convenient shelf-stable foods that we wouldn't think were bad to eat.
Let's get started.
Biggers MRE Menu A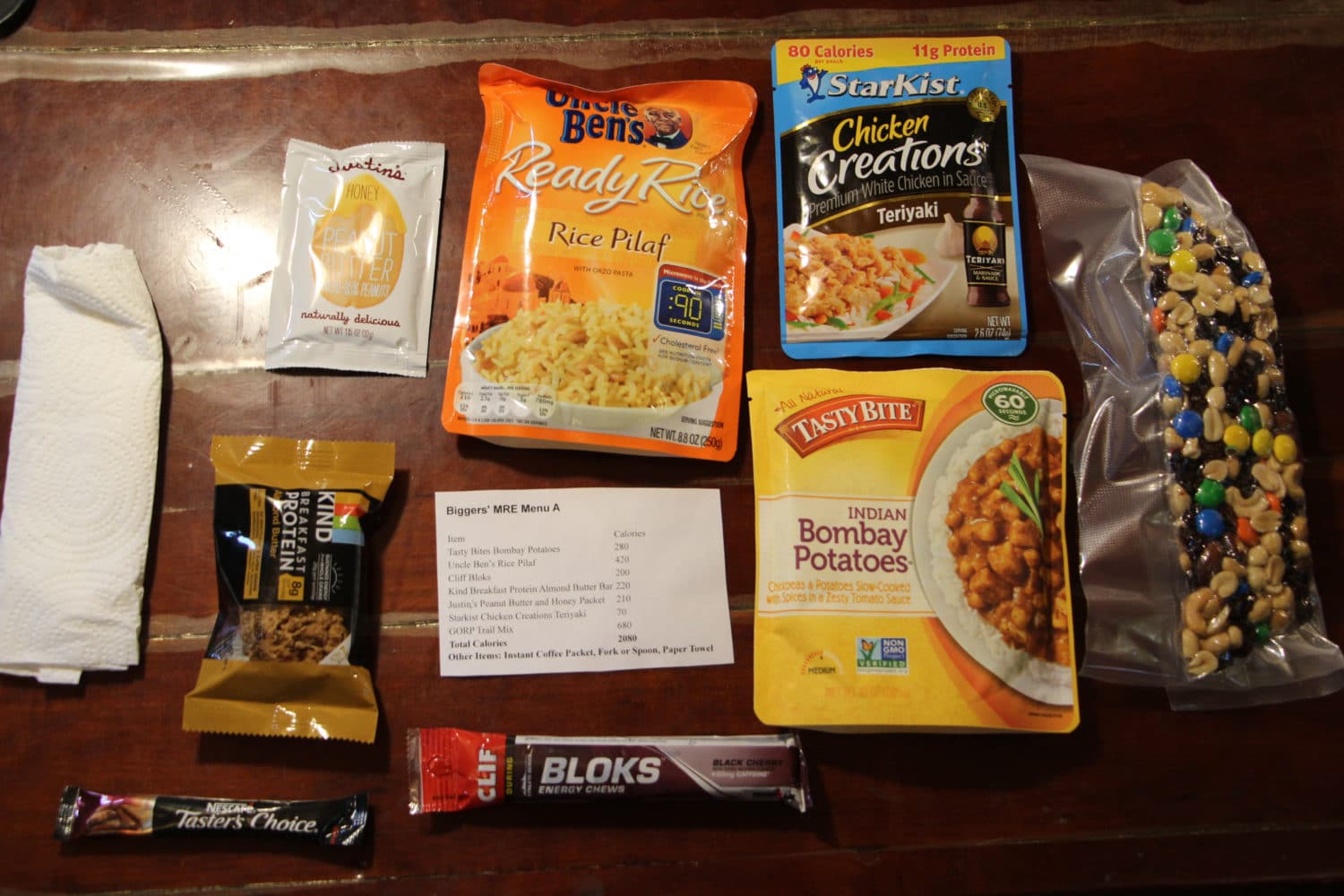 | | |
| --- | --- |
| Item | Calories |
| Tasty Bites Bombay Potatoes | 280 |
| Uncle Ben's Rice Pilaf | 420 |
| Cliff Bloks | 200 |
| Kind Breakfast Protein Almond Butter Bar | 220 |
| Justin's Peanut Butter and Honey Packet | 210 |
| Starkist Chicken Creations Teriyaki | 70 |
| GORP Trail Mix | 680 |
| Total Calories | 2080 |
Biggers MRE Menu B
| | |
| --- | --- |
| Item | Calories |
| Campbells's Ready Meal Beef & Noodles | 340 |
| Uncle Ben's Spanish Rice | 400 |
| Cliff Bloks | 200 |
| Kind Breakfast Protein Almond Butter Bar | 220 |
| Justin's Peanut Butter and Honey Packet | 210 |
| Nutella With Breadsticks | 260 |
| GORP Trail Mix | 340 |
| Total Calories | 1970 |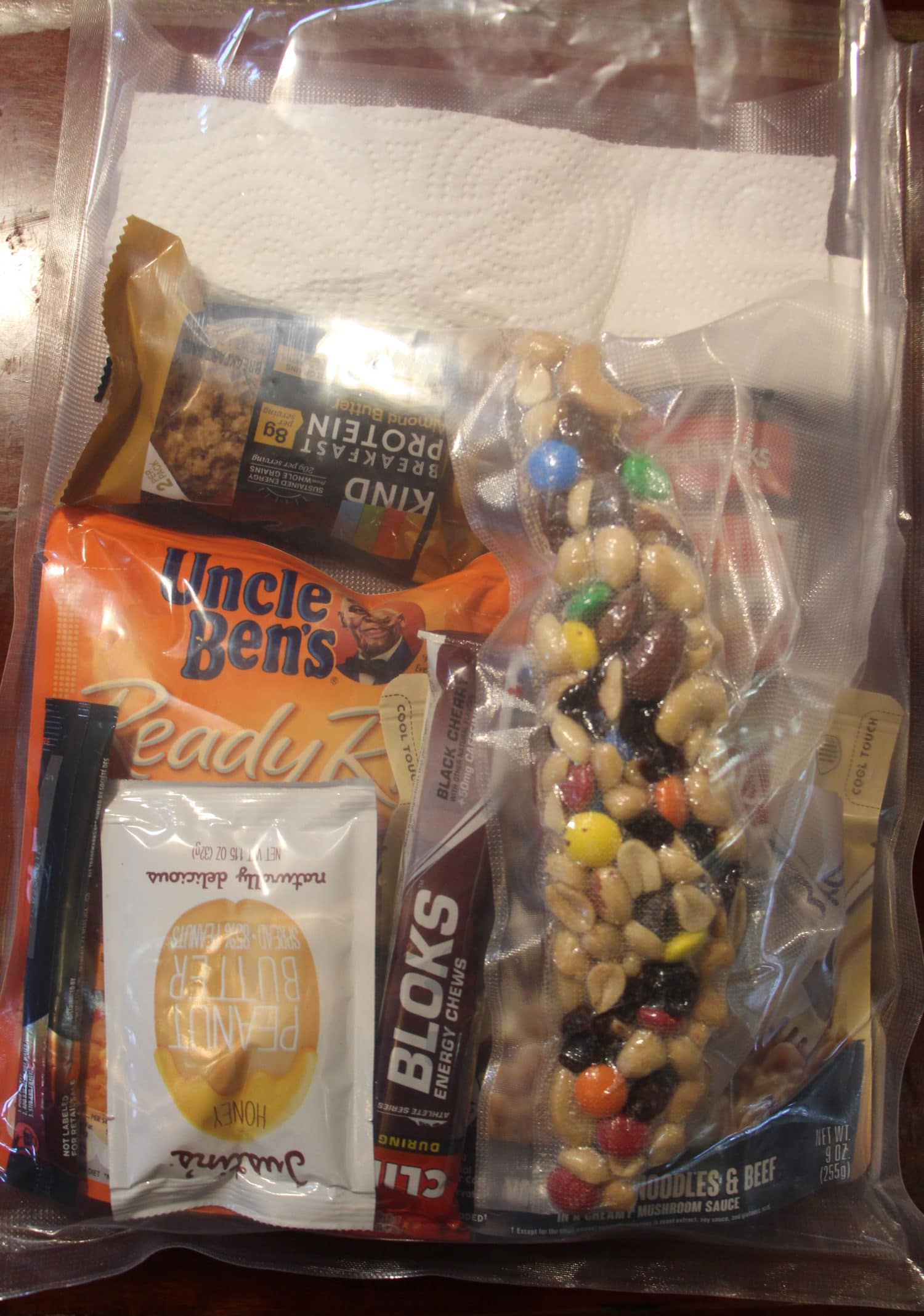 Biggers MRE Menu C
| | |
| --- | --- |
| Item | Calories |
| Tasty Bite Brown Rice Biryani | 360 |
| Tasty Bite Jodhpur Lentils | 260 |
| Cliff Bloks | 200 |
| Kind Breakfast Protein Almond Butter Bar | 220 |
| Nutella With Breadsticks | 260 |
| GORP Trail Mix | 680 |
| Total Calories | 1980 |
Biggers MRE Menu D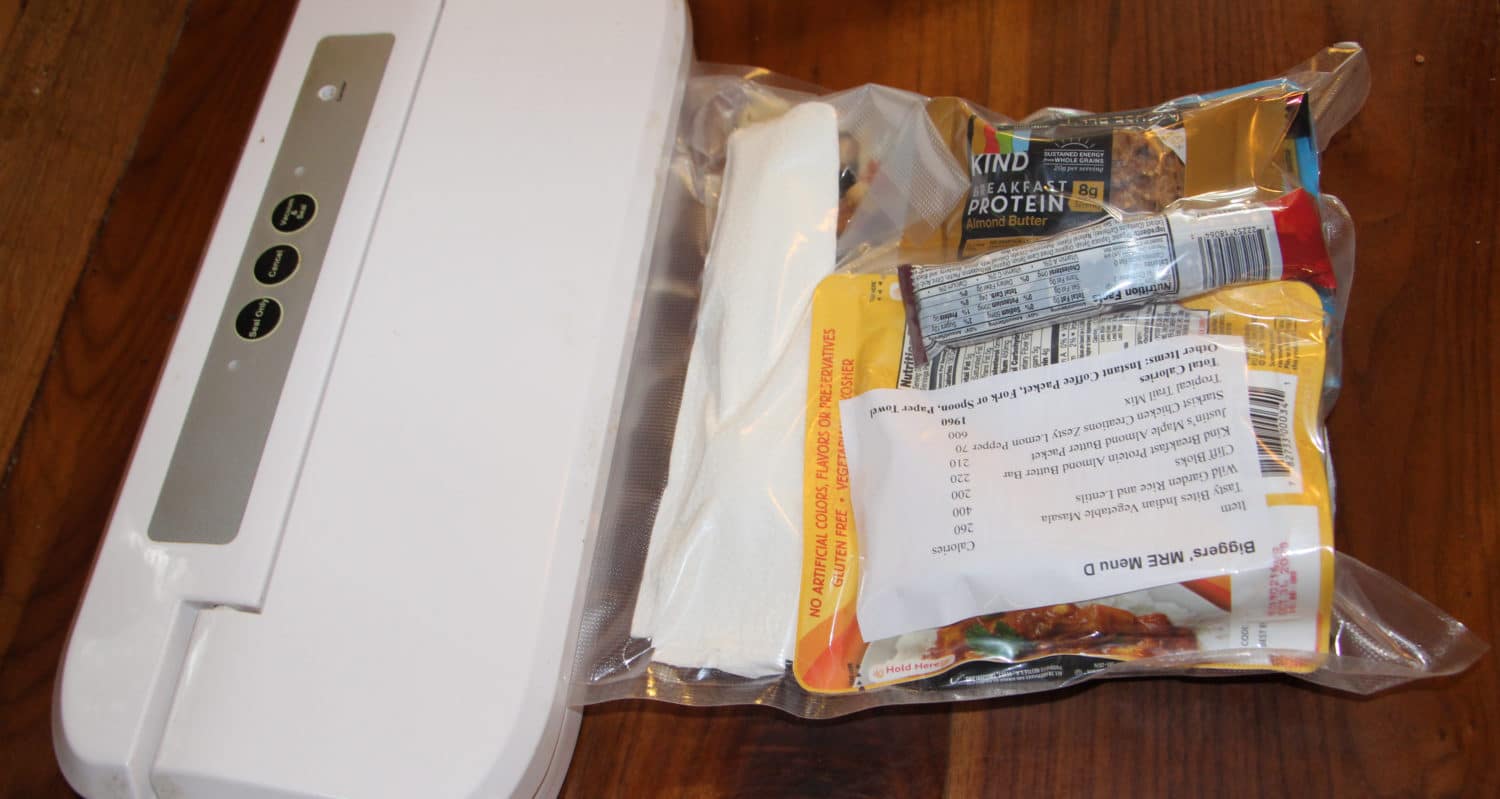 | | |
| --- | --- |
| Item | Calories |
| Tasty Bites Indian Vegetable Masala | 260 |
| Wild Garden Rice and Lentils | 400 |
| Cliff Bloks | 200 |
| Kind Breakfast Protein Almond Butter Bar | 220 |
| Justin's Maple Almond Butter Packet | 210 |
| Starkist Chicken Creations Zesty Lemon Pepper | 70 |
| Tropical Trail Mix | 600 |
| Total Calories | 1960 |
Biggers MRE Menu E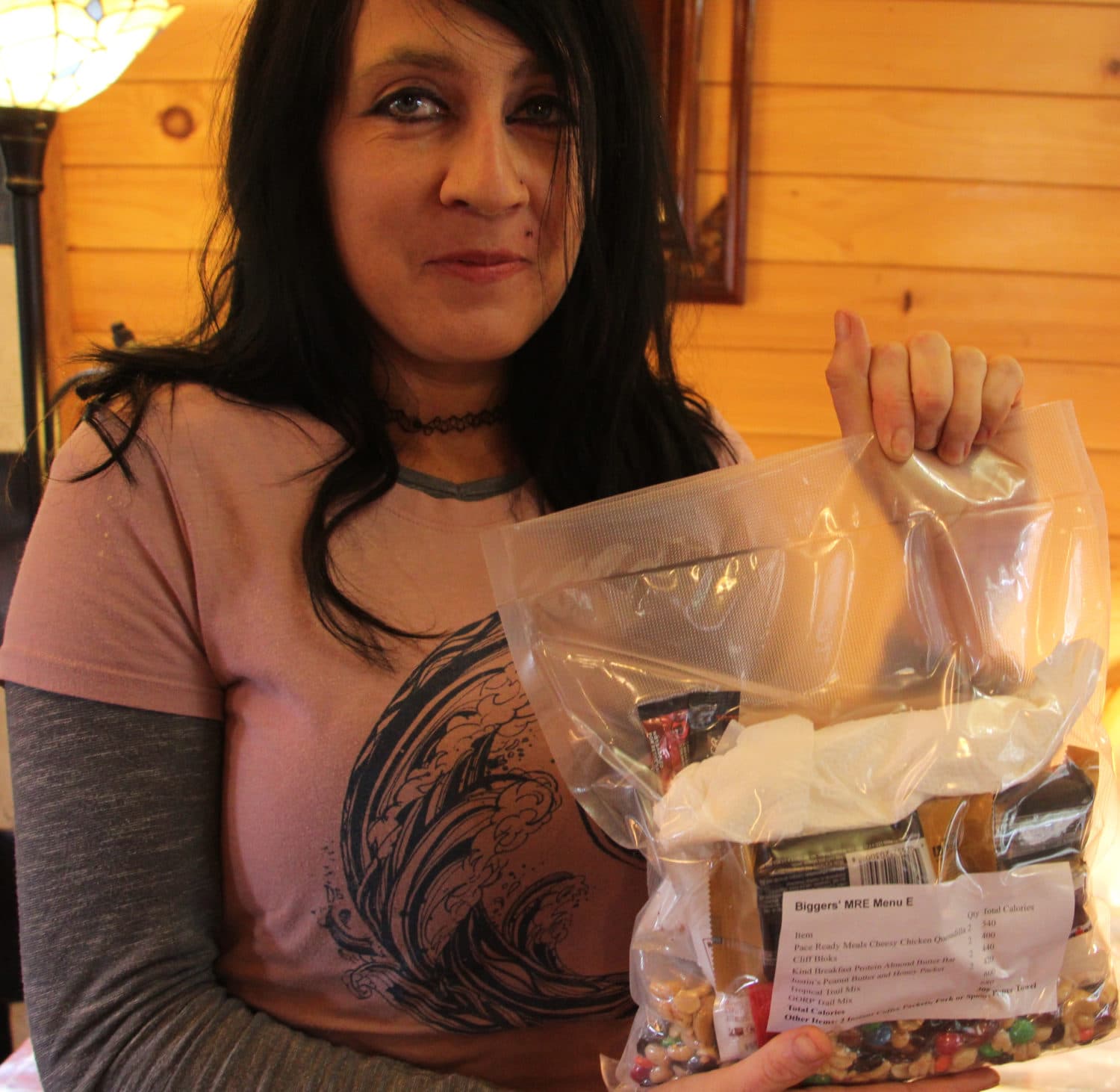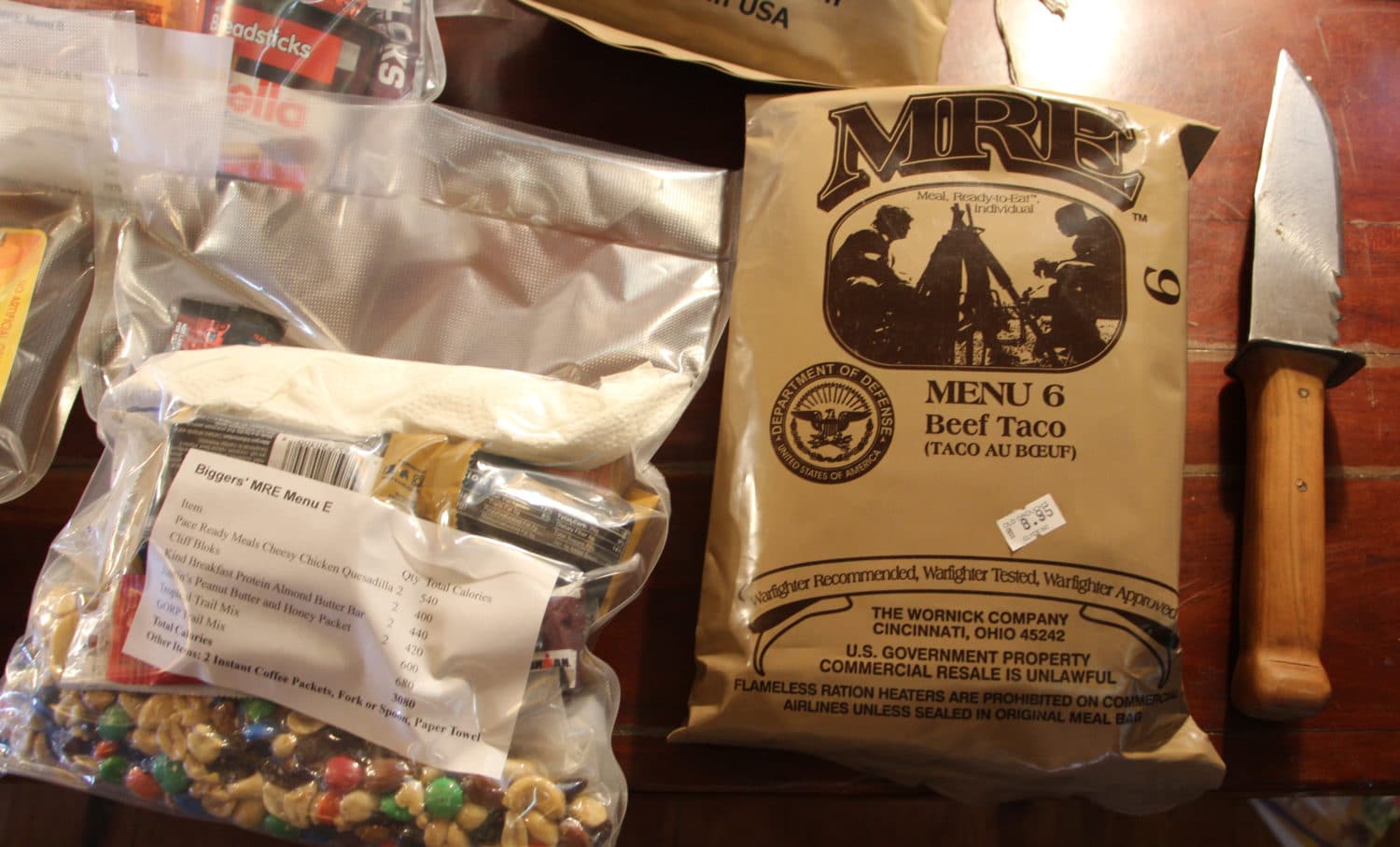 | | | |
| --- | --- | --- |
| Item | Qty | Total Calories |
| Pace Ready Meals Cheesy Chicken Quesadilla | 2 | 540 |
| Cliff Bloks | 2 | 400 |
| Kind Breakfast Protein Almond Butter Bar | 2 | 440 |
| Justin's Peanut Butter and Honey Packet | 2 | 420 |
| Tropical Trail Mix | | 600 |
| GORP Trail Mix | | 680 |
| Total Calories | | 3080 |
Biggers MRE Menu F
| | |
| --- | --- |
| Item | Calories |
| Pace Ready Meals Cheesy Chicken Quesadilla | 270 |
| Seeds Of Change Rice | 520 |
| Cliff Bloks | 200 |
| Kind Breakfast Protein Almond Butter Bar | 220 |
| Justin's Peanut Butter and Honey Packet | 210 |
| Tropical Trail Mix | 600 |
| Total Calories | 2020 |
Biggers MRE Menu G
| | |
| --- | --- |
| Item | Calories |
| Tasty Bite Indian Punjab Eggplant | 200 |
| Uncle Ben's Roasted Chicken Rice | 420 |
| Cliff Bloks | 200 |
| Kind Breakfast Protein Almond Butter Bar | 220 |
| Justin's Peanut Butter Packet | 210 |
| Tropical Trail Mix | 600 |
| Total Calories | 1850 |
Biggers MRE Menu H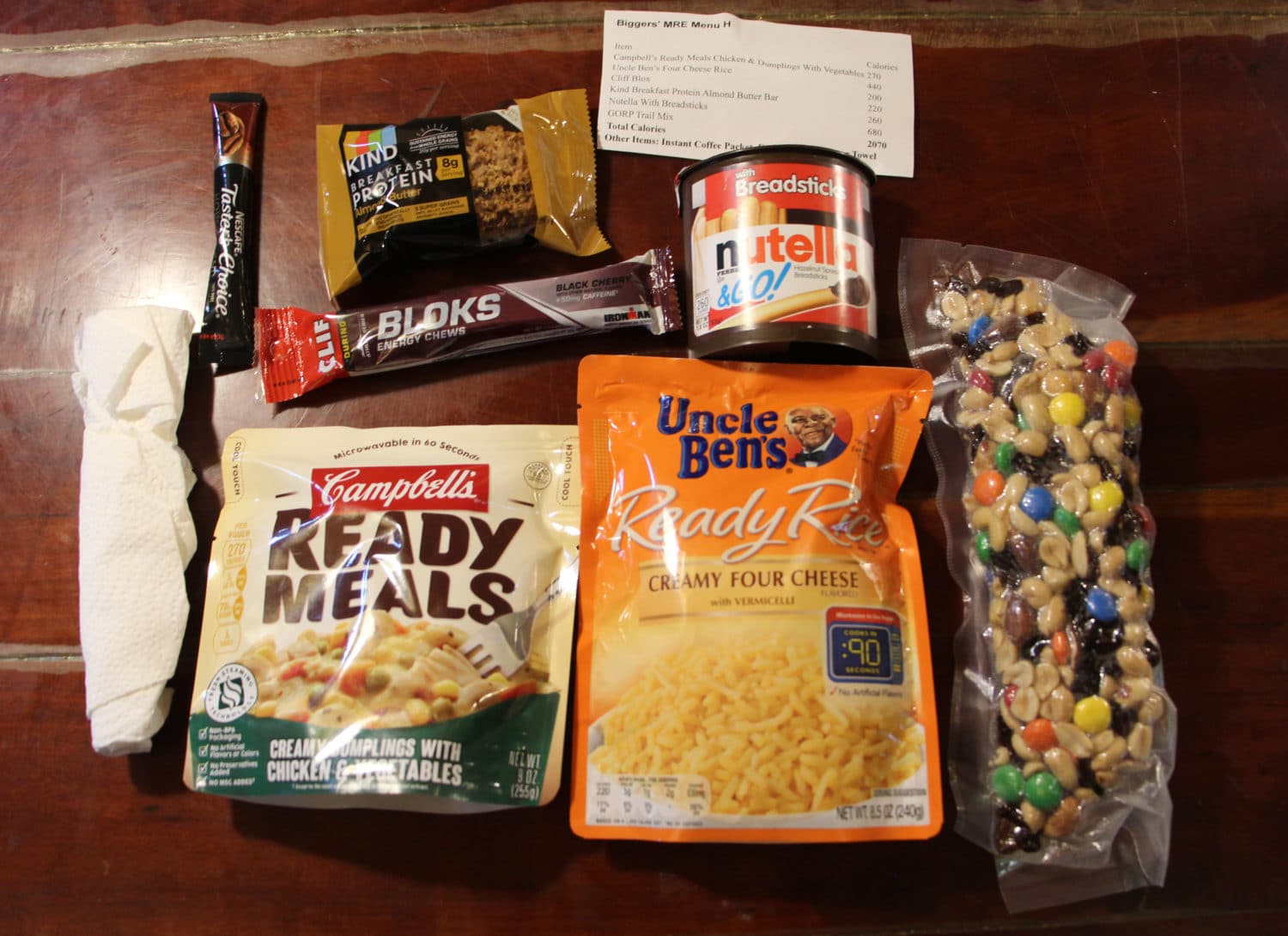 | | |
| --- | --- |
| Item | Calories |
| Campbell's Ready Meals Chicken & Dumplings With Vegetables | 270 |
| Uncle Ben's Four Cheese Rice | 440 |
| Cliff Blox | 200 |
| Kind Breakfast Protein Almond Butter Bar | 220 |
| Nutella With Breadsticks | 260 |
| GORP Trail Mix | 680 |
| Total Calories | 2070 |
Biggers MRE Menu I
| | |
| --- | --- |
| Item | Calories |
| Spam Single | 230 |
| Jyoti Organic Pinto Beans | 220 |
| Uncle Ben's Garden Vegetable Rice | 420 |
| Kind Breakfast Protein Almond Butter Bar | 220 |
| Justin's Peanut Butter Packet | 210 |
| Cliff Bloks | 200 |
| Tropical Trail Mix | 600 |
| Total Calories | 2100 |
Additions
Morale and Vice Packs
I call these morale packs because it is important to keep a good mindset in a survival situation. These packs can include a variety of items depending on how much weight you are willing to carry and your personal preferences. Here are some items that come to mind.
Small bottles of alcoholic beverages
Cigarettes or cigarillos
Playing cards
Candy
Gum
Small memo pad and pen
Drink mixes (some of these could be considered healthy)
Health and Wellness Packs
Vitamins and supplements: multi-vitamins, CBD oil, etc.
Basic medications like Advil or antacids
Sugar-Free Gum- This can aid in cleaning your teeth when you are cannot brush or if you don't have access to floss. Some gums are made specifically for this purpose.
Water Purification Tablets
Probiotic capsules to help with digestion and overall health. As I said before, your daily vitamin may already have some in it and if it does not, you may want to consider switching to one that does just to reduce how many capsules you have to remember to take.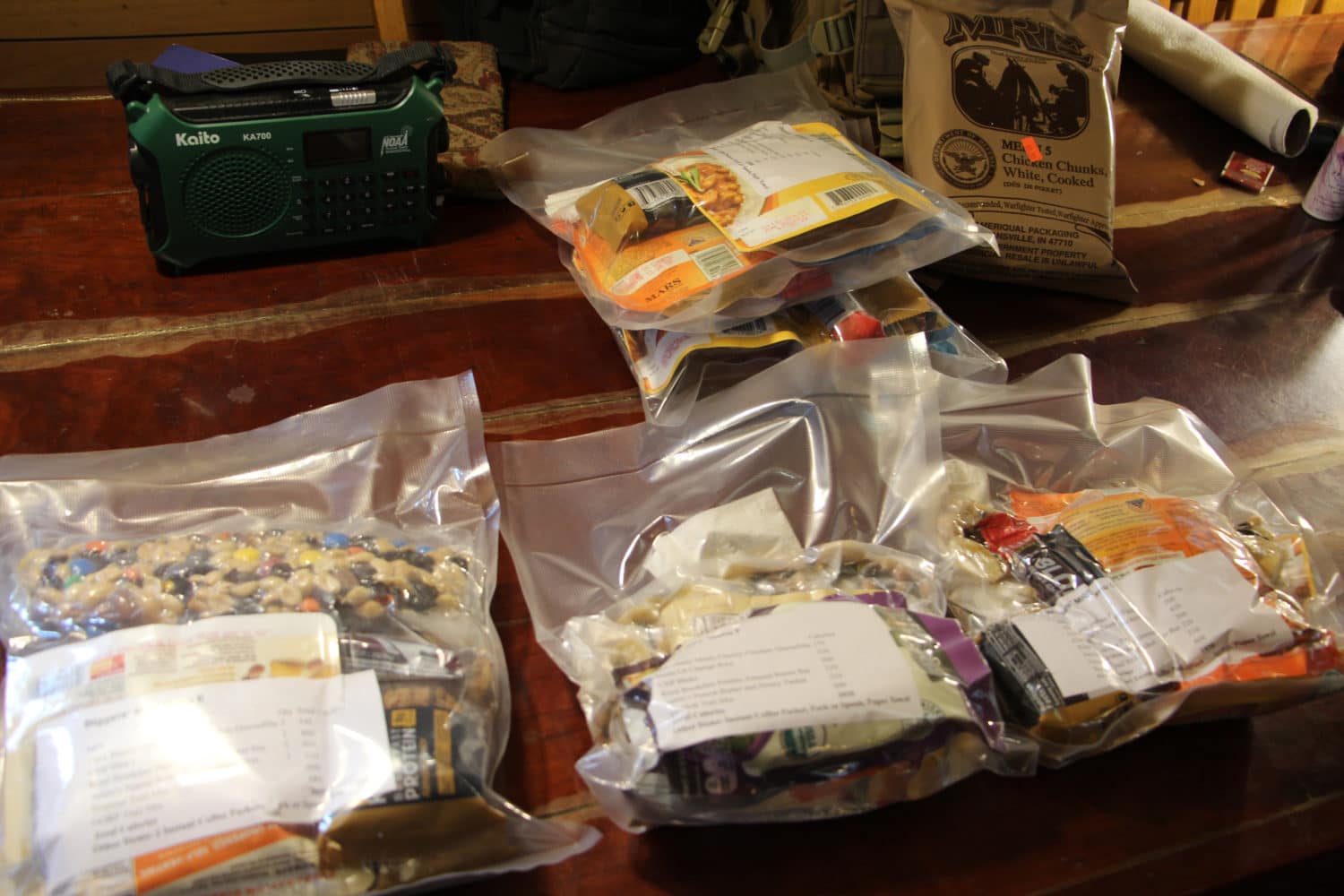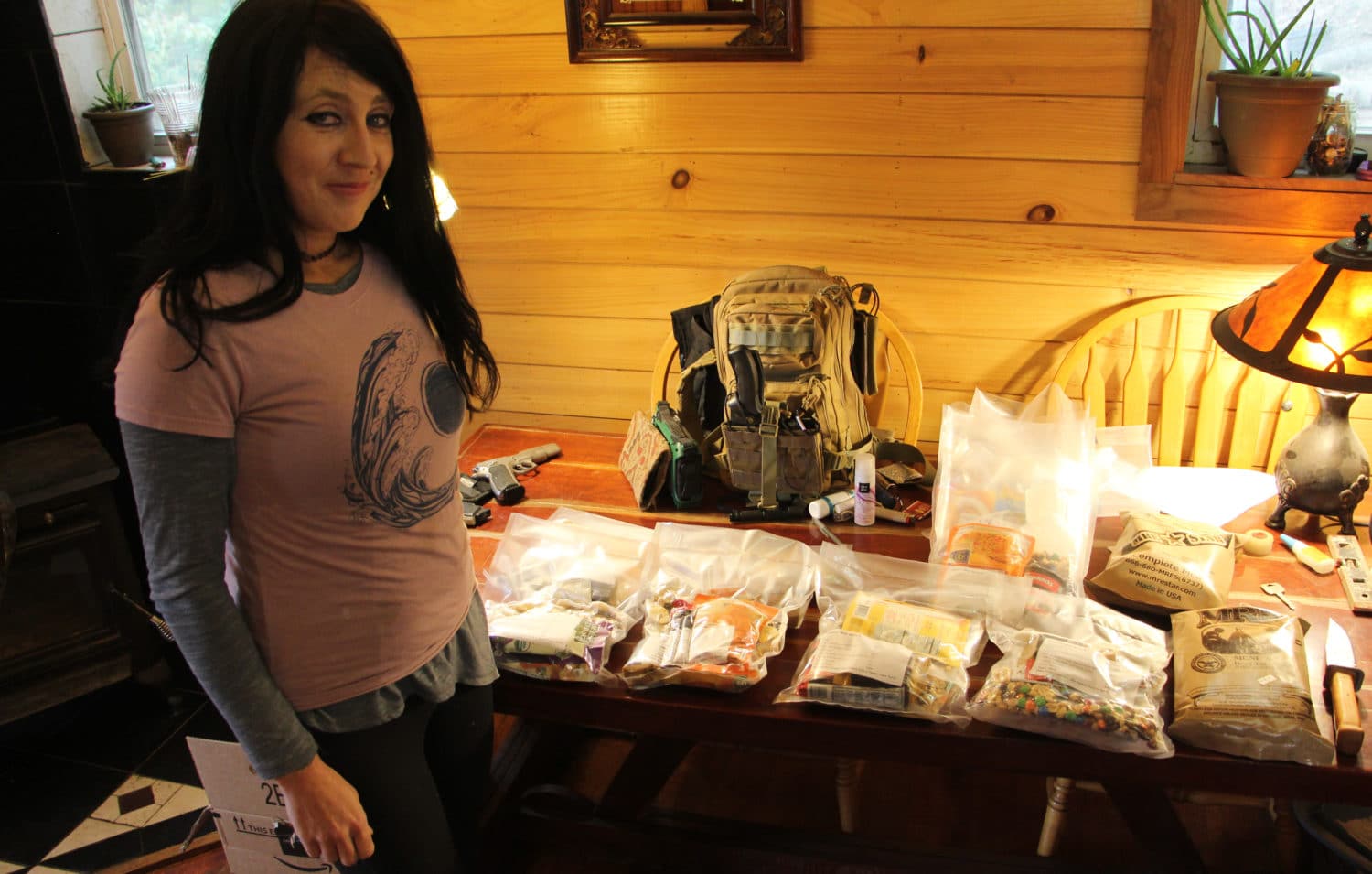 Sealing MREs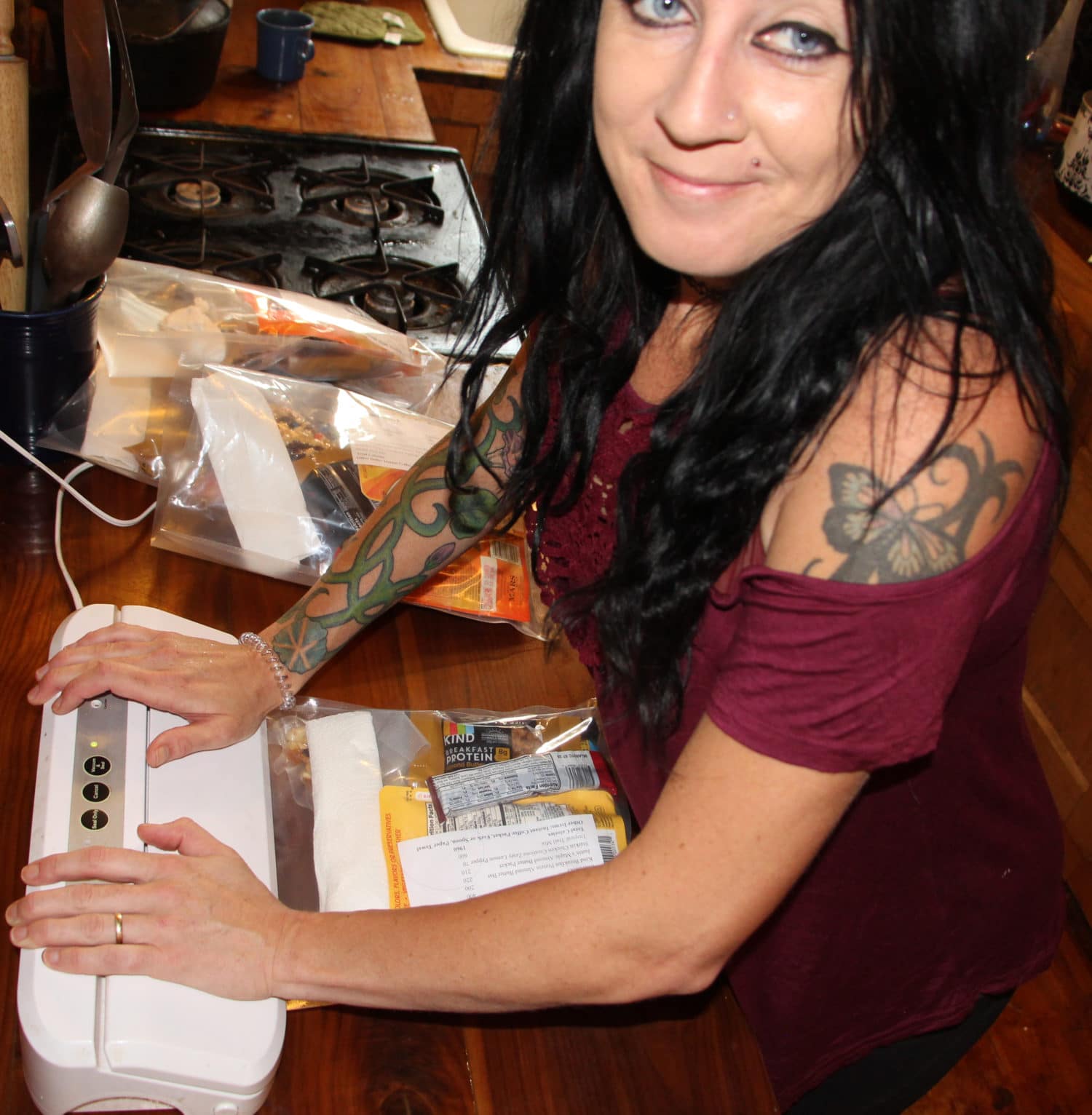 The MREs you buy are not totally sealed up tight like a lot of vacuum-sealed products. I tried to seal ours pretty tight but at one point a spoon snapped. You have to be careful how you place any cutlery in the packs but it is probably just best to lightly vacuum seal. Everything doesn't have to be squeezed up as tight as possible.
Heating Your MRE
MRE heaters are not cheap and they do not get food as hot as many would like. In the case of the MREs we made, I don't think they would do that great of a job due to the density and amount of food that they would need to heat. Last time I bought a dozen MRE heaters, it was $18.50 for 12. I know there are a ton of sellers on Ebay and some on Amazon. You may be able to get a better deal if you buy a lot at once.
You would be better off using a small stove that uses fuel tabs or even small cans of Sterno. Of course, you would at least need a pot to boil some water in and I would recommend a cup or bottle that can handle a cup of coffee since all of our MREs contain coffee.
Matt and I reviewed a small tablet stove. After thinking that it would not take Sterno cans, we found some small ones that seem to be small enough. Don't get me wrong, even with Sterno you are going to be paying over $2 for 45 minutes of heat. The thing about Sterno is that it burns hotter than fuel tabs and it is blazing compared to an MRE heater. This means you can get multiple uses out of that can. Some people might not mind $2 a day for easy food heating practically anywhere if it is for a short term emergency or if you need something basic and easy for a 72-hour kit.
More Info On Some of the Main Food Items We Used
There are several lines of ready meals. The Pace Ready Meals are Tex-Mex based and gluten-free. The Campbell's Ready Meals sound delicious to me but they contain wheat products that I cannot eat. I think they are a reasonable and affordable option for homemade MREs though. A lot of people that work shifts swear by them because if you have a microwave nearby you can just heat them up in 60 seconds and eat them out of the pouch.
We eat a lot of Kind Bars in the Biggers' household. They are made with good ingredients, they are affordable, and they come in a ton of varieties so you are not stuck with the same old flavors all the time unless you want to be. The bars are gluten-free and non-GMO. Some varieties do have some dairy but a lot do not.
In grocery stores, they are not as affordable. We buy 8 boxes of 4 Kind Breakfast Protein bars at a time. I often get two cases actually so we have two different flavors. The blueberry almond and almond butter varieties are our typical go-to flavors but sometimes we get the ones with dark chocolate. Those feel more like a dessert than breakfast.
Part of the reason we included Tasty Bites is because they have a lot of gluten-free products and they avoid uncultured dairy products. For those that are vegetarian, they are a good option too. They are sold at our local grocery store but you can get them at Amazon or Wal-Mart. If you do Prime Pantry orders you can try one or two rather than getting a lot at once.
I want to tell you a little about Cliff Bloks because I usually don't recommend energy products on Backdoor Survival. You won't find me recommending Red Bull or anything like that.
For some reason, there are flavors that cost more than others on Amazon. The Black Cherry flavor tastes good and at the moment is the least costly.
Cliff Bloks are basically fruit gummies with come caffeine added. They come in a variety of flavors and are actually really delicious. You get 6 pieces in a back. Each serving of 3 blocks contains 100 calories and 50 mg of caffeine. The ingredients are much better than a lot of energy supplements. The sugar comes from cane syrup, not high fructose corn syrup and the coloring agents are from fruits and vegetables.
The average cup of coffee contains 95 mg of caffeine according to the USDA, so if you consume a full package of Cliff Bloks it is about like drinking a cup of coffee in terms of caffeine. At the same time, the caffeine content of coffee can vary a lot depending on how it is made and the variety so you may be used to more caffeine in your daily cup.
A full package of Cliff Bloks is about like two cups of tea if you are a tea drinker.
Of course, there is the sugar content to think about too. With a total of 24 grams of sugar in a pack, it is far less sweet than the average standard soda.
For the soda drinkers out there, a can of Mountain Dew contains 55 mg of caffeine.
When you are working or walking a lot, a quick boost of energy that you can meter out a block at a time could be really nice, especially if you are trying to get to a certain point before stopping to eat anything major.
GORP is great if you can eat milk chocolate or dairy. The Tropical trail mix is for those of us that have trouble with some of that. The brand we chose to use is Amazon's Happy Belly brand. It comes in 3 lb resealable bags. We portioned out the trail mix into smaller vacuum seal bags and sealed to go into the larger gallon bag. Having everything packaged individually is a good idea so you can open things as you want to eat them and keep things tidy and not have items open and more susceptible to moisture and bugs. If you don't eat something that day then you can give it to someone else, trade with it, or save it for harder times down the trail.
You can get various types of nut butter or peanut butter packets that are flavored with honey or maple syrup. They are convenient and they make a granola bar feel a lot more like a real breakfast. The cost varies depending on what variety you get. As you might imagine, almond or hazelnut butter is more expensive than peanut butter.
Cost
The Biggers MRE costs less than army grade MREs and if you compare it to the some of the MRE Stars it is downright ridiculous how much better off we were making our own. Our also contains a full day's calories. You are not going to do well on just 1,250 calories per day which is what the typical military grade MRE contains.
The military recommends you eat three MREs a day! That means $24 per day in food costs for a civilian or $16 per day if you just need two per day.
That is too much money for food that most people seem to not be that enthusiastic about eating and doesn't consider special dietary needs.
Military MREs contain some items that we do not.
There are some items like toilet paper and wet wipes that are in Military MREs that we did not include. You could add some of these items for very little money. We also did not include heaters. At least $1 of the cost of an MRE is the one-time use heater so this changes the results a little if you account for that. The costs below just take the cost of the MRE and the calories provided into account. I just want to be totally clear on things.
Average Military MRE Calories=1,250 at a cost of $8-$9 or around $0.70-$72 cents per 100 calories
Biggers MRE =2,000 calories at an average cost of $9-$10 or around $0.45-$0.50 per 100 calories
Civilian MRE Star MREs=600 calories for $8 for some varieties. I have seen some MRE Stars that are more in line with the Warfighter Military MREs at 1,250 calories on average. The higher calorie ones come in a brown package instead of a full-color fancy package.
My cost estimates for our MREs are based on current prices of food items but I added a little extra cost in to allow for the up and down costs that can occur on Amazon or locally. I am in rural North Carolina. Your costs may be a little different but I think that you can stay within the range I am giving.
Conclusion:
Matt and I have some military MREs that we are going to taste test but we will not be buying anymore. For us, making our own makes a lot more sense, especially since I cannot eat a lot of processed foods due to the heavy wheat and uncultured dairy content.
After talking to those in the military it seems that the MRE experience is not that great. Sure I would get used to eating some things after a while but Matt and I felt sick and craved a lot of water for over a day after doing the Warfighter vs. Civilian MRE review.
Even accounting for heater costs, our MREs are still cost-effective compared to pre-made military MREs and the quality of food is much better. I don't think I need to pay for having certain items in every single MRE either. I don't need an MRE heater when I have an inexpensive stove for example. I also don't care for cheap candy made with a bunch of artificial junk like the Twizzlers that were in the last military MRE I had. I can also pack some extra tissue or a small pack of wet wipes.
We will be making our own MREs from now on and hope to share some more great menus with you over time. Maybe one day we will have a menu for each letter in the alphabet. I am happy that we were able to make it through "I" this time.
Do you have any homemade MRE recommendations? We are trying to come up with ways to reduce the number of peanut products in some future menus because some people have nut allergies. The problem is doing this without adding a lot of weight or cost. If you have any suggestions we would love for you to share in the comments below!