This site contains affiliate links. As an Amazon Associate, I earn a commission from qualifying purchases at no extra cost to you. Full Disclosure Here.
How much do you know about herbal medicine?  Or perhaps more important, how much do you know about becoming your own herbalist?  You might be asking, "what is an herbalist"?  An herbalist is someone who is proficient in the use of herbs.  As simplistic as that seems, if you are like me you have read books, studied and grown herbs, and then, with the exception of a few select plants, filed this herbal knowledge away for sometime down the road.
That needs to change.  Earlier this week I sat down and read Be Your Own Herbalist: Essential Herbs for Health, Beauty, and Cooking and all I can say is WOW.  This is the easiest to read, and easiest to understand book on herbal medicine that I have read to date.  I do not say that lightly.
But I am getting ahead of myself. Be Your Own Herbalist, by Michelle Schoffro Cook, is the newest book in Prepper Book Festival #12.  In this book, thirty of the most common and most effective herbs are described along with a brief history, growing and harvesting instructions, common medicinal uses, and references to credible research attesting to their effectiveness.
What do I like the best about this book?  These are common herbs that we are familiar with and not obscure and expensive herbs only available from a mail order supply house.  The fact that these herbs are familiar coupled with an extensive index places this book right alongside my essential oils "bibles" and, indeed, encourages me to seek an herbal solution to minor medical woes as often as I seek an EO solution.
One more thing: the writing style is personal and familiar, almost as though a friend is chatting with you over a cup of herbal coffee or tea.  Be Your Own Herbalist is lacking in techno-jargon and I like that.
The author, Michelle Schoffro Cook, is here today to respond to the Prepper Book Festival interview questions plus offer three copies to lucky readers in a giveaway. Enjoy the interview then be sure to check in below to learn about the giveaway.
An Interview with Michelle Schoffro Cook, Author of Be Your Own Herbalist
Tell me about your book. What is it about?
Be Your Own Herbalist: Essential Herbs for Health, Beauty, and Cooking is a complete guide to growing, harvesting, using, and healing with herbs—in your food or as medicine.

I want to empower readers to take charge of their food and health and become more self-sufficient so I've created a handbook for growing or obtaining readily-available and commonly-grown herbs throughout North America. But the book is not intended to just be one that sits on shelves. It is intended to help inspire a revolution of sorts where people take charge of their own health instead of paying hundreds or even thousands of dollars every month to Big Pharma for largely toxic compounds to "improve" their health.

Herbs are the oldest and most powerful medicines on the planet and I want people to get back in touch with their ancestral roots in this regard.
What type of research did you have to do while writing your book?
I've been researching herbs almost every day for nearly three decades, at first for my own health and then for 25 years as a health professional. The research about long-standing traditional medicines excites me because it helps people in our society who need proof that herbs work obtain that proof.
How long did it take to write?
I wrote the book in less than a year but it is based on my article series about herbs for Mother Earth Living magazine which I wrote for a few years prior to the book.
Every book, fiction and non-fiction, includes a message. What message do you hope my readers will take with them after reading your book?
The message I want to convey is one of hope and empowerment. Many doctors told me that there was no hope for me by the time I was 21.

I don't want others to know what that feels like, to know that despair and hopelessness. Instead, I want them to know that there is powerful plant-medicine all around us; we just need to learn to access and use it for our health. Many herbs have been shown to be more potent than the drugs people use and with far fewer side-effects, and a much greater safety record.
Can you tell us a little bit more about yourself?
I live with my husband of almost 19 years in a small, remote town with just over an acre of land that we're converting from lawn to food and herbal medicine gardens. I'm passionate about food and herbs as medicine and spend my days gardening, foraging, and educating people about these topics in my books and blogs.

I blog on my own site DrMichelleCook.com, HealthySurvivalist.com, and the popular health and environmental site Care2.com.
As an author in the survival, prepping, self-sufficiency or homesteading niche, what are you personally preparing for?
I am preparing for the current and ongoing destruction of our food supply through genetically-modified organisms (GMOs), nutrient depletion through industrial farming, monoculture, chemical spraying, and many other factors that are destroying the food we eat.

By living in a remote area surrounded by mountains with a great and long growing climate, great soil and fresh water, I am prepping against food insecurity and what seems to be increasing amounts of natural and human-caused destruction.
What would be your first prep-step if you were just getting started?
Dig up a portion or all of your lawn and plant some seeds. Water and care for them and harvest your own food and medicine. It is a great first step and an amazing feeling of accomplishment. Plus, you can't beat the taste of freshly-grown food or the medicinal value of freshly-harvested medicines.

And the sense of accomplishment is amazing.
What movie do you think gives the best portrayal of what could happen?
I don't actually watch many movies so that's hard to say but just looking around I see that we're facing some serious challenges as a species. Not only is our food supply in shortage and will continue to be if bee colonies die off as a result of pesticide use, but odd weather patterns and natural disasters show that we need greater self-sufficiency and preparedness for a wide range of possibilities.
Do you have plans for another book?
Yes, I'm working on a new book all about fermenting foods (which is a great way to preserve foods that you've grown) along with their many health benefits.
Is there anything else you would like to share with my readers?
I understand from experience that exploring the realms of herbal medicine can be daunting for many people. After all, we've been taught that herbs are dangerous or inferior to pharmaceutical drugs.

I want readers to know that peeling off layers of social conditioning is just as important for prepping as amassing stores of food. Growing and using natural medicines allows you to regain control over your own health and the health of your family, preventing and even reversing many serious health conditions. It is an essential step toward a life of self-sufficiency and independence.
The Giveaway
Michelle and her publisher have reserved 3 copies of her book in this newest Book Festival Giveaway.
The deadline is 6:00 PM Pacific Tuesday with the winner notified by email and announced on the Rafflecopter in the article.  Please note that the winner must claim their book within 48 hours or an alternate will be selected.
Note:  This giveaway is only open to individuals with a mailing address in the United States.
The Final Word
As an information junkie, a lot of written material crosses my desk.  Some of this information comes in the form of blog articles and eBooks, but a surprising amount still is in print book format.  To that end, Be Your Own Herbalist is one book I am thrilled to have in print form.  I will refer to it often and expect it to become quite dog-eared.
For more information about the books in this latest book festival, visit Prepper Book Festival #12: The Best Books to Help You Prepare, Stay Healthy and Be Happy.
Enjoy your next adventure through common sense and thoughtful preparation!
Gaye
If you enjoyed this article, consider voting for Backdoor Survival daily at Top Prepper Websites!
In addition, SUBSCRIBE to email updates  and receive a free, downloadable copy of my e-book The Emergency Food Buyer's Guide.
~~~~~~~~~~~~~~~~~~~
Spotlight:  .Be Your Own Herbalist: Essential Herbs for Health, Beauty, and Cooking
This complete guide will get you growing, harvesting, using, and healing with herbs — the world's oldest and most effective natural medicines.

Popular health writer Dr. Michelle Schoffro Cook profiles thirty-one common and easy-to-grow (or readily available) herbs, sharing scientific discoveries about their usefulness and offering more than one hundred easy ways to use them in delicious recipes, healing teas, and soothing body treatments. You'll discover ways to delight body and mind as you incorporate Mother Nature's medicines into daily life, where they nurture and protect.
Plus: The Preppers Guide to Food Storage
No list of books would be complete without my own book, The Prepper's Guide to Food Storage.  The eBook print version is available.
A frequent question I get on Backdoor Survival has to do with healthcare matters when there is no doctor around. This is the definite source of survival medical information for all Prepper's and is my go-to bible for survival medicine.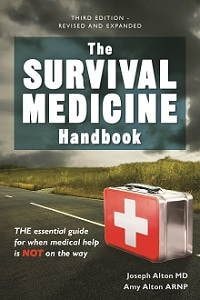 ~~~~~~