This site contains affiliate links. As an Amazon Associate, I earn a commission from qualifying purchases at no extra cost to you. Full Disclosure Here.
I have always loved radio. Growing up in a small logging town with my Dad, we always had several types of radios but often no television or phone. Books, cassette tapes, and radio were my outlets along with a pink Lisa Frank notebook and a pack of pens I would use to madly scribble whatever came to mind.
There was no computer or internet for me either. I looked forward to the weekly radio shows from the Seattle station, KIRO FM, local news and talk radio station did a show called the KIRO Mystery Playhouse and syndicated nationally as Imagination Theatre. There was also the old-timey radio shows that came out of the stations in Victoria BC. We could get Canadian stations better than a lot of USA stations since we were only about a 90-minute drive from British Columbia.
Kaito was not a brand I was familiar with back then, and over the years I drifted away from listening to the radio that much even though I always had a shortwave through college in my dorm room.
When I started looking at a lot of emergency radios, it was easy to see that there are a lot of options with varying levels of usefulness. Kaito stood out to me because they offer a lot of options and models and every single radio is under $100 making them an affordable addition for preppers, homesteaders, or anyone that is looking for a high function radio.
Recently I finally got a Kaito, but I managed to get an even higher functioning model than the KA700 that I had my eye on before. The Kaito KA900 has not been available to the public for that long. It is a recent 2018 model that stood out to me because it combines a lot of classic radio features and modern ingenuity. This is a radio that can help provide a lot of entertainment and keep you informed during anything from a brief power outage or a long-term emergency.
Rubber reinforced nylon strap
I like that the handle is made so well on the radio. It is sturdy enough to hang up, and it makes the radio a lot more useful as a flashlight because you can carry it securely.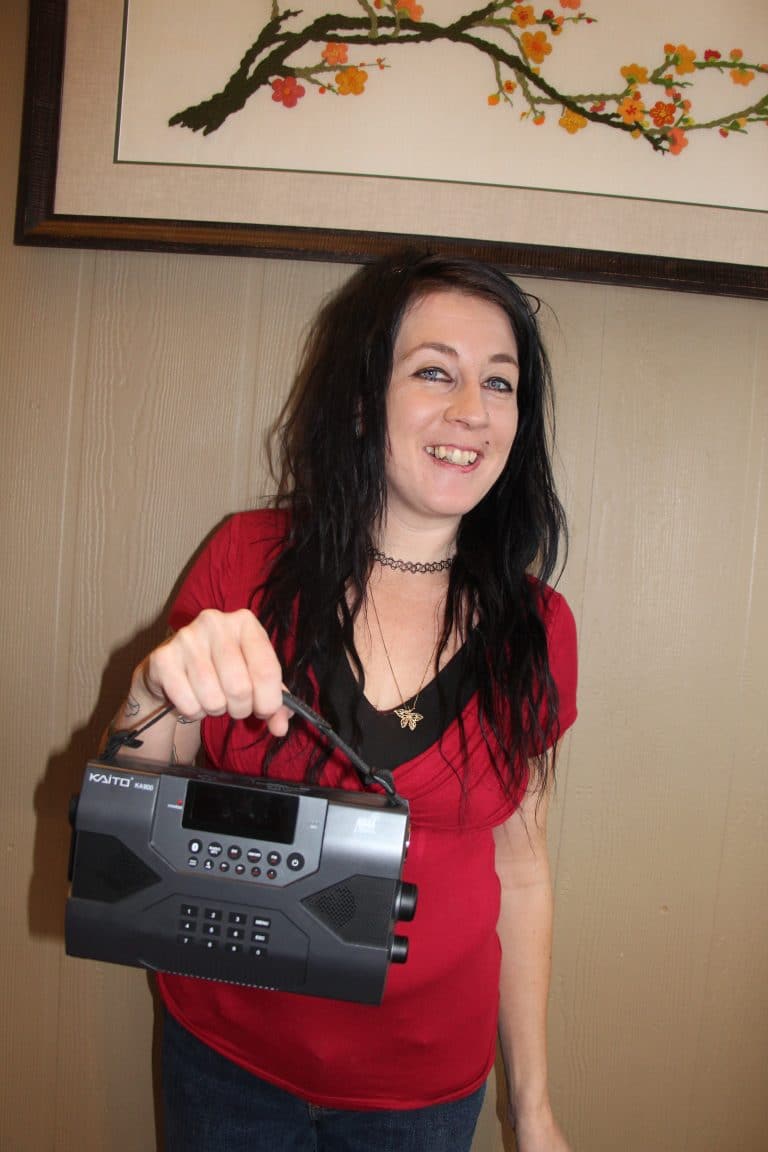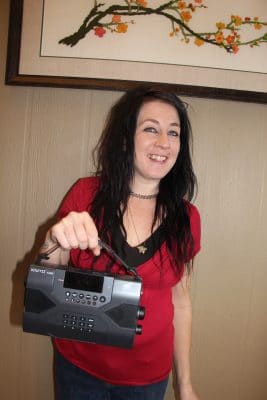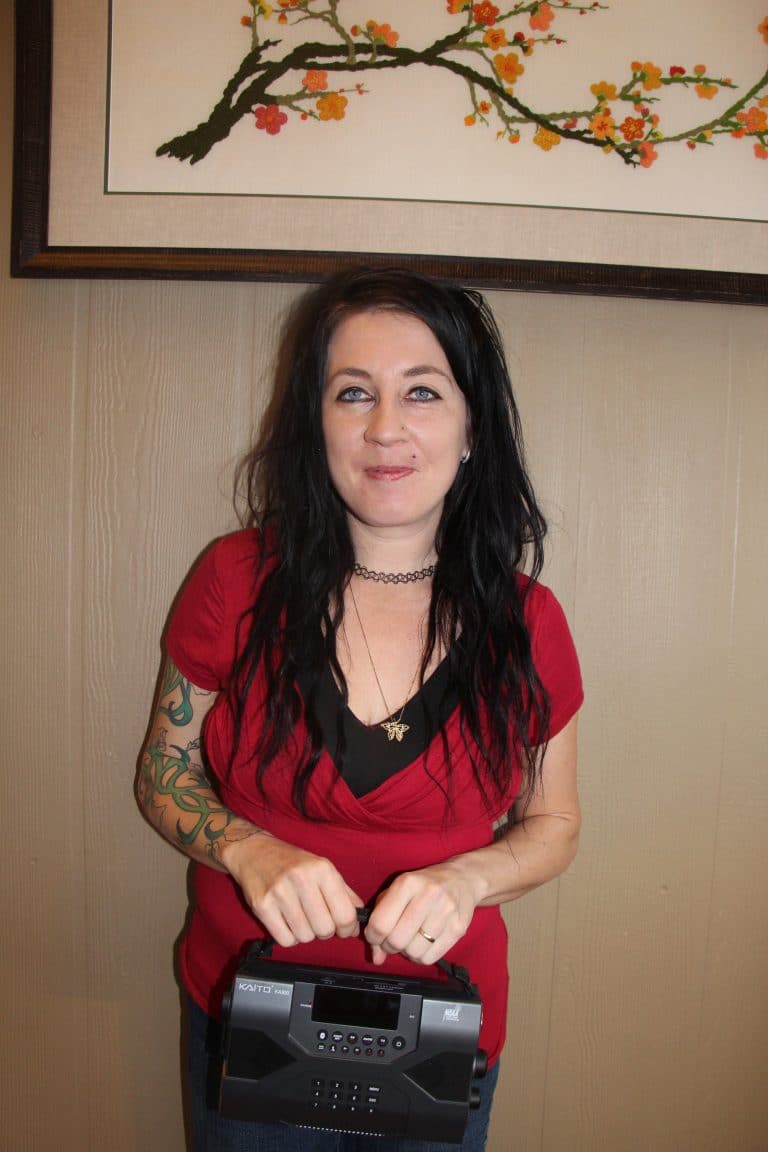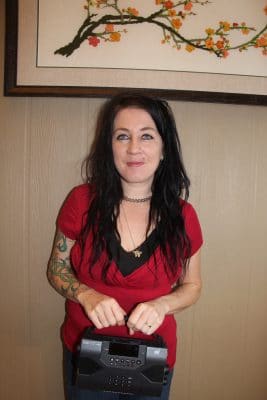 Weight
This is definitely not a pocket-sized radio but it is lightweight enough that I was surprised when I picked it up. Considering how many features it has, the 1 lb 11-ounce weight is not a big deal.
Easy to read display
The display comes on fast enough and it is bright with a large font so you can see to tune it. The buttons for inputting radio frequencies are large enough that people with giant hands like I have will have no problems hitting a bunch of buttons at once even under low light conditions. You can always turn the built-in reading light or flashlight function on to help out if it is really dark.
The digital display has a retro feel
This is a very modern emergency radio but it has some retro aspects. The overall impression when I look at the radio is state of the art 80s electronics. This is not a bad thing and I can see why they went for a blend of the old and new with this radio. It is a good marketing ploy to appeal to the nostalgia of those that used to listen to radio years ago and then there is the fact that there is an obvious trendiness when anything is a bit retro now.
Mini SD Cards For Music, Media, and Recording, and Ebooks or Text
The Kaito uses mini SD cards for storage and recording. It accepts up to a 32G card. If you want to listen to your mp3s simply put them on an SD card and enjoy on the Kaito. The card slot is located right at the top for easy access.
If you do find a radio show that you like and cannot be there to listen to it or just want a copy of it you can set the radio to record to your SD card, so you are free to enjoy shows whenever you have the time.
The display actually allows you to read .txt files so you could actually put some ebooks or articles on an SD card and read through them for reference.
The recording function is useful for recording your thoughts
If you are not the type to pick up a pen and paper or type up your thoughts, then the recording function on the Kaito may be of interest to you. Using the voice recorder function and built-in microphone, you can record your thoughts. It may be interesting to review after an emergency is over or when you get back from your excursion into the woods.
Shortwave, Longwave, NOAA Weather, AM/FM, and emergency alerts
This radio covers any band that you will want to hear. I like that it has all the NOAA features already built in. The AM/FM reception was very strong and clear and I was easily able to get weather alerts and it was a clear signal that I had no problem understanding. I am actually listening to a flood warning due to the heavy rain we are having as I write this!
Is there anything actually on shortwave anymore?
This is a question a lot of people ask. I also hear a lot of people that used to be avid listeners of shortwave complain about how little there is to listen to in today's modern world of digital and internet radio.
It is true that some stations have reduced their programming. Some have even gone as far as to stop broadcasting to all of North America. There are shows to listen to but there is not the variety that there once was. While researching what stations I could listen to it was suggested that you try to listen to European shortwave broadcasts during the late evening and at night.
I was truly not able to pick up a lot of shortwave programs on this radio, but I think that is my fault for not spending a lot of time searching and checking out schedules.
Here is a link to a list of shortwave frequencies and listening tips from CC Crane.
I live next to a giant radio tower, and that may affect my reception capabilities in my house.
The interference I experienced with this radio may very well be related to the fact that a huge radio tower is broadcasting in a neighboring field. This radio station plays old country music and is powerful enough to bleed through on a lot of the shortwave frequencies.
I am going to try to find a place around my house or outside where this doesn't happen, but it may take me awhile.
Bluetooth
I had a few moments of nostalgia. I wanted to listen to KING FM on my radio like I did when I was a teen living in Washington or an adult in my 20s in Ketchikan, Alaska. I loved that I could listen through the radio speakers using my cell phone to stream and the Bluetooth function. It was about the easiest Bluetooth pairing I have experienced. I have sometimes had trouble pairing some speakers on my phone so the fact that I was listening to my music within 10 seconds was very impressive to me. That 10 seconds was as fast as I could press buttons. It was basically an instant connection and the sound was crystal clear with no awkward skips or drops.
Charging
I like having back up plans. The Kaito radio has a lot of different charging options. In fact, there are enough options that it is hard for me ever to picture the battery running out on this radio. Over the years the battery pack could stop holding a charge very well as any rechargeable power battery does over time. Putting back an extra battery pack or two and keeping them topped off might be something you want to do to prepare for a long-term situation.
Solar Panel
The Solar panel is a nice touch and will keep your batteries topped off, but it is important to know that this is a trickle charger so don't expect it to get your radio going if you drain the batteries down very low. It would take days to charge it on just the solar panel. It doesn't take much light to produce some charging effect. I have been using the radio a little each day, and it seems to charge where I have it sitting near a lot of windows. The red indicator light will glow when it is getting enough light to be actively charging the battery.
Hand Crank 
First of all, I wouldn't want to have to crank anything for a long time, but it does help with charging, especially if you are using it to keep a small device topped off like a cell phone or e-reader. Remember that the solar panel is always helping charge too if you have it in an area with the right amount of light.
USB Chargeable
You can recharge the radio via mini USB. This means if you have an adaptor that allows you to plug mini USB to a 110 or 12-volt outlet you have even more options.
AC Adaptor Sold Separately
I will mention the AC adapter, but I don't think most of you will find the expense justifiable if you have USB charging capabilities and adaptors.
I don't plan on buying the AC adaptor because I can just use USB or a USB to 110 adaptors as I have for my cell phone.
Radio is a 2000 mAh battery bank
The Kaito offers a battery bank feature and you can use the hand crank to help it out. I would not want to rely on this radio to keep a cell phone totally charged but if you needed to make an emergency call or extend how much time you have before your battery totally runs out, the Kaito can help out.
Flashlight
The flashlight is on the side with the tuning knobs while the other side of the radio is dedicated to the hand crank dynamo for charging.
Ok, this is not the absolute brightest flashlight, but it will sure do! I could definitely find my way in the dark with this light. I could see decently 10 feet or more out. I think that is pretty good for a multi-purpose survival radio. It is actually lightweight enough to carry like a flashlight when needed. I was worried it would be a little awkward to wave this radio around, but it was fine. It can really light up a small bedroom.
Reading light
The display is very easy to read under a variety of light conditions.
The reading light is located under the solar panel and is very adjustable.
For a bug out cabin or just an outage in your regular house, it sure can be nice to have a light to read or write by. I like that the 5 LED reading light is adjustable and works well as a bedside reading light. The battery in the radio will run the light for many hours. The prospect of being able to keep a light and radio going without too much effort is nice, especially if I have some music or audio books on SD cards.
I wish I had a radio like this when I was a kid. The town I lived in growing up was in the North Cascades of Washington state, and we would frequently get windstorms that would knock the power out. Sometimes the snowstorms would do it in the winter.
We had books, oil lamps, and flashlights and maybe a small radio with batteries. When I was older, I would keep a set of batteries for my boom box. I tried to spend a lot of the power outage time reading and writing so any extra light would have been welcome! This reading lamp is adjustable as well so that is a bonus!
Setting in the dark during long evenings is no fun. The ability to have music, light, and some backup power at a low cost is amazing to those of us that grew up in a time when anything like that would have cost too much or just not been available at all!
Includes a built-in antenna as well as a 24 ft wire antennae!
When I was a kid, one thing that would get my Dad on a ladder was adjusting or constructing his shortwave antennae. I like that the Kaito comes with an additional antenna this is in an easy to store spin style container so it can travel with you wherever your journey may take you. The antenna is two parts. There is a clip that attaches to the telescoping antenna that is always part of the radio. The actual wire plugs in like a headphone jack. It is very directional so you will have to play around with it to see where it picks up the best reception for your chosen station. A very small movement of the antenna can make a big difference. Strangely enough, we found that we got good reception by attaching one end of the antennae to the Mossberg shotgun hanging over the door!
All the input and outputs are protected with a rubberized cover that is easy to remove but keeps dirt and water out of your plugins.
Volume of speakers
I thought the twin built-in 1.5-inch speakers provided a pretty loud experience. I mean this is an emergency radio not a state of the art speaker system. If you have access to other speakers, you can use the radio in conjunction with them for a greater volume, but honestly, I think you will be impressed with the sound as is. You can also use a set of headphones if you want a more intense sound experience.
I normally don't mention the literature and guides included with something like a radio, but in this case, I feel the need to let you know that there are excellent instructions included!
Kaito deserves credit for including a very easy to understand quick operation guide. There is also a more intensive users manual, and they were thoughtful enough to include an emergency preparedness guide that has space for you to fill in the blanks and create an emergency plan. Considering that some people may just be getting started in the world of preparedness when they buy the radio, this was a nice thing to include. I read over it, and it made me think about my own plan a bit more thoroughly.
Conclusion
I really love this radio, and it made me glad that I was able to get the KA900 model because it has some modern features I like. I do have to say that it is the fanciest model that Kaito has to offer and I can understand that sometimes you may want to have a few less expensive radios to stash in various locations. Kaito makes radios that are as inexpensive as $20, so I would advise looking at a few of those if you want something very basic and reliable.
I look forward to using this radio outside this Spring and Summer while I write. I have a plan for a camp of sorts where I can go for a change of scenery when writing. My Kaito is going to be part of that for sure since it will be easy to take my music with me or listen to what is going on in the world. I think this radio would be an excellent addition to a bedside nightstand for people of all ages.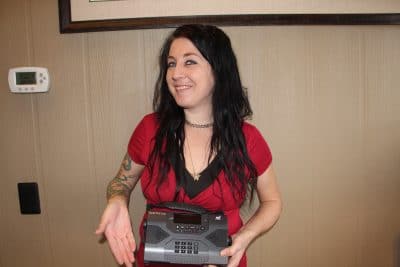 Have you owned a Kaito? What do you like the most about your Kaito? Please share positive or negative experiences in the comments below.