This site contains affiliate links. As an Amazon Associate, I earn a commission from qualifying purchases at no extra cost to you. Full Disclosure Here.
The Go Ruck GR1 is a high-quality pack made in the USA by hand. This type of craftsmanship is a rarity in today's world. I was given a Go Ruck to try out and was surprised at the quality. When I first read about them I thought that they sounded a little bit over the top in the description but after holding one in my hands I have to say that the quality is exceptional.
Price
I am going to go ahead and get the price issue out of the way.
While this Go Ruck GR1 is very well made the retail price of $295 is going to be prohibitive for a lot of people. Some may even ask why they would ever need, want, or justify using a bag like this.
Well, I can explain that easily.
If you are a bit of a gearhead or computer person it doesn't take much for you to be walking around with $4,000 or more in computers and guns in your bag. Plenty of rugged, high grade and tactically built laptops come in at $2-3K alone while a handgun can run $1k or more. There you have 3-4K before you even add anything else into your bag. You might just want the best of the best when it comes to bags to haul that load around.
Comfort
This is made with thick, heavy, yet comfortable shoulder straps. The foam is a bit thicker than a lot of us are used to but that helps make sure the straps stay in place. The molded back is compatible with a variety of blast plates or bulletproof armor.
While I don't have this pack stuffed totally full, it is worth mentioning that it has a bit of a low profile while still providing plenty of room. It takes up a lot of your back but it is thinner than some packs even when fully loaded. I kind of like how it has a lot of room but doesn't seem incredibly bulky.

Warranty
There is a lifetime warranty on this bag. I would expect nothing less at this price point. If you have any dissatisfaction you just contact Go Ruck and they will take care of it. I read up on what some long-term users had to say about their bags and there were many cases where people had used this bag for more than a year and traveled a lot and they say the bag still looks new. Considering how much a bag wears from just being set down a lot, I find the feedback of long-term Go Ruck customers very encouraging. I have a hard time imagining the fabric ever wearing out for even hardcore travelers and hikers.
Molle Compatible
There are a lot of attachment points for Molle pouches and other gear. We had a few things to add to the pack and that helps make it more versatile. The water bottle holder and the holster are not included with the Go Ruck but they are inexpensive to add.
Size Is Reasonable & Easy to Expand Using Molle System
This would be a great get home bag or 72-hour pack but for long-term bugging out this bag is a bit small on its own.
I do think it is totally possible to strap enough extra bags on it to make it a long-term bug out bag. There is something to be said for a bag that you can expand using Molle pouches as needed.
Having a pack that you can customize the size and transport capacity adds versatility because if you are traveling on a plane and need a bag that is small enough to be a carry on then you can just use it as it is or add a few smallholders or pouches on.
Remember the more pouches and things you add when traveling, the longer the TSA line is going to take.
You Can Load This Heavy
This bag was tested to withstand 400 lbs of weight in it. The straps are so strong that you can just pack it as heavy as you can carry and you won't have straps digging into your body. This means you are not going to have to worry about zippers and other parts breaking down just because you carried 75 lbs a few times.
Accessories
Go Ruck sells a few accessories and patches to customize your Go Ruck but since it is totally Molle compatible you have countless options for creating a pack that is set up just the way you want it so you can get to what you need when you need it. Go Ruck has a few accessories available that you can add on and it appears they are always adding more.  You can check out their selection here.
Larger Go Ruck GR2 Is 26 Liters and Great For Big and Tall People
I am about 5'7 just so you have a reference on how big the 21L Go Ruck GR1 is.
If you are taller or just want to carry a lot of bulkier gear than the larger Go Ruck GR2 is $325 and gives you 5 liters of extra space. That is enough that you could throw in a hydration bladder and still have as much room as the smaller bag gives you. If you travel a lot or are a larger person this may be a better option but it is pushing the limit of carry on sizing if you pack it really full. From reading feedback from other Go Ruck owners, the 26L is fine for most flights but it is always good to check with your airline for limits as these can be subject to change or vary a bit by the airline.
Discreet style
This pack comes in a few colors but the design is very no frills. Of course, if you go adding a lot of accessories like pouches and holsters and the like, that will change the look a lot and possibly get you some attention. I think it was smart for Go Ruck to make it look like a classy yet discreet pack rather than something that screams it is really high end and draws the attention of thieves.
Day Pack For A Lifetime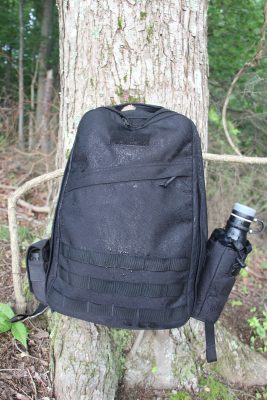 Of course, there is no question this makes a fabulous daypack that might be the last day pack you ever have to buy if you are an average user or an avid day hiker. This pack is made for heavy-duty use such as combat zones, something that most of us will never have to deal with.
Multiple Colors and Camo Designs Available
If you plan on being out in the sun a lot then you might want to get the lighter colored pack. This is a lot of heavy-duty fabric and that can get a bit hot when it is a darker color. Luckily Go Ruck offers their bag in 9 colors. Three of the color options include Arid, Multicam, and Woodland Camo for those that prefer a color that is not solid.
Sturdy Base
The bottom of this pack is noticeably stiff so it wants to stand up rather than fall over like so many bags. I like that the team at GO Ruck thought about this and designed the pack accordingly. You don't want your bag falling over when you got your expensive gear in there. While this is a very padded and well-made bag, no one likes having a bag fall over with their 2K laptop in it and Kimber pistol. If you got the gear, then don't rely on an inferior bag to protect it.
Silent and Strong Zippers
Loud zippers can give you away and are kind of annoying even under the best of circumstances. In a combat zone, you want your gear to be as silent as possible. Go Ruck has designed and tested their zippers to ensure that you hear nothing but they have not sacrificed strength to do so.
Opens Up Flat
The Go Ruck opens up flat which makes it easy to manage at annoying TSA checkpoint or when entering any building or premises where security is ramped up a bit. This is not really a concern for someone like me that doesn't travel much but for the business or world traveler or anyone that works in a government facility, this could save a lot of time and hassle.
Add Zip Ties To Decrease Risk Of Theft When Traveling
If you are using this bag for travel on planes I recommend keeping some zip ties handy to attach items in your bag. The Molle strap points are good places to attach items that you care about. I recommend using zip ties to secure your laptop if you travel with one that you care about.  I don't care how you secure it with the zip tie, just do it.
There have been too many cases where items are stolen by TSA employees. They don't have a lot of time to do it so they go for high-value loose items that can be snatched easily. Zip ties allow for them to look but not take items without a hassle. If they steal something from you it is your word versus yours and I can take a guess how that will go.
Stash spots
There are some small interior stash points to help keep smaller items organized and protected so that is nice. It is not just a bag with a few big pouches and nothing more.
The interior of the bag has a lot of areas for strapping or tieing things down. A lot of thought went into designing this bag so that things are easier to keep organized.
Hydration Port
There is a port to put a hydration hose through so you can make sure to drink enough water when on the go.
Conclusion: Great bag for protecting expensive and/or fragile gear.
I like this pack and have no reservations recommending it to those that want something that will last a lifetime and offer protection to expensive gear. With the use of a bulletproof plate, this pack could even save your life. While the price may seem a bit much, you often get what you pay for.
What I Hope To See From Go Ruck In the Future
Purses and Messenger Style Bags
I think Go Ruck should expand their boundaries and make some concealed carry purses and messenger bags for those that don't want a full-size pack but they do want a rugged bag for everyday use. There are a lot of cases where a smaller bag makes more sense. We live in a world where a lot of people pay hundreds for just a purse so a well made concealed carry purse in the $150-$200 range would get some attention if made to the same standard as the Go Ruck.
 Barkley is our 8 month old Great Pyrenees puppy. He gets really excited when we go out to test gear. He is hoping there are snacks somewhere in the Go Ruck.
The Sport Of Rucking
Rucking is a form of resistance and strength training. One might wonder why you would want to carry a heavy plate in your pack and the answer is that it helps some get into better shape and increase their level of endurance. Go Ruck sells plates you can use for training that fits into the plate carrier on each Go Ruck. There are dedicated clubs and groups that get out and train this way.
While I live in a farm and carry enough heavy stuff, I can see why you would want to train and carry some extra weight sometimes to get in better shape if you are considering bugging out if SHTF. Plates make it easy to add weight without walking around with all your preps in your bag. For more information or to find a rucking club near you, check out Go Ruck's page. They will even help you start your own club!
The Case For American Made
I also have to say that your purchase is helping create jobs for Americans. The company was founded and is run by veterans so it is a purchase you can feel good about making.
Remember that by purchasing USA made products when you can, you are doing a lot to help the US economy. Finding solutions to our job and economic issues can be difficult at best, but choosing USA made when you can, is one of the easiest things you can do to help.
I have to put up this collage of "Monster" who is the official Go Ruck spokesdog and the dog of the founder of Go Ruck. I always feel better about people when I know they love their dog!
Do you have a Go Ruck? Are you a member of a rucking club? Has there ever been a time when your bag was really put to the test and performed well?  I was not aware of Go Ruck until this review but I did find a lot of customers answering the questions of others and saying they had used their bag for more than a year and it looked new or had held up well with extensive travel.