This site contains affiliate links. As an Amazon Associate, I earn a commission from qualifying purchases at no extra cost to you. Full Disclosure Here.
This week I join Backdoor Survival sponsor SURVIVAL BASED with another great giveaway. Enter to win one of three 72-hour survival kits that includes all of the basics:  food, fire, and filter!
Here is what each of the three winners will get:
1 – Artisan Oatmeal 4 Serving Pouch
1 – Harvest 6 Grain Cereal 4 Serving Pouch
1 – Texan Sunrise Skillet 4 Serving Pouch
1 – Instant Low Fat Milk 4 Serving Pouch
1 – Instant Orange juice 8 Serving Pouch
1 – Rotini A La Marinara 5 Serving Pouches
1 – Nantucket Potato 5 Serving Pouches
1 – Rio Grande Beans 3 Serving Pouches
6 – InstaFire Paper Pouches
1 – Folding BBQ Grill
1 – Cooking Pot w/ Detachable Handle
1 – 8 oz. Drinking Cup
1 – 6-in-1 Detachable Utensil Set
1 – Seychelles 24 oz. Water Filter Bottle
1 – Plastic Container w/ 50 Waterproof Matches
1 – 23 Piece First Aid Kit
Ready, set, enter!  Good luck everyone!
 Enjoy your next adventure through common sense and thoughtful preparation!
Gaye
If you have not done so already, please be sure to like Facebook which is updated every time there is an awesome new article, news byte, or link to a free survival, prepping or homesteading book on Amazon.  You can also follow Backdoor Survival on Twitter, Pinterest, and Google+ and purchase my book, The Prepper's Guide to Food Storage from Amazon.
~~~~~~~~~~~~~~~~~~~~~~~~~~~
Curious About Essential Oils?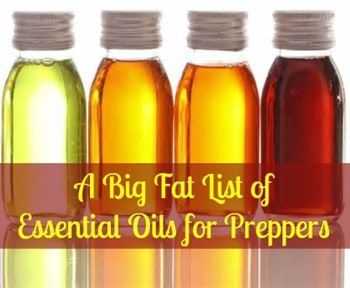 This article, posted last month, has turned out to be one my most popular articles so far in 2014. If you are curious about essential oils, this will be a good start. A Big Fat List of Essential Oils for Preppers.
~~~~~~~~~~~~~~~~~~~~~~~~~~~
I earn a small commission from purchases made when you begin your .
The Amazon Top Most Wished For and Best Selling Outdoor Items
Emergency Preparedness Items from Amazon.com
Help support Backdoor Survival.
Purchases earn a small commission and for that I thank you!