The annual celebration of Mothers Day is coming up and bloggers seem to be coming out of the woodwork with articles dedicated to gift ideas for the prepper Mom.  Not to disparage their effort, of course, because I considered doing the same myself.
That was until I began thinking about the true spirit of the day. The greatest gift one can give to the special Mom or "Mom at Heart" is of oneself.  And just to be clear: some Mom's have children by birth, and others have children through association or marriage.  Sometimes, just sometimes, they are everyone's favorite aunt with no other relation or association at all.
Today I am going to buck the Mother's Day gift buying trend and suggest you look at the people that matter to you most, and consider one the the following 21 Mothers Day gifts for free that won't cost a dime.  Each involves giving of yourself and and your time.
And what can be better than that?
21 Mothers Day Gifts for That Special Mom In Your Life
1. Clean her house 2 times (bathrooms, dust, vacuum)
2. Deep clean her house (clean moldings, dust light fans, clean window shades/shutters)
3. Wash her house windows and screens
4. Bring dinner 5 times (ready to sit down and enjoy) with her
5. Get her car washed and vacuumed
6. Help plant her garden
7. Pull her weeds, mow and edge one weekend
8. Bring a movie and pop popcorn to watch a movie together at her home
9. Change the batteries in her smoke alarms and carbon monoxide alarms
10. Help her organize her kitchen cupboards
11. Clean out and organize her refrigerator
12. Go through her food storage and organize it the way she would like it
13. Change her sheets, wash and dry them
14. Organize her closet and bathroom
15. Watch her kids or pets for 4 hours so she can go out with dad or friends
16. Clean out her garage
17. Clean her china hutch, buffet or pantry
18. Organize all her closets
19. Polish her shoes
20. Prune her trees and bushes
21. Hangout and look at childhood pictures together
The Final Word
Now lest you think I was super clever in coming up with this list, think again.  This list of free gift ideas for Mother's Day is the brainchild of my blogging friend and colleague, Linda Loosli, at Food Storage Moms.  Linda is a super Mom and grand Mom herself, and I thank her for allowing me to share her very special list.
And if you must purchase something tangible for Mom?  My number one pick this year is the Resqme Keychain Car Escape Tool.  This life-saving tool belongs to every Mom's keychain.
Enjoy your next adventure through common sense and thoughtful preparation!
Gaye
If you enjoyed this article, consider voting for Backdoor Survival daily at Top Prepper Websites!  In addition, SUBSCRIBE to email updates and receive a free, downloadable copy of my e-book The Emergency Food Buyer's Guide.
Spotlight Item:  Resqme Keychain Car Escape Tool
This combination seat belt cutter and window breaker was inspired by the original emergency hammer used by fire fighters and law enforcement.  I carry mine on my key ring and although I hope I will never have to use it,  I am glad that it will always be available if I do.
Bargain Bin:  Below you will find a few more ideas for gifts for that special Mom at Heart.  Might I suggest the healing gift of essential oils?
Spark Naturals Women's Kit:  In 2105, Spark Naturals launched their Women's Kit just in time for Mother's Day! The Women's Kit packed with some of the best essential oils for naturally supporting women's hormonal, skin, and metabolic health.
Featuring balancing Geranium, calming Clary Sage, clarifying Lemongrass, and our popular Dream Blend, the Women's Kit is a must-have.  Note that you get an additional 10% off plus FREE SHIPPING with discount code BACKDOORSURVIVAL at checkout.
DIY Healing Salve:  As far as I am concerned, a gift of a jar or two of handcrafted healing salve should be the top gift on this list.  You can make it yourself using these instructions than pass along the directions so that the recipient can continue the tradition.
ZAQ Dew Diffuser: Of my four diffusers, this is my favorite and is therefore the one I recommend for gift giving.  It puts out a strong, fragrant mist that is both soothing and healing.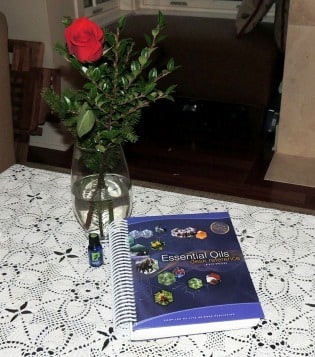 Essential Oils Desk Reference 6th Edition: This is the ultimate gift for the essential oil lover in your life.  I thought long and hard before purchasing this book myself, but once I did, I was so grateful I took the leap.  The information is cross referenced in many ways making it easy to find what you are looking for.  When searching for a particular remedy, you may see multiple oils listed and any will work but they are presented in order of typical efficacy.  The nice thing is that if you do not have #1 on hand, you can move down the list.  I have found the recommendations to be spot on.
Help support Backdoor Survival. Purchases earn a small commission and for that I thank you!