Every year, on December 24th, I sit down and craft a holiday message to the readers and followers of Backdoor Survival.  This year is no different in that here I am, at 4:30 PM, deciding what I want to say and how.
This year, I have decided to keep things simple and from the heart.
Both Shelly and I wish you much joy and happiness on this day when families and friends come together to share their love for each other.
The Final Word
Although we will be spending the day alone, we will count the many blessings in our life.  We have good health, a comfortable home, and the ability to defend and protect ourselves should a disaster or other disruptive events come knocking on our door.
We also have all of you and will drink a toast to preppers everywhere as we dream about a world without anger and a society without hate.
Enjoy your next adventure through common sense and thoughtful preparation!
Gaye
If you enjoyed this article, consider voting for me daily at Top Prepper Websites!  In addition, SUBSCRIBE to email updates and receive a free, downloadable copy of my e-book The Emergency Food Buyer's Guide.
Bargain Bin:  If you have some holiday cash burning a hole in your pocket, consider some of my personal favorites.  These are items that I use almost daily.
FordEx Group 300lm Mini Cree Led Flashlight:  FAVORITE! Embarrassingly, I have almost a dozen of these flashlights.    It is super mini sized, bright and waterproof.  Plus, it uses a single, standard AA sized battery.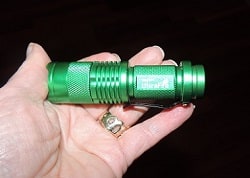 Dorcy LED Wireless Motion Sensor Flood Lite: Don't let the price lead you to think this wireless flood light is wimpy. I have two of these and feel that these lights are worth double the price.  Using D-cell batteries, the Dorcy floodlight will light up a dark room or a dark stairway in an instant.  I can not recommend these enough.
12 Color Pack Bandana – Assorted Colors:  This is the #1 seller in the bandana category.    Heck, I think that beats Wal-Mart and flea market pricing. Be sure to read How to Use a Bandana to Save the Day.
Spark Naturals Essential 4 Pack: Lately I have had to refrain myself from posting more articles about essential oils.  And even though I try to post just one EO article a month, I have had a few complaints about it.  Oh well.  For today, I will simply recommend that you get some and start to incorporate them into your daily life.  A good starter kit is the Essential 4 Pack that includes Lavender, Lemon, Melaleuca (Tea Tree) and Peppermint.  These are your go-to oils although I feel that Rosemary should also be in your starter kit. If you decide to give Spark Naturals a try, be sure to use the discount code "BACKDOORSURVIVAL" to receive a 10% discount.
Morakniv Craftline Q Allround Fixed Blade Utility Knife: ANOTHER FAVORITE – I own three! Also known as the Mora 511, this is now my favorite fixed blade knife. It is made of Swedish steel and is super sharp.  Many Backdoor Survival have emailed me indicating this is now their favorite knife too.
Help support Backdoor Survival. Purchases earn a small commission and for that I thank you!
~~~~~~~~~~~~~~~~~~~~~~~~~~~~