When it comes to multi-function survival shovels, my experience up until now has been two-fold: crappy and crappier.  Those I have tested bend while digging the simplest of holes and they have blades that become dull after just a single use.  Honestly, they have not been worth the money I paid and therefore I have never reviewed such an item for fear you might buy one.
Like I said, that is until now.  Today I am thrilled to introduce you to the SportsTek Multifunctional Survival Shovel.  This sturdy little shovel is a gem.  It is lightweight yet well built, and the four edges of the carbon steel blade are sharp not only right out of the box but they stay that way after multiple uses.  The fact that the it performs nine functions in addition to shoveling is a bonus because after all, we purchase a shovel primarily to shovel, right?
The nice folks at SportsTek have set one of their fantastic multi-function shovels aside in a giveaway for one lucky Backdoor Survival reader!  More about that later, because first, I want to suggest some of the ways you can use a survival shovel.
15 Ways to Use the SportsTek Survival Shovel
You might be asking yourself why you need a survival shovel.  To be honest, after having fails in the past, I was asking myself that very same thing.  Do I really need one of these?
The answer is yes, given that you have a piece of gear that will stand up to the job.  Here is a brief  list of 15 things you can do with a decent survival shovel.
When you vehicle runs off the road or get stuck in muck, shovel dirt under the tires to get going again
If your indoor sanitation facilities go kaput, dig yourself a pit toilet or latrine
Control a campfire by building trenches outside of the ring of fire
Dig edible roots while foraging for food
Likewise, enjoy free food as you dig clams, geoducks, and oysters at the beach
Use as an all-purpose garden shovel and hoe
Dig a hole to store your hidden cache and then later, retrieve your items
Kill snakes and varmints
Build a trench around your shelter during under adverse conditions
Dig a fox hole for hiding and keeping warm at night
Build in-ground traps to snare predators
Chop branches and wood for building fires or for use in a rocket stove
Folded at 90 degrees, use as a pick axe to break through snow and ice on your porch or driveway
Use the handle to serve as a makeshift TP holder (I just had to include this one!)
Use as a personal weapon for self-defense when chasing bad-guys or zombies
Okay, I Get It.  What are the Specs?
Here are the ten functions that are built into the SportsTek Multi-Function Survival Shovel.  Some of them may surprise you.
1. Shovel
2.  Fire Starter with Magnesium Flint (located inside shaft)
3.  Emergency Hammer
4.  Saw
5.  Wire Cutter
6.  Hoe
7.  Automobile Escape Hammer
8.  Axe and Chopper
9.  Measuring Tool and Hex Tool
10.  Hidden Waterproof Storage (located in the handle and perfect for storing cotton balls soaked in Vaseline or other tinder)
The blade itself ("the business end") is made of strong, carbon steel whereas the handle is crafted from strong aluminum.  I tried to bend it but it would not budge.  In addition, the handle/shaft is wrapped in some sort of foam, allowing for an easy grip, even in damp or wet condition.
The weight is 1.56 pounds, making it convenient to carry either attached to your belt or pack.  Adding to its versatility, the SportsTek shovel folds and locks at 30 degrees, 60 degrees, and 90 degrees.  You change its orientation by turning the handle and making adjustments with an O-ring.
The only negative I found was that the overall length is only 18.75 inches and a bit short.  You have to bend down close to the ground to use the shovel effectively.  My guess is that it was designed that way to maximize portability so perhaps that is not a bad thing.
I could go on but in my usual style, I leave it up to you to check out the specs beyond the basics that I found useful in my own testing.  Here is a link: SportsTek Xplorer 10 in1 Survival Shovel.
The Giveaway
Here is the part you have been waiting for.  A SportsTek Multi-function Survival Shovel  has been reserved for one lucky reader.  To enter the giveaway, you need to utilize the Rafflecopter form below.  You can sign in with your email account or Facebook, the choice is yours.
The best way to start is by clicking on "Free Entry for Everyone".  After that, each option you select represents an additional entry.  There are a number of different options so pick and choose or select them all.
The deadline is 6:00 PM Pacific next Tuesday with the winner notified by email and announced on the Rafflecopter in the article.  Please note that the winner must claim their prize within 48 hours or an alternate will be selected.
The Final Word
It has been awhile since I have held a gear giveaway so launching "giveaway season" with such a fine piece of gear is especially rewarding.  This is by far the best multi-function shovel I have ever used.  Mostly I like that it doesn't bend no matter how much abuse it gets and also that those all important blades at the business end stay sharp.
I hope you will enter the giveaway and take a chance at winning one for free!
Enjoy your next adventure through common sense and thoughtful preparation!
Gaye
If you enjoyed this article, consider subscribing to email updates.  When you do, you will receive a free, downloadable copy of my e-Book, The Emergency Food Buyer's Guide.
You can also vote for Backdoor Survival daily at Top Prepper Websites!
 Below you will find the items related to today's article plus other personal favorites.
SportsTek Xplorer 10in1 Survival Shovel:  This is best in its class with close to 29 five-star reviews.  Its durability and strength, coupled with its light weight portability have earned my praise.
SportsTek Lightwear 4-in-1 LED Headlamp:  If you are in the market for a headlamp that is well-built, comfortable, and adaptable to a wide range of situations, this is the one you want to get.  It has both a full beam and 50% setting plus a strobe.  Visibility is fantastic.  Highly recommended!  See my review:  Don't Be Caught in the Dark! The SportsTek Headlamp
Panasonic eneloop AA New 2100 Cycle Ni-MH Pre-Charged Rechargeable Batteries:  These days, I try to use eneloops as much as possible.  They hold a charge forever – or so it seems – and work well in flashlights and small electronics.   They charge up fine in my Maximal Power battery charger (see below).
Maximal Power FC999 Universal Battery Charger: This nicely built charger will charge charge AA, AAA, C, D, N, 9V, Ni-MH, Ni-CD, and Alkaline batteries. It has an LED display so that when you first put a battery in the charging bay, you know whether it is viable for charging or simply bad and ready to go back to the recycle box.
Yes it really works, even under solar power.  Read about in this article: How to Recharge Alkaline Batteries.
4 Inch Premium Glow Sticks – Assorted: These 4" glow sticks are fantastic!  Each stick glows for 8-12 hours, and comes with a pre-attached hook and lanyard.  They are well priced and hold up well when packed around in a pocket or handbag.  For more information about glow sticks and chemical lighting, read 10 Reasons to Add Glow Sticks to Your Survival Kit.
Sunferno Flintstone Portable Solar Panel with Rechargeable Battery Pack:  This sturdy solar power pack is lightweight and small enough to be used in an EDC kit.  I especially like that it has 2 USB ports.
SunJack Waterproof LightStick: The versatile SunJack Lightstick is impressive for its compact form factor and extremely durable, waterproof casing.  In addition to providing portable lighting, it will charge 3 USB devices on a single charge.
SunJack CampLight USB Bulb:  This 4 Watt USB LED light is bright and ultra portable at just over 3.5 ounces. It is highly durable – shatter, shock, and vibration resistant. Will fully illuminate a tent at night. Power it from any standard USB source – compatible with all USB wall plugs, USB batteries, and laptops.
LifeStraw Personal Water Filter:  The LifeStraw is considered the most advanced, compact, ultra light personal water filter available. It contains no chemicals or iodinated resin, no batteries and no moving parts to break or wear out. It weighs only 2oz.  making it perfect for the prepper. For more information, see my LifeStraw review.
~~~~~~~~~~~~~~~~~~~~~~~~~~~~~~
Help support Backdoor Survival. Purchases earn a small commission and for that I thank you!
~~~~~~~~~~~~~~~~~~~~~~~~~~~~~~
Essential Oils for the First Aid Kit
Consider adding an assortment of health and wellness related essential oils to your first aid kit.  At a minimum, include melaleuca (tea tree), lavender, oregano, peppermint, rosemary, and clove oils.  At a cost of less than $45, these six essential oils will serve you well in a wide variety of first aid and emergency situations.
You can read about these and other healing essential oils in 20 All Purpose Remedies Using Essential Oils or other articles on this archive page: Interested in Learning About Essential Oils.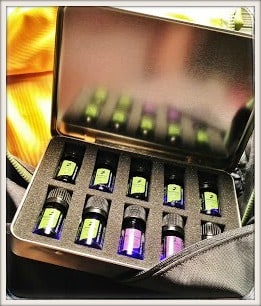 For an even broader selection of oils consider this Spark Naturals Health and Wellness Kit which includes a total of 10 oils and blends, nicely packaged on a tin that is perfect for your first aid kit.  And note that with any purchase from Spark Naturals you will enjoy a 10% discount by using code BACKDOORSURVIVAL at checkout.