This site contains affiliate links. As an Amazon Associate, I earn a commission from qualifying purchases at no extra cost to you. Full Disclosure Here.
Things tend to move fast and furious at times and at this moment, such is the case in Backdoor Survival Land. So what is happening?  I am in the process of getting settled at my mountain retreat in Payson, Arizona.  When a prepper moves, it is hectic!
That being said, a couple of days ago I took a break to be interviewed by Todd Sepulveda, the editor of Pepper Website.  He has a new website, The Prepper Website Podcast, and today he is featuring an interview with both me and my BFF, George Ure, who runs the Urban Survival website.
Free eBook:  11 Steps to Living a Strategic Life
We are both honored and thrilled and to celebrate, a copy of our eBook, 11 Steps to Living a Strategic Life: A Guide to Survival During Uncertain Times will be available for free between April 5 and April 9.
What is this book about?  Strategic Living, of course.
Here is a section from the interview. (Click here to hear the whole thing.)
Question: Could you paste in a paragraph from your book that gives a good feel for what readers will experience?
Answer Gaye:
"Living strategically – by our own definition – means living a life full of abundant adventure while embracing the tenets of simplicity and sustainability. It means being healthy and reaping the benefits of bounteous friendships and caring relationships.

It means living a life full of happiness and readiness, without the burden of wanting to be someone else or someplace else. It means liking yourself and moving forward with this business of life with animated spirit and optimism.

This all sounds like lofty stuff but when you get right down to it, we think we have been preparing for this moment for a long long time. Living strategically means being self-sufficient and being self-reliant. It means being prepared for life in these uncertain times."
Answer George:
"The only real "business equation" you need ever learn is that if you spend less than you make, you will always be well off. It seems almost childish to say this, but if you can pay cash for anything it is a good idea to do so. There are plenty of reasons why:

1. If you pay cash, your ownership in generally unencumbered. This means that you own something outright and no one can take it away from you without breaking the law. One exception here is that the government can seize property for nonpayment of taxes.

2. If you pay cash, you don't pay interest charges. Even though real estate loans are at record low levels of interest, there are still credit card outfits which gouge people for 21% and higher at a time when they are borrowing at the Fed discount window for less than 1%. Oh, sure, they whine about nonpayment's, charge-off rates and other items, but in the end they're gouging. You don't have to contribute to their greed and that's the power paying cash offers.

3. You don't have to work. We can't count the number of people we've run into who have to work or face bankruptcy, and some multiple times! If you don't have cash — and can get even a small home with modest utilities and taxes and save something up to provide a few years of cushion, you can take off work for extended periods of time. You stop being a wage slave."
Sound interesting?  Here is the link to get our eBook for free between April 5-9.
Speaking of Strategic Living – Subscribe Now
At the beginning of the year, I did a gentle roll out of my new Strategic Living website.  There is not much content and the site is still a bit rough around the edges but I expect things to pick up in earnest early this summer.
Want to be the first to learn about new articles being posted to the site?
I also have a Facebook page where I will be continuing the tradition of posting free eBooks.  The difference is that the Strategic Living FB page will focus more on DIY, Cooking, Essential Oils, and, topics to related to living and being awesome.
The Final Word
I am keeping this brief because I need to get back to unpacking and organizing my preps.  When I can once again see the forest through the trees, I promise to share what moving is like, prepper-style!
If you enjoyed this article, consider subscribing to email updates.  When you do, you will receive a free, downloadable copy of our e-Book, The Emergency Food Buyer's Guide.   Also check the Facebook page regularly for links to free or almost free eBooks that we personally review just for you.
You can also vote for Backdoor Survival daily at Top Prepper Websites!
[related-posts]
~~~~~~
Bargain Bin:  Below you will find links to the materials I used to make DIY  Healing Lotion Bars.  If you have not tried "lotion in a bar" you are in for a treat.  I am also including a link to a must-have book on essential oils.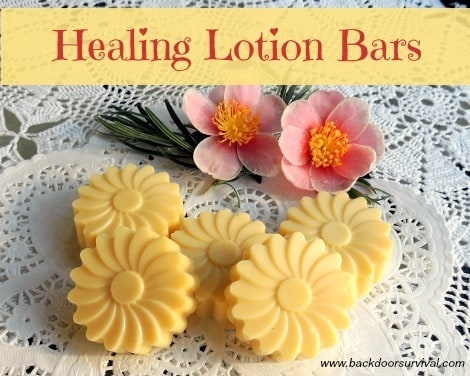 Freshware 6-Cavity Daisy Flower Silicone Mold and Baking Pan:  I simply love my daisy mold!  Made of silicone, it can be used for forming lotion bars, soaps, cakes, anything.    My lotion bars simply popped out cleanly leaving no mess.  So inexpensive, too, that I also purchased the oval version.  Up next?  Hand crafted soap!
100% Pure Unrefined Raw Shea Butter:  This is the Shea butter I used and am happy that it was not gritty.  I don't have experience with other brands so I don't know if my success was due to technique or the Shea butter itself.
The Complete Book of Essential Oils and Aromatherapy, Revised and Expanded:  This is a newly updated version of Valerie Worwood's classic and when I say new, I mean it is hot off the presses.  When my copy arrived in early November, I stayed up until the wee hours reading, learning, and enjoying the insights from the seasoned aromatherapist. The original has been my EO bible for years, and now it is even better.
Coconut Oil:  Coconut Oil from Tropical Traditions is my preferred coconut oil.  I love it so much I purchased a 5 gallon tub.  Really, I did!  I find it very silky to work with and love the taste when used in cooking.  Note that no refrigeration is required and although it solid at room temperature, it melts at 76 degrees.  The Nutiva brand from Amazon or Costco works well too.
Spark Naturals Essential Oils:  These are what you need for the healing lotion bars: Lavender essential oil,  Rosemary essential oil, and Peppermint essential oil. Enjoy a 10% discount on your Spark Naturals order with code BACKDOORSURVIVAL at checkout.
NOW Foods Essential Oils:  I use essential oils from Spark Naturals.  For healing purposes, I feel they are superior.  On the other hand, NOW Foods has decent essential oils at a budget price plus they can be purchased at Amazon.com.  Here are a few to get you started:  NOW Foods Rosemary Oil
, NOW Foods Peppermint Oil, and Now Foods Lavender Oil.
Stakich Pure BEESWAX Pellets:  This is my second order of beeswax pellets (also called pastilles) from this company.  They melt quickly and I am happy with them.
Deodorant Containers, New & Empty; Pack of 5
:  These are 2.5 ounces each.  I prefer these mini-tubes purchased from Spark Naturals for just 95 cents each.
~~~~~