This site contains affiliate links. As an Amazon Associate, I earn a commission from qualifying purchases at no extra cost to you. Full Disclosure Here.
Back in 2011, I called out the "Year of the Prepper".  Little did I know that 2012 and 2013 would also be the year of the prepper as we grow in strength and in numbers.  More and more, I am thrilled to see individuals and families begin to take responsibility for their own well being should a catastrophe come into their neighborhood.
That said, there is always room to grow and to pick up a new tip or two – beginner or not.  Case in point: a couple of weeks ago I read Alex Smith's book "Getting Home" that is clearly for beginners and picked up more than one new tip that I have now incorporated into my prepping strategy.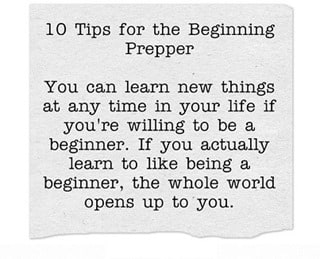 10 Tips for the Beginning Prepper
How about you?  Would you like to pick up a new tip or two or three?  Read 10 Tips for the Beginning Prepper.
THE FINAL WORD
From time to time I feature bonus articles that are either buried in the Backdoor Survival archives or are articles that I have enjoyed on one of my blogging colleagues websites.  Watch for announcements on my Facebook page.
Enjoy your next adventure through common sense and thoughtful preparation!
Gaye
If you have not done so already, please be sure to like Backdoor Survival on Facebook to be updated every time there is an awesome new article, news byte, or link to a free survival, prepping or homesteading book on Amazon.  You can also follow Backdoor Survival on Pinterest.
In addition, when you sign up to receive email updates you will receive a free, downloadable copy of my e-book The Emergency Food Buyer's Guide.
Bargain Bin: Here are a few items for your consideration – none are expensive and yet they fill a vital role in every prepper's pocket or kit.
Windstorm Safety Whistle:  This particular whistle can be heard a long distance away and above howling wind and other competing sounds.  Every respectable prepper needs a good whistle.
Swedish Firesteel:  Using this basic pocket fire-starter, you can get a nice fire going under almost any conditions. This is a small, compact version.
Pepper Spray:  It is always good to have some form of defense that will temporarily halt a bad guy that is in your face.
Emergency Mylar Thermal Blankets:  These come in compressed packets small enough to fit in a pocket or wallet.  You will be surprised at how warm these will keep you.
---
Shop the Emergency Essentials Monthly Specials
The monthly specials at Emergency Essentials feature discounts of up to 35% off sometimes a bit more.  I have a monthly budget and each month I add a bit more FD products to my long term storage – always making my selection from sale items.
There are a lot new items that are put on sale each month – be sure to take a look.
Note: I earn a small commission on your purchase making this a great way to support Backdoor Survival which will always be free to everyone.
Shop the Emergency Essentials Monthly Specials
---
Like this and want more?
CLICK HERE to visit Backdoor Survival on Facebook
CLICK HERE to follow Backdoor Survival on Twitter
CLICK HERE to follow Backdoor Survival on Pinterest
I earn a small commission from purchases made when you begin your Amazon shopping experience here.
Amazon's Most Wished For Items in Sports and Outdoors
Help support Backdoor Survival. Purchases earn a small commission and for that I thank you!