This site contains affiliate links. As an Amazon Associate, I earn a commission from qualifying purchases at no extra cost to you. Full Disclosure Here.
Have you ever noticed that most preppers have a lot in common? There are certain personality traits that seem to be present in nearly every single prepper and survivalist I have met, and the more prevalent these traits, the more successful they are at prepping and survival.
We do a lot of talking about what preppers do wrong, and about those mistakes and oversights that can get you killed, but today I want to focus on the positive: those core traits that will see you through the ups and downs of life, whether it's in the midst of a major disaster or a daily inconvenience.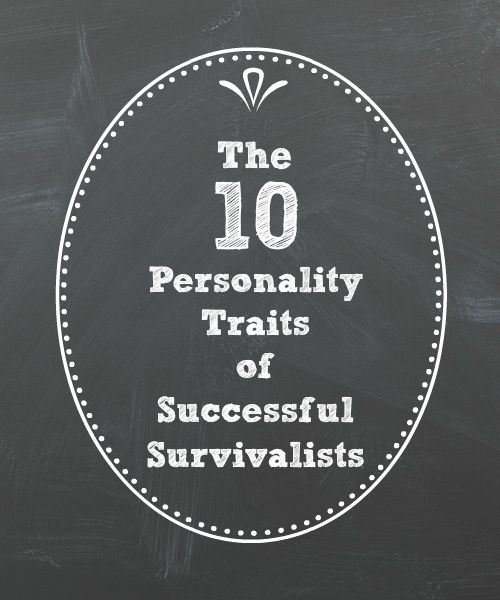 Today I'd like to share with you my take on ten things that preppers get right.  I list them in no particular order although I tend to think the first and last might be the most important.
10 Traits of the Successful Prepper
1.  The Will to Live
Preppers approach long term survival with gusto.  As busy as they might be with job and family obligations, they are laser-focused on ensuring that they will be safe for the long term.  They want to live and want to enjoy the bounty of life itself.  To that end, they are prepared to endure hardships and are prepared to defend what is theirs.  They want to live, no matter what, and want to be productive members of society.
2.  Thirst for Knowledge
There is always something new to learn and to keep the prepper's brain engaged.  There is never a time when they say "enough".  As difficult as it may be at times to deal with the reality of our world, preppers seek knowledge and truth. They relentlessly pursue just one more skill and one more fact that will help them prevail if their world goes to heck.
3.  Belief in Family Values
The family as a social unit is important, whether it is a family of two or a family of twenty.  Preppers know that and embrace and protect the family unit because it provides a sense of belonging, as well as an environment for honesty and respect.  However the family unit is defined (and each of us may define "family" in different terms), the core ideals remain the same: responsibility, accountability, and love.
4.  The MacGyver Instinct
Every prepper is a handyman.  We fix stuff.  We make things work by cobbling together odd bits and pieces into something newly purposed.  We throw away nothing, lest it have some useful purpose down the road.  We strive to jerry-rig our way out of just about anything, sometimes with only some paracord and duct tape.  The words "I can't make it work" do not exist in the Prepper's vocabulary.
5.  Compassion for Others
Wikipedia defines compassion as "the emotion that we feel in response to the suffering of others that motivates a desire to help". The so-called survivalists of old were stereotyped as loners.  These days, most preppers understand the value of being around others and feel a strong emotional connection to helping those that are unable to help themselves.

This is not to say that we as a group are a bunch of bleeding hearts that will give away our hard-earned preps to anyone who comes asking.  Quite the contrary.  What it does mean is that we show compassion for those that are disabled, elderly, ill, or simply lack the financial means to do more than a modicum of preparations.  From these individuals we will seek knowledge and skills rather than physical possessions.

Of course, your compassion must be tempered with common sense. In an all-out disaster (and heck, sometimes it doesn't even take a major event) some people will try to take advantage – brutal advantage – of your willingness to help. Use extreme caution when assisting others. Even people you feel you know can turn ugly in desperate circumstances.
6.  Physical and Mental Fitness
To stay on top of the game, we must be able to move around freely and in an unencumbered manner.  This means we must get regular exercise now so that we will be physically fit if we ever have to face an evacuation or a bug-out situation.  When performed  on a regular basis, functional fitness activities can help you survive when disaster strikes.

We must also stay nimble of mind so that rational decisions can be made quickly under the most adverse of circumstances. The ability to accept that something bad has happened and move forward to make speedy decisions requires practice and a specific mindset.

Most preppers know this and work toward a goal of physical and mental fitness each and every day of their lives.
7.  Critical Thinking
Critical thinking is the ability to think clearly and rationally. For some this comes naturally, but for most, this is an acquired skill that is honed by the thoughtful examination of risks and rewards before coming to a logical and decisive solution to a problem.  By considering various catastrophic scenarios in advance, preppers make plans for dealing with the risks most inherent to their geographical location and personal circumstances.
8.  The Ability to Drive a Hard Bargain
With very few exceptions, the preppers I know live within the confines of a budget.  In addition to funding their daily life and daily activities, they must fund the acquisition of supplies, outdoor gear, water storage facilities and extra food.  They do this by shopping for bargains, searching for used items at thrift stores and garage sales, and by trading those items they no longer need for items they do.

They practice the skill of bartering services for goods and goods for services.  By doing so, they are able to acquire what they need not only for now, but for long term survival.
9.  Understanding of the Value of Networking
Preppers understand that not everyone knows everything and not everyone has every single skill they will need to prevail.  For that reason, they surround themselves with other forward thinking and like minded individuals.  Some of these individuals may be local and others may only be accessible virtually over the internet.

Regardless of where they are located, the vast majority of preppers seek others in a respectful and open-minded manner.  They know that when the going gets tough, they will have someone to share with and together they will watch each other's backs.
10.  Faith and Optimism
Faith and optimism go hand in hand.  Whether that faith is tied to organized religion or not, it is there none the less.  Coupled with the will to live, having faith is what keeps us going.  It allows us to put one foot in front of the other and to keep moving forward, one baby step at a time.  Some will pray while others will quietly reflect in their own manner.

Faith is important. Without it, you may falter.
The Final Word
It took me awhile to come up with this list.  I pondered the top traits of the preppers I know while taking a quiet hike along the trails near where I live.  I thought about the hundreds if not thousands of emails I have received these past few years and boiled down the experiences that have been shared with me into these ten things that preppers simply get right.
Chances are that you possess a majority of these traits of successful survivalists and prepper-types.  In fact, you may have these traits and, until now, did not even know it.  Today I would like to challenge you to look at this list and to evaluate your own top prepper traits.  Celebrate those that you have and cultivate those that may need work.  At the end of the day, if the world goes to heck, you will find that having these traits will allow you to prevail, if not in comfort, then at least in safety.
I invite you to share any traits I may have missed in the comments area below.  And blessings to all of you in your pursuit of preparedness.
Enjoy your next adventure through common sense and thoughtful preparation!
Gaye
Note;  This article is an updated version of an article I wrote a couple of years ago, 10 Things That Preppers Get Right.  Becoming discouraged is so commonplace within the prepper community that I decided to add new material and post it again.  Let this be a reminder that we all have many wonderful traits in common.
If you enjoyed this article, consider subscribing to email updates.  When you do, you will receive a free, downloadable copy of my e-Book, The Emergency Food Buyer's Guide.
You can also vote for Backdoor Survival daily at Top Prepper Websites!
~~~~~
Bargain Bin:  Here is a list of most of the items recommended by Backdoor Survival reader, Karen Skoog, in the article Best Practices: The Every Day Carry Bag (EDC).  A great article, in case you missed it.
Rothco MOLLE Compatible Water Bottle Pouch:  I never would have considered using a water pouch as an EDC bag.  This one is a MOLLE compatible pouch so it can be easily attached to the rest of your MOLLE gear.  It features MOLLE loops around the entire pouch, two 6 inch straps on the back, and D-rings on each side. The straw hole on the top and a drain hole makes hydration simple. A perfect companion to my favorite Rothco Medium Transport Pack.  I own three of these packs – two in black and one in tan.
5.11 MOLLE Padded Pouch: When I read about the "food pouch", I had one of those "why didn't I think of that moments"!
Nalgene Tritan Wide Mouth BPA-Free Water Bottle:  This is the bottle that Karen chose and it is one that I have recommended in the past.
GSI Outdoors Glacier Stainless Bottle Cup/Pot:  Nice and something that I am adding to my own shopping cart.  It is designed to slip over standard 1-litre water bottle and holds up to 18 ounces.
Military Army Trainmen Paisley Bandanas: Speaking of bandanas, be sure to check out the article How to Use a Bandana to Save the Day.
Katadyn Micropur MP1 Purification Tablets:  Ultralight tablets provide fresh drinking water anywhere you go. Effective against viruses, bacteria, giardia and cryptosporidium. Fresh tasting water-no unpleasant taste. These easy-to-use tablets meet EPA purification guidelines. Purification method: Chlorine Dioxide tablets. 1 tablet treats 1 qt. of water.
Cobra Products 4-Way Sillcock Key:  This 4-way sillcock key has a 1/4″ , 9/32″, 5/16″ and 11/32″ stem to service most sillcocks in common use. It is durable, easy to use and has an attractive finish. Used to open and close sillcocks or spigots and made of durable steel construction.
The Friendly Swede Magnesium Alloy Emergency Easy Grip Fire Starter (2 Pack):  Firestarters are an essential piece of any survival/outdoor kit – waterproof, durable and easy to use as follows:
1. Scrape off black protective coating from firestarter rod
2. Prepare your tinder
3. Hold the striker at a 45° angle to the firestarter. Scrape striker hard and fast down the firestarter
4. Allow sparks to fall onto tinder
Dorcy Waterproof LED Flashlight with Carabineer Clip:  This is a floating waterproof flashlight that provides 55-lumens of light output and a 31-meter beam distance. I am a big fan of Dorcy products so this one is definitely going in my shopping cart as well.  Not that I need more flashlights!  Wait – you can never have too many!!
MTECH USA MT-378 Tactical Folding Knife 4.5 Closed: This folding knife features a 3 inch black finished 440 stainless steel tanto style blade with a quick opening thumb stud. The comfortably contoured black steel handle features a brushed metal finish, a heavy duty pivot pin and the liner lock blade locking design. It has a closed length of 4 1/2 inches and comes with a durable pocket clip.
~~~~~~~~~~~~~~~~~~~~~~~~~~~~~~
Help support Backdoor Survival. Purchases earn a small commission and for that I thank you!
~~~~~~~~~~~~~~~~~~~~~~~~~~~~~~