Just a little of 10 years ago, a 6.8 magnitude earthquake hit the Seattle area.  I was at work and the Survival Husband was at our house in Bellevue.  Right before the earthquake hit, my little dog ran up to him and jumped in his arms.  Then it hit.
We were lucky and suffered no damage but my neighbors home fell off its foundation.  Our home,  sitting at an altitude of 1000 feet at the top of a hill and on a steep bank, was  safe.  Funny how that works.
Following that event, I learned-up about post earthquake safety and of course, a couple of weeks ago I wrote about being prepared for an earthquake.  One of the lessons I learned after the 2001 quake was that if you are safe – and the authorities are not suggesting an evacuation – stay put.  Your very best chance of survival is to remain in your home or your office or even the shopping mall if that is where you happen to be.
FEMA defines Shelter-in-Place as the process of staying where you are and taking shelter, rather than trying to evacuate. Here are some guidelines from FEMA's Ready America website:
To "Shelter in Place and Seal the Room"

Bring your family and pets inside.
Lock doors, close windows, air vents and fireplace dampers.
Turn off fans, air conditioning and forced air heating systems.
Take your emergency supply kit unless you have reason to believe it has been contaminated.
Go into an interior room with few windows, if possible.
Seal all windows, doors and air vents with plastic sheeting and duct tape. Consider measuring and cutting the sheeting in advance to save time.
Be prepared to improvise and use what you have on hand to seal gaps so that you create a barrier between yourself and any contamination.
Local authorities may not immediately be able to provide information on what is happening and what you should do. However, you should watch TV, listen to the radio or check the Internet often for official news and instructions as they become available.

Learn how and when to turn off utilities:

If there is damage to your home or you are instructed to turn off your utilities:

Locate the electric, gas and water shut-off valves.
Keep necessary tools near gas and water shut-off valves.
Teach family members how to turn off utilities.
If you turn the gas off, a professional must turn it back on. Do not attempt to do this yourself.
There are plenty of resources on the web that can provide you with additional information about creating a shelter in place.  But for now, get yourself some 2-4 mil plastic and duct tape.  That, plus your emergency food, stored water, first aid kit, and radio will be a positive step forward in being prepared.
Enjoy your next adventure, wherever it takes you!
Gaye
If you have not done so already, please be sure to like Backdoor Survival on Facebook to be updated every time there is an awesome new article, news byte, or free survival, prepping or homesteading book on Amazon.
In addition, when you sign up to receive email updates you will receive a free, downloadable copy of my e-book The Emergency Food Buyer's Guide.
Spotlight Item: I recently read the $7 e-book, How to Hide Your Guns and must say, found it full of ideas for keeping your firearms hidden in plain sight. The suggestions are practical and with a few tools and materials available from your local hardware store, you will be on your way to hiding your guns in fully accessible manner with no one being the wiser.
Bargain Bin: Preparing for hard times requires so much stuff. Just where do you start? How do you know whether what you have will do the job? I always like to recommend that you start by taking inventory of what you already have on hand. And then? How about these ten items that were the most popular purchases by Backdoor Survival readers in 2012.
1. Emergency Mylar Thermal Blankets (Pack of 10)
: This was the #1 item. For less than $10, these thermal blankets provide compact emergency protection in all weather conditions.
2. Streamlight Nano Light Miniature Keychain LED Flashlight
: You know how I love my little flashlight. I have ad mine for over a year and it is still going strong. About $7.
3. Potable Aqua Water Treatment Tablets
: Another inexpensive basic for your bug out bag and your home. Water treatment tabs won't improve the taste but they will make your water safe to drink.
4. Kershaw OSO Sweet Knife: You can't beat a Kershaw knife for quality at a reasonable price point. Typically under $23, this knife will become your favorite for every day carry. And that includes the ladies, too.
5. Smith's PP1 Pocket Pal Multifunction Sharpener
: I wrote about this is in the article The Easy Way to Sharpen a Knife Without Spending a Lot of Money. It sharpens everything from pocket knives to kitchen blades. Portable and easy to use and for about $8.
6. The Doom and Bloom Survival Medicine Handbook: This book will teach you how to deal with all the likely medical issues you will face in a disaster situation, and shows you strategies to keep your family healthy even in the worse scenarios. You'll learn skills like performing a physical exam, transporting the injured patient, and even how to suture a wound. This medical reference belongs in every survival library!
7. Emergency Fire Starter: Hugely popular with my readers, this inexpensive magnesium emergency fire starter will do the job for less than $5.
8. Dorcy 41-1071 LED Wireless Motion Sensor Flood Lite
: This light is awesome. I use mine downstairs as well as on my stairway and when I get up in the middle of the night, they come on automatically. They are quite unobtrusive (I have the black one) and give off a ton of light. Runs for a year on 3 D size batteries. About $20.
9. Clara's Kitchen: Wisdom, Memories, and Recipes from the Great Depression: If you don't know about Clara, be sure to read Depression Cooking: A Visit to Clara's Kitchen.
10. SE 5 in 1 Survival Whistle
: Just a tad over two bucks – and the #1 seller in camping signal whistles at Amazon.
---
Shop the Emergency Essentials Monthly Specials: The monthly specials at Emergency Essentials feature discounts of up to 35% off sometimes a bit more.
I eat a lot of fruit (usually three whole fruits a night as a bedtime snack) and in a SHTF situation, fruits will be something I will really miss. The Freeze-Dried Fruit Favorites Combo
from Emergency Essentials is something I use all year round. With the grocery store a 20 mile round trip journey, I like the thought of being able to rehydrate my own fruit, in the quantity I want, at a moments notice.
The selection includes Apple Dices, Bananas, Peaches, Pineapple Dices, Blueberries and Strawberries.
But not to be left out, there are veggies too. The deluxe supply of Freeze Dried Vegetables
includes 18 #10 tins of the following veggies in various quantities: Broccoli, Cauliflower, Sweet Corn, Green Beans, Green Peppers, Green Peas, Mushrooms, Potato Dices, Spinach, and White Onions.
---
Like this and want more?
CLICK HERE to visit Backdoor Survival on Facebook. And CLICK HERE to follow Survival Woman on Twitter.
Spread the Word – Tell your friends: Share Backdoor Survival with your friends. All you need to do to send them a short email. Now that was easy!
Need something from Amazon (and who doesn't)? I earn a small commission from purchases made when you begin your Amazon shopping experience here. You still get great Amazon service and the price is the same, no matter what.
Shop Amazon Tactical – Great Selection of Optics, Knives, Cases, Equipment
Amazon's Most Wished For Items in Sports and Outdoors
Help support Backdoor Survival. Purchases earn a small commission and for that I thank you!

---
Absolute Rights is offering a free 8 page report "How to Identify and Avoid Chokepoints". This refers to avoiding the crowds and obstacles to getting out of dodge when you need to flee in order to stay out of harm's way following a disaster.
One of the tips they offer is to avoid roads that are near churches, hospitals, stadiums and schools.  This all makes sense but why didn't I think of that?
Anyway, you will need to enter your email address but other than that, there is no pressure or obligation to purchase anything.  Here is a link to get How to Identify and Avoid Chokepoints.    
---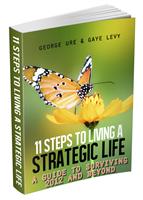 11 Steps to Living a Strategic Life: This little book will provide you with the motivation to get started or stay on track with a self-reliant life. 11 Steps to Living a Strategic Life, co-authored with my long time pal, George Ure (www.urbansurvival.com), and can purchased from Amazon.