When I first got my EcoZoom rocket stove in 2011, I  barely knew how to start a fire, let alone keep one going.  How things have changed since then!  Since that time, I have used my EcoZoom often – not so much because I was in a grid down, but because it is fun to use.  Yes, I know.  Prepper's can be strange sometimes.
When I was recently contacted by EcoZoom about a review, I was excited because I already had an EcoZoom and was big fan of their product.  This was going to be easy. I suggested that as part of my review, they sponsor to give away an EcoZoom Versa to one of my readers and they graciously agreed.  Very cool, indeed.  But more about the giveaway later.  First I would like to share with you a bit about the EcoZoom itself and also my recent experience cooking from food storage using this remarkable rocket stove.
THE ECOZOOM BASICS
The EcoZoom Versa is a good sized rocket stove, standing about 12 inches inches tall and 9 1/2 inches in diameter.  In spite of its size, it is easily moved around using the two handles that are built into the sides.  It is designed to burn biomass (twigs, leaves, branches and organic materials) as well as charcoal.
As you can see in the photo above, there are two hinged doors. The top door, when open, is used to feed wood and biomass into the combustion chamber while the smaller door is used to control airflow, thus regulating the heat.  The wire tray that is sticking out of the front holds longer pieces of wood and branches that can be slowly fed into the fire.
On the top of the stove is a 6-pronged cast iron stovetop that improves heat transfer for all pots including round bottom pots and woks.  It is my understanding that this stovetop has been reformulated a bit since my EcoZoom was built but mine works just fine.
Perhaps the most impressive thing to me is the adjustable pot skirt which wraps about your pot to hold in the heat.  This pot skirt prevents heat loss through the open area between the EcoZoom and your pot.  The skirt is great when you want fast, hot cooking.  For slower cooked items, you can omit the skirt.
When cooking with charcoal you use an adapter grate.  I have found the six charcoal briquettes will burn a long time without being tended to but personally, I favor the biomass.
According to the EcoZoom folks, these stoves use up to 60% less wood than an open fire and decrease smoke and harmful emissions by 70%. This is well documented on their website via lab tests and third party studies. I can tell you from personal experience that there is very little smoke.  On the other hand, there is quite a bit of steam generated from your food as it is cooking – always a good sign that the food it getting hot.
REAL-TIME COOKING WITH THE ECOZOOM AND FOOD STORAGE
In the past, I have always used my EcoZoom with and old Revere Ware pot – you know, the kind with a copper bottom.  This time I decided to test its capabilities with a cast iron Dutch oven
.  I had no idea how this would work because although cast iron holds heat extremely well, I had no idea whether the EcoZoom would be up to the challenge of getting the Dutch oven hot enough, quickly enough.  I need not have worried.
To begin with, I gathered all of my cooking ingredients as well as my bucket of biomass.  I always have at least three or four full buckets ready to go so that the biomass will be nice and dry when I need to use it.  For this test I made Chicken Chili using the following recipe.
Food Storage Chicken Chili

2 cups freeze dried chicken
2 cups water
1 1/2 cups freeze dried sweet corn
1 1/2 cup salsa (I used canned)
2 tablespoons chili powder
2 1/2 teaspoons ground cumin
1 1/2 teaspoons dried Italian seasoning
2 cups pinto beans (I made my own the day before but you could also use canned)
1 can diced tomatoes
1 cup water

Put everything in a Dutch oven or other pot and heat until hot and ready to eat.
To get things started, I put some pine cones and dry leaves into the upper chamber along with some dryer lint to use as tinder.  It all lit up right away so I immediately began to feed in twigs and branches, being mindful not to overload the chamber.
That is something you need to watch for.  It you overload the chamber with too much biomass, the fire will choke and go out.  The other thing to keep in mind that depending on the thickness and dryness of your fuel source, it may burn quite fast.  If you use little branches like I do, you need to mind the stove, so to speak, to keep the fire burning.  Kindling sized chunks of wood burn far more slowly so less tending is required.
Sometimes you want the fire to die down a bit.  This allows your food to simmer instead of boil.  To resurrect a full flame – perhaps for another pot of food – I add some additional pine cones or leaves and the fire flames right up again.  For someone who was not a girl scout in her youth, I find this amazing.
But I digress and need to get back to my test.
As I mentioned, I had some doubts about using cast iron on the EcoZoom.  There was no need, however, since my 4 quart Dutch oven was full and yet it only took 10 minutes to come to a full boil.  I had to take the lid off to prevent my pot from boiling over which, coupled with letting the fire burn down a bit, allowed my chicken chili to simmer a bit and meld the flavors.
So how did it all turn out?  Well other than the fact that the S.H. (Survival Husband) and I were arguing over who got to feed the fire, the chili was delicious and once again, the EcoZoom came through with flying colors.
THE GIVEAWAY
I am absolutely thrilled to offer you a chance to win an EcoZoom Versa of your own. The rules, as with all of the Backdoor Survival giveaways, require you to respond to a question in the comments area below but other than that, are pretty easy.  This time, too, I am giving you a chance to earn a second bonus entry.
Here is the question:
If you could only put three items in your bug-out bag, what would they be?
Bonus entry:  Go to my Facebook page and LIKE my page.  After that, come back here and leave a comment telling me so.  (Or, if you already LIKE my Facebook page, leave a comment telling me so.)  Easy peasy.
The closing date for entries is Friday, August 16 at 6PM PDT.  The winner will be selected at random using the tools available at the random.org website.  After being notified by email, the winner will have 72 hours to claim their EcoZoom.  Otherwise, an alternate winner will be selected.
Note: If you are reading this article in your email client, you must go to the Backdoor Survival website to enter this giveaway in the comments area at the bottom of the article. Also, this giveaway is only available to readers with a US shipping address (sorry).
THE FINAL WORD
I love my EcoZoom because it is durable, portable and has solid cooking power. Cooking with sticks and pinecones gathered from my yard is fast and I will say it again, fun.
My stove sits outside all year long and still looks and cooks like new, although I plan to start storing it in a 5 gallon bucket with a lid to protect it from the elements.  The advantage to doing that is that that I can also store some extra tinder (such as dryer lint), my Swedish fire steel and a butane lighter as well as some matches inside the bucket so it reader to go at a moment's notice.
I think the the EcoZoom rocket stove is quite remarkable.  It just works. For more technical details about the EcoZoom, visit their website here.
Enjoy your next adventure through common sense and thoughtful preparation!
Gaye
If you have not done so already, please be sure to like Backdoor Survival on Facebook to be updated every time there is an awesome new article, news byte, or free survival, prepping or homesteading book on Amazon.  In addition, when you sign up to receive email updates you will receive a free, downloadable copy of my e-book The Emergency Food Buyer's Guide.
Bargain Bin:  Today I feature products mentioned in today's article plus other items to enhance your outdoor cooking.
EcoZoom Versa Rocket Stove: Burning twigs and pinecones, this stove will cook a big pot of rice in under 20 minutes. The stove is solidly built and will burn charcoal as well. There is also a version that only burns biomass for slightly less money.
Swedish Firesteel: Using this basic pocket fire-starter, you can get a nice fire going under almost any conditions.
Lodge Dutch Oven/Camp Stove:  I originally purchased this Dutch oven because it was so darn cute.  But over time, I have learned to love it for its versatility.  Remember, a camp stove is designed so that you can bake with it by arranging charcoal on top of the lid as well as underneath the Dutch Oven itself.
Lodge 5-Quart Double Dutch Oven and Casserole with Skillet Cover:  This is another cool piece.  This Dutch Oven does not have legs and is designed for indoor use – but it can be used outdoors too.  Just don't forget the Ove Gloves.
US Forge 400 Welding Gloves Lined Leather: These well-priced gloves provide complete heat and burn protection. They are made of soft and supple top grain leather for comfort and pliability, plus they have an internal liner gives more comfort and durability.
Wholesale Disposable Lighters – Pack of 50 with Stand:  This is a 50 pack of wholesale disposable lighters. Each 'child-resistant' lighter is standard size and also features an adjustable flame.  I have not tried these myself but for the price, they seem like a good deal.
UCO Stormproof Matches, Waterproof and Windproof with 15 Second Burn Time – 25 Matches:  A ZIPPO or BIC lighter are always good to have but it would not hurt to have some stormproof matches as well.
---
Shop the Emergency Essentials Monthly Specials: The monthly specials at Emergency Essentials feature discounts of up to 35% off sometimes a bit more.
One of the star sale items this month is the Meat Variety Combo
which is 35% off.  Included are cans of Salmon, Diced Roast Beef, White Turkey, Ham, Ground Beef and Smokey Flavored Chicken Chunks.  (I just ordered this combo for my own food storage).
Here is a link to the chicken I used in my Chicken Chili and a link to the sweet corn which happens to be on sale for $12.99 (33% off).
Not to be left out, the Freeze-Dried Fruit Variety Combo
is also on sale. Lately I have been using FD fruit in my own "Survival" Sangria and fruit smoothies that also use the Creamy Vanilla Drink Mix
.
I am frequently asked how I accumulate FD products for food storage.  I set a budget of $100 (more or less) and place a small order every month.  Over time, it all adds up – faster than you might think.  Of course, in my case, I am always opening the cans and using my food storage.  For me, it makes sense especially when in comes to things like butter powder, green onions, pepper dices and other pantry items that I often run out of.
Shop the Emergency Essentials Monthly Specials
---
Like this and want more?
CLICK HERE to visit Backdoor Survival on Facebook. And CLICK HERE to follow Survival Woman on Twitter.
Spread the Word – Tell your friends: Share Backdoor Survival with your friends. All you need to do to send them a short email. Now that was easy!
Need something from Amazon (and who doesn't)? I earn a small commission from purchases made when you begin your Amazon shopping experience here. You still get great Amazon service and the price is the same, no matter what.
Shop Amazon Tactical – Great Selection of Optics, Knives, Cases, Equipment
Amazon's Most Wished For Items in Sports and Outdoors
Help support Backdoor Survival. Purchases earn a small commission and for that I thank you!  

---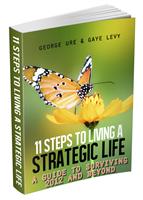 11 Steps to Living a Strategic Life: This little book will provide you with the motivation to get started or stay on track with a self-reliant life. 11 Steps to Living a Strategic Life, co-authored with my long time pal, George Ure (www.urbansurvival.com), and can purchased from Amazon.