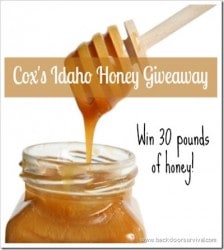 What is not to like about rich, golden honey?  Just the thought of sweet, fragrant honey and honey bees makes me think of happy times.  That, coupled with it's long storage life  makes honey a perfect food for the survival pantry.
And now you have a chance to win 30 pounds of honey for free.  As I mentioned in the Sunday Survival Buzz, I have partnered with a group of other preparedness and homesteading bloggers to bring you a great giveaway featuring Cox's Idaho Honey.
The Cox's Honey Farm is located in Shelley, Idaho.
. . . Read More