As it would happen, I have become somewhat chatty, email wise, with Ron Brown, the author of Lanterns, Lamps and Candles. When the subject turned to backyard farming – and livestock in general – well, the conversation became interesting.
But I digress. I need to explain that for the past few years I have had a romanticized vision of raising chickens and possibly some farm animals. Alas, I have almost no yard space and live in an area where such a thing would be impossible. Yes, I can grow veggies in my front landscaping. That is considered charming. But chickens, rabbits and sheep? Not so much.
So I continue to think about it and hope that some local farmer will take pity on me and allow me to share their chickens. And actually, truth be told, I do have one that periodically shares eggs with me.
But back to Ron. He knows a little about a lot of things, raising livestock and chickens included.
Since it is Saturday, and I feel the need for a some serious fun, I thought I would share his simple piece of advice for raising livestock. Here is what Ron had to say about raising livestock.
Update: Just to be clear, this article is meant to make you chuckle and in no way intends to dismiss or disregard the mainstay of food production. After all, our lives depend on food, the farmers, and those that dedicate their lives to insuring that we have enough to eat.
Farming

And so it was at a cocktail party that a man asked me, "How can I learn about agriculture?" It was a sincere question. He's a business-manager type as well as a prepper. He's concerned about the future. The next day I emailed him a list of books:
Backyard Livestock by Steven Thomas
The New Seed-Starters Handbook by Nancy Bubel
Old Fashioned Recipe Book by Carla Emery
Small-Scale Grain Raising by Gene Logsdon
Garden Insects of North America by Whitney Cranshaw
And to the list I attached this note: These are the best books I own on small-scale farming. But I caution you that farming is like sex. Reading about it and doing it are two different things.

Livestock

There's a survivalists' adage: If you haven't done it yourself, it doesn't work. That may apply more to raising livestock than any other endeavor I can think of.

Rabbits sounded like a good idea. After a week I gave them back to the man I bought them from because I couldn't stand the smell. He then had both the money and the rabbits.

4H gave my son a sheep. Free. Pedigreed stock. The only stipulation was that the firstborn lambs had to be given back into the program. We gave the sheep back after a week. Couldn't stand the smell. If you haven't done it yourself, it doesn't work.

The keeping of livestock is bloody business. Birthing, butchering, castration, dehorning . . . these are facts of life. And whether it's a chicken or a cow, the first time you cut into that body cavity you're gonna smell a smell you ain't never gonna forget.

The best single piece of advice I can give you on livestock – any kind of livestock – is this: Never bring a critter home until you're ready for it; until you have its home (a stall, stable, cage, coop, whatever it takes) prepared to receive it.

Never ever. And even as we speak, I know you will. And you will regret it. I know that, too.
The Final Word
Now it seems to me that Ron has a thing about smell. It also seems to me that after a time, you would get used to it. And further, that if your livestock was your only source of meat (for the meat-eaters out there), then perhaps the smell, or the thought of smell would not be so bad.
Did you notice that there was no mention of chickens? I am wondering about that I think I will ask Ron about it in my next email.
Enjoy your Saturday!
Enjoy your next adventure through common sense and thoughtful preparation!
Gaye
Bargain Bin: Here are some links to Ron's book list as well as a link to the excellent DVD set from Marjorie Wildcraft that was featured in my article Growing and Raising 100% of your Food.
Food Production Systems for a Backyard or Small Farm
: Highly recommended if you wish to become more self-reliant by raising and growing your own food. Be sure to see my review in the article
Backyard Livestock: Raising Good, Natural Food for Your Family: This popular and widely praised book describes everything you need to know about selecting and raising small livestock.
The New Seed Starter's Handbook
: Starting seeds indoors, moving plants outdoors and saving seeds plus an encyclopedia of plants to grow from seed that describes the characteristics of dozens of flowers, vegetables and herbs.
Small-Scale Grain Raising: An Organic Guide to Growing, Processing, and Using Nutritious Whole Grains, for Home Gardeners and Local Farmers: An introduction to a wide range of both common and lesser-known specialty grains and related field crops, from corn, wheat, and rye to buckwheat, millet, rice, spelt, flax, and even beans and sunflowers
.
Garden Insects of North America: The Ultimate Guide to Backyard Bugs
: A user-friendly guide to the common insects and mites affecting yard and garden plants in North America.
This month Emergency Essentials is featuring a Wheat Cooking Starter Kit that includes a hand grain mill, some dough enhancer, instant yeast and a "Wheat Cookin' Made Easy" DVD. It is nicely priced at about 33% off or $49.99.
If you are a Mountain House fan, the Mountain House Beef Stew is on sale for $26.49 which is 25% off the normal price of $35.49. Also at 25% are other favorites such as Beef Stroganoff and Lasagna with Meat Sauce.
Other items on sale in September include a One Month Supply of Just-Add-Water Entrees for $134.99, Freeze Dried Mozzarella Cheese (21% off), Freeze Dried Yogurt Bits (for snacks) at 20% off, and something that I am ordering, Freeze Dried Celery pieces at $14.99 which is 30% off.
I have also learned that Shelf Reliance has some new September specials that are not being publicly advertised. They have now been added to my virtual, online Shelf Reliance party as well as the Shelf Reliance online party order form.
Want to help support Backdoor Survival? Your purchases earn a small commission and for that I thank you!
Shop Amazon Tactical – Great Selection of Optics, Knives, Cases, Equipment
Like this and want more?
CLICK HERE to receive Backdoor Survival Posts by Email (usually on Tuesday, Thursday and Sunday)
CLICK HERE to sign up for the new Backdoor Survival Newsletter! (Periodically)
Spread the Word – Tell your friends: Share Backdoor Survival with your friends. All you need to do to send them a short email. Now that was easy!
Shelf Reliance Virtual Party: Are you a fan of Shelf Reliance and Thrive products? Backdoor Survival is hosting a virtual, online Shelf Reliance party with discounted party prices and some special packages not normally found at the Shelf Reliance site.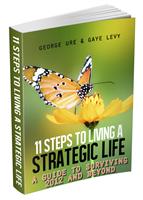 Spotlight Item: Are you looking for some motivation to get started or stay on track with a self-reliant life? 11 Steps to Living a Strategic Life, co-authored with my long time pal, George Ure, was recently launched on our websites and on Amazon. The website version is a PDF that works great on iPads, Nooks and other mobile devices. I think you will like it!