About a year ago, I featured an article on mud ovens.  I had first seen one at the Mother Earth News Fair and was fascinated by its simplicity as well as its efficiency. I was later contacted by a Backdoor Survival reader who had built his own mud oven and was willing to share some hands-on tips.  And then later, during one of my travels, I found some mud ovens in actual use in both Mexico and Costa Rica.
I was on to something.  Mud Ovens are common in third world countries where indoor cooking facilities are nominal and where cooking fuel consists of wood and biomass.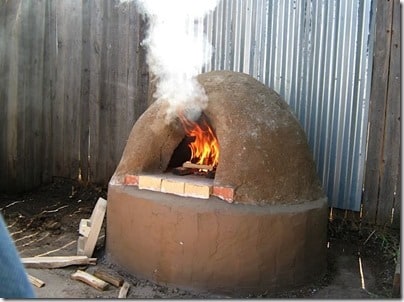 So what is a mud oven and how do you build one of your own?  Read more at:
THE FINAL WORD
From time to time I feature bonus articles that are either buried in the Backdoor Survival archives or are articles that I have enjoyed on one of my blogging colleagues websites.  Watch for announcements on my Facebook page.
Enjoy your next adventure through common sense and thoughtful preparation!
Gaye
If you have not done so already, please be sure to like Backdoor Survival on Facebook to be updated every time there is an awesome new article, news byte, or free survival, prepping or homesteading book on Amazon.  In addition, when you sign up to receive email updates you will receive a free, downloadable copy of my e-book The Emergency Food Buyer's Guide.
Bargain Bin: If you are thinking about building a mud oven, baking your own breads and pizzas, and simply getting back to the basics, consider the following recommended items.
Build Your Own Earth Oven: A Low-Cost Wood-Fired Mud Oven; Simple Sourdough Bread; Perfect Loaves:  This is the book that will teach you how to build a masonry oven out of mud then teach you how to mix flour and water for real bread that is "better than anything you can buy."
Artisan Pizza and Flatbread in Five Minutes a Day: This is the latest edition in the Artisan In Five series and possibly the best.
Artisan Bread in Five Minutes a Day: The Discovery That Revolutionizes Home Baking
: At an average cost of 50 cents a loaf, this bread is easy, delicious and inexpensive to make.  There is also Healthy Bread in Five Minutes a Day: 100 New Recipes Featuring Whole Grains, Fruits, Vegetables, and Gluten-Free Ingredients
.
---
Shop the Emergency Essentials Monthly Specials
The monthly specials at Emergency Essentials feature discounts of up to 35% off sometimes a bit more.
We all know that we should store what we eat and eat what we store.  In my own household, that means that we try to cook from our food storage pantry – not only the dried foods and canned goods that I have purchased from the grocery or Costco, but more esoteric items such as freeze-dried fruits and vegetables.

If you are long on intent but short on imagination, go to the Food Storage Recipes page of Emergency Essentials for lots of creative (and free) ideas for using the good you have on hand.  Shop the Emergency Essentials Monthly Specials 
---
Like this and want more?
CLICK HERE to visit Backdoor Survival on Facebook. And CLICK HERE to follow Survival Woman on Twitter.
Spread the Word – Tell your friends: Share Backdoor Survival with your friends. All you need to do to send them a short email. Now that was easy!
Need something from Amazon (and who doesn't)? I earn a small commission from purchases made when you begin your Amazon shopping experience here. You still get great Amazon service and the price is the same, no matter what.
Shop Amazon Tactical – Great Selection of Optics, Knives, Cases, Equipment
Amazon's Most Wished For Items in Sports and Outdoors
Help support Backdoor Survival. Purchases earn a small commission and for that I thank you!